In Lost Movie Reviews From the Autostraddle Archives we revisit past lesbian, bisexual, and queer classics that we hadn't reviewed before, but you shouldn't miss.
---
My ingress into queer cinema was voracious, which is ironic considering how long I had to wait between watching movies. Or, maybe that makes sense. Maybe the intervals of expectation, after years of denial, made me even hungrier. As soon as I finally admitted to myself that I was a lesbian, I signed up for a service called Netflix that delivered DVDs by mail, sending out new ones to you when the ones you'd already watched had been safely returned to their warehouse by the United States Postal Service. And sometimes there'd be a movie that looked kind of gay that I could stuff between two other unsuspicious DVDs when checking out at Blockbuster. And sometimes some brave soul would upload a lesbian film to YouTube, in 12 parts.
I saw so many lesbians die in those early days! So many lesbians get persecuted for their desires, especially if they acted on them and didn't just sit in church and clutch their crucifix necklaces and cry! Disowned by their families! Hopes smashed by their secret lovers! Also: they were psychopaths, these homosexual women! I'd spent my whole life being terrified of being gay, and those films I sneaky-watched under the covers after I'd sneaky-sneaked them into my house confirmed that I'd been right to be so scared. There was nothing but heartache — and potentially a break from reality that would lead me down a path of stalking and axe-murdering — in my future.
And then one day, in a cardboard box of pre-owned VHS tapes in the back of a used bookstore in my rural southern hometown, I found Desert Hearts — and everything changed.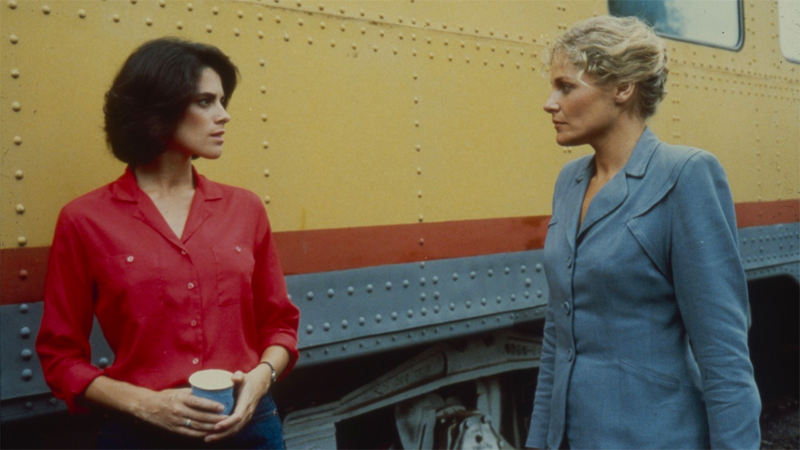 Donna Deitch's lesbian love story is set in the '50s and was filmed in the '80s, and is still, in 2020, a radical piece of filmmaking. It was written by lesbian novelist Jane Rule and produced by Deitch, who raised money to make the movie by sending out newsletters in the mail. Kickstarter, before the internet, when stamps cost twenty-two cents, which meant forty-four cents per letter. One for the outgoing note; one for the self-addressed stamped envelope inside that other lesbians could use to send checks back. It basically has an all-women cast, and — much like Carol, which is what critics tend to compare it to for all the wrong reasons — it does not center the pleasures or preferences of men, ever.
I didn't know or register any of that when I first saw it. I wasn't watching queer films to review them, PR people weren't emailing me about them months in advance and asking me if I'd like to set up interviews with the actors, I wasn't helping create or pitch ad campaigns to sell gay movies to other gay people. I wasn't the me I am now; I was the frightened, frozen me who'd stumbled out of my Baptist church and hadn't looked back but also didn't know how to look forward.
In 1986, Roger Ebert said Desert Hearts was "basically a simple story" and so "this is basically a simple movie." Which he seemed to mean in a cutting way, but he was right, and that's what makes it so good.
Helen Shaver plays Vivian, a Columbia University professor who takes a train to Reno to get a divorce. She's buttoned up, literally and figuratively. Hat and gloves and wool skirts with matching suit jackets. Vivian's got it all figured out. The fastest place to get a divorce is Nevada, and all she's gotta do is hang out on this ranch — like so many aspiring divorcees before her — until she's considered a resident, and then the paperwork will go through, and then that will be that. She plans to read, work, sit in her room in her suits and stoically wait the whole thing out. What Vivian doesn't count on is Cay, Patricia Charbonneau's pants-wearing, reckless-driving, hard-drinking, unabashedly lesbian younger woman who lives on the ranch with Audra Lindley's Frances. Cay starts flirting with Vivian the second she arrives, and Vivian goes from bamboozled to intrigued to terrified to yearning basically on the car ride back to the ranch from the train station.
Vivian wants to stay in the house in her hats. Cay wants to run wild and free in the desert with the horses. Vivian is always sweating in her silly suits. Cay's shirts are barely buttoned. As Vivian's longing deepens, she loses the jackets and her hair starts tumbling down and the wildness of the landscape and Cay's intensity finally compel her to give in to her desire in the rain. Quenched thirst and all that. The queer sex scene in the hotel that follows Vivian's submission remains one of the most erotic ever put to film.
Oh, they get found out, of course, and the townspeople turn against them, and Vivian gets her divorce, and Vivian loves her plans, so she gets on the train and heads back to New York City. But in the final moments, when it seems like this is just going to be another in a series of endless heartbreaks in the queer film canon, Vivian coaxes Cay onto the train.
Desert Hearts is the first lesbian movie that made me cry. The death and dismemberment and dashed dreams of the films I saw before it, that was all fine and good and unsurprising. Where I grew up, lesbians were witches, and witches burn, and I knew that. It was the tenderness of Desert Hearts that got me, the hope, and the idea that a woman didn't need to have it all nailed down by the time she hit 30, that a woman could give in to what she wanted and just figure it out as she went along, no matter how young or old she was, or what she'd committed to do or be in the past.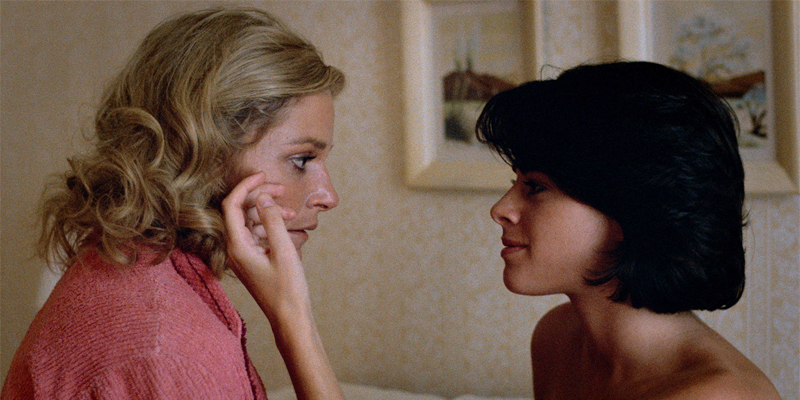 A few summers ago, on my way to an IFC screening of Desert Hearts in Greenwich Village, I passed by a cafe and saw Helen Shaver and Patricia Charbonneau sitting together at an outdoor table, smoking and drinking coffee. 30 years older than they were in Desert Hearts. Stunning, still. Heads bent together, laughing at some secret thing between the two of them. They were on their way to the screening too, of course, for a Q&A — but, for a moment, I imagined Vivian and Cay had made it all the way to New York, and then made it-made it, as a couple. I smiled when I walked past them, the smallest gesture in the world for the impact they made on my life. I live in New York City with my wife, in large part because of them. Because a very long time ago, in Chestnut Mountain, Georgia, they banished my fear.
When Cay hops on the train at the end of Desert Hearts, she doesn't say how far she'll go, and Vivian doesn't push her. There's 40 minutes until the next stop, and that's all they need to know.
---
You can watch Desert Hearts for $3.99 on Amazon.
Want more movies? Check out Autostraddle's 200 Best Lesbian Movies of All Time.