Here at Autostraddle we want every lesbian, every queer woman, and every non-binary person to know that movies should include us and do include us. We want you all to see our lives on screen through the best lesbian movies with the variety and quality we deserve.
That's why five years after releasing our original "100 Best Bisexual, Queer and Lesbian Movies" list we decided to double it. The past half a decade has brought new films worthy of excitable gay celebration — and older works that have been rediscovered.
The goal with this list was to create a canon of lesbian+ movies that honor all the different types of work worthy of viewing. There are films that are simply fun for a casual night in, there are deeply thought-provoking films, and there are films that are mostly just here to turn you on.
This list was created through a rigorous multi-step process that involved a lot of lesbian movie watching, a lot of voting, and a lot of weighing factors often ignored on mainstream film lists. It was important to us that we not take into account any metric voted on by institutions composed mostly of cis straight white men. While it's impressive when a film about queer women or nonbinary people manages to get Oscar nominations or a high Rotten Tomatoes score, the films that get those recognitions are not often made by us or specifically for us.
Here are some of the metrics we considered when voting and ranking:
The prominence of the queer character or storyline
Whether or not the work was made by queer people and/or women/nonbinary people
Awards given by queer and women specific film festivals and critics circles
And, most importantly, artistic quality
This list does not include films about trans men (e.g. Boys Don't Cry, By Hook or By Crook), films about trans women exclusively interested in men (e.g. Tangerine, A Fantastic Woman), films based on queer books that had their explicit queerness removed (e.g. The Color Purple, Fried Green Tomatoes), or films where the queerness is just subtext (e.g. A League of Their Own, Rebecca). This list also doesn't include short films, documentaries, or porn — with a handful of exceptions where length/genre lines were blurred.
The headline says "Lesbian, Bisexual, and Queer," but for us that means any woman or non-binary person interested romantically or sexually in another woman or non-binary person.
One last note: There are lesbian movies on this list not currently available to stream. Some of the greatest works of queer cinema are not being watched, because people not within our community get to decide which films deserve attention. Many titles on this list were included because I contacted production companies and producers, attended rare screenings, and hunted for DVDs at actual video stores. And still some films — most notably Me siento extraña (1977) and Skin Deep (1995) — were not included because no one on our team was able to access them.
There is a world of cinema and a world of queer cinema and there are films from the last hundred years waiting to be discovered. But hey, we'll keep searching for lost lesbian classics, the industry will keep making more films that include us, and in the meantime why not start with this little ol' list of TWO HUNDRED movies? By the time you watch them all, we promise there will be more.
Author's Note (1/18/22): If last year's update made this list less white and significantly more trans, this year's greatest accomplishment is diversity of location. The 23 new films — ranging in date from 1950 to last year — hail from 13 countries. There's always a tension in creating this list between wanting it to be more representative of our queer world, the limits of what exists, and what's available. This list is still predominantly American and French, but I hope each year we can keep chipping away at that.
Every time this list is posted there are a lot of comments that a list of 200 lesbian movies must include them all — I'd like to clarify that is not at all true. This year especially, films were taken off this list that I really like to make room for new titles. There are 109 films eligible for this list that are not included — and that doesn't even count all the films that are too subtextual, have too little queerness, or are currently unavailable to our team. Every year this list improves in quality and inclusivity and I'm so excited about this year's update! Enjoy!
[Jump to Movies: 200 | 150 | 100 | 50 | 25 | 10 Best Lesbian Movies | All 200 Lesbian Movies ]
---
200. Nina's Heavenly Delights
dir. Pratibha Parmar, 2006
Watch it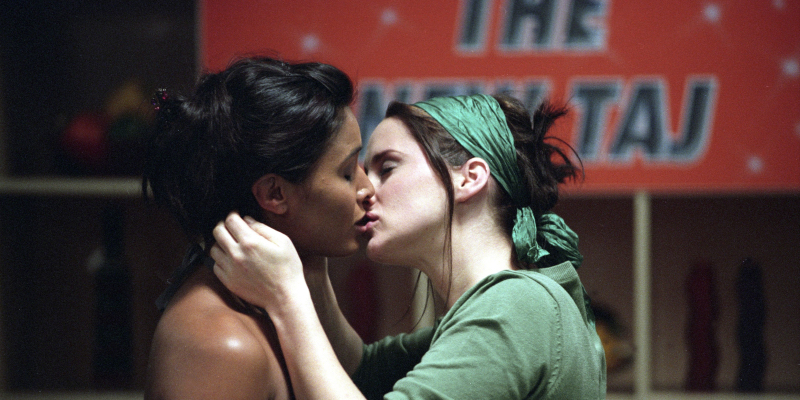 This sweet Indian-Scottish romcom is silly and sentimental, but it's also a pleasure to watch. It has solid performances from Shelley Conn and Laura Fraser, a fun and breezy script, and a few great dance numbers. Beautiful lesbians and food porn are indeed heavenly delights and this movie has plenty of both.
199. The Pirate
dir. Jacques Doillon, 1984
Unavailable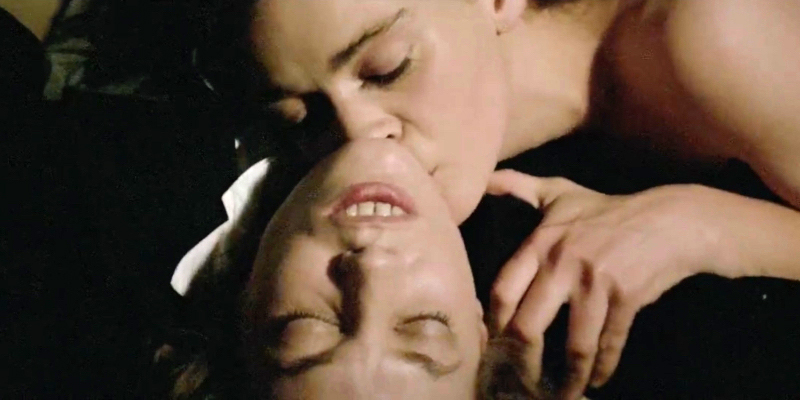 This lesbian movie starts the drama at 100 and then turns it up. It's as French as it is over-the-top as it is gay gay gay. Only the French would cast Jane Birkin in a love triangle with another woman and a man PLAYED BY HER BROTHER. It's a brutal, unpleasant movie, but its magnetism is undeniable.
198. The Firefly
dir. Ana Maria Hermida, 2013
Watch It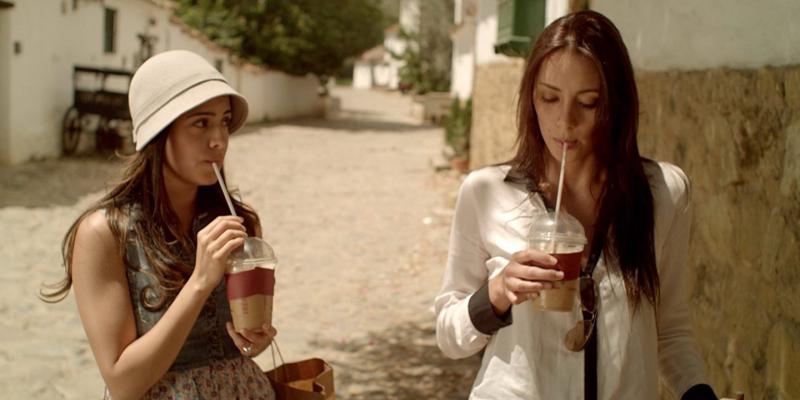 A film as much about grief as it is about queer love, Ana Maria Hermida's debut is about a woman who develops a relationship with her brother's fiancée in the wake of his death. The two women bond over their shared mourning and shared love and eventually find a way forward together. With magic realist touches and a heavy script, the movie is rich in drama, but it mostly earns its earnest ambitions.
197. Love My Life
dir. Koji Kawano, 2006
Unavailable
If you don't read the plot description for this otherwise low-key lesbian coming-of-age romance, the coming out scene will be one of the most surprising ever filmed. It's a twist that adds a fascinating layer to the story and the movie is at its best when exploring this complexity and Ichiko's relationship to her family. Her chemistry with Eri is really sweet and actors Rei Yoshii and Asami Imajuku are fun to watch in the roles. The plot is a bit convoluted with conflict that feels manufactured, but it's still very enjoyable.
196. Entre Nous
dir. Diane Kurys, 1983
Unavailable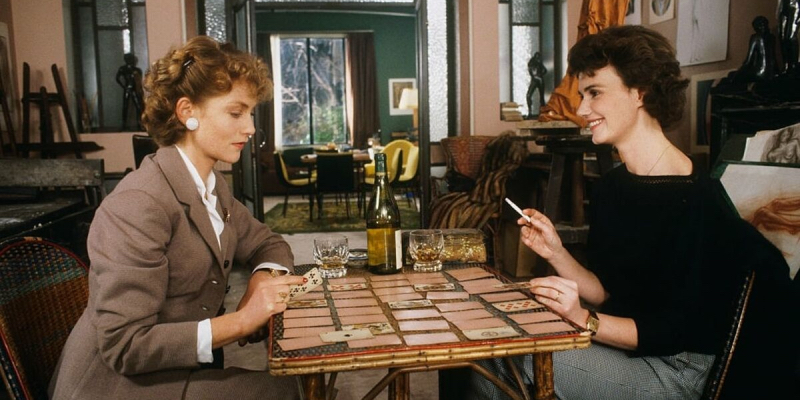 While the lesbianism remains implicit, this is still a beautiful movie about love and obligation. Miou-Miou and Isabelle Huppert are heartbreaking as two women whose deep connection pulls them away from the men in their lives. It's slow and chaste — at least in its queerness — but this delicate film is a tribute to love between women.
195. Knocking
dir. Frida Kempff, 2021
Watch It
Frida Kempf's debut narrative feature is a different kind of queer horror movie. It's about a woman named Molly who leaves a psychiatric hospital to start a new life in a new apartment. Her trauma is hinted at in dreamy flashbacks — kisses from her lover on the beach, the terrifying expanse of the sea. There was an accident. The grief and the guilt — and likely some pre-existing mental illness — caused a psychotic episode. But now she's trying to be better. This is a simple, effective thriller that largely takes place within the confines of Molly's claustrophobic apartment. Kempff's direction and star Cecilia Milocco's performance place us in Molly's head. As she unravels, we unravel, and the whole experience is deeply unsettling. This is not a fun genre film. This is a sad and visceral foray into one woman's mind.
dir. Stacie Passon, 2013
Watch It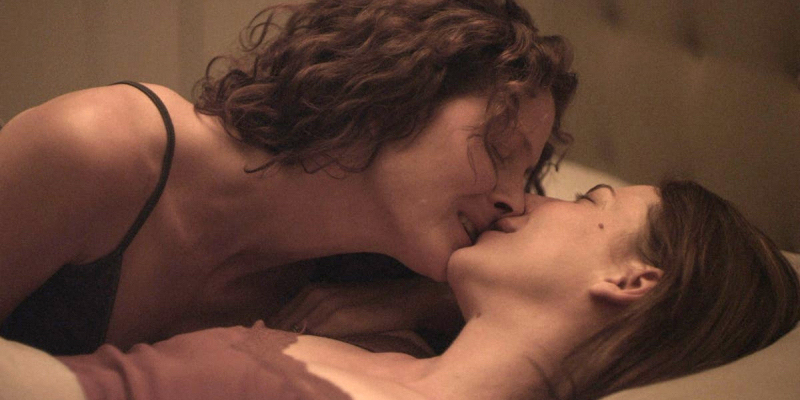 What begins as a gay twist on the classic story of sex-driven mid-life crise, becomes a deeper exploration of ennui and desire. Despite focusing largely on protagonist Abby's foray into sex work, the film seems less concerned with representing that profession realistically and more concerned with how the sex (lots and lots and lots of sex!) impacts Abby as a character. Robin Weigert's performance as Abby anchors the film despite its somewhat silly premise, and Maggie Siff gives a sexy supporting performance as one of Abby's clients. There's more to this movie than just the sex, but there is a lot of sex and it's very well done!
193. Cocoon
dir. Leonie Krippendorff, 2020
Unavailable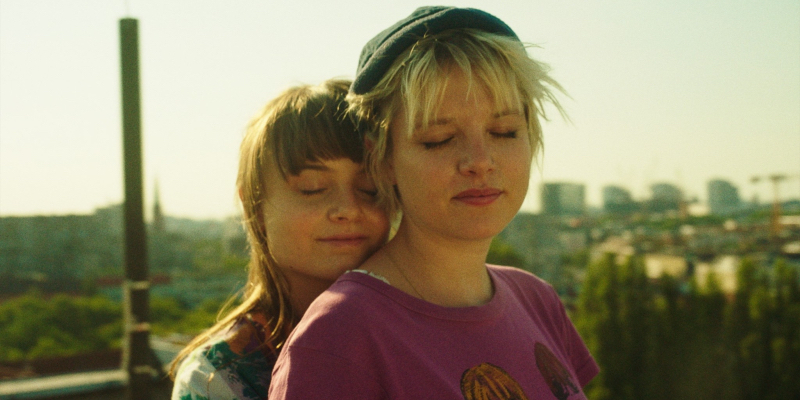 How much you like Leoni Krippendorff's lesbian coming-of-age tale about 14-year-old Berliner Nora will likely depend on how much you like lesbian coming-of-age tales in general — and your tolerance for butterfly metaphors. With an urgent, handheld style and dreamy yet realistic tone, Krippendorff's film is just really beautiful and watchable even as it follows familiar beats. Lena Urzendowsky is excellent as the sad-eyed Nora and Jella Haase is devastating as her crush. This is a beautiful film filled with the kind of panicky intensity that defines early adolescence — and first love.
192. The Killing of Sister George
dir. Robert Aldrich, 1968
Buy on Blu-Ray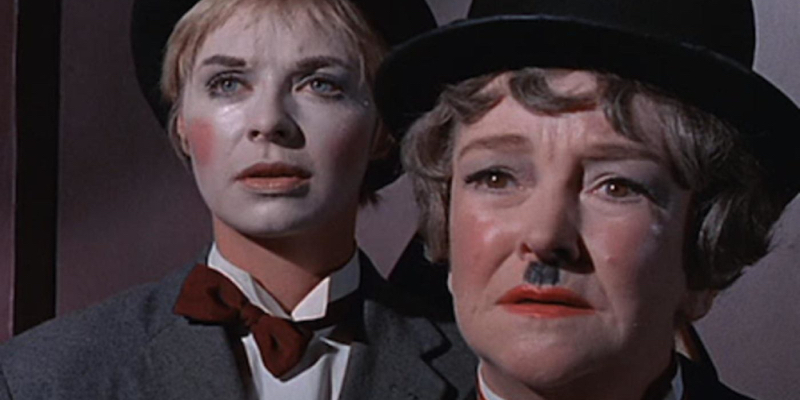 Robert Aldrich's film is a landmark of lesbian cinema, but it's brutal to watch. It perpetuates the trope of the bitter old lesbian with none of the pleasures of similar films. But as a movie it's quite good with a devastating performance from Beryl Reid. It's worth watching for her performance and for its historical importance even if it leaves a sour taste.
191. Blush
dir. Michal Vinik, 2015
Watch It / Also Available on Tubi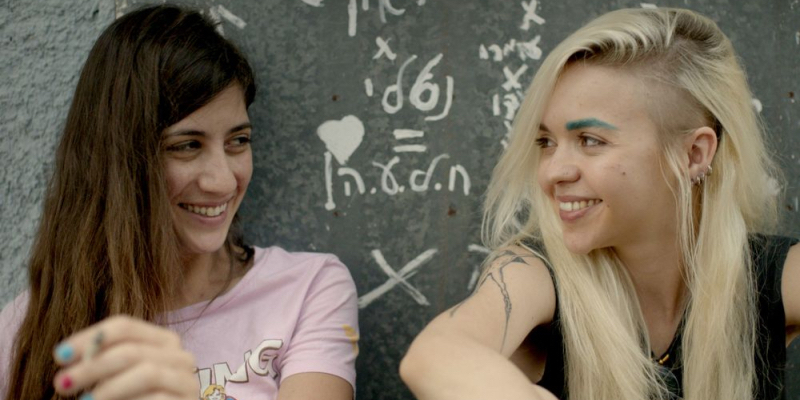 This Israeli coming-of-age film draws parallels between protagonist Naama's burgeoning sexuality and her country's troublesome politics. While she's having the usual queer teen experiences of first love, first heartbreak, and first post-heartbreak head shave, she's also forced to deal with her violent home life and racist father. It's a tale of intolerance across identities that's affecting even as it follows familiar beats.
190. Rent
dir. Chris Columbus, 2005
Watch It on amazon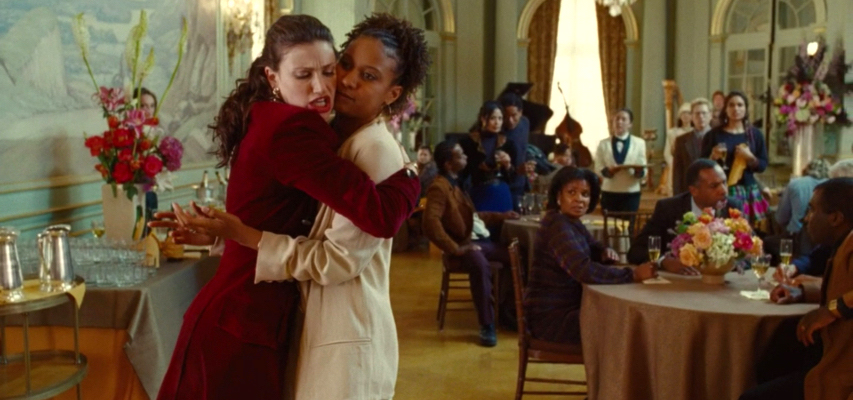 Even fans of the musical would likely agree — or especially agree — that this adaptation doesn't quite have the same magic as the show. But it does still have Idina Menzel as bisexual dreamboat/nightmare Maureen and isn't that enough?? Rent means so much to so many queers and while the movie may have disappointed it still deserves recognition for capturing part of that legacy.
189. Ride or Die
dir. Ryuichi Hiroki, 2021
Watch On Netflix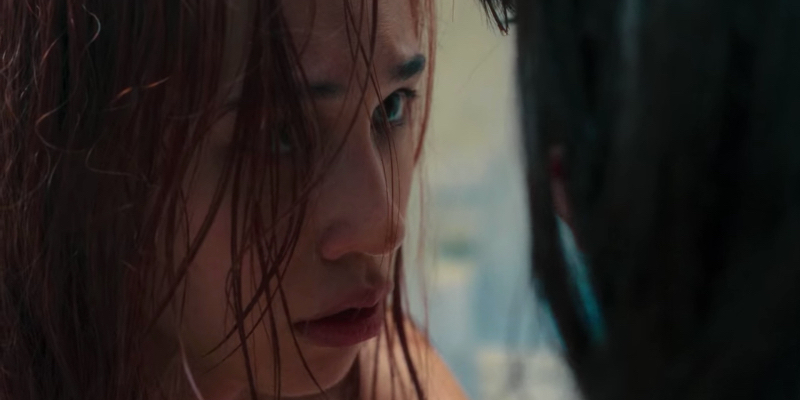 Based on the popular manga Gunjō, Ryūichi Hiroki lesbian romance is bonkers and gratuitous in the best ways. While probably too long, the first half hour and the last half hour, and the chemistry between Kiko Mizuhara and Honami Sato, are good enough to justify the rest of the journey. If you want to complain about this movie having a "male gaze" or whatever — you wouldn't be totally unjustified, but at least don't erase that it was written by a woman, Nami Yoshikawa. This may not be the most authentic lesbian movie (whatever that means) but it's about big, irrational feelings and what's gayer than that?
188. My Days of Mercy
dir. Tali Shalom-Ezer, 2017
Watch It
Capital punishment romance is a tough sell, but three stunning performances from Elliot Page, Kate Mara, and Amy Seimetz, and endless chemistry between Page and Mara, make this movie more watchable than its premise. It's certainly emotional, but rarely maudlin, avoiding too much melodrama by focusing on the characters as people. There are moments of humor and even a few stellar sex scenes.
187. Stud Life
dir. Campbell X, 2012
Buy on DVD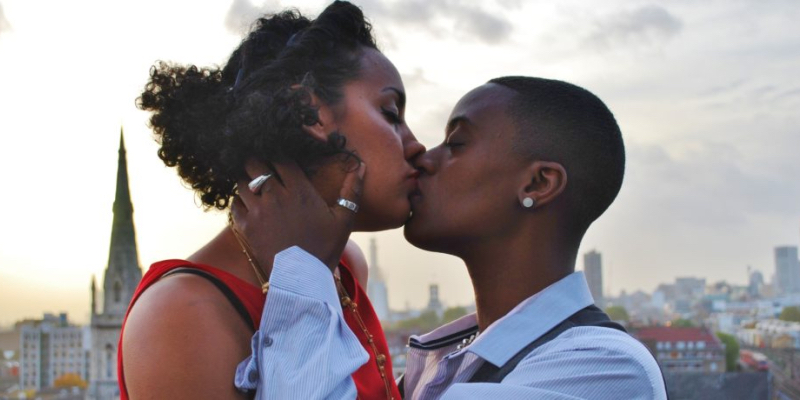 This low-budget slice of queer London life centers on a black stud named JJ who vlogs about her experiences. Her best friend is a white gay man and the film focuses on that friendship and JJ's new relationship with humor and sharp accuracy. There's some casual transphobia and whorephobia, but it feels true to the messy characters trying to figure out how to navigate their community. Overall this is a really stellar film that feels grounded in a specificity we rarely see on screen.
186. My Mother Likes Women
dir. Daniela Fejerman, Ines Paris, 2002
Buy on DVD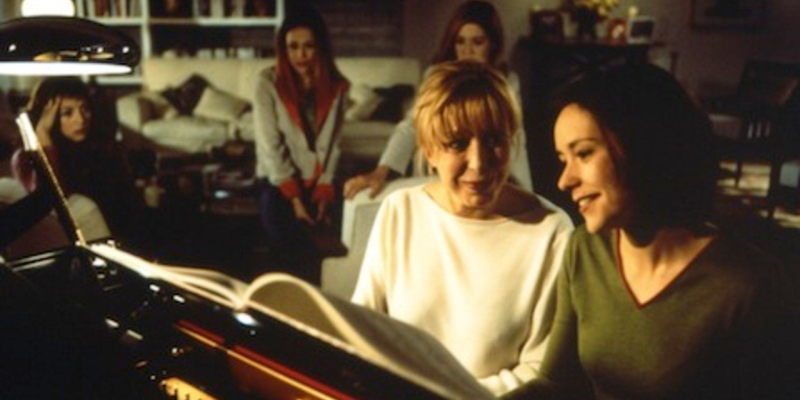 Finding a balance between pathos and farce, this movie about three sisters and their newly out mother is a messy delight. Leonor Watling is impossible not to love as the anxious Elvira and while the film is more centered on her than her mother's queer relationship, it's still a funny and moving film about figuring out one's identity. It's also pretty clear that Elvira herself is bisexual — no matter what her creepy male therapist says.
185. When Night is Falling
dir. Patricia Rozema, 1995
Watch It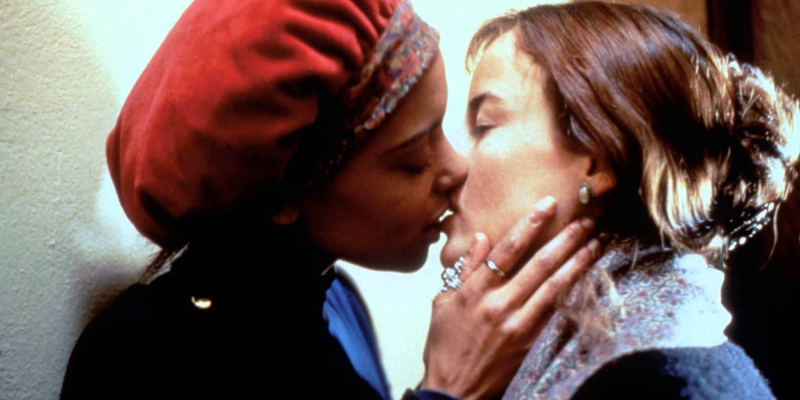 Silly melodrama and lesbian movie tropes are simply a mask for a queer poetic vision in this love it or hate it drama from Patricia Rozema. Pascale Bussières' uptight Christian college professor and Rachel Crawford's sexually forward circus performer are magic together finding just the right chemistry for the movie's specific tone. With endless creative flourishes, Rozema set out to make a film about queer desire and either you'll want to mock it or live in it — or maybe both.
184. Yes or No?
dir. Sarasawadee Wongsompetch, 2010
Available on Netflix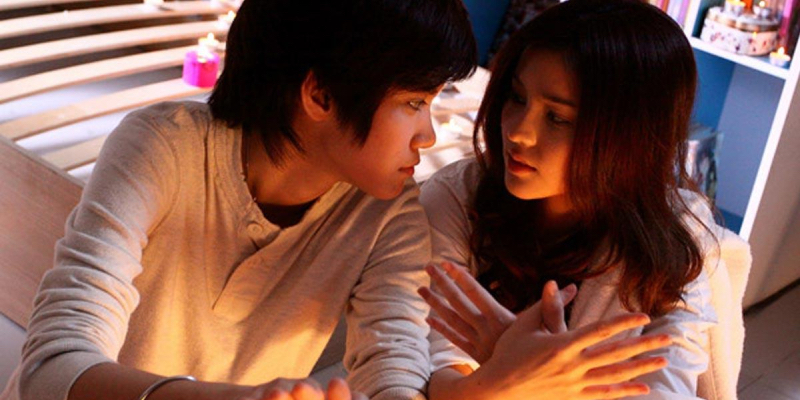 With a cheesy score and endless adolescent feelings, this popular Thai film about a "normal" girl and her "tomboy" college roommate will make you feel 18 again. This movie may send a terrible message to baby butches in love with their lowkey homophobic seemingly straight girl roommates, but it's simply too adorable to resist.
183. The Heiresses
dir. Marcelo Martinessi, 2018
Available on HBO Max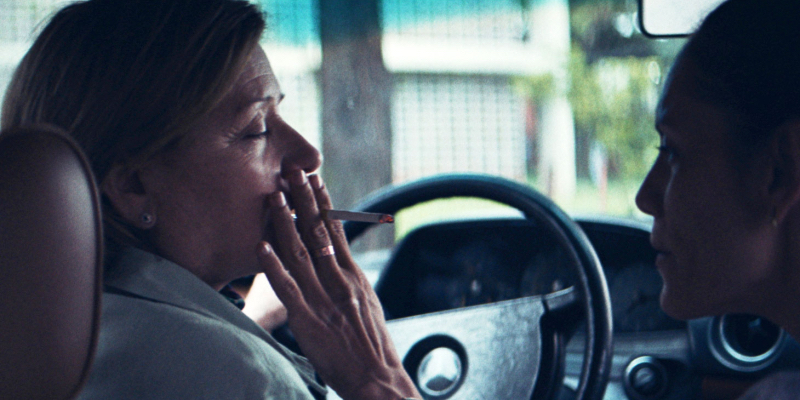 Slow and artful, the weight of emotions underneath this film settle in with melancholic surprise. Chela and Chiquita are two older upper-middle class lesbians whose 30 year partnership is interrupted when Chiquita goes to jail due to fraud. Broke and lonely, Chela begins offering rides to her older neighbors — and one younger woman with whom she develops a bond. Ana Brun is stellar as Chela — much of the film is just watching Chela in silence and Brun gives a performance worth watching. This is a sad film without resolutions, but its melancholy is equaled by its power.
182. Who's Afraid of Vagina Woolf?
dir. Anna Margarita Albelo, 2013
Watch It
Anna Margarita Albelo's unique comic sensibility is on full display in this funny, charming movie based on a fictionalized version of herself. Low-budget and a bit all over the place, Albelo's film works due to her committed performance, an endless formal inventiveness, and its unashamedly lesbian world. Also Guinevere Turner and Janina Gavankar co-star and Albelo spends much of the movie dressed in a vagina costume. What else do you need to know?
181. Emilia
dir. César Sodero, 2020
Unavailable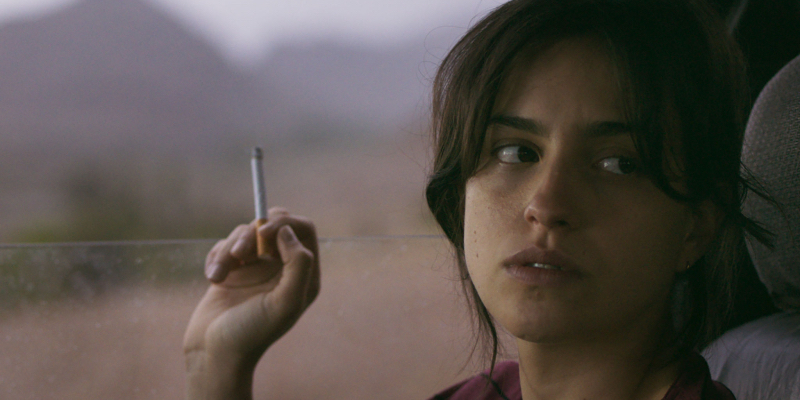 Lesbian teachers being inappropriate with students is one of the oldest and most complicated tropes of queer women cinema. Some entries are salacious, some explore the realities of abuse, and some try to do both at once. This film does neither, opting instead for a colder, more observational approach. The titular character is lost in her twenty-something second adolescence ennui and while her emotions don't justify her repeated bad behavior they do make it compelling to observe. This film works as well as it does because its star Sofia Palomino finds nuance and meaning in every moment. It's a remarkable central performance you'll want to watch no matter what Emilia is doing — no matter how sad or uncomfortable it makes you.
180. Bliss
dir. Henrika Kull, 2021
Unavailable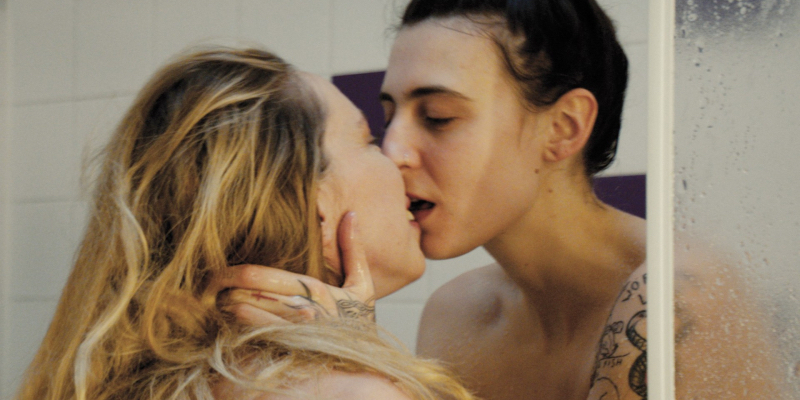 Obviously inspired by Lizzie Borden's Working Girls — more on that later — Henrika Kull's story of two sex workers in love, trades the hyper-emphasis on the workplace for a greater focus on romance. This is a slow and meandering film, but the performances of Katharina Behrens and Adam Hoya — and their chemistry — keeps it compelling. Thirty-six years after Lizzie Borden's masterpiece, accurate depictions of sex work are still largely absent from media and this is a welcome return to that low-stakes look at the job as a job.
179. Stranger Inside
dir. Cheryl Dunye, 2001
Buy on DVD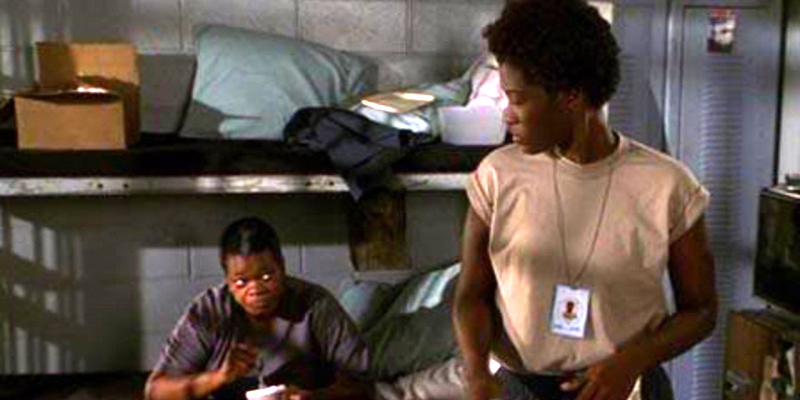 While more conventional in form and structure than much of Cheryl Dunye's work, there's still a lot to admire about this straight forward drama. Yolonda Ross is great as Treasure, an 18-year-old who meets her mother for the first time in prison. Dunye spent four years researching women's prisons before making this project and that work is clear in the world that she builds for her characters.
178. Knife + Heart
dir. Yann Gonzalez, 2018
Watch It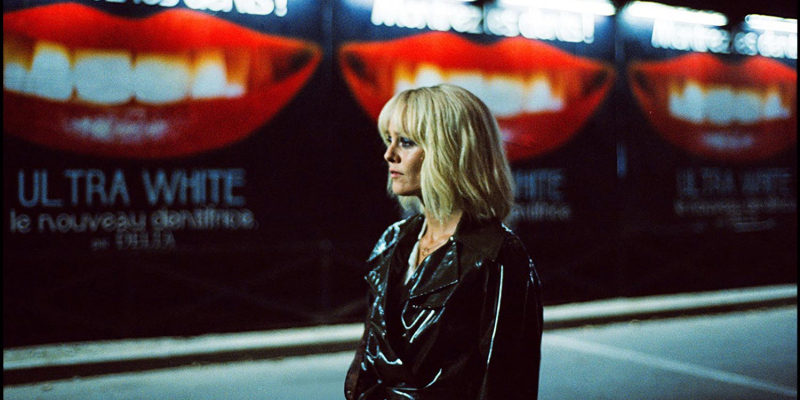 This explicitly queer take on Giallo is as bold and stylish as the genre demands. The heartsick lesbian at its center is flawed in ways that some may find interesting and others simply cruel — either way Vanessa Paradiso's performance is compelling to watch. It's a messy movie in plot and theme, but it's certainly not boring. And it has a dildo knife used as a murder weapon so that's something.
177. Itty Bitty Titty Committee
dir. Jamie Babbit, 2007
Buy on DVD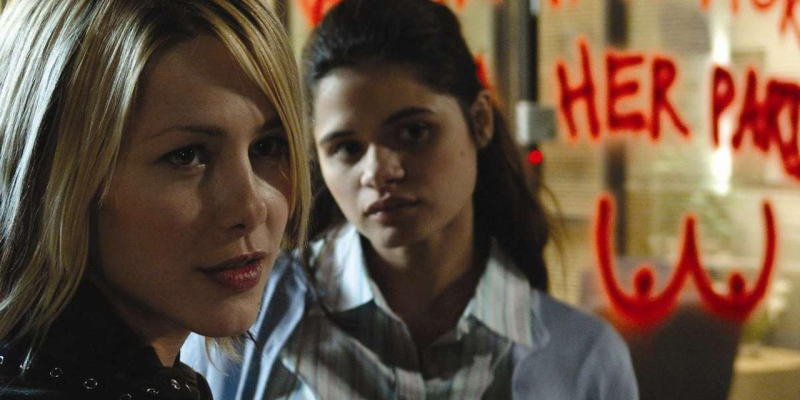 It might be goofy, dated, and a bit all over the place, but there's still a lot to enjoy in Jamie Babbit's lesbian movie about a newcomer to a feminist action group. Melonie Diaz plays Anna, a goody two shoes who falls hard for cool girl Sadie and in the process gets radicalized. It's a fun movie with a great ensemble cast and it's truly just so gay.
176. Red Doors
dir. Georgia Lee, 2005
Buy on DVD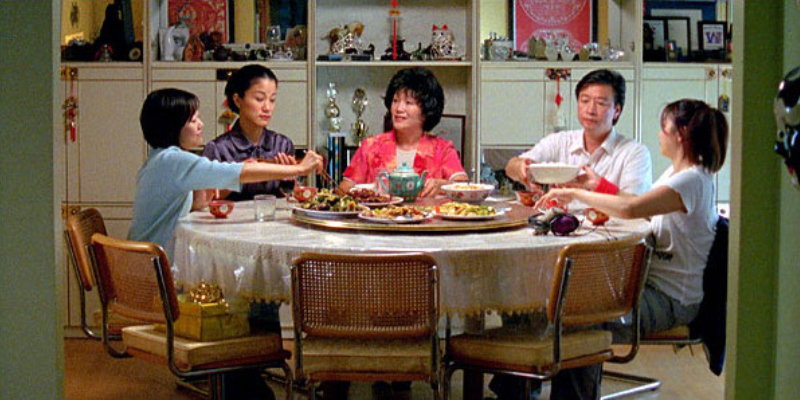 This dramedy about a dysfunctional Chinese-American family is an absolute delight. Elaine Kao plays Julie Wong, the family's middle daughter, a gay medical student who falls for a famous actress. Their romance provides the film's sweetest storyline. It's a touching film about family and the constant struggle to live life from a place of truth.
dir. Jordan Scott, 2009
Watch It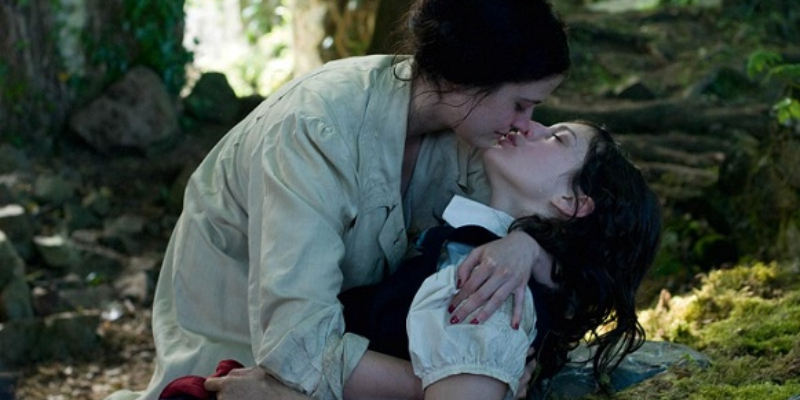 Taking its place in the lineage of lesbian films about boarding schools, Jordan Scott's striking debut feature lands on the side of brutality over eroticism. While Eva Green is arresting as always as the initially charming, eventually horrifying Miss G., the reality of her abuse is allowed to play out. It's a frightening and effective film with an incredibly talented young cast that includes Juno Temple, Imogen Poots, and María Valverde.
dir. Bruno Barreto, 2013
Watch It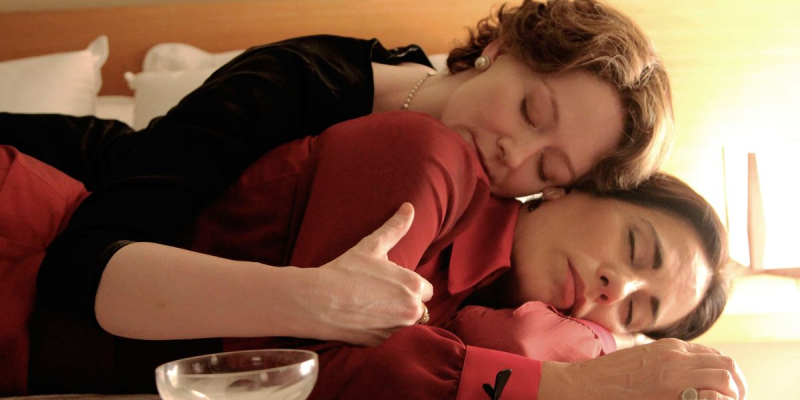 Elizabeth Bishop and Lota de Macedo Soares' relationship was far from peaceful and this movie shows it in all its messy glory. Miranda Otto and Glória Pires play the headstrong women and they're both magnetic to watch in their brief moments of joy and in their frequent states of conflict. It's a film about depression, substance abuse, and the creative process — and how all three affect romantic relationships.
173. Carmen & Lola
dir. Arantxa Echevarria, 2018
Available on HBO Max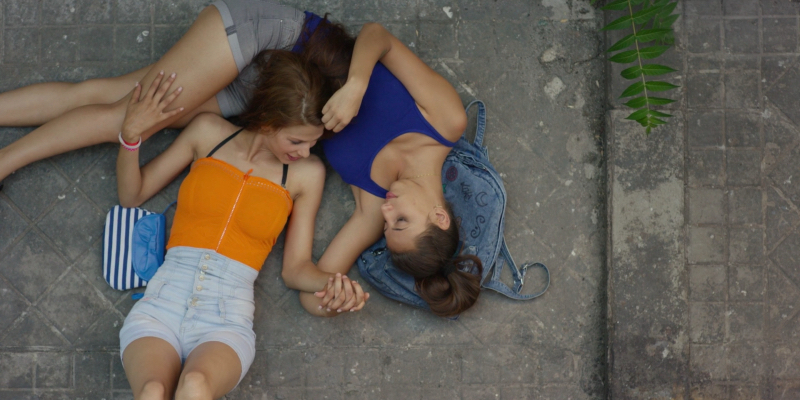 There's an entire subgenre of lesbian movies where two women fall in love and one is overtly gay and the other could fake it through a heterosexual life. But like so many oft-told stories, the repetition of patterns does not inherently imply a lack of ingenuity. Rather, this structure can be used to explore the nuance and specificity of a specific culture and specific characters. Arantxa Echevarria's Carmen & Lola is just such a film as it focuses on two young Romani women who are being pressured into marriage and struggle to be together instead. Zaira Romero and Rosy Rodríguez play the titular characters and their chemistry further elevates the film. There is an engagement party dance scene that will burn into your memory forever.
172. The Chinese Botanist's Daughter
dir. Dai Sijie, 2006
Buy on DVD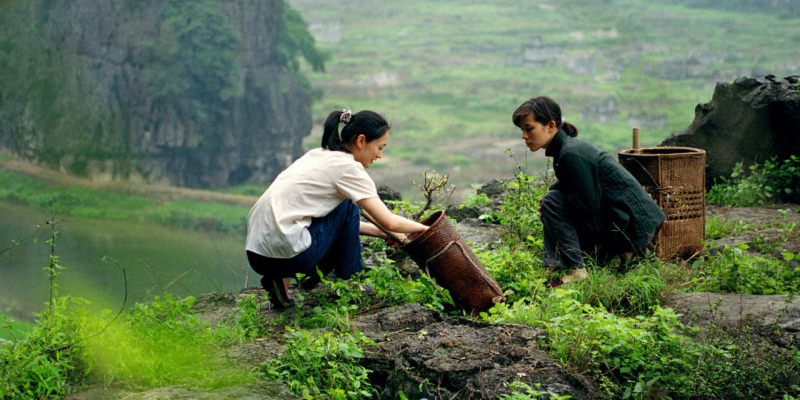 Lush and tragic, this is male gaze lesbian melodrama at its finest. The men are abusive, the scenery is gorgeous, and the women are madly in love. Mylène Jampanoï and Xiaoran Li succeed at deepening their simply written character and provide a couple that's easy to root for even as the plot maddens.
171. Violette
dir. Martin Provost, 2013
Watch It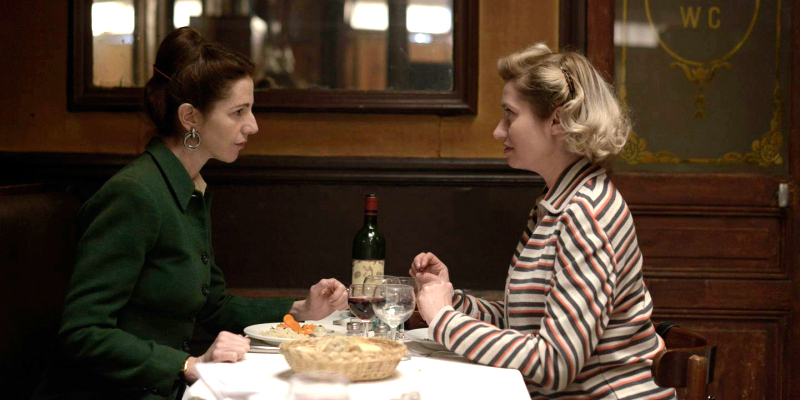 An accomplished and thoughtful biopic led by a remarkable performance from Emmanuelle Devos, this retelling of the life of Violette Leduc is an excellent introduction to one of the great queer women writers in history. The film largely focuses on Leduc's personal and professional relationship with Simone de Beauvoir as the two women rise in literary esteem. It's a rather chaste film considering Leduc's work but it's still an interesting look at a troubled yet accomplished artist.
170. The Lure
dir. Agnieszka Smoczyńska, 2017
Watch It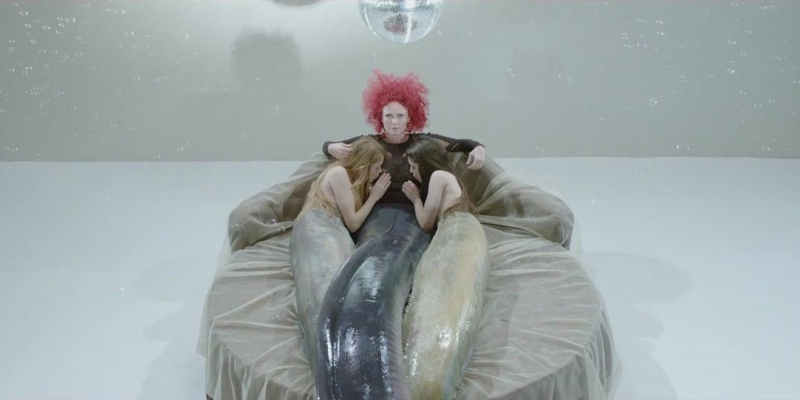 This genre-bending mermaid musical horror movie was likely not intended to be about a gay trans girl and her straight trans girl best friend — Michalina Olszanska and Marta Mazurek who play the central mermaids, Gold and Silver, are both cis. And yet with its literal bottom surgery and riff on The Little Mermaid — a trans girl favorite — it's no surprise that it's left such an impression on the community. But beyond this imposed subtext this is still a weird and wonderful work of queer cinema that includes a sung-through scene of lesbian fish sex that makes The Shape of Water look like Mr. Limpet.
dir. Cathy Yan, 2020
Our Review // Watch It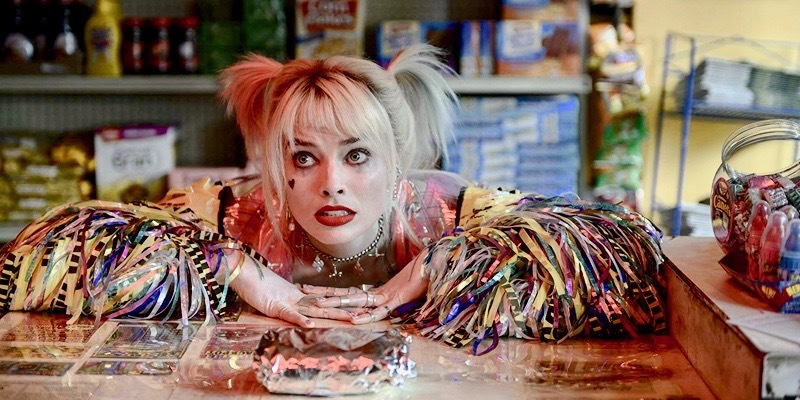 Finally after so much subtext, a big budget superhero movie that explicitly includes queer women — in fact, it's starring one. Cathy Yan's explosive, misandrist, comic book treat may be light on gay sex and romance, but with a mention of an ex-girlfriend Margot Robbie's Harley Quinn is an on-screen canon bisexual. Add Rosie Perez's lesbian Renee Montoya and her ex-girlfriend played by Ali Wong and a nice amount of the usual subtext that accompanies a female-led action movie and you're left with a movie that's gay by any standard and very gay by a Hollywood standard. Montoya also sets a lovely example for lesbian cops across media by doing the right thing — quitting.
dir. Herbert Ross, 1995
Watch It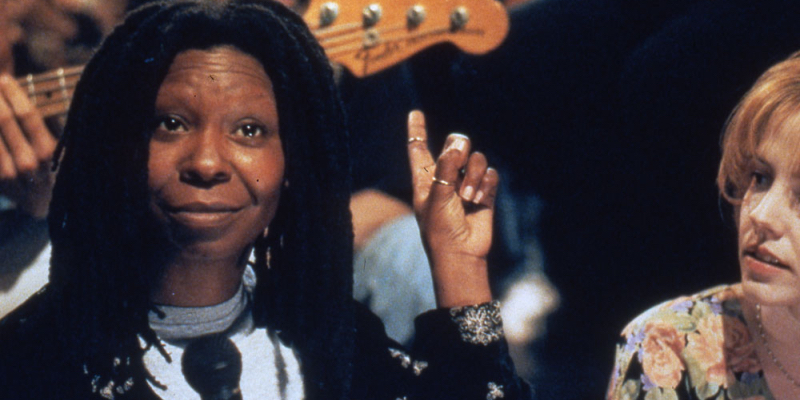 While very 1995 and very obviously written and directed by white men, this post-Thelma and Louise road movie is worthy of reconsideration. Whoopi Goldberg plays Jane, a lesbian who breaks up with her girlfriend and her band and heads across country for a new gig and a new life. She ends up driving with a type-A real estate agent played by Mary-Louise Parker and their initial friction soon gives way to a friendship and something more. Sure, the movie is all over the place — in tone and plot — and Drew Barrymore's subplot with Matthew McConaughey hurts the film, it's the chemistry between Goldberg and Parker that provide this film its heart. At a time when most mainstream movies still lived in subtext, this film provided a complex lesbian protagonist to pull at our heart strings.
167. Drifting Flowers
dir. Chou Zero, 2008
Watch It
Lesbian filmmaker Chou Zero's trio of intersecting queer tales are about love, friendship, and identity. As much about gender as it is about sexuality, the film is at its best when focusing on the character Diego played by Chao Yi-lan. In the present Diego is a masc heartthrob, but in the past we see her struggle to define her identity beyond the expectations of woman. It's a moving film that saves its best section for last.
dir. Deb Shoval, 2016
Watch It // Also Available on Hulu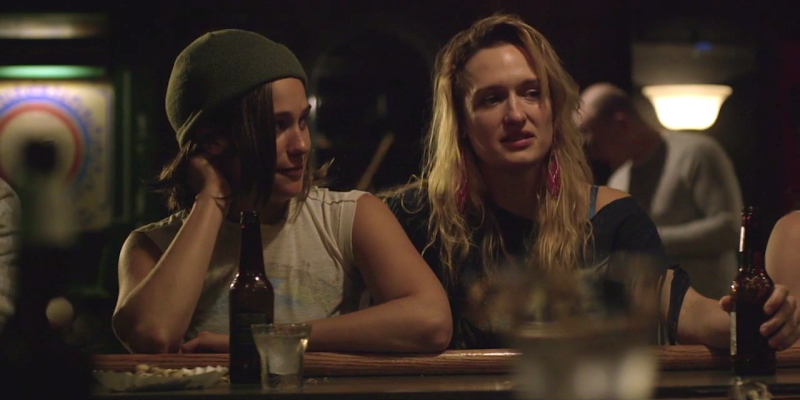 Lola Kirke and Breeda Wool give beautiful performances in this melancholy tale of first love in rural America. As the two women try to find a future together, they're faced with the limitations of their circumstance. It's an at times heartbreaking, at times sexy, and always lived in debut from director Deb Shoval.
165. Therese and Isabelle
dir. Radley Metzger, 1968
Unavailable
A landmark of lesbian cinema caught between Violette Leduc's poetic truth and director Radley Metzger's male gaze, this is an imperfect yet worthy work. This boarding school tale of young love avoids most of the tropes associated with similar stories, trading in plot for extended sex scenes, lush narration, and a visual representation of haunting memory. The second half of the film is especially stunning, for its time, yes, but for our time as well.
dir. Jenée LaMarque, 2017
Watch It // Also Available on Netflix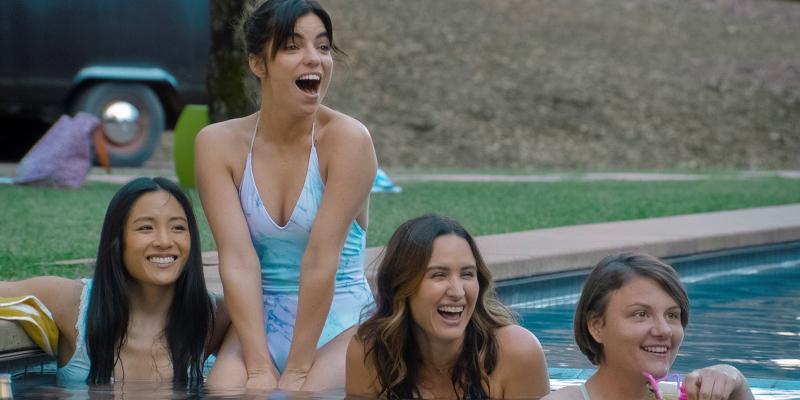 Constance Wu playing a lesbian is probably enough of a pitch to get you to watch this breezy Netflix comedy — and it should be! She's great as always and she has a nice chemistry with co-star Angela Trimbur. The movie is sweet and affirming as it acknowledges how different our bodies function and the necessity for communication during sex. Ever Mainard gives a standout comic performance and provides some much needed butch energy to this gay bachelorette party comedy.
163. Replay
dir. Catherine Corsini, 2001
Unavailable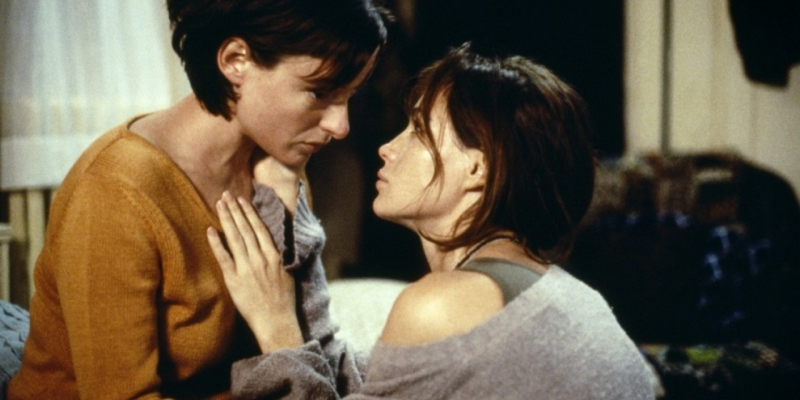 Catherine Corsini would go on to make the far more romantic Summertime, but first she made this twisted tale of obsessive love. Nathalie and Louise are childhood friends unwilling to admit their feelings for each other. Louise is especially taken and over the course of decades alternates between full commitment and spiteful abandonment. This is a painful movie about jealousy and the cost of internalized shame.
162. Celts
dir. Milica Tomović, 2021
Unavailable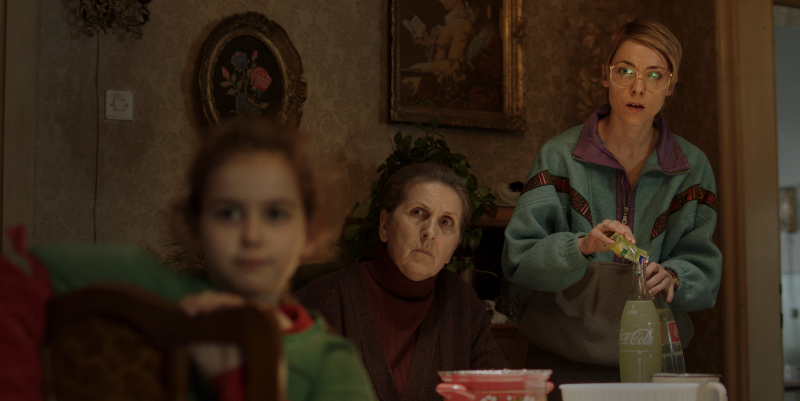 Taking place entirely at a children's birthday party, this snapshot of 1993 Belgrade puts a political spin on queer chaos. While the kids dress up as Ninja Turtles, the adults oscillate between heated discussion of current events and even more heated affairs. Yes, this includes a tense love triangle between the birthday girl's aunt, her leather jacket wearing ex, and the ex's new young girlfriend. Working on several layers, Milica Tomović creates characters with full enough lives that the drama compels even if the historical relevance is lost on you. But understanding the place and time centers it all the more. Just a bunch of adults acting like children while the society they know falls apart.
dir. Lisa Cholodenko, 2010
Watch It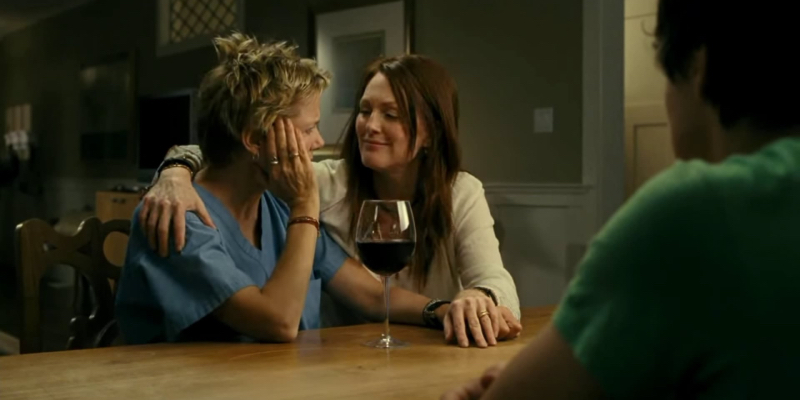 Not the most beloved by the lesbian community, this Oscar-nominated movie from lesbian filmmaker Lisa Cholodenko might be due for reevaluation. While some were put off by one of the film's married lesbians having an affair with a man, the messiness of the affair and the family dynamic all contributes to the film's themes about marriage and queer families. It's a funny movie with great performances from Julianne Moore, Annette Benning, Mark Ruffalo, Mia Wasikowska, and Josh Hutcherson. It might not be the most groundbreaking film, but ten years later its missteps feel a lot less worrisome.
160. Unpregnant
dir. Rachel Goldenberg, 2020
Available on HBO Max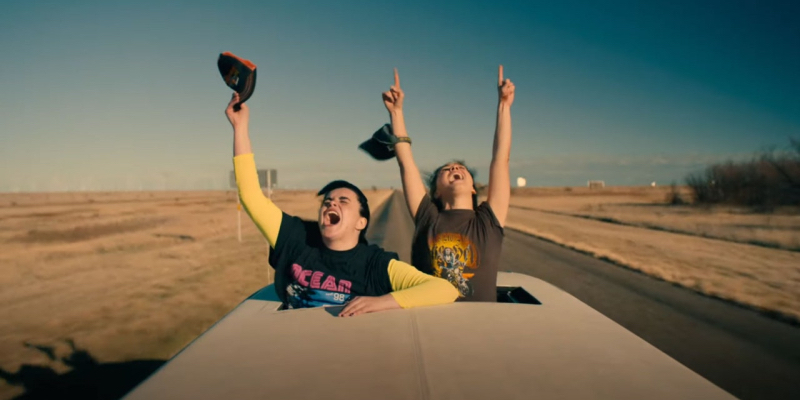 A pro-choice friendship comedy, Rachel Goldenberg's road trip romp is juggling a lot of tones. But its combination of silly and serious works, because of the two stellar performances at its center. Haley Lu Richardson and Barbie Ferreira create characters that are easy to root for and a chemistry that's a joy to watch. Ferreira is queer IRL and she just feels so queer in every moment here. It's exciting that we're at a place where so many teen movies have at least one queer character — even more exciting that so much of young Hollywood is queer and can openly play those parts. The central love story of the film is the platonic one between the friends but fret not Ferreira still gets a crush and a kiss — with a monster truck driver played by Betty Who!
dir. Lucia Puenzo, 2009
Watch It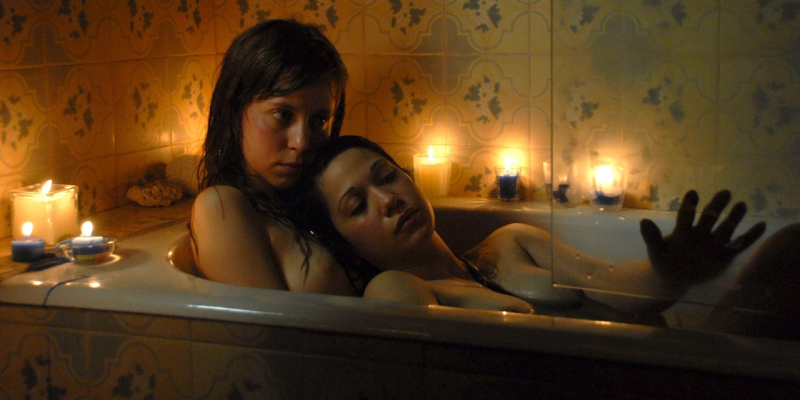 Based on her own novel, Lucia Puenzo's film is a painful love story about two young queer women separated by race and class. Lala is from a wealthy family and has been having an affair with Ailin, her family's maid. Their desire to escape pushes them to crime and Lala must face the naïveté of her fantasies while Ailin tries simply to survive. Inés Efron and Mariela Vitale are fantastic and fantastic together and make the film work even when the plot takes some difficult to believe turns.
158. Tove
dir. Zaida Bergroth, 2020
Watch It 
While this biopic of Moomin creator Tove Jansson is relatively straightforward, it's elevated by a casual gay angst and a strong central performance from Alma Poystï. It follows Jansson as she struggles between her desire to be a serious artist and her increasing Moomin fame. Meanwhile, she has a series of relationships with people of various genders as she continues her pursuit for a truly free life. That freedom is felt especially in the party scenes that welcome us into Jansson's bohemia. A fun fact is Jansson was a Leo sun, Pisces moon, Libra rising, so the dyke drama is on full display. An even more fun fact is ALL THREE of her love interests featured in this movie were Aquariuses!
dir. Karyn Kusama, 2009
Watch It // Also Available on Starz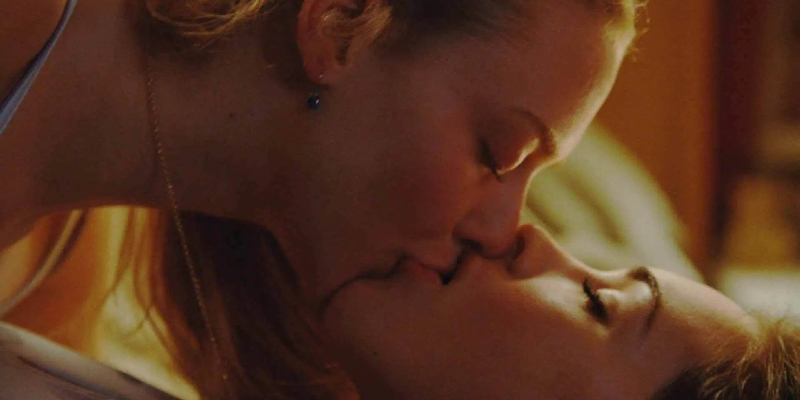 Poorly marketed and unfairly maligned upon its release, Karyn Kusama and Diablo Cody's already cult classic has finally started to get the praise it deserves. With Cody's signature wit and Kusama's sharp style, this horror-comedy/rape-revenge/queer-teen-girl-friendship movie is a deadly delicious treat. Megan Fox is excellent in a role that plays with her celebrity and the expectations placed upon her and Amanda Seyfried is perfect as her best friend literally named Needy Lesbian — okay, fine, Needy Lesnicki. The original film was supposed to be even more explicitly gay but even with the studio-influenced version we still get one steamy make out and lines like: "Do you buy all your murder weapons at Home Depot? God you're butch!"
dir. Daniel Laabs, 2018
Watch It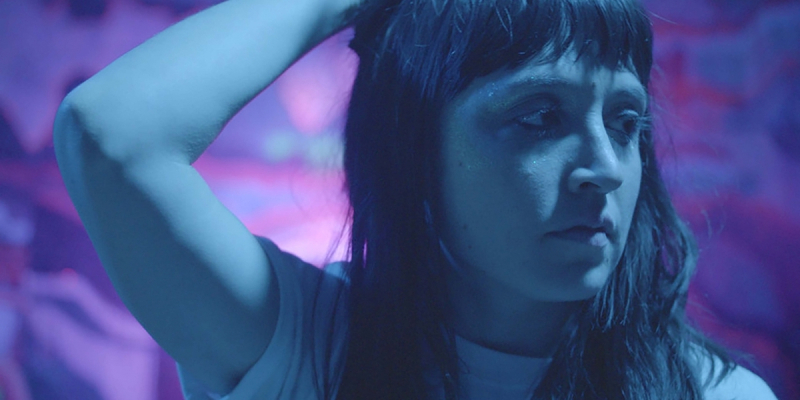 Winner of the Grand Jury prize for Outstanding American Feature at Outfest 2019, Daniel Laabs' debut feature is about two lost individuals forming an unlikely connection. Tallie Medel is phenomenal as Maya, a heartsick lesbian struggling in the aftermath of a car accident. She befriends Freddy, a lonely gay man with an estranged daughter, played by Robert Longstreet and the film cuts back and forth between their two storylines. While a bit underwritten and at times as lost as its characters, the film ultimately works because of its central performances and Laabs' impressive visual style.
155. Miao Miao
dir. Cheng Hsiao-Tse, 2008
Unavailable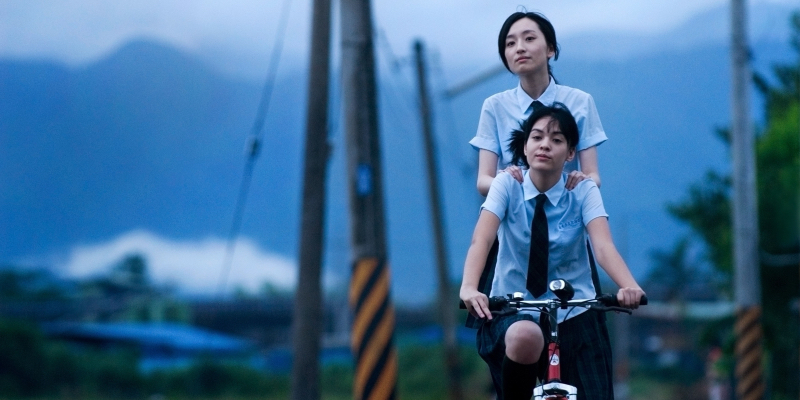 If you watch this movie hoping for the teen girls at its center to be together you'll be disappointed. But if you watch this movie to witness the kind of adolescent yearning queer teens know intimately then you'll be pleased. It's a classic tale of lesbian girl meets probably bi girl meets probably gay boy who is probably in love with his ex-bandmate. No one really knows what they're doing or how to express their feelings, but with its poppy soundtrack and jarring editing Cheng Hsiao-Tse seems to embrace the messy adolescent perspective of his characters. The characters feel what they want so deeply, but feeling what you want and articulating what you want are far from the same thing. Adolescence is hard no matter what, but queer adolescence is another level of confusion.
154. Unveiled
dir. Angelina Maccarone, 2005
Buy on DVD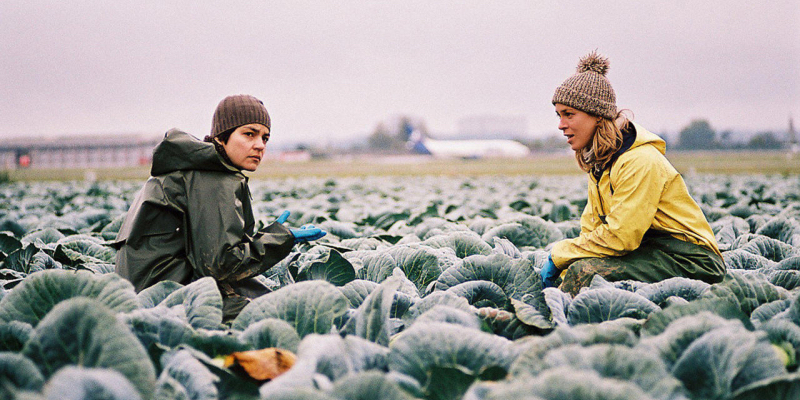 Jasmin Tabatabai gives a phenomenal performance in this story of an Iranian lesbian pretending to be a man and seeking asylum in Germany. It's a difficult and heartbreaking film, but writer/director Angelina Maccarone resists easy dramatic choices in favor of a melancholy complexity.
153. My Summer of Love
dir. Pawel Pawlikowski, 2004
Watch It
What begins is a quiet and tender queer coming-of-age love story takes a darker turn, as characters get increasingly untrustworthy and violent. It's beautifully shot and has moving performances from Natalie Press and Emily Blunt, in her breakout role. It may not be the happiest queer film, but it's not without hope, and the journey is worth it.
152. Forgotten Roads
dir. Nicol Ruiz Benavides, 2020
Unavailable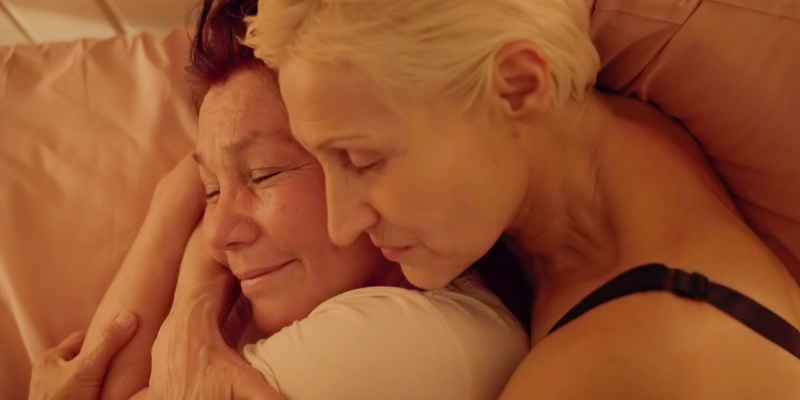 This movie has EVERYTHING. A 70-something lesbian rediscovering her sexuality. Another 70-something lesbian who is married to a man but moonlights as a queer lounge singer. Gays, against all odds, learning how to drive. UFOs. Yes. UFOs. Nicol Ruiz Benavides' debut film is emotionally accessible and artistically esoteric and that combination makes for an incredible viewing experience. It's rare to get movies about older queer women — it's even rarer to get a film about older queer women that takes risks like this film. Lucky for us the risks pay off for a unique and meaningful viewing experience.
151. If These Walls Could Talk 2
dir. Jane Anderson, Martha Coolidge, Anne Heche, 2000
Buy on DVD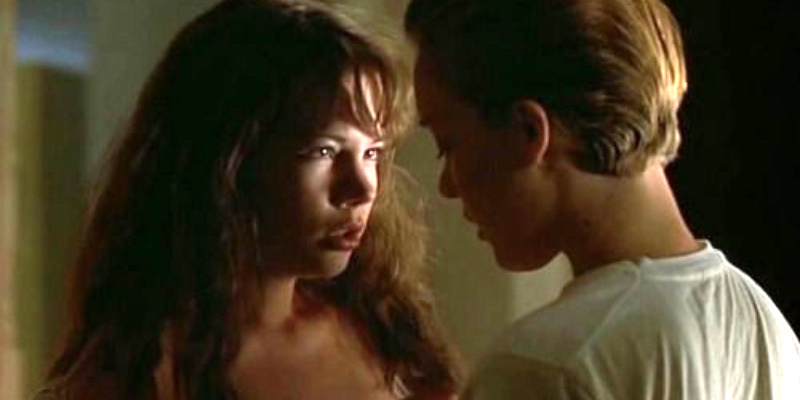 The three stories that make up this iconic HBO film certainly vary in quality. Jane Anderson's 1961-set tale of a lesbian in mourning is simple and heartbreaking, while Anne Heche's present day portrayal of Ellen Degeneres and Sharon Stone having a baby is cringeworthy at best. But it's the middle section set in 1972 that makes the film what it is. Martha Coolidge's love story between Michelle Williams and a very butch Chloë Sevigny is fun and sexy and explores questions of class and gender identity within lesbian circles. It also has an incredible supporting cast that includes Natasha Lyonne and Nia Long. The whole film can be watched by completists, but it's this section that deserves true praise.
[Jump to Movies: 200 | 150 | 100 | 50 | 25 | 10 | All ]
dir. Peter Strickland, 2014
Watch It // Also Available on Hulu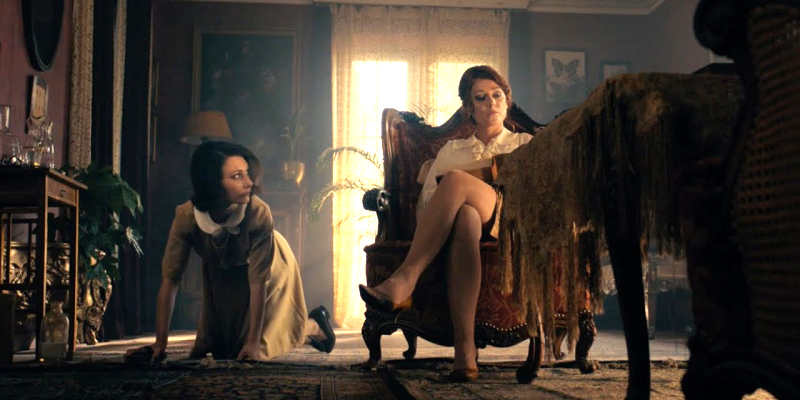 This is one of the very few non-porn films about queer women BDSM and that alone makes it noteworthy. But it's also a gorgeous and strange film with alluring performances from Sidse Babett Knudsen and Chiara D'Anna. While it's at times formally unmotivated and certainly not devoid of male gaze, it's still a fascinating film showing an underrepresented aspect of many lesbian lives.
dir. Kerem Sanga, 2016
Watch It // Also Available on Hulu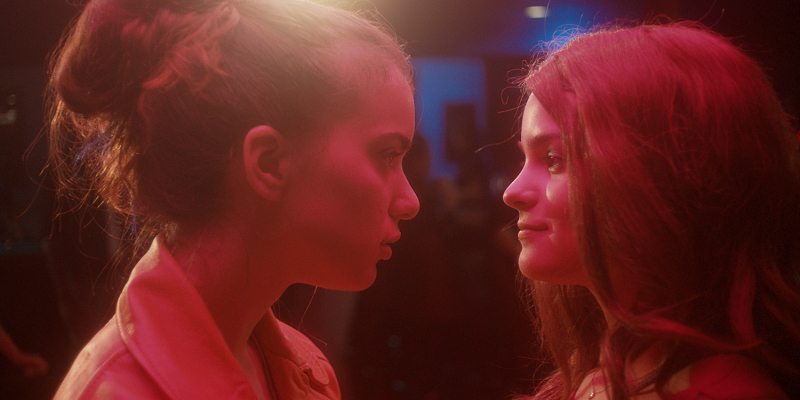 This coming-of-age drama is as much about consent as it is about queer discovery. Dylan Gelula plays Anne who begins to explore her first lesbian relationship in the aftermath of assault. The film opens itself up to the messiness of the interactions it displays and highlights how our culture's broken ideas around sex, gender, power, and identity lead to so much pain. It's a heartfelt, heartbreaking film that still finds time for sweetness. (And it has a great cameo from Cameron Esposito at the end.)
148. Spider Lilies
dir. Chou Zero, 2007
Buy on DVD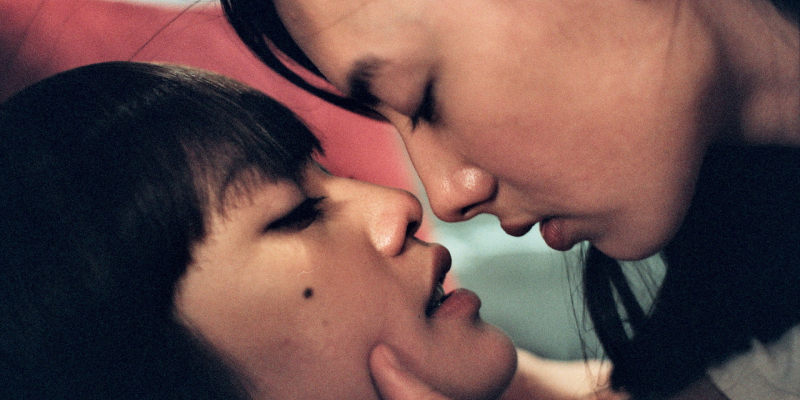 Winner of Best First Feature at the 2007 Berlin Film Festival, lesbian filmmaker Chou Zero's romantic drama is a striking film. Years after a sudden tragedy, a cam girl and a tattoo artist — and former childhood sweethearts — navigate their conflicting boundaries and familial obligations as they try to reconnect. Chou's style is poetic and dreamlike always turning back to her heroines' interior lives.
dir. Floria Sigismondi, 2010
Watch It // Also Available on Netflix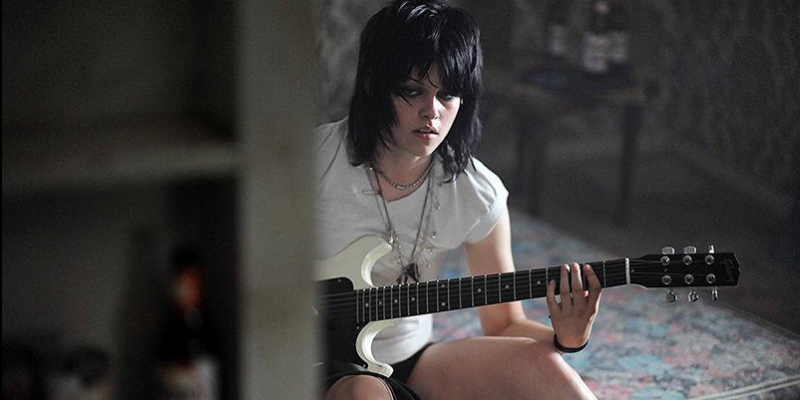 Elevated by stellar performances from Kristen Stewart and Dakota Fanning and artful direction from Floria Sigismondi, this conventional music biopic tells the rise and fall of all-girl rock band The Runaways. It may fall into some of the genre's silly tropes (watching Michael Shannon come up with "Cherry Bomb" on the spot is… an experience), but overall it's a sexually fluid celebration of rock music and a cautionary tale of music industry misogyny.
dir. Abdellatif Kechiche, 2013
Watch It // Also Available on Netflix
This Palme d'or winner is certainly one of the more divisive lesbian movies. Some despise its extended sex scenes drenched with male gaze while others admire its genuine sensuality and emotion. Reports of on-set abuse only make matters more complicated. Still, it's impossible to ignore the beautiful performances from Adèle Exarchopoulos and Léa Seydoux, and easy to appreciate its portrayal of first love. For many, this is a movie that no longer belongs to its male writer/director, but to its lead actresses and to their own past selves who in 2013 saw something familiar.
145. Walk on the Wild Side
dir. Edward Dmytryk, 1962
Our Review // Unavailable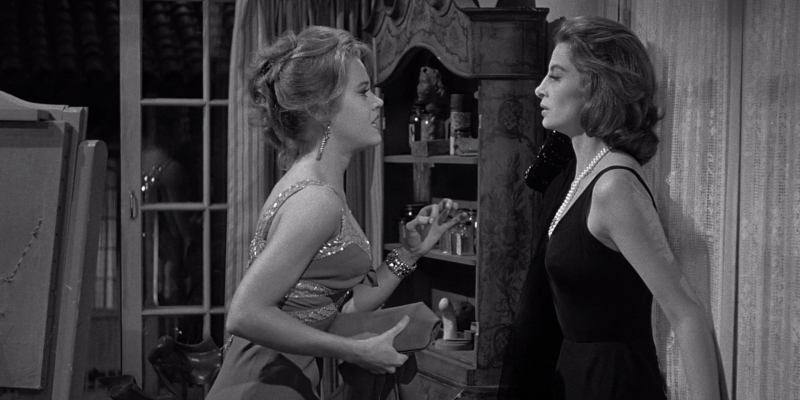 Barbara Stanwyck has a hot gay energy in most of her work, but only in this film did she actually play a lesbian. Unfortunately, the character is cruel and controlling in a sad way, not a sexy way. But this film that often feels like Tennessee Williams-lite isn't lacking in pleasures. Jane Fonda's scrappy sex worker Kitty Twist more than makes up for the story's more maudlin elements. And even if she isn't given the opportunity to embrace her sex appeal, Stanwyck humanizes the trope with the deep pain of an unhappy woman dissatisfied with her life's circumstances.
144. Caramel
dir. Nadine Labaki, 2007
Watch It
Nadine Labaki's debut directorial work is a romantic comedy about a group of women working in a waxing salon in Beirut. All of the women have different struggles with love — including Rima who is very shy and very gay. It's a beautiful, funny movie that casually values female emotion in a way we rarely see.
dir. Brad Michael Elmore, 2019
Watch It
The one and only movie about a trans lesbian joining a lesbian separatist vampire girl gang lives up to its premise. Nicole Maines is incredible as Laurel, charming in moments of awkward romance, and commanding in moments of action. Trans lesbians are still largely absent from the canon of lesbian cinema and this exception is delicious in how casually Laurel is included. Her transness is acknowledged and affects her character and the story, but it doesn't define her. She also gets an adorable meetcute — that ends with teeth in her neck.
dir. Ryan Murphy, 2020
Available on Netflix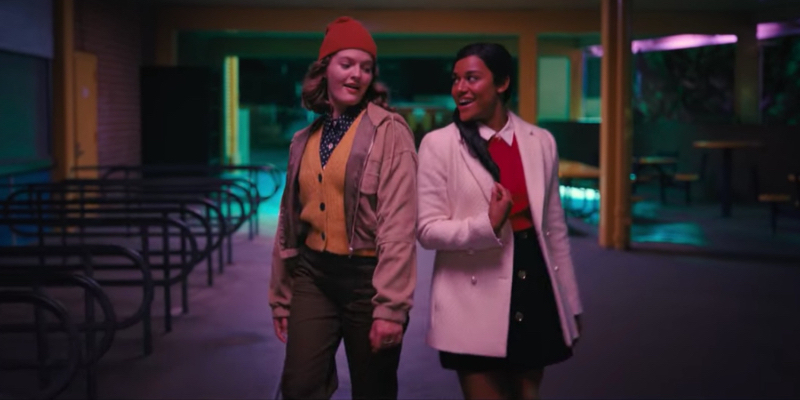 The rare big budget musical to focus on lesbians, Ryan Murphy's Broadway adaptation is star-studded, sentimental, and filled with the kind of simple optimism ready-made to melt the hearts of former closeted theatre kids everywhere. This is a movie with lots and lots of zaz, but underneath all that glitz and glamour is the story of two small town lesbians who just want to be together — who just want to be themselves. In a cast of big names — like literally Meryl Streep — it's IRL queers and on-screen newcomers Jo Ellen Pellman and Ariana DeBose who make the movie sing. The movie's message might be simple, but high school is simple. Messy and complicated and tragic and scarring and hopeful and simple. Open your unruly heart to these teen lesbians and you'll be dancing and singing your way into a future of possibility.
141. Girl with Hyacinths
dir. Hasse Ekman, 1950
Unavailable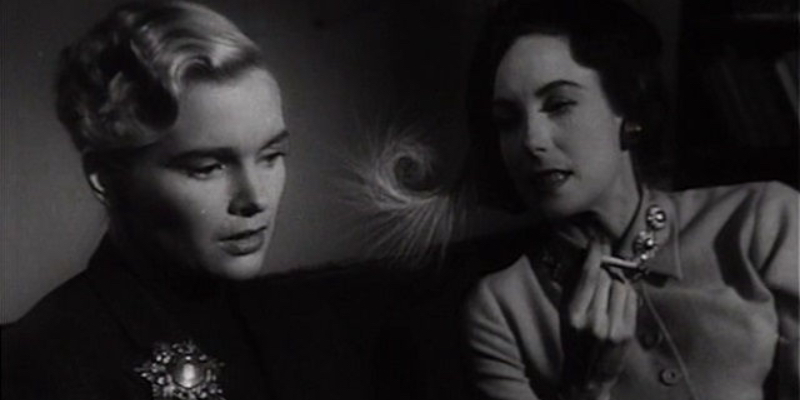 One of the earliest lesbian movies ever made, this Swedish noir may began with suicide but the central mystery is far more nuanced than how it initially appears. Eve Henning (best known for Ingmar Bergman's debut Thirst, that has another of cinema's first lesbian characters) plays Dagmar Brink, a sad and lonely woman whose life comes to a tragic end. Completely alone, she leaves her belongings to her neighbors who begin a Citizen Kane-like quest to learn more about the mystery woman who lived next door and Alex, the supposed love of her life. Now, as we know, Alex is a gay name, so it's easy for us to guess where they go wrong in assuming Alex is a man. However, the layers of this film go beyond the usual tragic lesbian trope resulting in a work of art that's more than just ahead of its time.
dir. Shonali Bose, 2014
Watch It // Also Available on Hulu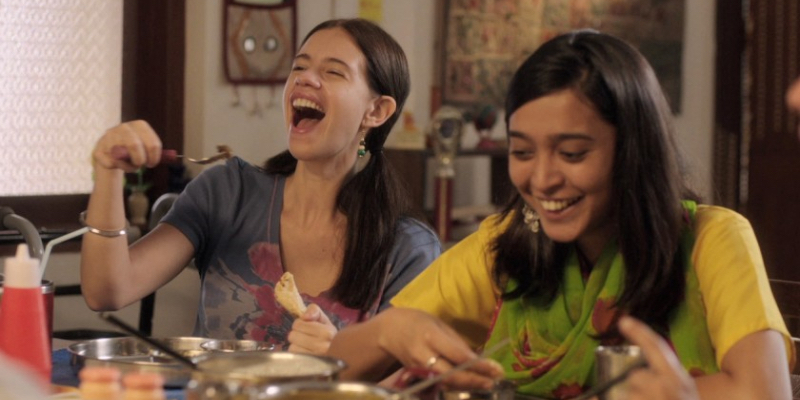 Queer disabled representation is almost non-existent in media which makes this film's triumphs all the more exciting, and its failures all the more frustrating. It allows its lead character the freedom to make mistakes, to explore her sexuality in all its messiness, and go beyond the narratives usually forced on disabled characters by abled filmmakers. Unfortunately the writers and directors are abled and even more unfortunately so are the lead actresses. One has to wonder if some of the film's missteps, such as sexualizing a caretaking situation and having the blind character touch faces, as well as some of its more saccharine moments, would've been avoided if disabled people were actually involved in the making of the film. The movie is funny and sexy and sweet, but when it comes to disabled representation we still have so much further to go.
dir. Rebecca Hall, 2021
Our Review // Watch On Netflix
There's a distance and a hyper-stylization to this adaptation of Nella Larsen's masterpiece. Every choice Rebecca Hall makes as a director and writer is deliberate, some — such as the casting — to make the story feel current, others — such as the dialogue, 4:3 aspect ratio, and black-and-white photography — to pull the story back to the past. This is a film of contradictions, somehow both cold and sensual. It emphasizes the queer subtext of the novella without making it more explicit. It is a film of obstruction, of withholding, of glances. It's the performances of Tessa Thompson and Ruth Negga that ground this puzzle — it's in how they look at each other. It's a mix of love and hatred, lust and repulsion, envy and superiority. Glances destined for tragedy.
138. Annihilation
dir. Alex Garland, 2018
Our Review // Watch It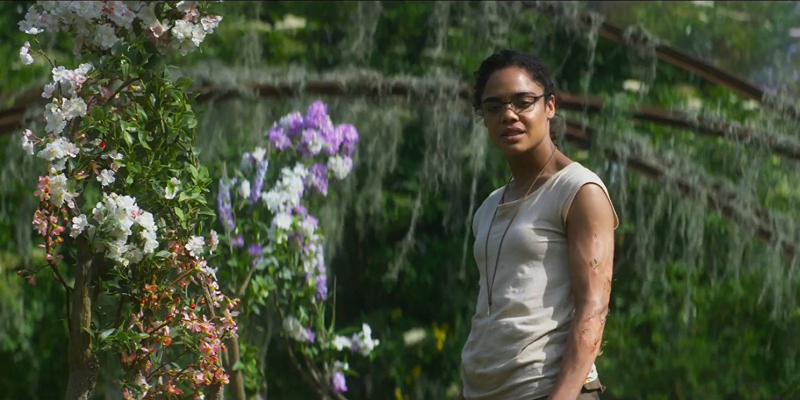 Beautiful and horrifying, depending on the moment, depending on your perspective, Alex Garland's haunting sci-fi film is visceral and thought-provoking. A group of women venture into a mysterious zone called the Shimmer where the laws of science seem not to apply. Natalie Portman, Jennifer Jason Leigh, and Tessa Thompson are joined by Gina Rodriguez as a soft butch with an undercut, and every lesbian's favorite cishet man Oscar Isaac. The film is light on lesbian content — the only romantic relationship focused on is between Portman and Isaac — but science fiction is a genre we're almost always excluded from so this film is noteworthy not only for centering women, but explicitly including a gay woman in the narrative.
dir. Michael Rianda, 2021
Our Review // Watch On Netflix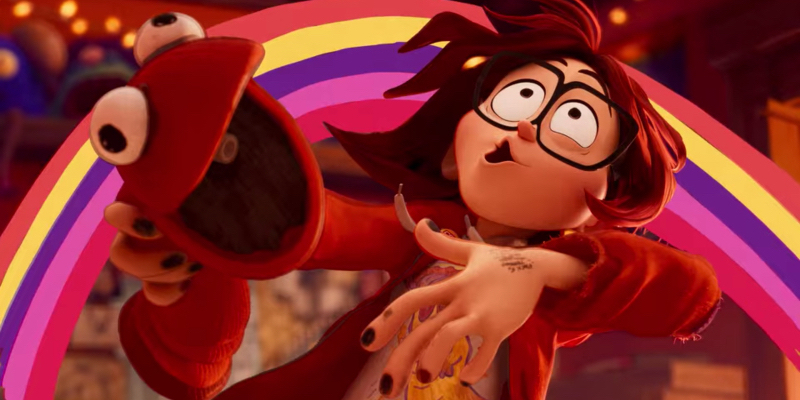 While Disney is still bragging about their exclusively gay moments and NOT giving Elsa a girlfriend, Sony and Netflix have gifted us with this funny, emotional, and delightfully inventive queer kids movie. Katie Mitchell (voiced by Abbi Jacobson) is a teen filmmaker ready to escape her town where nobody understands her and go off to film school to find her people. Unfortunately, her plans get interrupted by her dad — oh and the robot apocalypse. Katie must learn to accept her biological family while still knowing she has a chosen family out there she needs too. Her queerness may be subtle but this is a wildly enjoyable step toward the queer kids movies we deserve.
136. Holy Trinity
dir. Molly Hewitt, 2019
Watch It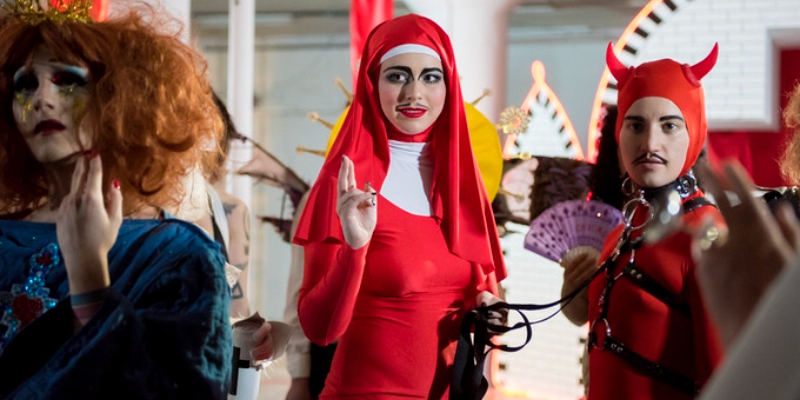 Writer/director/producer/star Molly Hewitt's debut feature about a dominatrix who huffs a magic aerosol can and begins communicating with the dead is a truly inventive work of queer queer queer cinema. With two non-binary leads (Hewitt and Work in Progress/The Politician heartthrob Theo Germaine), imaginative low budget production design and costumes, and the setting of Chicago's queer scene, Hewitt has made a film with a spirit that recalls the best of the 90s queer cinema. It's funny, it's sexy, it's weird, and, best of all, it's filled with references and nuance cishet people could never understand.
135. Another Way
dir. Karoly Makk, Janos Xantus, 1982
Unavailable
Jadwiga Jankowska-Cieslak won the Best Actress award at Cannes for this remarkable film that's hurt only by its maudlin insistence. Jankowska-Cieslak plays a political journalist in Hungary just after the revolution who begins a relationship with a less radical — and married — writer. They fight to live truthfully, love truthfully, and write truthfully, but the consequences of these transgressions are bleak. It's a pointed, worthwhile film as long as you prepare yourself for the misery.
134. The First Death of Joana
dir. Cristiane Oliveira, 2021
Unavailable
Stories of young queers investigating the gay pasts of their relatives is its own subgenre. What is it about these quests that hold so much interest for us in our lives and in fiction? Is it the validation of knowing you're not the only one? The explanation for why you are the way that you are? The connection to biological family that can become so fraught when coming out in a world that wants you to stay in? As the titular protagonist of Cristiane Oliveira's beautiful coming-of-age story investigates the life of her late great aunt, she is also investigating herself. It doesn't really matter what she discovers about this relative. She must learn what so many of us learn — that it really is about the journey.
133. Laurel Canyon
dir. Lisa Cholodenko, 2002
Watch It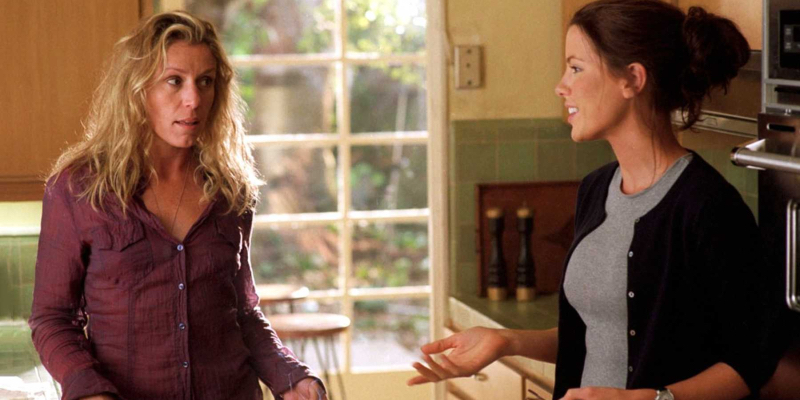 While light on queer content, Lisa Cholodenko's film about a free-spirited record producer and her straight-laced son is an understated and effective drama. Frances McDormand and Christian Bale are great as mother and son and Kate Beckinsale is dreamy as the son's fiancée who just might have more interest in his mom and her boyfriend than her husband to be.
132. Monster
dir. Patty Jenkins, 2013
Watch It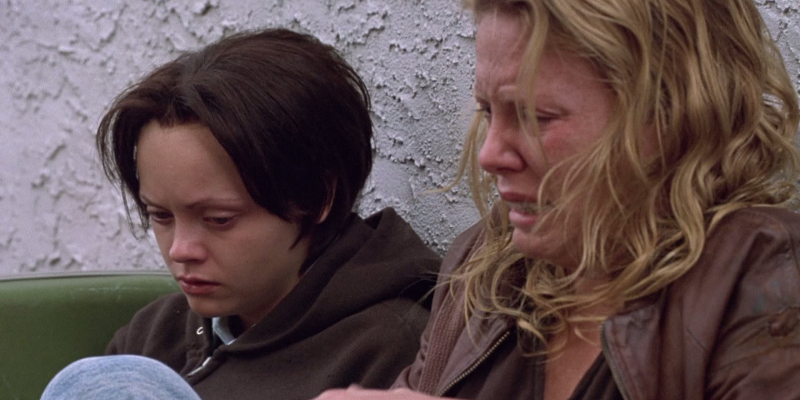 Bleak and devastating, Patty Jenkins' portrayal of Aileen Wuornos does right by Wuornos' life of trauma. Charlize Theron went beyond the prosthetic makeup in her truly remarkable — and Oscar-winning — performance as Wuornos. Her chemistry with Christina Ricci provides a much needed levity — until it makes what happens even more painful. The film doesn't judge Wuornos or romanticize her, but simply portrays the life-altering effects of abuse.
131. The Rocky Horror Picture Show
dir. Jim Sharman, 1975
Watch It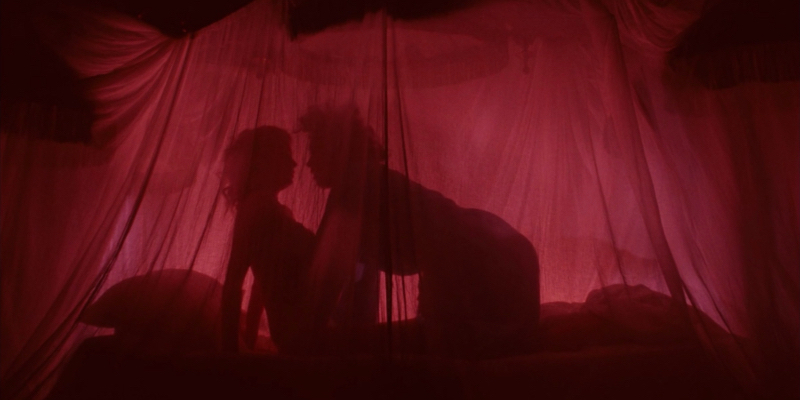 This musical cult classic isn't usually associated specifically with queer women — but it should be! It's safe to say Tim Curry's Dr. Frank-N-Furter, the sweet transvestite from Transsexual, Transylvania is, um, trans, and she's very clearly bisexual. She has sex with Barry Bostwick's Brad Majors and Susan Sarandon's Janet. And damnit she also seems to have a sexual history with all of her henchmen and women. She may play into the predatory, less than consensual, murderous transfemme trope, but Rocky Horror is too campy to be taken so literally. Add in Columbia and Magenta all over each other during "Touch Me" and an orgy with all the characters at the end and it's no wonder this one-of-a-kind musical has excited queer women and non-binary people for almost fifty years.
130. Fire
dir. Deepa Mehta, 1996
Buy on DVD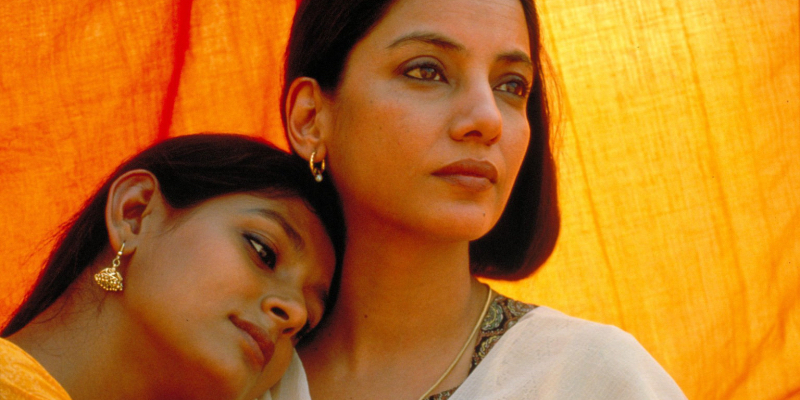 Deepa Mehta's gorgeous film is about two women who refuse to simply be the wives of terrible men. Radha and Sita find love and desire in each other and remain true to that desire in the face of hardship. Their love feels real and their sexuality consuming due to Mehta's artful gaze and the performances of Shabana Azmi and Nandita Das.
dir. Leigh Janiak, 2021
Our Review // Watch On Netflix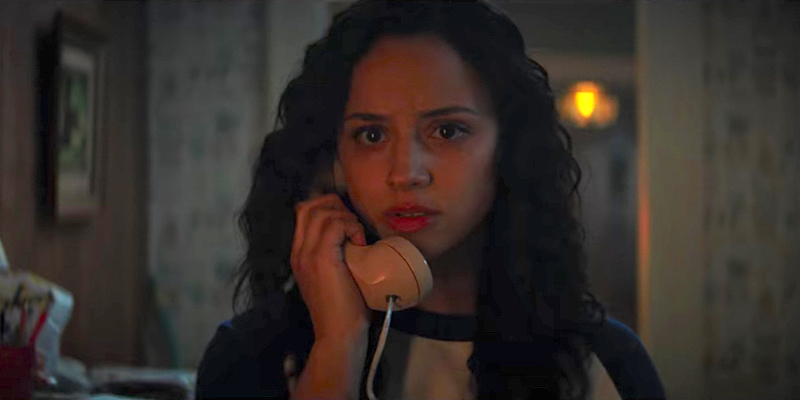 What makes The Fear Street Trilogy go from a solid good time to a grand cinematic event is its understanding that intelligence and fun are not antithetical. Like The Slumber Party Massacre Trilogy, Fear Street doesn't make us choose between campy horror and an engagement with reality. It's proof that "good politics" are also good storytelling. A lot of slasher movies are about trauma and PTSD but these films go a step further and explore the trauma that can be carried in land and among a community. They are films made by people who know the horror genre and know the horrors that exist in our real world. Together this knowledge results in a trio of movies with more developed characters and more resonate plots than we often see in the genre. This isn't just horror with queer characters — it's queer horror. It's about things that should really scare us — generational trauma and income inequality. Pretty good for a series that also features a devastating kill with a bread slicer.
dir. Jesus Franco, 1971
Watch It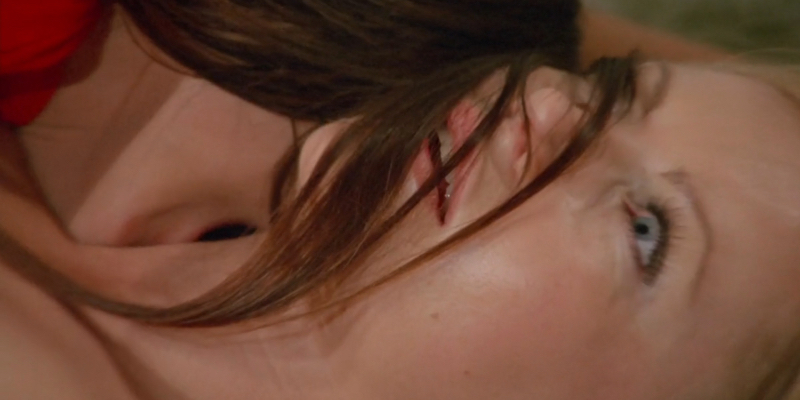 The most well-known and most accomplished of 1970s lesbian vampire sexploitation, Franco's appropriately named film is a bonkers explosion of guilty pleasure male gaze. The leftover-from-the-60s score and imagery that ranges from boats to scorpions makes for a silly and captivating viewing experience. Soledad Miranda is impossible to resist as a performer and a vampire.
127. Liz and the Blue Bird
dir. Naoko Yamada, 2018
Watch It
A spin-off of the anime series Sound! Euphonium and based on the same novels, Naoko Yamada's beautiful tale of high school longing is overwhelmed with high school feeling. Mizore is shy and awkward and devastatingly in love with her popular best friend Nozomi. They're in band together and are tasked with performing a solo based on a story called Liz and the Blue Bird. Yamada cuts between our central story and the titular story itself as they blend the minutely real with fairy tale expanse. The animation is stunning and the attention to detail places us squarely in Mizore's state of obsession. Queer women are still largely absent from animated movies — especially ones appropriate for children — and this provides one of the rare exceptions. Words like gay and lesbian may not be used but the love and desire is more than explicit. This is a film about letting go of those you love — a message needed by adolescents and us all.
126. The Secrets
dir. Avi Nesher, 2007
Watch It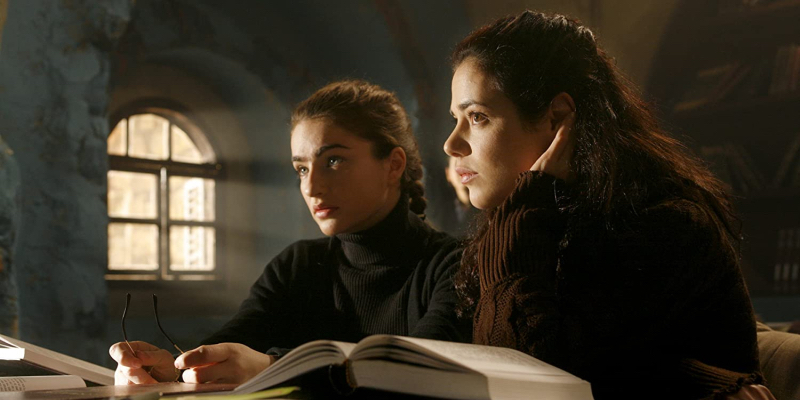 This story of two young women discovering queerness at a Jewish seminary is complicated by their encounter with a mysterious older woman eager to atone for her sins. Naomi and Michelle are both headstrong and brilliant even if Naomi is studious and conservative and Michelle is a rule-breaking, reluctant student. They quickly go from enemies to friends to lovers to co-conspirators as they assist this French stranger in her atonement. It's a complicated film about faith and love and commitment to principles all in the face of patriarchy.
125. Young & Wild
dir. Marialy Rivas, 2012
Watch It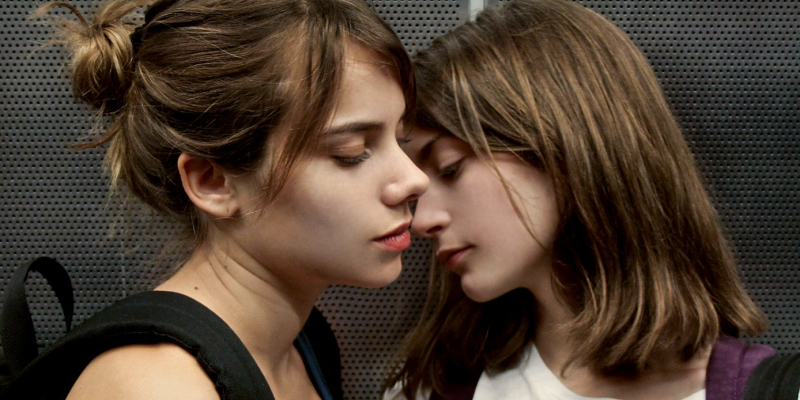 This sexually explicit coming-of-age movie follows Daniela, a painfully horny teen living in an evangelical household in Chile. She writes about her escapades (and her family) on her popular blog, but her feelings are more complex than her blog might lead on. Her guilt increases as sex turns into bisexuality turns into infidelity. With a range of specific sex scenes and well-drawn relationships, the film is a painful and inspiring tale of desire.
dir. Léa Pool, 2001
Watch It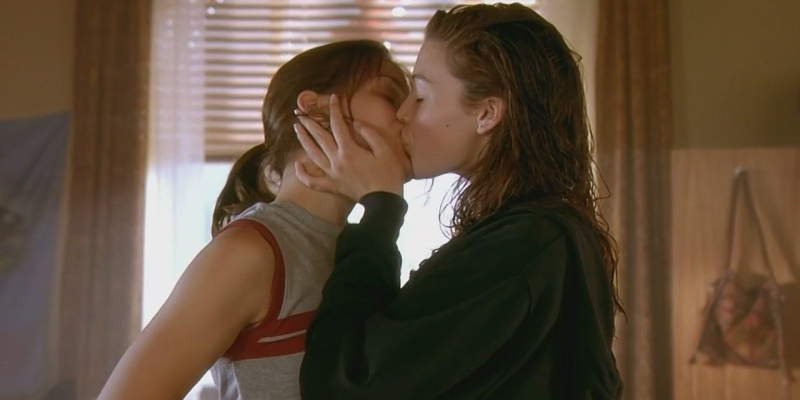 Loved by some, hated by others, Léa Pool's boarding school dyke drama is as heightened as its angsty teens. Piper Perabo plays soft butch heartthrob Paulie Oster who is desperate to sonnet and fence her way into Jessica Paré's heart. The dialogue is corny and the symbolism is heavy handed, but the story is told through the eyes of Mischa Barton's younger new student and with that brings a level of naïveté to the whole approach. If you love falcons and feelings this movie might just be for you.
dir. Ruth Caudeli, 2021
Our Review // Unavailable
The various plots of Leading Ladies — with their backstabbing, cheating, and litigious consequences — would fit right in on The L Word. And yet they couldn't feel more different. Director Ruth Caudeli trusts her audience to follow along and to care without forcing or over-explaining any narrative threads. She is a queer woman making work for other queers and that's felt in every beat. With its handheld cinematography, improvised dialogue, limited setting, and unconventional structure, Leading Ladies feels like a lo-fi experiment as much as it does a feature film. But abandoning the anchors present in most features isn't a shortcut — it's a challenge. It's hard to make life's quiet dramas riveting — Caudeli and her cast accomplish just that.
dir. David Fincher, 2011
Watch It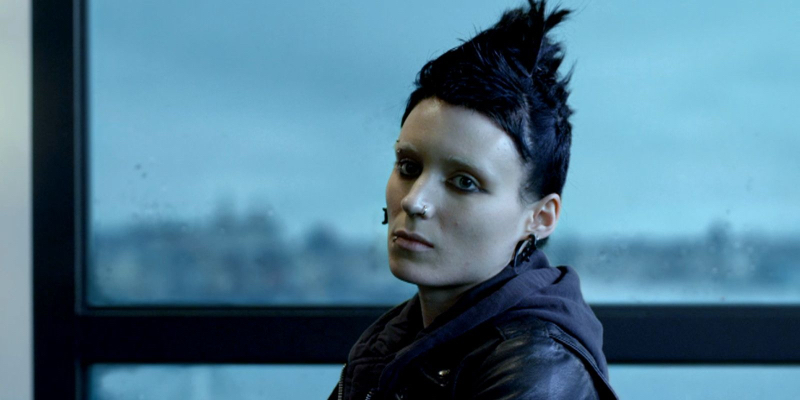 Many questioned the necessity for another adaptation of the popular Swedish crime novel, but David Fincher delivered a film that was more polished, more narratively sound, and perfectly attuned to his attention to detail. And can we really have too much Lisbeth Salander? Rooney Mara's take on the highly competent, ever vengeful, deeply dreamy bisexual hacker is far more vulnerable — possibly weaker, possibly just more human, depending on your affection for the original.
121. The Girl with the Dragon Tattoo
dir. Niels Arden Oplev, 2009
Watch It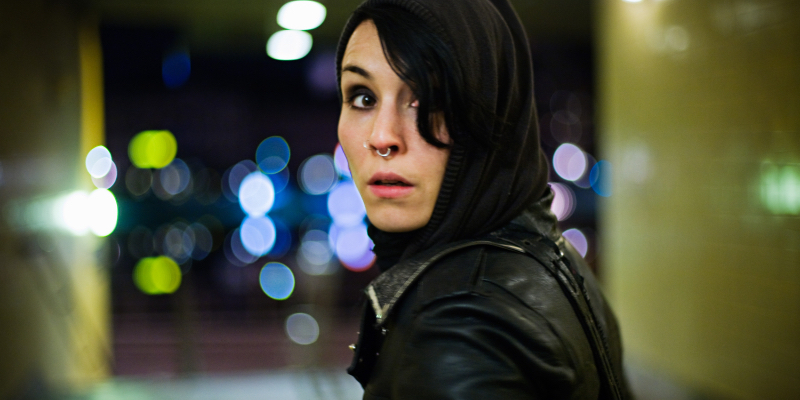 If there's one reason the Swedish adaptation remains the favorite among most queer women it's Noomi Rapace. The movie itself may not be as formally accomplished as Fincher's redo, but Rapace makes Lisbeth Salander instantly iconic. She's gritty and fierce in a way so many badass Hollywood heroines are not. There's nothing pretty about her take on Salander and that makes her all the more alluring.
120. The Strings
dir. Ryan Glover, 2020
Watch It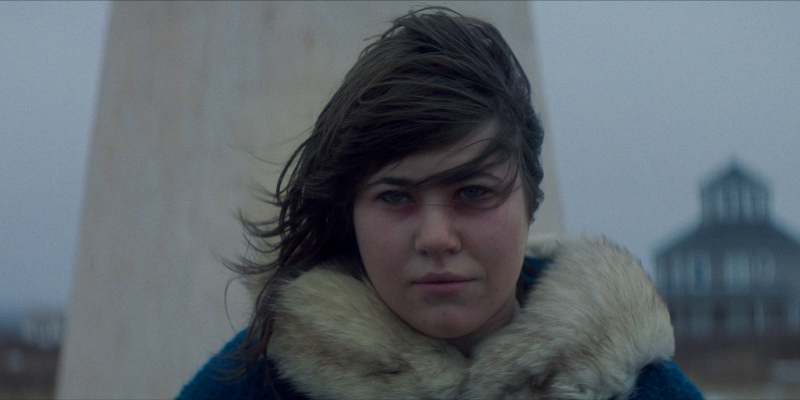 More Chantal Akerman than your average cabin in the woods thriller, cinematographer Ryan Glover's directorial debut is arthouse horror with an emphasis on the arthouse. And yet the deliberate pace is manageable when the form and subject are this compelling. The movie follows Catherine, a queer musician isolating at a remote cabin after a break up — a break up break up and a band break up. Catherine is played by musician Teagan Johnston, who also wrote the film's songs. They have a casually watchable on-screen presence which is useful because we spend most of the movie doing just that — watching them drive, watching them drink, watching them write music. But what begins as lonely and mundane ultimately builds to moments of absolute terror. This movie has ghosts, this movie has great music, this movie has incredible cinematography, and, best of all, this movie has queer make outs.
119. The Journey
dir. Ligy J. Pullappally, 2004
Watch It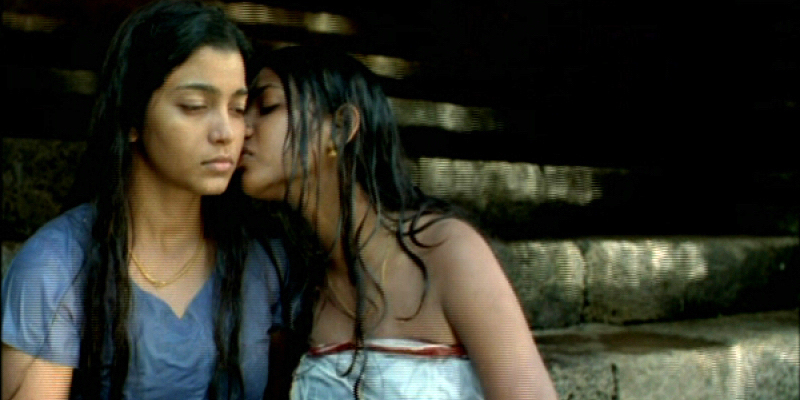 This tale of two women who find friendship as children and forbidden love as adults follows some familiar lesbian movie beats. But Ligy J. Pullappally centers her characters' unique personalities and their environment's complex reaction, ultimately ending up with a film that's authentic and moving and beautiful from beginning to end. Suhasini V. Nair and Shrruiti Menon give very different, equally accomplished performances and their decades long bond is believable in every moment.
dir. Shamim Sarif, 2007
Watch It
While certainly hitting all the expected tropes, lesbian filmmaker Shamim Sarif's semi-autobiographical romcom stands out for its cultural specificity, truly stunning leads, and endless charm. Sometimes you just want to watch beautiful women defy their families in the name of love and have gorgeous sex montages.
117. Adam
dir. Rhys Ernst, 2019
Watch It // Also Available on Hulu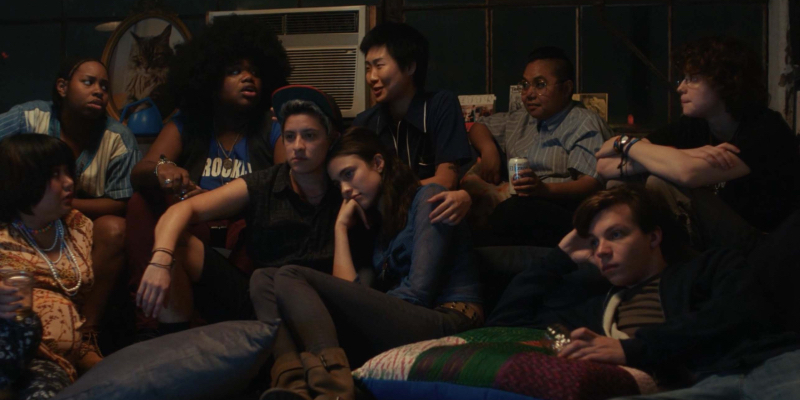 While it stirred controversy before it was even released, award-winning trans filmmaker Rhys Ernst's debut feature is surprisingly low-key and deeply queer. Based on The L Word writer Ariel Schrag's even more controversial book, this 2006-set coming-of-age tale takes an approach to queer storytelling that's certainly original. Many films on this list focus on a queer protagonist navigating a cishet world, but this is the rare film with a cishet protagonist navigating a queer world. The film largely focuses on trans men — including a stand-out performance from Leo Sheng — but it is filled with queer women. It's as much about bisexuality as it is about transness as several queer women question what it means to date transmasculine individuals as lesbian-identified people in a binary community. It's a thought-provoking work of art that deserves to be seen before it's judged. It's also the only film on this list to feature a butch trans woman — played with a sexy bravado by newcomer Dana Levinson.
dir. Peter Jackson, 1994
Buy on DVD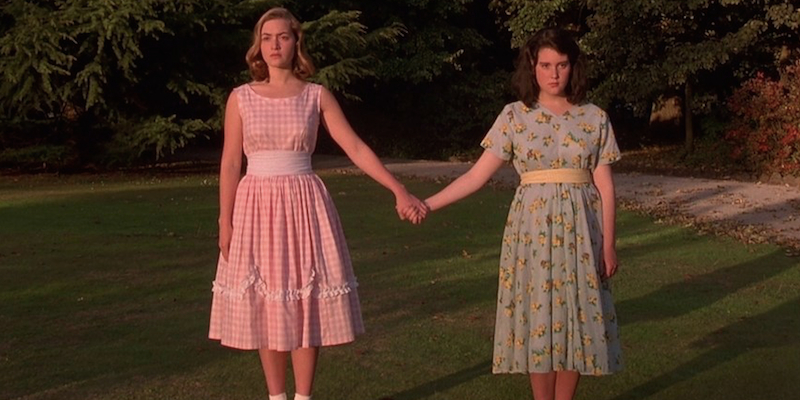 Peter Jackson is probably responsible for the misguided romantic choices and various kinks of hundreds (thousands?) of queer women around the world. Who among us didn't watch this movie about two teenage girls falling in love, inventing their own fantasy world, and deciding to murder one of their mothers and think… hmm maybe? Kate Winslet and Melanie Lynskey play the parts of instigator and instigated so well and it really is bursting with as much imagination as it is toxic queer angst.
dir. Valerie Faris, Jonathan Dayton, 2017
Watch It
The only thing gayer than tennis are haircuts, apparently! Emma Stone stars as Billie Jean King as she faces off against has-been chauvinist Bobby Riggs (Steve Carrell) in the tennis match deemed The Battle of the Sexes. Andrea Riseborough plays King's hairdresser and eventual girlfriend, and, yes, there is a VERY sexy haircut scene! Haircuts aside, the movie is a sweet, soft feminist sports movie readymade for inspiration. Oh and Alan Cumming plays King's queer mentor!
114. V for Vendetta
dir. James McTeigue, 2005
Watch It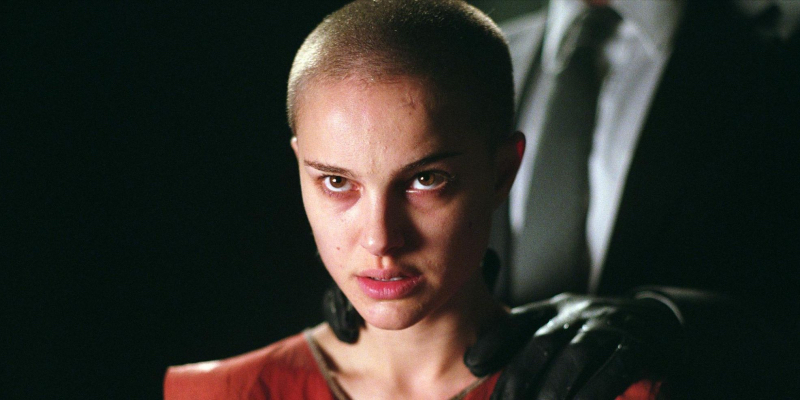 Trust the Wachowskis to center queerness in a big budget action movie adaptation of an Alan Moore graphic novel. While Natalie Portman's Evey and Hugo Weaving's masked V aren't queer — explicitly anyway — in extended flashback we watch how the film's authoritarian government separated Valerie, played by Natasha Wightman, from her lover. It's Valerie's story that inspired V and inspires Evey, and ultimately inspires us, the audience. This lesbian love story is the emotional center of this film about revolution in the face of tyranny. It's a fitting addition to a remarkable body of work from queer trans women sisters Lilly and Lana Wachowski — officially as screenwriters and rumored as co-directors.
113. The Fox
dir. Mark Rydell, 1967
Buy on DVD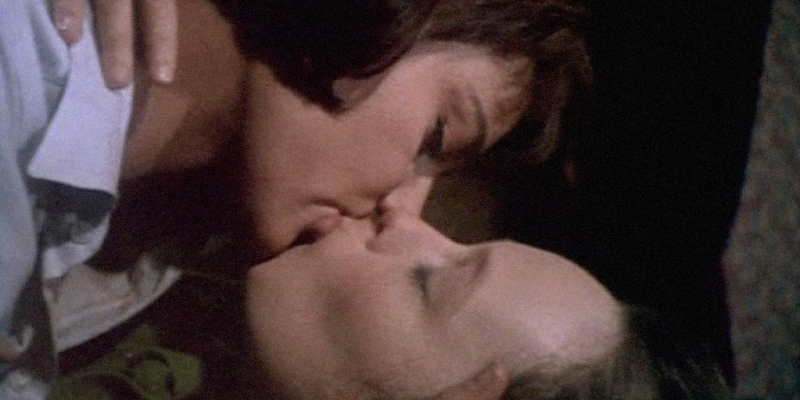 One of the earliest portrayals of a queer women couple on-screen, Mark Rydell's adaptation of the D.H. Lawrence novella of the same name surprises even as it dabbles in tropes. Sandy Dennis and Anne Heywood play Jill and Ellen, two women who live together and raise chickens in a relatively happy partnership. Ellen feels a certain ennui, but Jill's only concern is the literal fox in their hen house. The metaphor manifests in the arrival of a man named Paul played by Keir Dullea who is terrifying in his determination to split them up. But this poetic, complicated film isn't the expected 1960s story of a queer woman choosing a man — at least not so simply. The film is as much about gender as it is about sexuality and it deserves a greater reputation as a classic of lesbian cinema due to its performances, its craft, and its commitment to queer complexity in an era where that was so rarely allowed on screen.
dir. Rose Troche, 1994
Watch It
Low-budget and plotless like so many American indies of the era, Rose Troche's debut film provided a first glimpse of representation for a generation of queer women. Guinevere Turner's baby gay Max is adorable with her backwards hat and confused love life and the supporting cast feels so casually gay. This movie is certainly a time capsule, but it's still funny and relatable decades later.
dir. Charles Herman-Wurmfeld, 2001
Watch It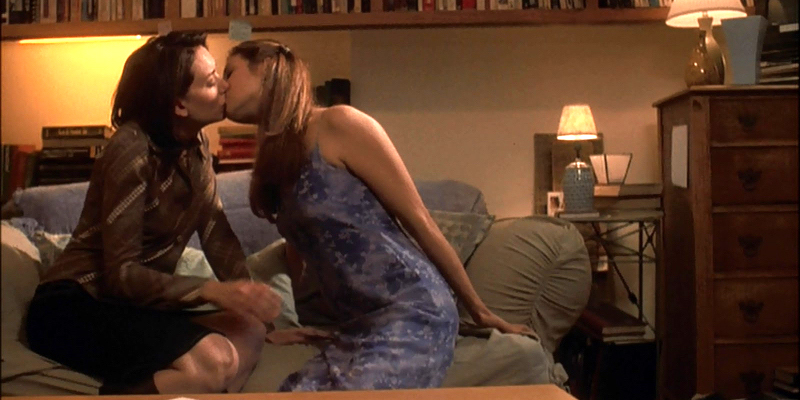 Neurotic Jewish comedy but make it bicurious! This romcom written by and starring Jennifer Westfeldt and Heather Juergensen is a delight from beginning to, well, not quite the end. Yes, the ending is frustrating to most even all these years later, but it doesn't take away from how funny and genuinely moving most of the film remains. The whole movie has a really joyous warmth to it and Tovah Feldshuh gives an especially tender performance as Jessica's mom. The landscape of lesbian cinema has widened in the past two decades making this film's final twist much less egregious — if still disappointing to many.
110. Aimée & Jaguar
dir. Max Farberbock, 1999
Watch It // Also Available on Tubi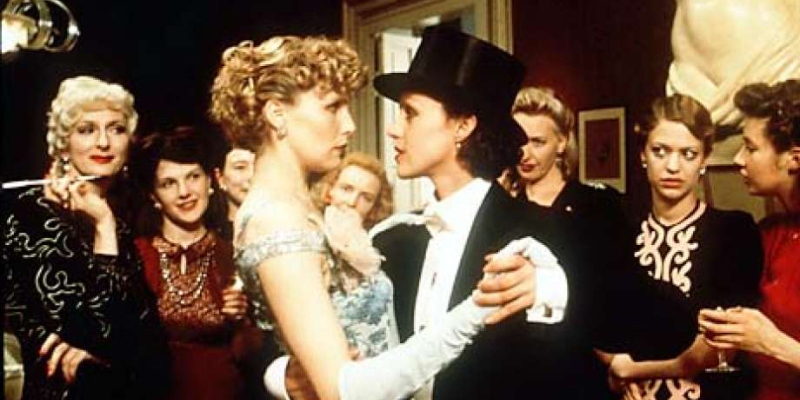 This is very much a classic Holocaust-era period drama both formally and in structure. But there's a certain pleasure to watching that kind of respected, serious film with the focus turned to a lesbian love story. The oppression of queerness is often left out of stories from this era and this is a welcome change. Maria Schrader gives an all-time magnetic performance as Felice, a woman so brave she'd risk being killed by Nazis to escape lesbian bed death.
109. Welcome to the USA
dir. Assel Aushakimova, 2019
Unavailable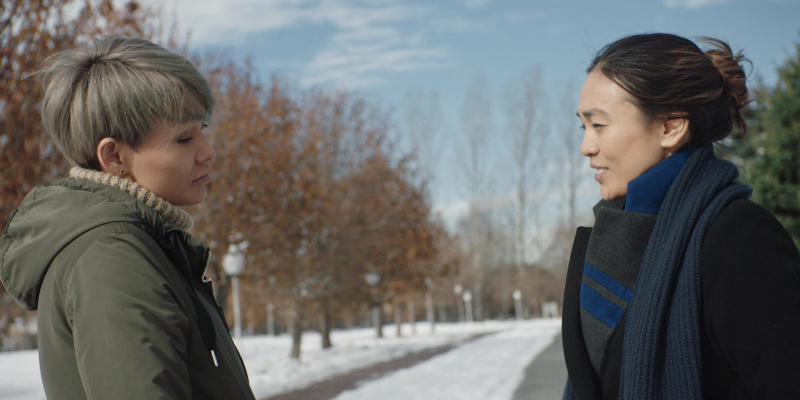 This is the only Kazakh film on this list and it's always such a treat to get a window into a new country's lesbian culture and cinema — especially when the film is this good. The title alludes not to the film's setting, but to the future destination of the protagonist Aliya, wonderfully portrayed by Saltanat Nauruz. She has won the green card lottery and is beginning to say goodbye to a home she resents. Saltanat Nauruz is wonderful as Aliya. This subtle film is largely effective because of her performance. The whole film feels culturally and personally specific even as it explores issues many queer people face such as obligation vs. desire. It isn't plot-heavy, but what's on screen lingers long after it ends.
108. I Shot Andy Warhol
dir. Mary Harron, 1996
Watch It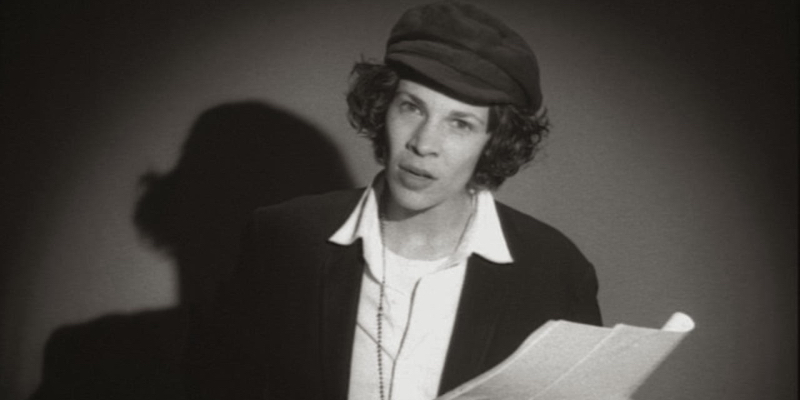 Director Mary Harron and actress Lili Taylor do a phenomenal job capturing Valerie Solanas in all her complications. It's a portrait of a subculture and a period of time and an exploration of what happens when some outsiders are too outside even for the outsiders. It's unfortunate that the movie is less successful in its portrayal of Candy Darling, but overall it's still a stellar film.
107. Shortbus
dir. John Cameron Mitchell, 2006
Buy it on VHS / DVD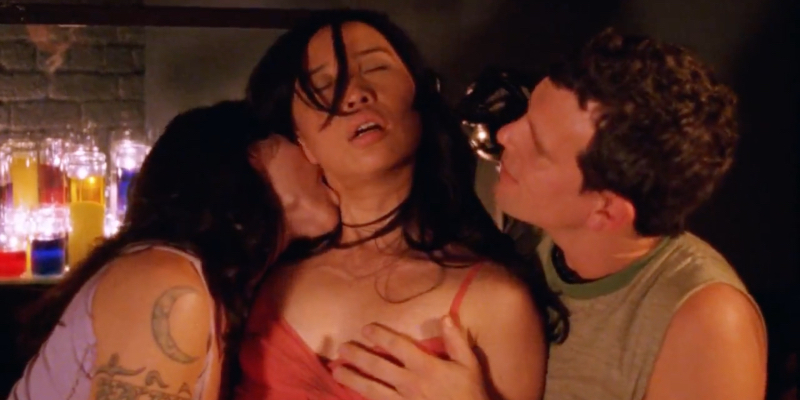 John Cameron Mitchell's second film is most well-known for its unsimulated sex. But to say this movie is about sex is to say this movie is about all the things that come with sex — no pun intended. It's about intimacy and emptiness and searching and, yes sure, orgasms. This is an ensemble film filled with lots of genders and sexuality, but at its center is Sook-Yin Lee's Sofia, a couple's counselor who has never experienced an orgasm. Her search takes her away from her husband and into a friendship with a melancholy dominatrix, a sex party where she's coached by a room of lesbians, a makeout with real life icon Mx. Justin Vivian Bond, and eventually a threesome that might just be what she needed all along. American cinema is prude and a film like this was inevitably going to be consumed with its own controversy, but ultimately Mitchell's film is a sweet tribute to the queer journey — when the journey itself is as important as the destination.
106. Karmen Geï
dir. Joseph Gai Ramaka, 2001
Available on Kanopy
This reimagining of the opera Carmen is bursting with energy and sexuality. The titular temptress is made pansexual underlining her freedom and offering quite a few delicious moments. The music is incredible, the visuals are stunning, and Djeinaba Diop Gai's central performance is as magnetic as this character deserves. While the film still ends in the expected tragedy, this version more than any other seems to really respect Karmen and her sexual freedom.
105. The Hours
dir. Stephen Daldry, 2002
Watch It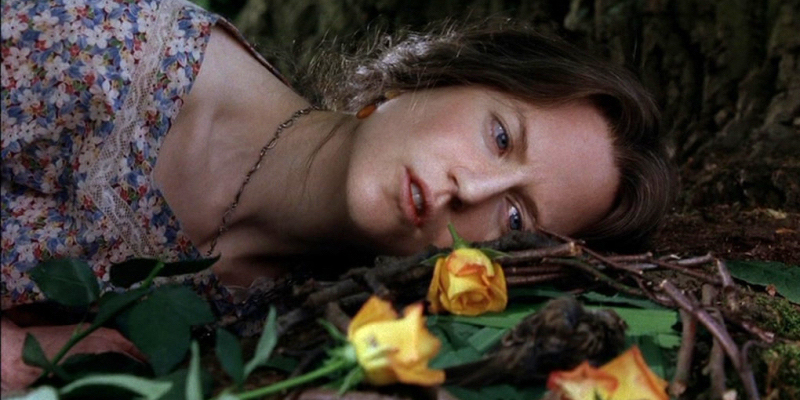 Based on Michael Cunningham's perfect novel, this Oscar-winning adaptation mostly does justice to the trio of intersecting queer stories. Nicole Kidman plays Virginia Woolf and her devastating performance is more than her fake nose. Meryl Streep plays a modern day woman named Clarissa, affectionately referred to as Mrs. Dalloway by her friend who is dying of AIDS-related causes. The middle story is the most explicitly gay. Julianne Moore plays a woman in the 50s desperate to be a better mother, fighting off feelings for her neighbor, and suddenly consumed with the book Mrs. Dalloway. This section feels chaste compared to the book — Moore and Toni Collette lacking a certain chemistry — but overall the movie is still a beautiful meditation on depression, loss, and the desire to live truthfully. Also the score by Philip Glass is incredible.
dir. Alante Kavaite, 2015
Watch It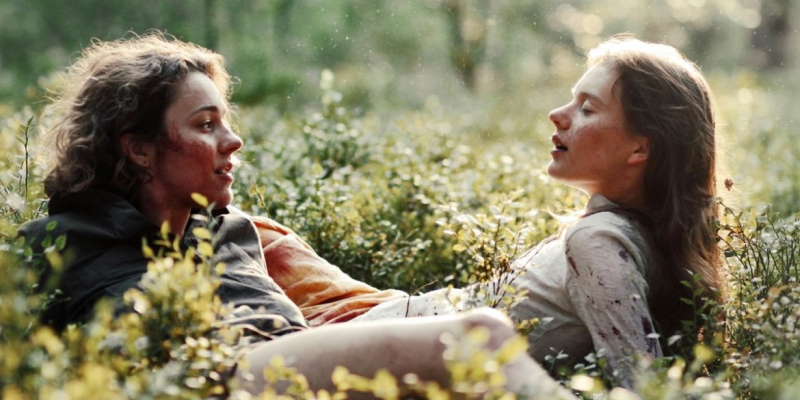 This is a lush and sensual film. The cinematography does not simply capture the beautiful scenery and costumes and actors, but heightens their beauty. This is a film about depression and self-harm and self-destruction, yet the beauty that surrounds them and the beauty of their love is enough to fight off the demons. It's rare that a film that deals this harshly with mental illness doesn't feel the need to lessen its love story. Depression isn't romanticized, it's a hurdle, but it's a hurdle that's possible to clear.
dir. George C. Wolfe, 2020
Available on Netflix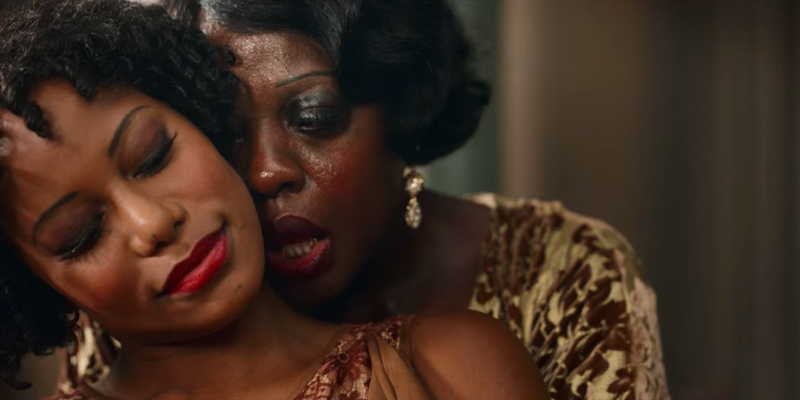 Director George C. Wolfe and screenwriter Ruben Santiago-Hudson combine their stage and screen brilliance to create this August Wilson adaptation that knows when to expand and knows when to stew in its theatricality. This is not a film about queerness per say — its focus is more the creation and appropriation of Black art — but Wolfe, Santiago-Hudson, and greatest actress alive Viola Davis ensure the queerness of the film. There is no subtext. Ma Rainey's relationship with Dussie Mae played by Taylour Paige is made explicit and her queerness is made an integral part of her character. Lesbian romance films are obviously great, but it's worth celebrating a film that focuses on a queer woman's art and how race, gender, and sexuality impact how she creates and moves through the world.
102. A Bride for Rip Van Winkle
dir. Shunji Iwai, 2016
Watch It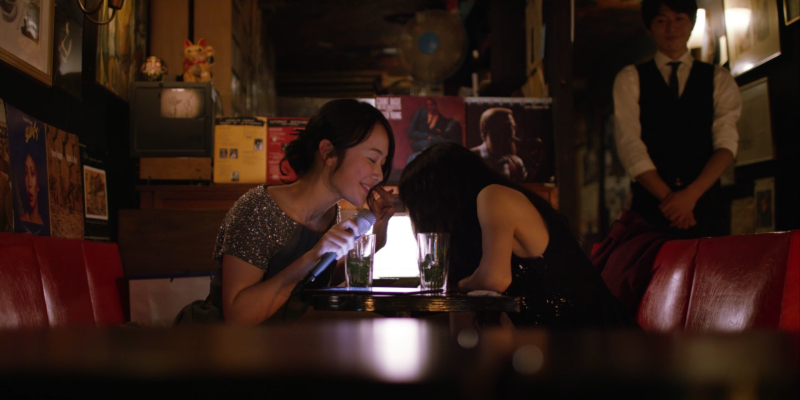 There is not a minute of this movie where you'll predict what the next minute holds. But if you give yourself over to Shunji Iwai's three-hour dramatic social satire, you'll experience a strange and beautiful journey. The film begins with the seemingly simple story of a young teacher named Nanami — a singular performance from Haru Kuroki — who is getting ready to marry her boring boyfriend she met online. Embarrassed to not have more family to attend their wedding, she hires actors to pretend. This is just the first of many lies that will be told in this film where reality and fiction are ever-blurred. This is a film filled with tragedy but at its heart is the relationship between Nanami and Mashiro — famous singer Cocco in one of her few acting roles. Who they both are, and who they both are to each other, shifts but their time together lends the film its deepest beauty.
dir. Emma Seligman, 2020
Watch It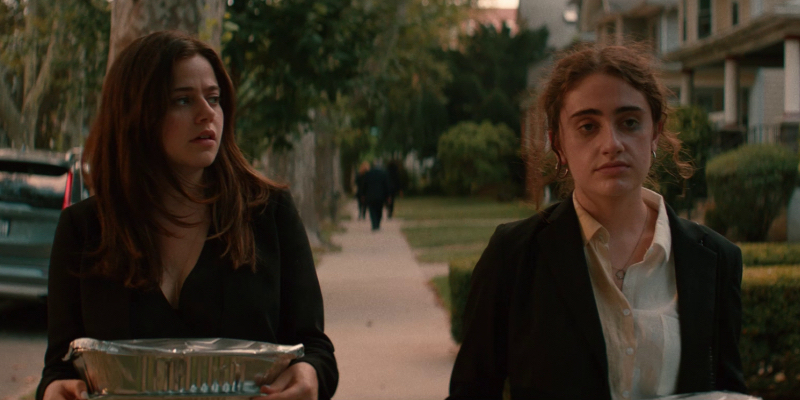 This is officially a comedy, but with its horror movie score, claustrophobic cinematography, and premise of running into your sugar daddy and your ex-girlfriend at a shiva, it's safe to say this is one of the scariest movies on this list. Rachel Sennott stars as Danielle, a 20-something on the precipice of college graduation who has no idea what to do with her life — career-wise or otherwise. Writer/director Emma Seligman excellently captures a specific type of Jewish culture and the simmering anxiety it induces. The cast — that includes Dianna Agron! — is excellent, especially Sennott who excels equally in moments where she's living a nightmare and in moments where she is the nightmare. This is bisexual Jewish chaos at its absolute best.
[Jump to Movies: 200 | 150 | 100 | 50 | 25 | 10 | All ]
dir. Tony Scott, 1983
Watch It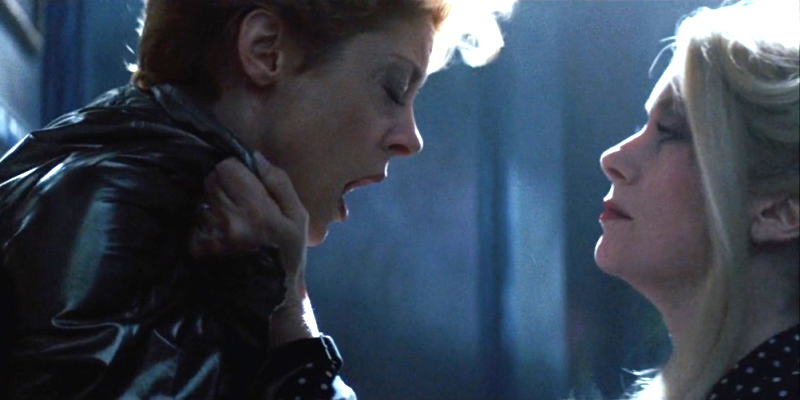 Frenetic editing, heavy symbolism, and vague plotting make for a dreamy whirlwind of bisexual vampirism. Catherine Deneuve, David Bowie, and Susan Sarandon are all at their hottest as they fuck and bite their way to immortality. The sex scene between Deneuve and Sarandon is especially iconic — there's a reason this is what Cameron Post and Coley Taylor watched before having sex.
99. Blue Gate Crossing
dir. Yee Chih-Yen, 2002
Buy on DVD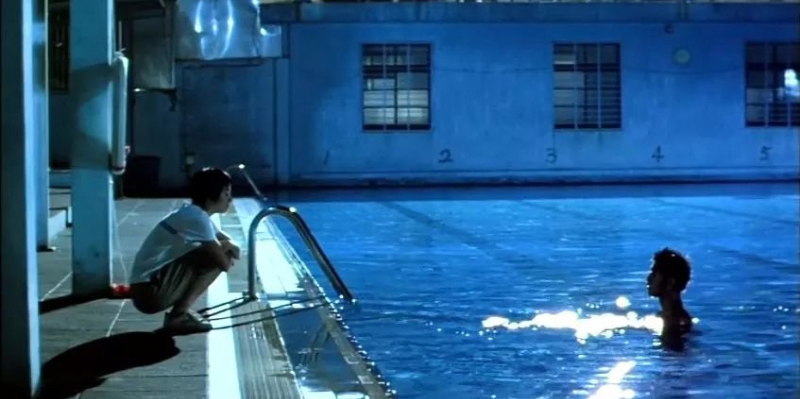 What begins as a gay Cyrano de Bergerac is complicated when Kerou's crush's crush falls for her instead. A love triangle that defers to moments of quiet connection over messy plot dynamics, Yee Chi-Yen's film is a simple yet moving coming-of-age movie about first love and friendship. The movie is subtle and the power of its emotions may not hit you right away — but days later it just might make your heart swell.
98. Novitiate
dir. Margaret Betts, 2017
Watch It
Religion is often framed as the enemy in queer films making Margaret Betts' debut all the more unique. Margaret Qualley plays a young woman who decides to become a nun much to her nonreligious mother's horror. There are clear parallels between this conflict and the conflict many queer people face when coming out. The subtext becomes text and we see how the lines between faith and queerness are not as distinct as we sometimes think. Melissa Leo gives a grand and horrifying performance as the harsh Reverend Mother desperately trying to hold onto her own way of life in the face of Vatican II. Utilizing this specific moment in history, Betts creates a startling film about commitment to self in the face of societal judgement.
dir. Ingrid Jungermann, 2016
Watch It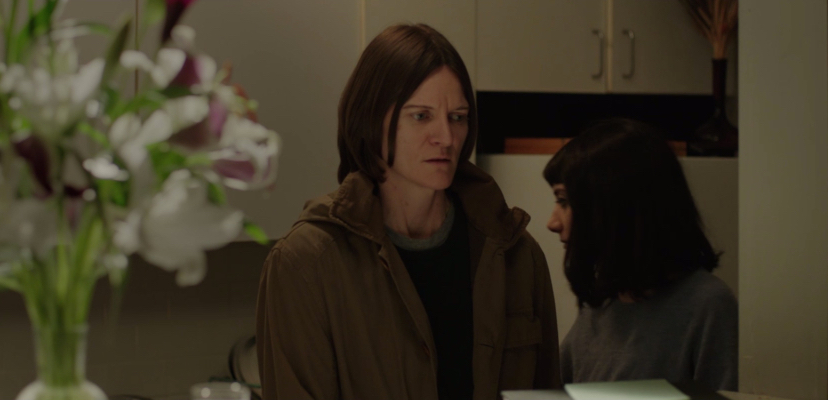 Part romcom/part thriller, Ingrid Jungermann's film is about the scariest subject of all: commitment. With great performances from Jungermann, Sheila Vand, and a stacked supporting cast, the film balances all its conflicting tones. It becomes a solemn meditation on love and vulnerability, but it's hilarious along the way.
96. Wild Nights with Emily
dir. Madeleine Olnek, 2018
Watch It
Shaking off almost two centuries of misrepresentation, Madeleine Olnek reclaims Emily Dickinson clarifying that gay does not equal old maid and homebody does not equal self-serious. Molly Shannon plays Dickinson and along with Olnek's very funny script adds humor and sex appeal where it's long been hidden. The fun of the movie is the entire point. It's a fitting tribute to Dickinson's life and work and a statement about the historical erasure of queer women.
dir. Robert Towne, 1982
Watch It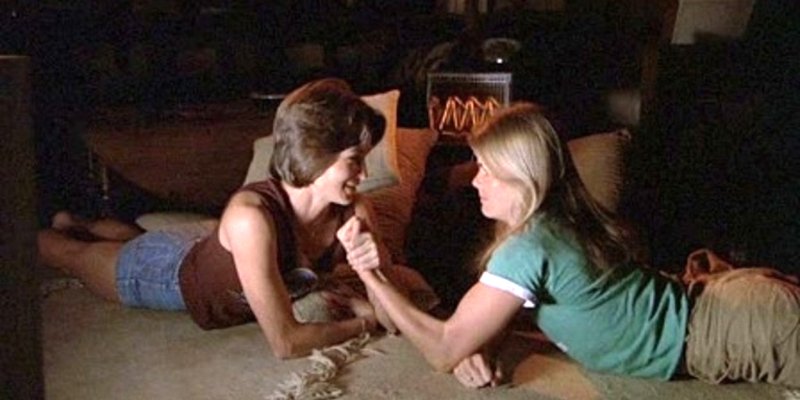 With realistic and intricately captured scenes of athleticism, this queer woman classic is one of the best sports movies period. It's imperfect, with some racist jokes, and it may disappoint anyone in it for the love story, but it's still a noteworthy film about two fiercely competitive women. Come for the sweat on perfectly toned muscles, stay for the specificity of a Cap4Cap romance.
94. Grandma
dir. Paul Weitz, 2015
Watch It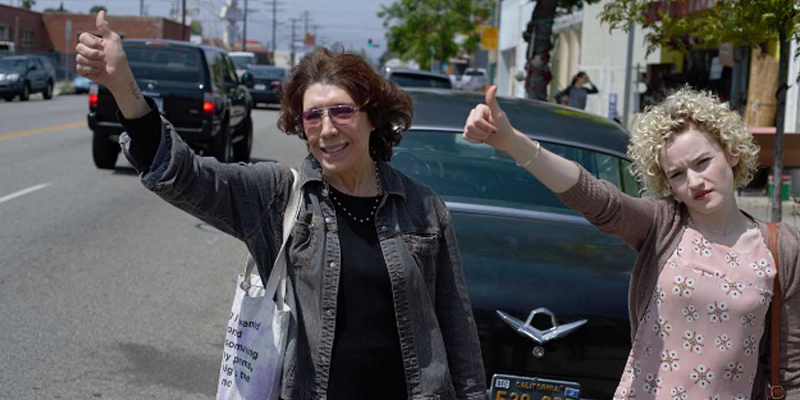 Lily Tomlin was gifted the part she was born to play in Elle, stubborn wisecracking lesbian grandma of pregnant Sage. As they attempt to get Sage an abortion, Elle is forced to reflect on her own life. Tomlin is so funny and so tender, landing every joke with gusto and every emotional beat with depth. The movie also has a stellar supporting cast with Julia Garner as Sage, as well as Laverne Cox, Marcia Gay Harden, John Cho, Judy Greer, and Sam Elliot. It's a sweet film that Tomlin makes into something more.
dir. Alexandra-Therese Keining, 2011
Watch It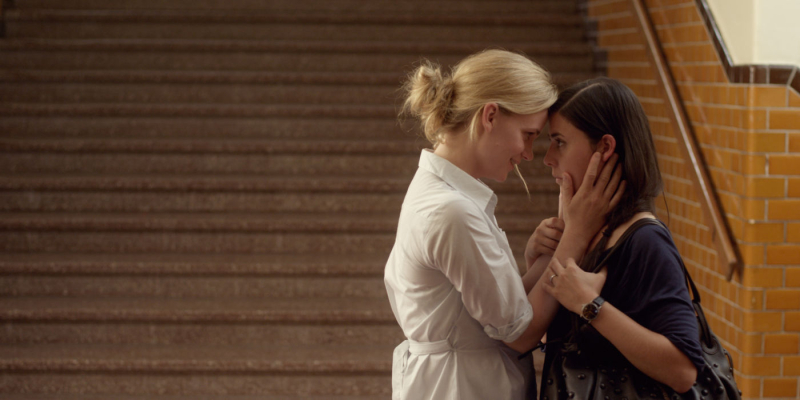 While featuring many lesbian movie clichés, Alexandra-Therese Keining's film stands out due to its writing, its phenomenal lead performances from Ruth Vega Fernandez and Liv Mjönes, and some exceptionally well done sex scenes. The story may be simple, but the chemistry at its core is special.
dir. Pedro Almodóvar, 2021
Our Review // Unavailable
Womanhood has been a front for so many facets of Pedro Almodóvar's own life. But in his latest masterpiece womanhood is a front for even more. Janis (Penélope Cruz once again giving birth, playing queer, and doing career best work for Almodóvar) is a photographer whose great-grandfather was killed by Franco's regime. She gets pregnant and at the hospital meets Ana (Milena Smit), a teenager giving birth at the same time. The years pass and the plot turns with reliably Almodóvarian melodrama. Spoiler: Ana cuts off her hair, dyes it blonde, and becomes super gay. This is a movie about the importance of living in the past — not out of nostalgia, but out of accountability. It's Almodóvar's complicated reverence for his mother, unabashed reverence for lesbians, and reluctant reverence for his own femininity, that result in a story where queer women are the only ones capable of interrupting cycles of generational trauma.
dir. Maria Maggenti, 1995
Buy on DVD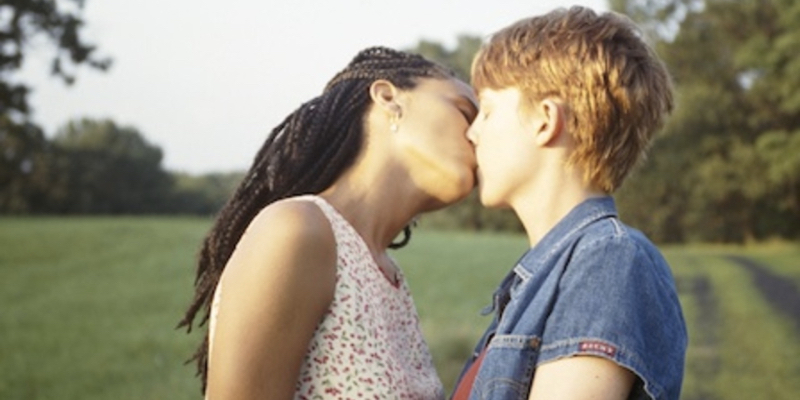 Before she was Tina, Laurel Holloman played heartthrob soft butch Randy Dean in this iconic 90s comedy. Paired with Nicole Ari Parker as Evie Roy, Holloman is earnest and charming and bursting with teenage energy. Randy and Evie are adorable together as they fall in love and field hilarious — and painful — responses from their friends and family. All these years later this movie is still just as cute and fun — and it might even make you like Tina.
dir. Marielle Heller, 2018
Watch It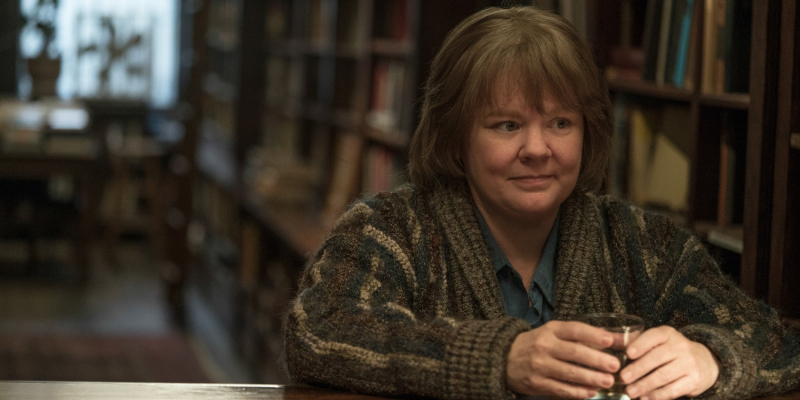 Based on Lee Israel's memoir about her time forging literary letters, Marielle Heller's melancholy film is concerned with the mundane loneliness of queer lives in a way rarely seen. Lee's homosexuality, and her friend and accomplice Jack's homosexuality, are integral to the story but not the focus. Lee and Jack are given the freedom to be deeply flawed, yet still human, and it makes for an emotionally resonant story. Bonus points for properly capturing the importance of a queer woman's cat.
dir. David Leitch, 2017
Watch It
This proper action movie from one of the directors of John Wick provides the queer Charlize Theron kickass thrill ride of our dreams. It's impossible to overstate Charlize Theron's acting or sexiness with Sofia Boutella or the accomplishments of the action choreography. A muddled plot doesn't really matter when the experience is this great.
88. Afternoon Breezes
dir. Hitoshi Yazaki, 1980
Watch It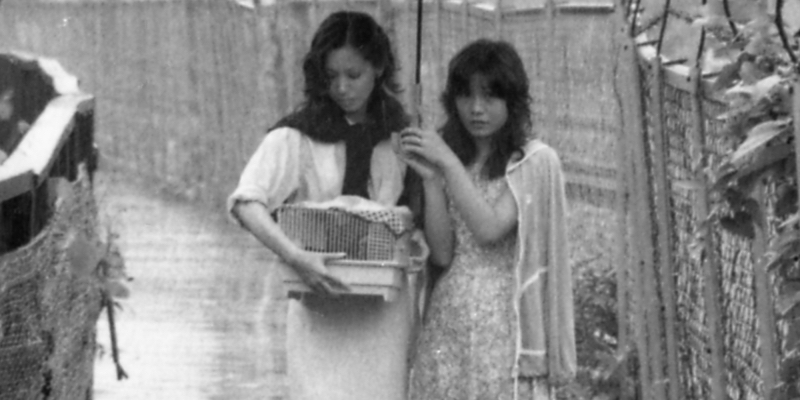 When Natsuko's crush is too busy spending her birthday with her boyfriend to accept Natsuko's gift of a Virgo necklace, Natsuko eats an entire bouquet of roses and then throws it up. That's how this movie begins. But despite its truly jaw-dropping twists and turns, Hitoshi Yazaki's tale of lesbian obsession is at its best in its quiet moments. Setsuko Aya's performance as Natsuko creates humanity where some might find crazy. This is as much a movie about depression as it is about toxic love. Natsuko feels isolated from the straight people around her and from herself — latching onto this ostensibly straight woman is just her way of expressing (or avoiding) that isolation. This is a difficult movie, but there's so much beauty in even its saddest moments.
87. Glen or Glenda?
dir. Shirley Wood, 1953
Watch It
Shirley Wood is usually known by her deadname and is usually known as the supposed "worst director of all time." But for anyone who's trans or is familiar with the trans experience, her debut is a weird and wonderful film about transness made at a time of misinformation. Amidst the formal experimentation, Bela Lugosi playing God, and lots of other weirdness is the story of a woman in love with another woman. It's remarkable that we have a movie about transness from this era made by an actual trans person. It's deserving of celebration, not ridicule.
dir. Brett Haley, 2018
Watch It // Also Available on Hulu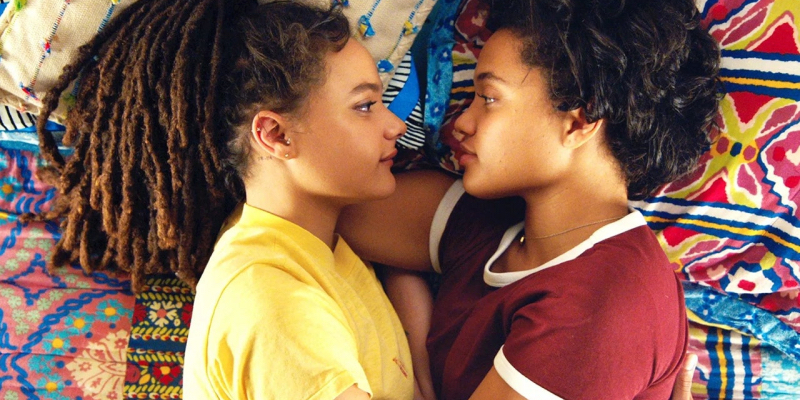 Reversing the usual parent-child dynamic, this indie comedy casts Kiersey Clemons as a studious teen and Nick Offerman as her dad who just wants to jam. The relationship between their characters is lovely and the music they create together is genuinely good. Clemons is such a joy to watch and listen to and her romance with Sasha Lane is one of the best parts of the film. Unfortunately the subplots given to Offerman are less compelling, but that's not enough to take away from the movie's heartwarming charm.
85. The Bitter Tears of Petra von Kant
dir. Rainer Werner Fassbinder, 1972
Watch It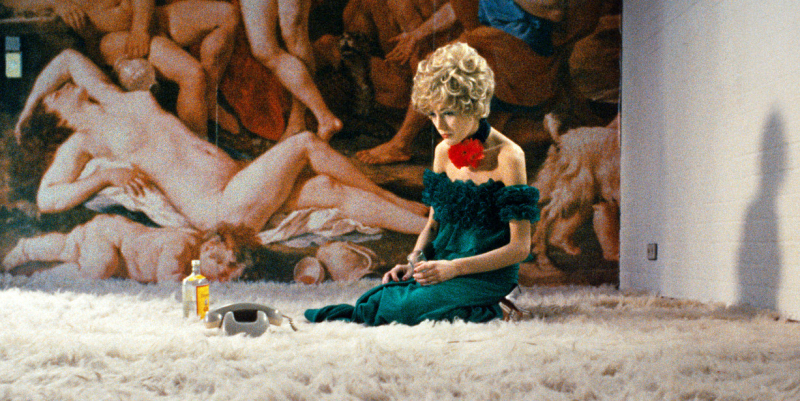 Gay german auteur Rainer Werner Fassbinder was known for his brutality on and off screen and this film is no different. Taking place entirely in the apartment of Petra von Kant, we watch as she treats her assistant Marlene cruelly and falls miserably for model Karin. It's a cruel movie about cruel women, but the camerawork, costume design, and incredible performances from Margit Carstensen, Hanna Schygulla, and Irm Hermann make it worth it.
84. Dope
dir. Rick Famuyiwa, 2015
Watch It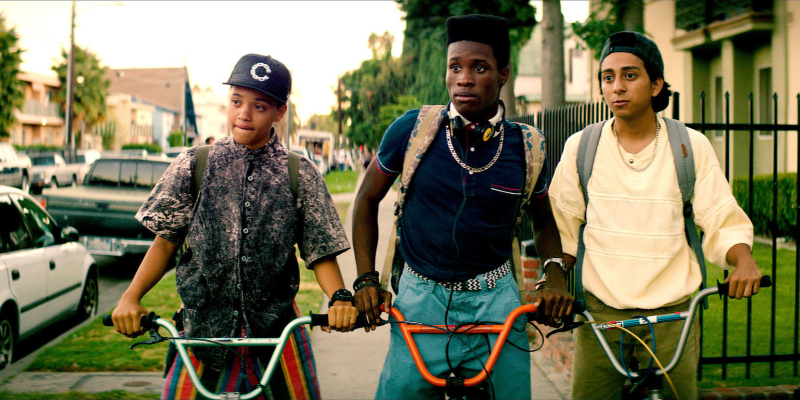 More Kiersey Clemons! Here she plays Diggy, the masc lesbian best friend of Shameik Moore's Malcolm. They're geeks and totally unprepared for the drug-deal-induced hijinks that ensue due to Malcolm's lovesickness over Nakia played by Zoë Kravitz. The script is tight and funny and all of the performances are great. It works as a comedy, a coming-of-age story, and an action movie. Clemons is great as always and her outfits and energy feel authentically queer in a way often absent from mainstream media about teenagers. Also it's highly relatable to almost ruin your life for Zoë Kravitz.
83. La Leyenda Negra
dir. Patrícia Vidal Delgado, 2020
Available on HBO Max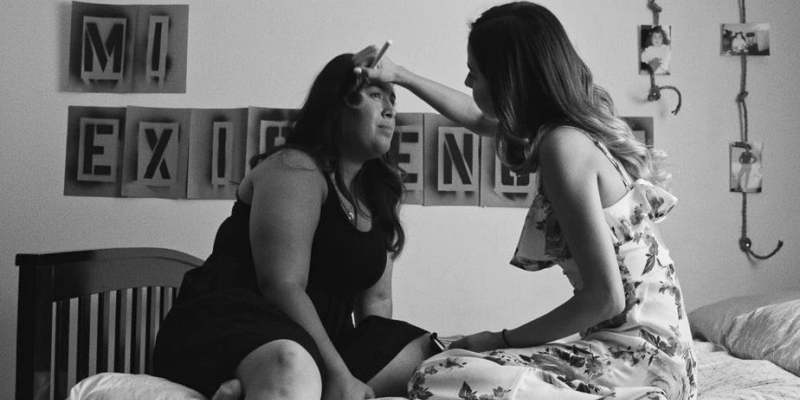 Patrícia Vidal Delgado's gorgeous Black & White debut feature is political cinema at its best. Telling the story of a queer girl whose immigration status is affected by a new Trump administration policy, Delgado understands that the most effective political films don't feel like Political Films — they feel like stories about people. Monica Betancourt gives a phenomenal performance as Aleteia, a teenage girl filled with righteous fury at her circumstances and tender love for her new friend and crush, Rosarito played by Kaileil Lopez. Watching Aleteia and Rosarito find unexpected connection and first queer feelings is a delight. They deserve a world without borders and binaries where they can be free to explore the young love blossoming between them. This is a love story, a friendship story, a cry for change. This is a movie about two queer Latinx teenagers who deserve better.
82. Eva + Candela
dir. Ruth Caudeli, 2018
Watch It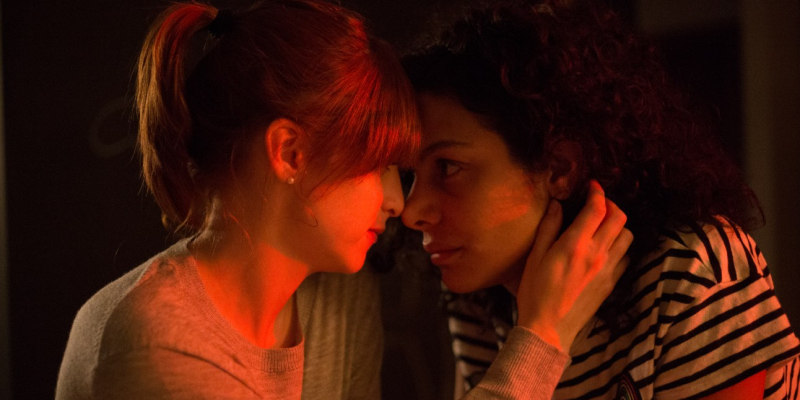 Ruth Caudeli's debut feature is both a devastating breakup film and an announcement of an exciting new talent in queer cinema. Most sad films about queer women are sad due to tragedy or oppression, so it's a relief to watch a film that's sad because sustaining a relationship is just really hard! While falling in love and falling out of love, Alejandra Lara and Silvia Varón are brimming with chemistry. It's painful to watch them fall apart because they make so much sense when they're together.
81. Summertime
dir. Catherine Corsini, 2015
Watch It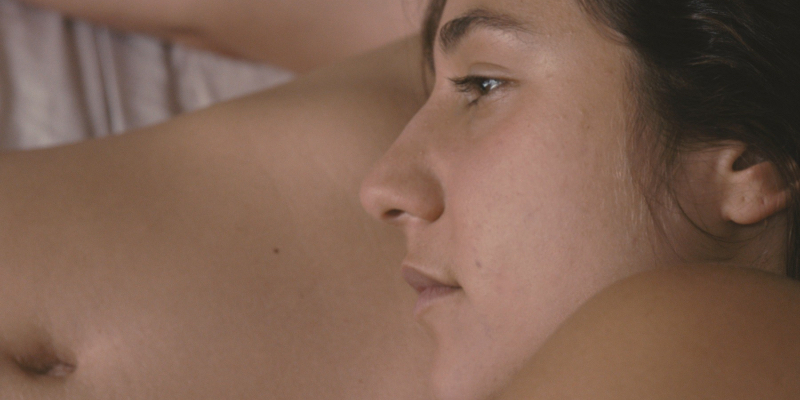 France! Lesbians! Feminism! This properly warm period piece follows Delphine, a sheltered rural queer, who falls in love with older activist Carole in 1971. It's a celebration of first love, collective action, and the people who pave the way towards self-discovery. Izïa Higelin and Cécile de France are so gorgeous and hot together and give heartbreaking performances and the movie is just bursting with romance in every sense of the word.
dir. Stewart Thorndike, 2014
Watch It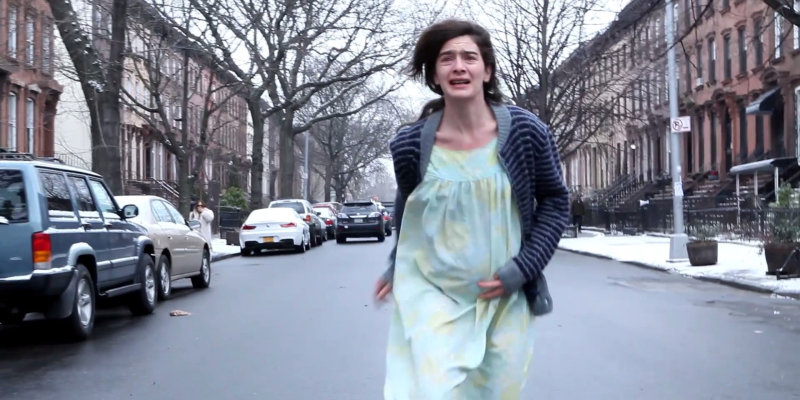 Stewart Thorndike's tight and terrifying horror movie is as much about grief as it is exploring the messiness of placing a queer woman in the plot of Rosemary's Baby. The movie asks a lot of questions without providing answers, but what it does provide is a breathtaking horror experience led by an animalistic performance from Gaby Hoffmann.
79. Wheel of Fortune and Fantasy
dir. Ryûsuke Hamaguchi, 2021
Watch It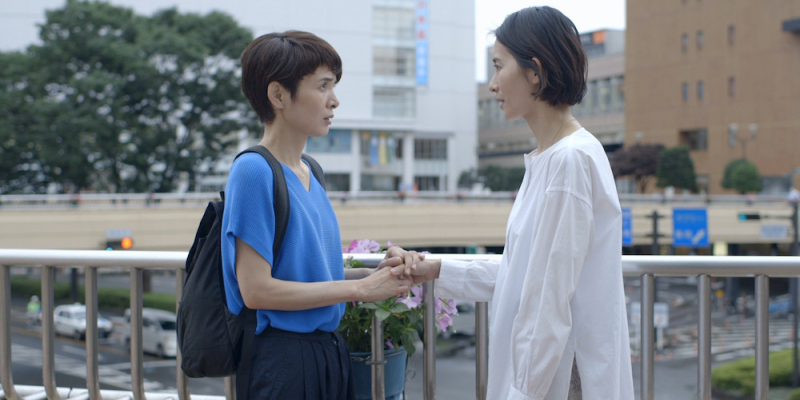 The first "short story" in Ryûsuke Hamaguchi's triptych is called "Magic (or Something Less Assuring)." It's a fitting subtitle for a movie that's technically a series of realist conversations yet somehow crackles with the energy of an epic fairy tale. These are love stories, lust stories, stories of regret. They feel so regular until they feel like so much more. All three sections of the movie are beautiful, but it's the last section — the gay section — that makes the film such a triumph. In a film of unlikely connections, Natsuko (Fusako Urabe) and Aya (Aoba Kawai) form the strangest and most beautiful. We can't predict the lives we'll lead, but we can appreciate the connections we make along the way. This is not a love story between two people — it's a love story with the act of love.
dir. Robert Wise, 1963
Watch It
The first and most loyal adaptation of Shirley Jackson's novel is a remarkable work of understated horror cinema. Julie Harris plays Nell, a bitter and lonely woman who signs up to participate in a study of the paranormal in the wake of her mother's death. One of the other participants is Theo, a gay woman with ESP and endless confidence. Claire Bloom plays her with an easy charm, and her character ends up being a foil to Nell — queerness as a metaphor for freedom. Due to these stellar performances, some excellent wide angle photography, and Robert Wise's low-budget horror roots, this film stands out even amongst decades of imitators.
77. Holy Camp!
dir. Javier Ambrossi, Javier Calvo, 2017
Available on Netflix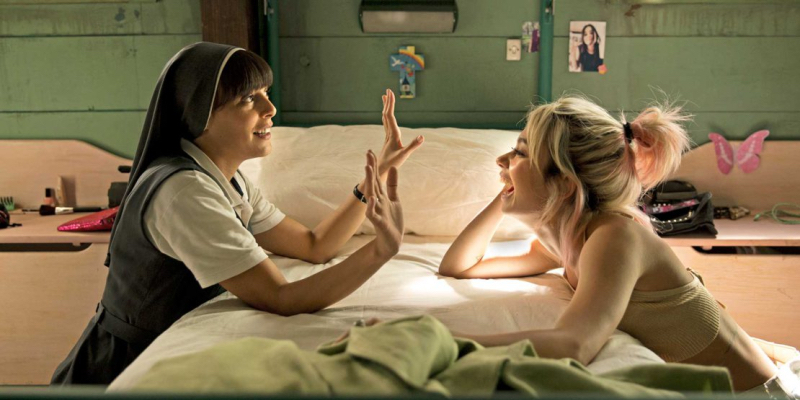 The highest rated musical on this list, Javier Ambrossi and Javier Calvo's truly unique movie lives up to its English title. But it's not the camp that surprises — after all this is a movie where God appears singing Whitney Houston songs — it's the depth. This story of two friends at a Catholic camp takes so many turns and is so filled with queer creativity, you might have no idea what you've just watched when the credits role. But the experience of the film — and oh my is it an experience — all serves an exploration about desire, faith, giving oneself to change, giving oneself to horniness, and what can happen when we open ourselves up to the possibilities life presents. The soundtrack is incredible, the visuals are stunning, and the whole thing is just so horny and Catholic and gay. Sorry, did you miss the part where God literally sings Whitney Houston songs??
76. Codependent Lesbian Space Alien Seeks Same
dir. Madeleine Olnek, 2011
Watch It
Madeleine Olnek's highly relatable comedy about a trio of aliens sent to Earth because they have too many feelings is as funny and weird as that premise suggests. Inspired by low-budget 1950s sci-fi, Olnek's film has a DIY aesthetic that fits with the often silly script. All of its fish-out-of-water jokes ultimately lead to a story about connection. We all feel like aliens sometimes, but if we're lucky we just might find another alien to love.
dir. Michael Cristofer, 1998
Watch It
Telling the story of model Gia Carangi's troubled life, this Angelina Jolie vehicle alternates between delicious and devastating. Jolie is so sexy, but her performance proves she's more than just a sex symbol. As Carangi's life turns toward inescapable hardship, Jolie remains impossible not to watch. Special shoutout to her sex scene with Elizabeth Mitchell that is truly unforgettable.
dir. Ümit Ünal, 2019
Our Review // Unavailable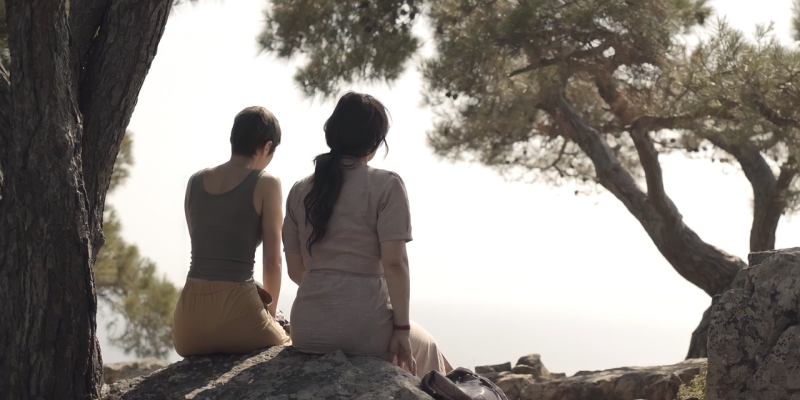 Ümit Ünal's intimate romance tells the story of Eren who returns to her hometown ready to declare her still-burning love for her adolescent girlfriend, Reyhan. But for Reyhan — who holds far less economic privilege — love, especially forbidden love, is something she cannot afford. This conflict is heightened with two phenomenal performances by Selen Uçer as Reyhan and Ece Dizdar as Eren. They embody their characters — and their characters' histories — in full. The twenty years is felt in every line and glance. There's also magic in the setting itself. This beautiful Turkish island — with all the weight it holds for these characters — is a location that's easy to fall in love with. Ünal is patient in his writing and directing. He trusts his actors and his setting and it results in a film that is at once both wholly naturalistic and bursting with fantasy.
dir. Eric Schaeffer, 2014
Watch It
One of the few movies on this list starring a trans woman, Eric Schaeffer's romcom is the sweet — and messy — love story we deserve. Michelle Hendley is an absolute star as Ricky Jones, a small town girl with a YouTube following and a desire for love. It takes a dalliance with the engaged Francesca to reveal the love she has for her male best friend — and what a dalliance it is! Ricky's sex scene with Francesca is hot and tender, and while some of us may have been rooting for the two of them to end up together, the whole thing is so sweet you probably won't mind that she ends up with the friend. And Hendley is just so good — she's such a pleasure to watch on screen.
dir. Amara Cash, 2018
Our Review // Watch It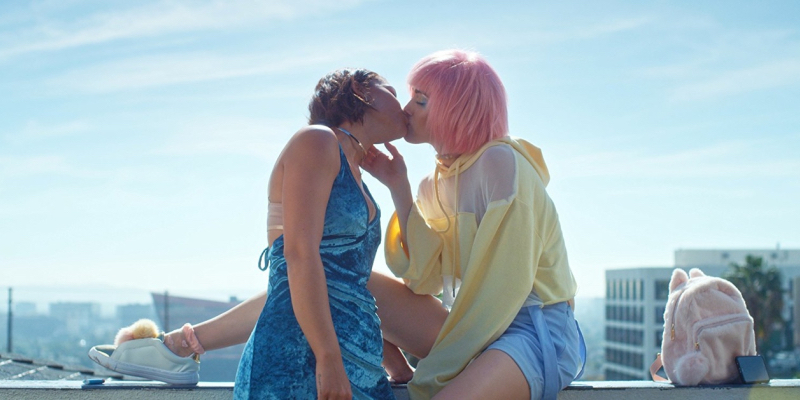 Amara Cash's debut film is a campy, candy-colored, explosion of queerness. A love triangle between aspiring artist Maya, her instagram crush Jasmine, and Jasmine's sugar daddy, leads to a twisted plot, two twisted romances, and a lot of expected — and unexpected — drama. Cash's camera and editing is frenetic capturing Maya's adolescence yearning and building to a new queer aesthetic. The most surprising thing about this movie is its sweetness. There's an innocence to Maya that's easy to root for and a sexiness to Jasmine that's easy to fall for. By pairing the romantic and the taboo, the disturbing and the delicious, Cash creates a truly unique feat of queer filmmaking.
dir. Julia Ducournau, 2021
Our Review // Watch It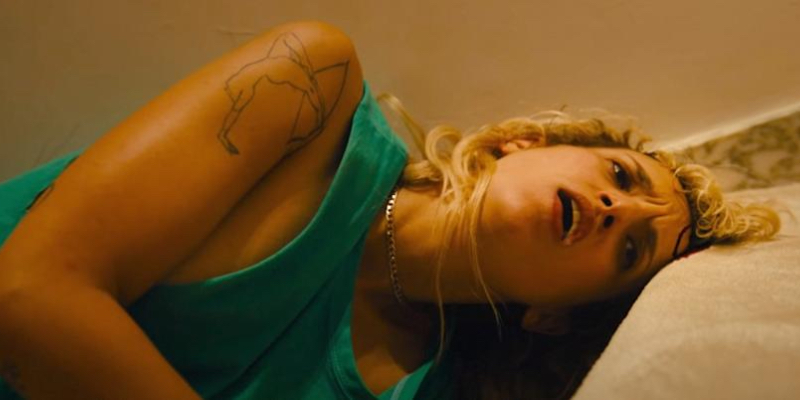 Car fucking, the Macarena, the metal hairpin, the bathroom sink transformation, the roommate slaughter — Julia Ducournau's Titane is a film that invented its own mythology. So many details and moments demanded a place in our collective film consciousness, but Titane's deepest achievements are found in the subtleties. Ducournau knows genre and she uses her shock and awe to seduce us into her twisted — and melancholy — exploration of gender and family. This isn't a movie with answers. It's an exploration. It's a feeling. It's a confounding work of art. It's worth celebrating something so moving, so horrifying, so entertaining, so puzzling. Ducournau is an artist who is so confident in her ideas and in her form. If you're open to it, she'll take you for a ride.
70. Lianna
dir. John Sayles, 1983
Watch It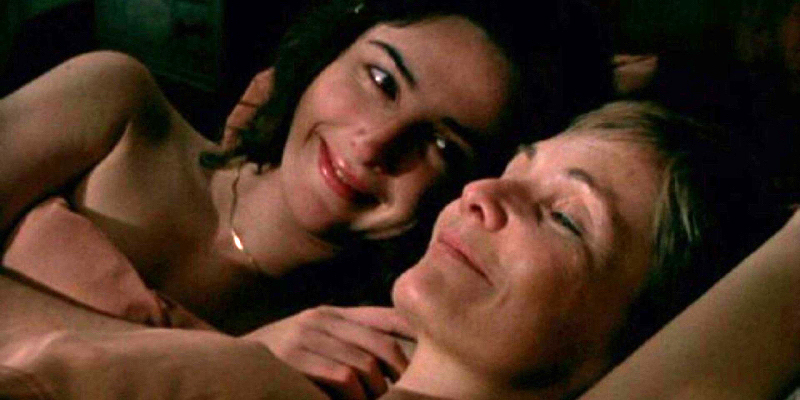 Surprisingly tender and complicated for a lesbian movie written and directed by a straight man, this classic of queer cinema follows the titular character through her first gay love and heartbreak. Rather than framing Lianna's coming out as intrinsically tied to her crush on Professor Ruth, she's forced to reckon with her identity and ultimately do so alone. Linda Griffiths is so lovely to watch on-screen as Lianna navigates her desires and disappointments. It's a sad movie, but within that sadness is a sense of hope — a sense that someday Lianna will find love and do so as an individual.
dir. Darren Aronofsky, 2010
Watch It
Perfectionism, mommy issues, and lesbianism haunt Natalie Portman in Darren Aronofsky's Oscar-winning ballet horror movie. It's frightening and beautiful and, yes, has a sex scene between Natalie Portman and Mila Kunis. Bordering on camp with its heightened style and emotion, this is the rare Hollywood movie about queer women that's allowed to be properly unhinged. The line between beauty and body horror disappears and every second is a thrill.
dir. Joachim Trier, 2017
Watch It // Also Available on Hulu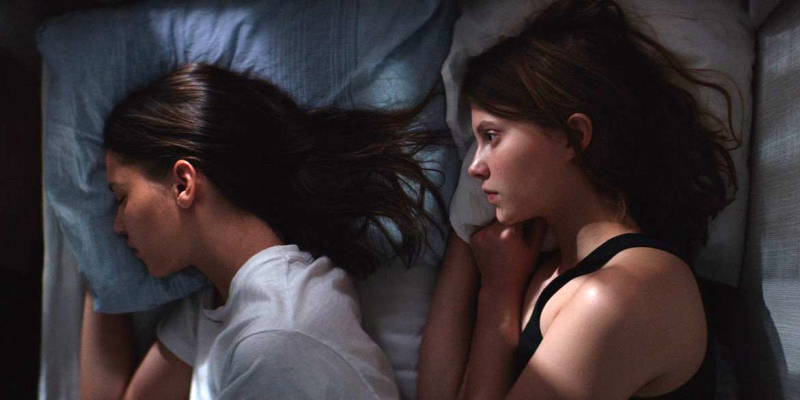 This beautiful coming-of-age thriller actualizes queer shame and repression. As Thelma navigates adjusting to college — and gay feelings — apart from her religious upbringing, she begins to have seizures and visions and potentially telekinetic powers. As the tension builds, the scope of the film widens with more imagery and plot twists. But at its core is simply a girl navigating her identity and trying to find herself separate from her family.
dir. Sebastian Lelio, 2017
Our Review // Watch It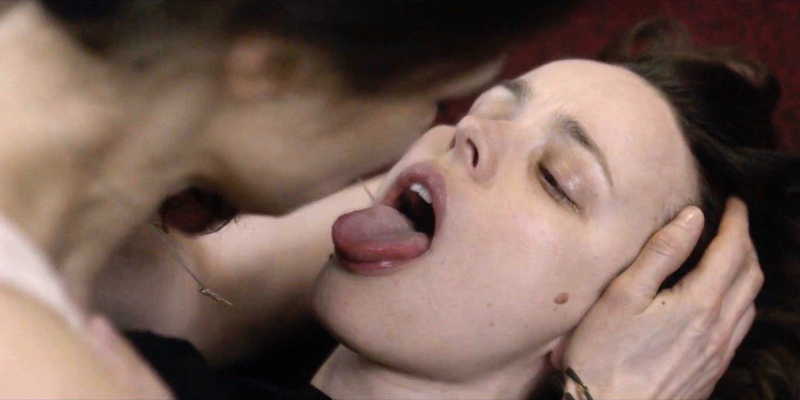 There are a lot of other things to celebrate about this quiet drama about two Jewish women navigating their love within an Orthodox community. But let's be honest. This is the movie where one very famous Rachel spits in another very famous Rachel's mouth. Specifically Rachel Weisz spits into Rachel McAdams' mouth and it's just one part of a very hot sex scene. It's made even hotter by their characters' history, their forbidden desire, their connection, and their need for one another. This is a movie about faith, about the past, about the desire for community, and the desire to escape. The plotting is messy, but so is life.
66. Working Girls
dir. Lizzie Borden, 1986
Available On Criterion
One of two Lizzie Borden masterpieces on this list is the rare film to show sex work as, well, work. Focusing on a day in the life of lesbian Molly, Working Girls reveals the boredom and mundane difficulties of working at a Manhattan brothel. The film doesn't romanticize sex work or sensationalize it — instead it just lets it be like any crappy job. The dynamics between Molly and her boss, her co-workers, and her clients are all compelling as they reveal more about her, the job, and society's relationship to sex work. This is a landmark work of cinema that's finally getting its due and a landmark work of lesbian cinema as well. All of the sex we see may be with men, but Molly's identity isn't tied to her job. Like so many queer people, Molly is doing what she has to do to pay the bills, so she can get home to her girlfriend, so she can someday spend her time on something other than work — any work.
65. Tomboy
dir. Céline Sciamma, 2011
Watch It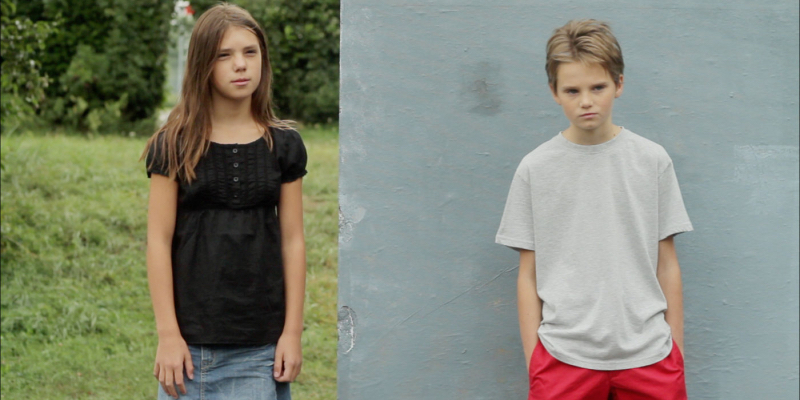 The quietest film of genius lesbian filmmaker Céline Sciamma's already staggering career, Tomboy tells the story of 10-year-old Laure who is mistaken for a boy and begins to go by Mikael. Sciamma doesn't clarify Laure/Mikael's identity, instead living in the soft interiority of her protagonist's exploration. They feel uncomfortable as a girl — or at least as the kind of girl they're expected to be — and they long for the acceptance they are granted as Mikael. Tomboy was not originally included on this list, because it's easy to read a trans male narrative onto Mikael. But just as Sciamma never provides easy answers, the film does not find easy categorization. Its resonance with queer people of many genders made it previously feel like an absence and now a worthy inclusion. Zoé Héran's performance at the center of the film is one of the best by a young performer in recent years. This is a tender and beautiful film about queer childhood — its many hardships and its small moments of joy.
dir. Maysaloun Hamoud, 2016
Watch It // Also Available on Tubi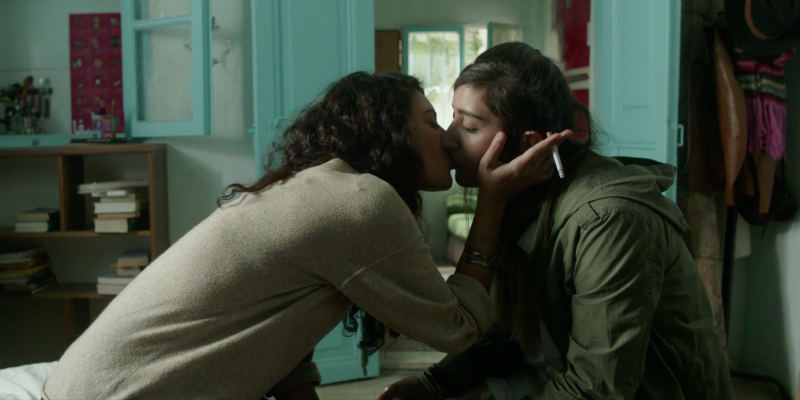 The trio of women at the center of Maysaloun Hamoud's debut film couldn't be more different. Leila is a high femme lawyer hoping to find love with a man who won't control her. Salma is a lesbian DJ with parents desperate to marry her to a man. And Nour is a conservative student engaged to be married. But all three women are stubborn and determined to live lives beyond heteropatriarchy, beyond Israeli-occupation. The film captures the specific pain of managing multiple marginalized identities and provides a path forward – there may be no escape, but we can support each other in the struggle.
dir. Ingmar Bergman, 1966
Watch It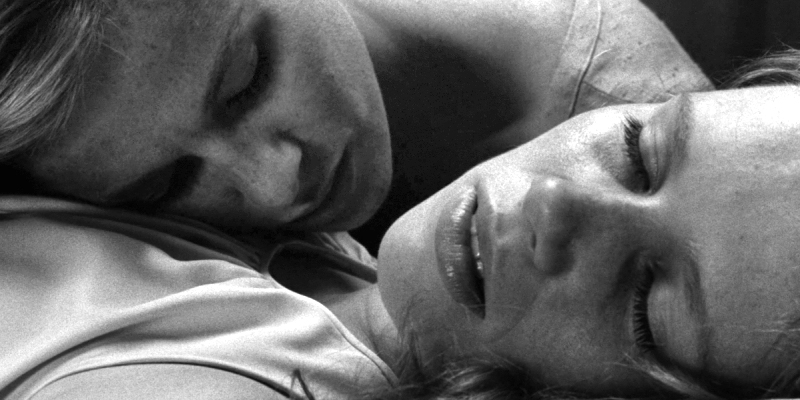 Maybe about two women, maybe about one woman, maybe beyond narrative analysis, Ingmar Bergman's avant-garde masterpiece is sexy, unsettling, and thought-provoking. Bibi Andersson plays Alma, a nurse assigned to the care of Liv Ullmann's Elisabet Vogler, an actress who has suddenly stopped speaking. They seclude themselves at a beach house and their interactions increase in eroticism, violence, and unreality. This is definitely one of the hornier arthouse classics even if the women never consummate their attraction.
62. Tahara
dir. Olivia Peace, 2020
Unavailable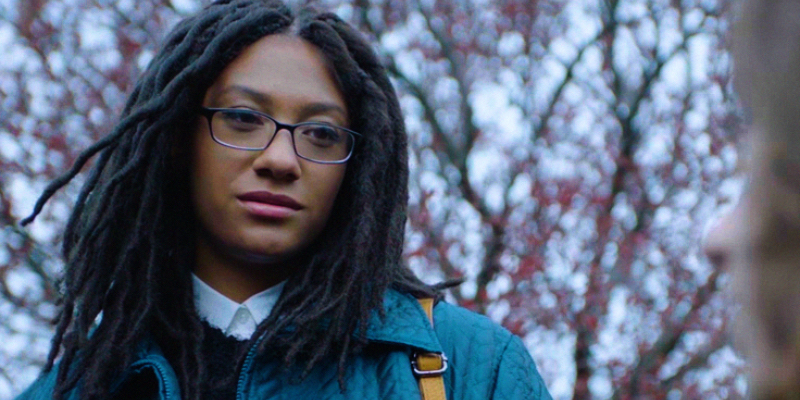 There have been a lot of queer coming-of-age movies about a girl in love with her "straight" best friend, but few capture the depth of that experience like Tahara. With the backdrop of a classmate's suicide and a deliciously awful object of desire, this movie becomes less about the angst of a teenager and more about the search for meaning in a meaningless world. Jess Zeidman's script is hilarious and specific and director Olivia Peace makes bold choice after bold choice each more effective than the last. The film has a claustrophobic Instagram square aspect ratio, heightened animated sequences, and other sharp formal risks that all work to deepen the story. Cinematographer Tehillah De Castro's work is phenomenal in moments both bold and subtle. Madeline Grey DeFreece carries the film with a grounded and charming performance and Rachel Sennott as the crush is a hilarious nightmare. This is a teen comedy, but it's a teen comedy about grief, manipulation, and autonomy. A whiff of horrifying nostalgia gives way to something deeper, something more present.
dir. Olivia Wilde, 2019
Watch It // Also Available on Hulu
"Last week of high school" teen comedies are an entire subgenre, but it's rare that they focus on women and even rarer that they focus on queer women. That's why Olivia Wilde's debut was such an exciting dose of raunchy humor, female friendship, and adolescent romance. Beanie Feldstein and Kaitlyn Dever are both so good and they are supported by a phenomenal ensemble — especially scene stealer Billie Lourd. Dever's character is casually queer in a way that wouldn't have been possible a decade ago and it's so fun to watch her navigate her crushes and mishaps. Laugh-out-loud hilarious and full of heart, this movie will make you long for a teenagehood you never had and rejoice in a film landscape that's finally changing.
60. Pepi, Luci, Bom
dir. Pedro Almodóvar, 1980
Watch It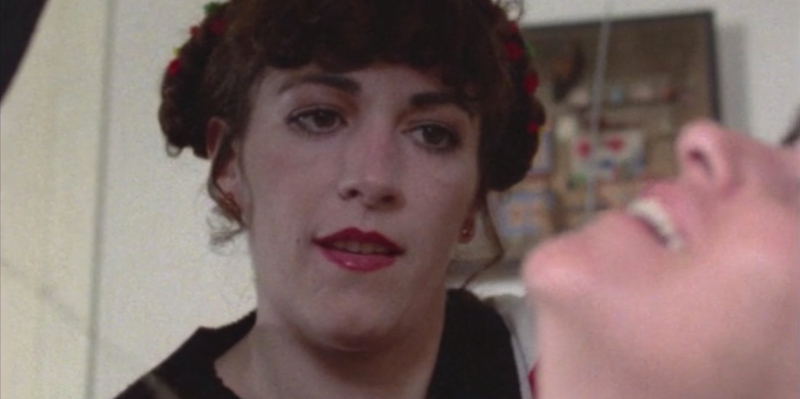 Pedro Almodóvar's first masterpiece is also his film most focused on lesbians. An irreverent comedy that's also a sort of rape/revenge movie, this one certainly isn't for everybody. But if you're open to its tone — and its content — you'll find a laugh-out-loud hilarious, surprisingly emotional movie about women trying their best to survive and have some fun along the way. If you're into movies where a lesbian pees on a cop's wife then this one is for you!
dir. Paul Feig, 2018
Watch It
A neo-noir comedy with a queer twist, this expertly plotted seduction is all about Blake Lively in suits, Blake Lively in suits, and Blake Lively in suits. Anna Kendrick is so funny and compelling as we watch her oscillate between lust and envy, wanting to consume Lively, but settling for a friendship, a kiss, and then an obsession. With every turn the movie deepens, increasing in intrigue, leading to an explosive — if not very gay — finale. Oh also Linda Cardellini plays a lesbian.
dir. Lisa Cholodenko, 1998
Watch It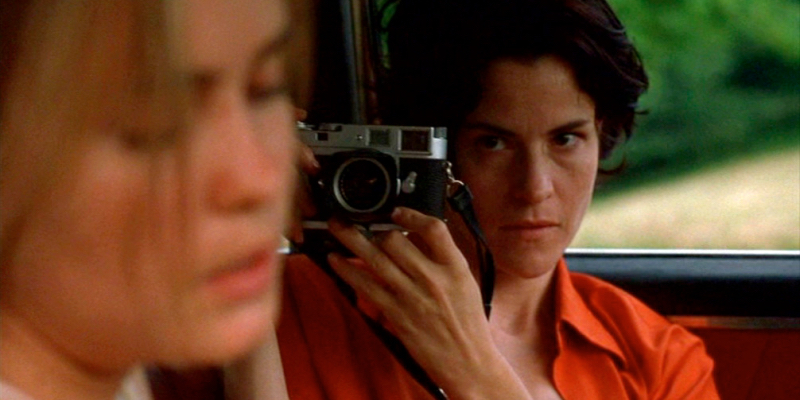 Mirroring the energy of the drug-addicted lesbian photographer at the film's center, Lisa Cholodenko's debut film is sensuous, measured, and simmering with a sense of danger. Ally Sheedy plays Lucy with a toxic allure that barely masks a depth of sadness. We understand why Radha Mitchell's Syd is so drawn to her and like Syd we hope for the best while expecting the worst. This is a movie about lost innocence and the decades that follow.
dir. Lauren Hadaway, 2021
Our Review // Watch It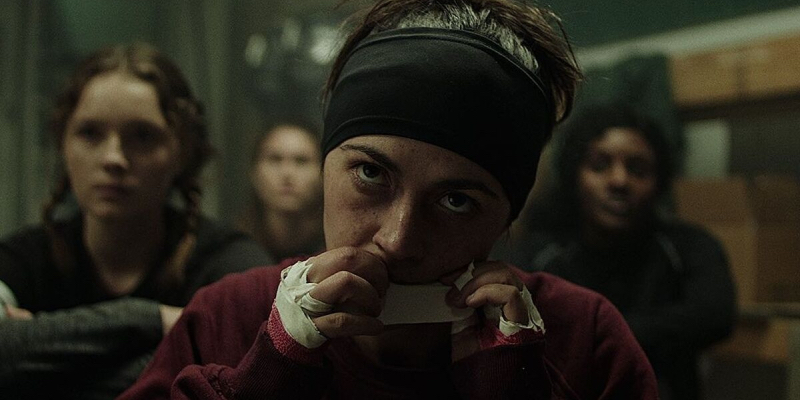 Before writing and directing her masterful debut, Lauren Hadaway worked in sound. Once you know this, it makes sense why her film's rowing instructions get stuck in your head like a pop song. Legs body arms. Arms body legs. It's dialogue as rhythm, thoughts as rhythm, mental illness as rhythm. This film is not about novice rower Alex Dall as much as it is her. The movie's sound design and score — along with accomplished cinematography and editing that knows when to cut and when to hold — place us in her mind and body. We don't need exposition. We want her to win because we are her. We feel her pain because she's in pain. The oft-told suggestion "show, don't tell" only uses half of cinema's tools — Hadaway uses them all. And while none of this technical achievement would work without a performance to match, Hadaway has just that in Isabelle Fuhrman. Together they've created a visceral cinematic experience. Nearly forty years after Personal Best, here's a sweaty queer sports movie that's as twisted and bloody as we are. Queerness is an escape — it's everything else that's the problem.
56. Simone Barbès or Virtue
dir. Marie-Claude Treilhou, 1980
Available On Another Screen
Marie-Claude Treilhou's debut film is split into three sections. The first introduces the titular lead, played by Ingrid Bourgoin, at her job as an usher at a porn theatre. She barbs and commiserates with her coworker as they rip tickets for an eccentric collection of (mostly) men. When her shift is over at midnight, she goes to meet her girlfriend at the lesbian bar where she works. This isn't your average lesbian bar. There's live music and live sword fights and, yes, plenty of astrology talk and dyke drama to go around. And, finally, at the end of the night she has an unexpected car ride with another lonely stranger. This nocturnal journey through the hidden corners of Paris is alternately casual and heightened, an odyssey with no destination but plenty to see along the way. The middle section provides a unique snapshot lost in most 20th century cinema and Simone is a heroine we still rarely see on screen.
55. Signature Move
dir. Jennifer Reeder, 2017
Watch It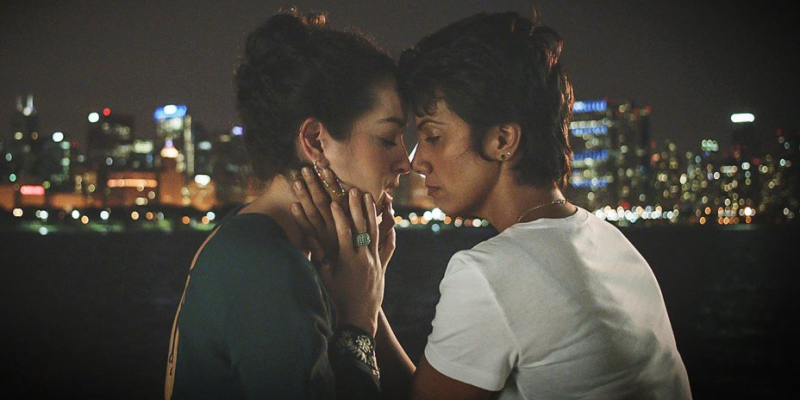 A late in life coming-of-age movie, this captures a very common queer experience — through the very specific lens of a Pakistani-American woman obsessed with Lucha-style Mexican wrestling. Fawzia Mirza stars and co-wrote the script and her natural likeability, impeccable comic timing, and chemistry with Sari Sanchez make this movie endlessly endearing. It's part romcom, part family dramedy, and both threads feel nuanced and real. Also, lesbian wrestling!!
54. Mulholland Drive
dir. David Lynch, 2001
Watch It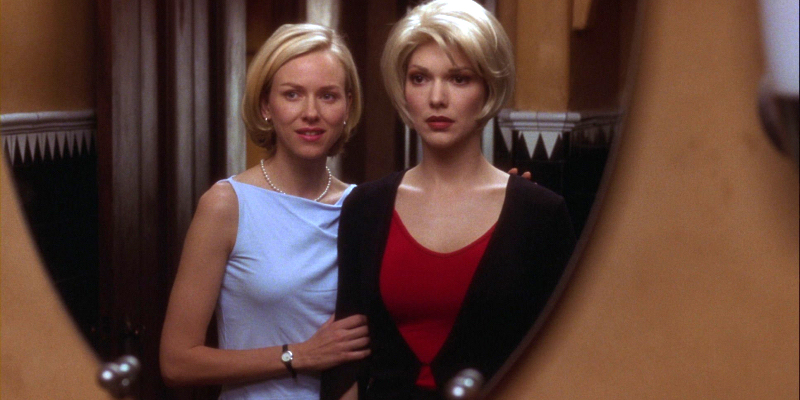 A cinematic masterpiece and one of David Lynch's finest works. Naomi Watts gives an all time great performance as Betty, the wide-eyed actress who moves to Hollywood and falls for the mysterious amnesiac Rita (Laura Harring). Of course, there's more to the story as this is a Lynch film, but more than any other work of his each thread of surreal oddity clicks together to tell this painful love story between two doomed women. It's certainly not devoid of male gaze, but if you're gonna pick a male's gaze you could do worse than Lynch.
dir. F. Gary Gray, 1996
Watch It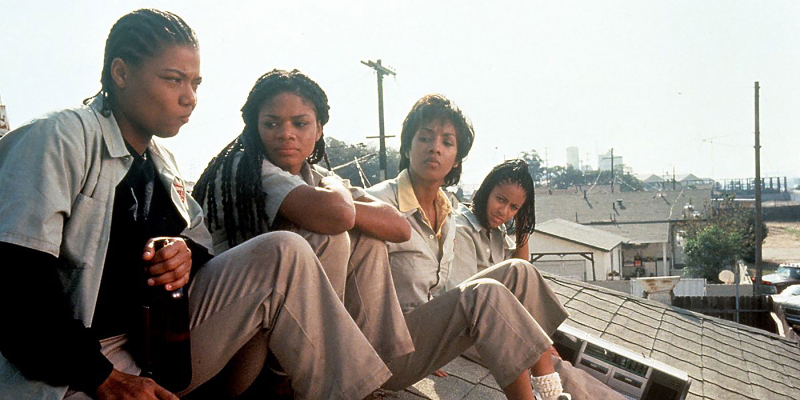 An absolute masterpiece of a heist movie. F. Gary Gray's story of four women who decide to rob a bank is as excellent a drama as it is an action movie. We care so much about the women played by Jada Pinkett Smith, Queen Latifah, Vivica A. Fox, and Kimberly Elise and it makes the suspense all the more suspenseful. Queen Latifah is absolutely iconic as Cleo, the lesbian whose confidence is as dangerous as it is sexy.
dir. Nisha Ganatra, 1999
Watch It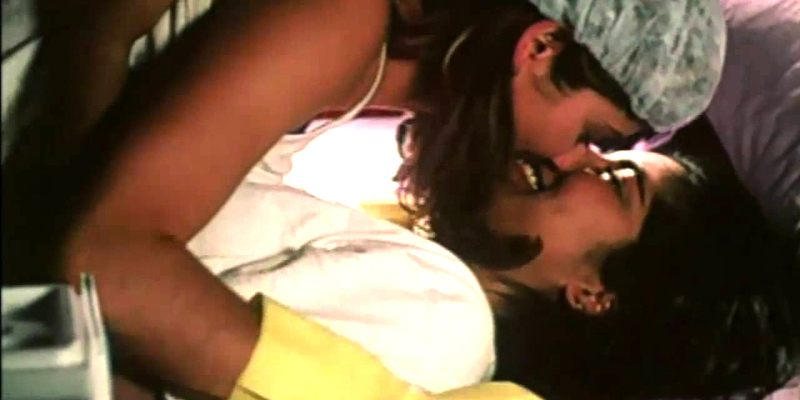 Before Nisha Ganatra was directing several of your television faves, she co-wrote, directed, and starred in this film about queerness and family. The film shows the intimacy and conflict within biological and chosen family structures, searching for new ideas around parenthood. It's funny and sweet and always living in the reality of its well-drawn characters.
dir. Yorgos Lanthimos, 2018
Watch It
This movie about Queen Anne of England is not your average period piece — it's not even your average gay period piece. Yes, it takes place in 1704 and is based on a true story and features all sorts of royal intrigue. But here that royal intrigue revolves around two women trying to finger their way to power. Olivia Colman plays Anne with a hilarious desperation — totally unstable and totally captivating. Rachel Weisz is Anne's second in command — and lover — Lady Sarah, the real source of power in the court. Enter Emma Stone's Abigail, a down-on-her-luck newcomer who quickly realizes the key to Anne's favor. Watching Abigail and Sarah fight over Anne is delicious even as the film — or especially as the film — gets more and more twisted. Yorgos Lanthimos can be counted on for his dark sensibility and that's certainly the case here even with the plot revolving around a queer women love triangle. The movie that sparked a thousand lesbian tweets asking Rachel Weisz to run them over with a truck, you'll at least want her to fire a blank into your heart.

[Jump to Movies: 200 | 150 | 100 | 50 | 25 | 10 | All ]
dir. William Wyler, 1961
Watch It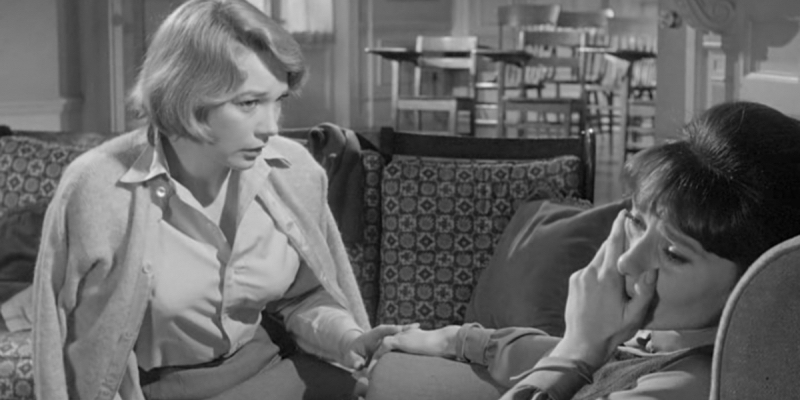 This classic of lesbian cinema has a bad reputation due to its influentially tragic ending. But just because the movie is bleak doesn't mean it isn't still deserving of praise, reexamination, and even enjoyment. Lillian Hellman's play is a tragedy in the American theatre tradition and that results in this kind of ending. But before that we get her beautiful writing, complex characters, and dynamic relationships. We get Shirley MacLaine with her pageboy haircut and Audrey Hepburn as her object of desire. This is a masterpiece that paved the way for so many future masterpieces — for better or worse.
49. House of Hummingbird
dir. Kim Bora, 2018
Watch It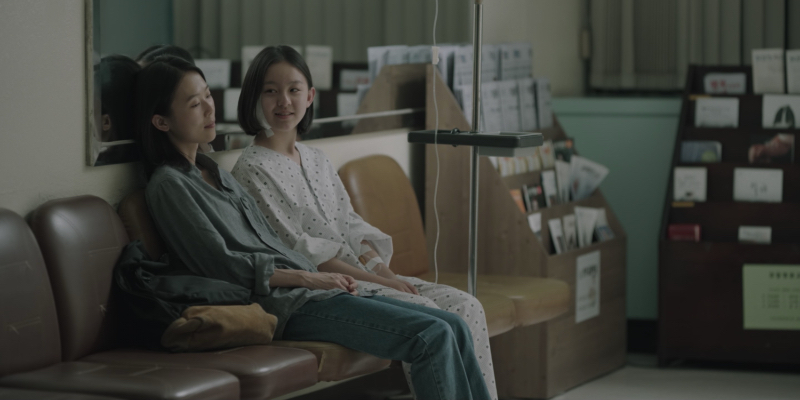 The only thing gayer than karaoke first dates, shitty families, and friend breakups are loving teachers. Well, Bora Kim's remarkable 1994-set coming-of-age debut has all four. Ji-hu Park plays the lonely and sensitive Eun-hee who is stumbling through her adolescence in an abusive home. This is a difficult film that's filled with tragedy and hardship, but it's far from bleak. In fact, an optimism and hopeful spirit runs deep throughout even its toughest moments. Adolescence is challenging — queer adolescence especially — but one person can make such a difference in showing us a way forward. This is a movie for all the queers who ate lunch in a teacher's room, this is a movie for all the queers who wondered if a future was possible and then, one day, stopped wondering and started to believe.
dir. Clement Hil Goldberg & others, 2013
Watch It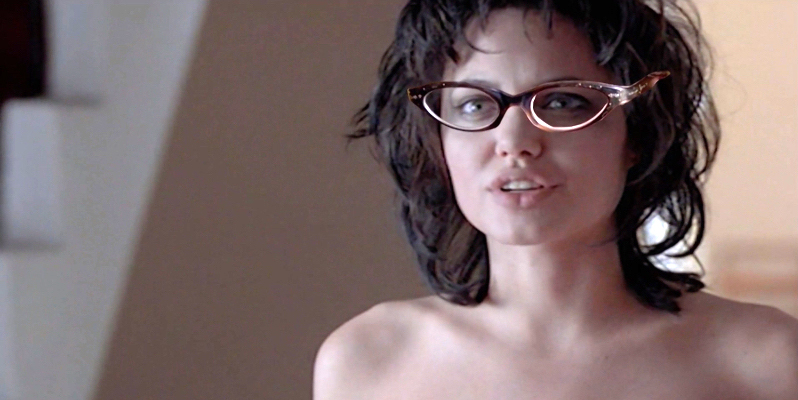 Is there anything queerer than an adaptation of a Michelle Tea book written and directed by a collective of queer filmmakers? Not much! The sections vary drastically in style, casting, and content, but together they create a portrait of a person, a place, and a community — the community of early 90s Mission District San Francisico and the queer community at large. It's an at times silly, at times serious burst of queer creativity.
47. Mosquita y Mari
dir. Aurora Guerrero, 2012
Watch It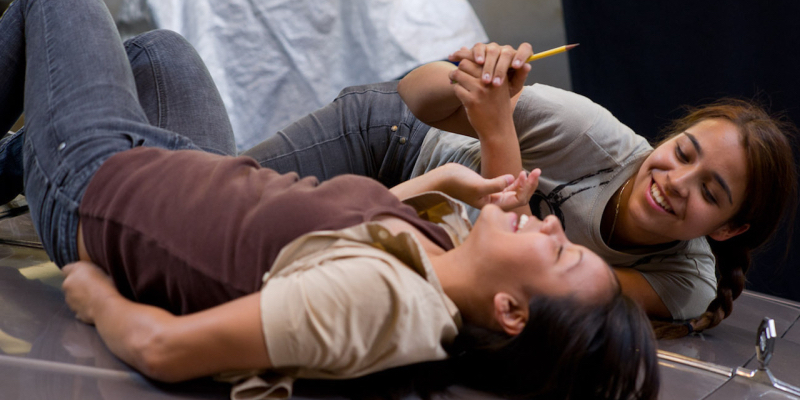 Quiet and big-hearted, this beautiful coming-of-age story focuses on straight A student Yolanda and new rebel girl in school Mari. As the two girls navigate their families' expectations, they grow closer, crushes turning to friendship turning to something more. The film never takes melodramatic turns instead trusting the grounded truth of its characters.
dir. Maryam Keshavarz, 2011
Watch It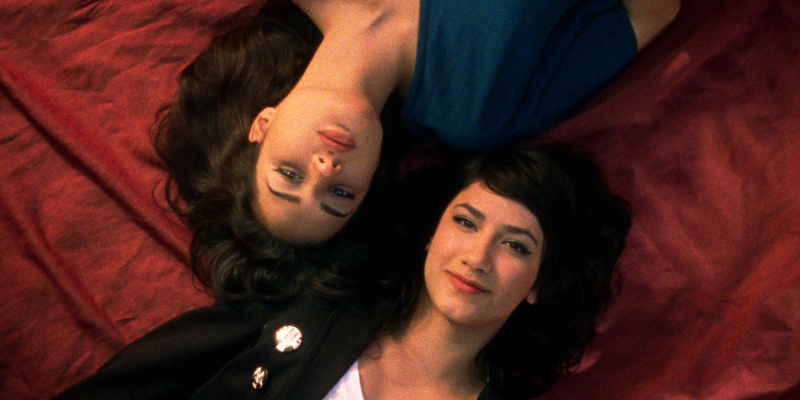 This is a film of stark contrasts, of sensual close-ups and repulsive close-ups, of freedom and restriction, of great joy and tragic horror. Nikohl Boosheri and Sarah Kazemy are incredible as two young women pushing the boundaries of society in Iran. The moments of freedom between them are so joyful, on a beach, in a bed, in the living room singing "Total Eclipse of the Heart." It makes the repression all the more painful. One moment this film is devastatingly sexy, the next it's just devastating.
45. A Date for Mad Mary
dir. Darren Thornton, 2016
Watch It
Seána Kerslake makes a difficult character impossible not to love in this unique coming-of-age story. Mary's discovery of her sexuality threads through every aspect of her self-discovery as she grapples with her recent prison sentence, her best friend's upcoming wedding, her contempt for her mother, and her new crush. The film balances its subject matter and its tones due to sharp writing and Kerslake's truly remarkable performance. This is really a gem of a film.
dir. Albertina Carri, 2018
Unavailable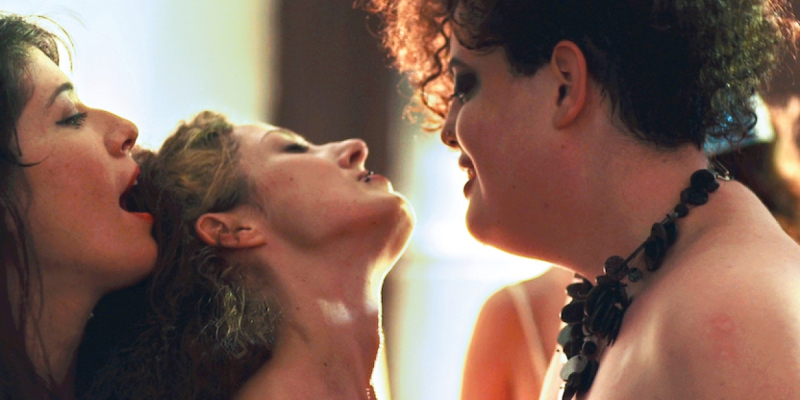 Porn about making porn questioning how to make porn that's properly queer and feminist, Albertina Carri's film succeeds in answering its own question. Poetic and sexy this loosely plotted Argentinian road trip is bound to make you think and come. It's casual in its inclusivity across body types, gender, and kinks, and ends with one spectacular orgy.
43. Foxfire
dir. Annette Haywood-Carter, 1996
Watch It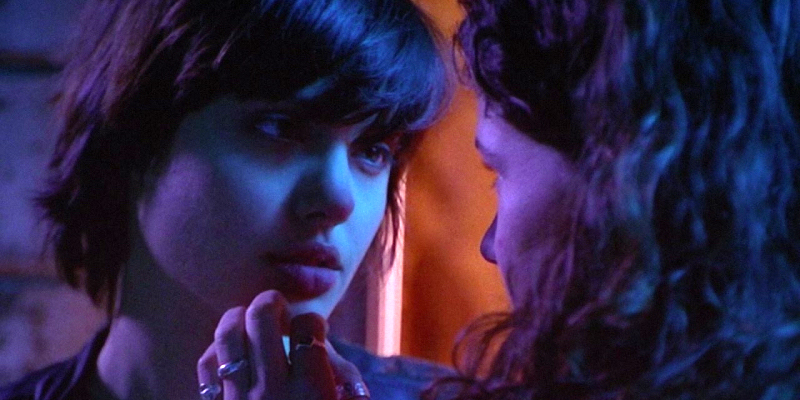 Based on Joyce Carol Oates' novel, Annette Haywood-Carter's coming-of-age tale about a feminist girl gang is great for a lot of reasons, but short-hair leather jacket wearing knife wielding Angelina Jolie is definitely at the top of the list. She's so good and so gay and can do so much with a look. It's no wonder the other girls follow her lead. It's incredibly satisfying to watch them wreak havoc on all the awful men in their lives, even as things start to cross a line. There's a real intimacy between the girls when it's platonic and when it's romantic.
42. Multiple Maniacs
dir. John Waters, 1970
Watch It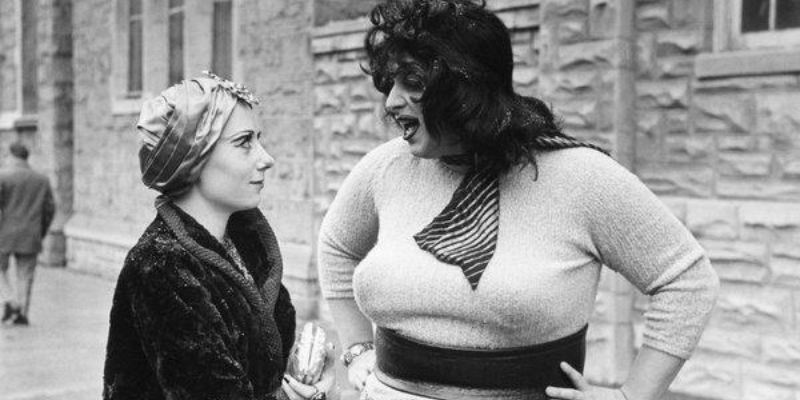 John Waters lives up to his title Pope of Trash with this raucous celebration of counter-culture deviancy. The movie opens with a group of cishet normals making their way through a free exhibit titled The Cavalcade of Perversions — and then Divine robs them at gunpoint. Waters starts his filmography with a statement and never lets up. This is the only movie on this list where a drag queen is fucked with a rosary in a church. It's a remarkable sex scene with a level of queerness rarely seen on screen. It's also the only movie where a drag queen is raped by a giant lobster. Because that's just what you get with John Waters!
dir. Min Kyu-Dong, Kim Tae-Yong, 1999
Buy on DVD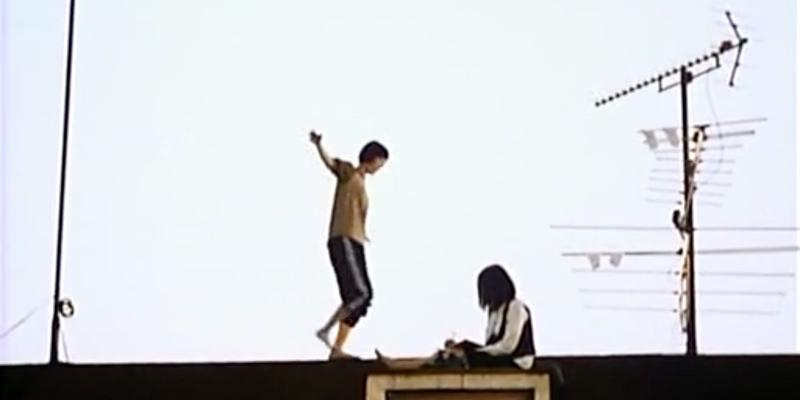 Technically the second film in the Whispering Corridors Korean horror series, this film focuses more on the emotions of its trio of queer teen girls than it does easy scares. But this is still a ghost story. Min-ah discovers the shared journal of her classmates Hyo-shin and Shi-eun filled with gay longing. She becomes obsessed with them — the obsession only increasing when Hyo-shin tragically dies. Haunted by Hyo-shin and drawn towards Shi-eun, Min-ah has to confront her own queerness and find a way forward. It's a melancholy, yet ultimately hopeful film, about adolescence and the possibility of queer futures.
dir. Ol Parker, 2005
Watch It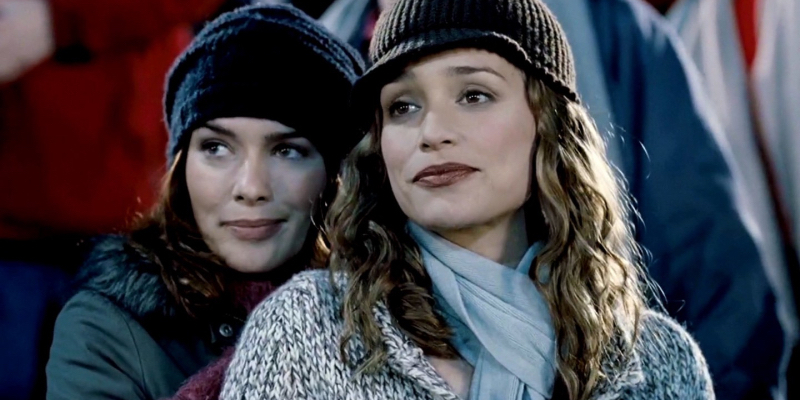 Out of all the lesbian romcoms, this might be the one that most successfully takes your standard hetero romcom and queers it. Not the deepest, not the most interesting, but the truest to the genre with lots of jokes, lots of heart, and all the right story beats. Piper Perabo plays gay once again and once again steals our hearts, but it's Lena Headey's confident gay florist that really makes the movie. Be careful. It just might make you believe in love at first sight.
dir. Kay Cannon, 2018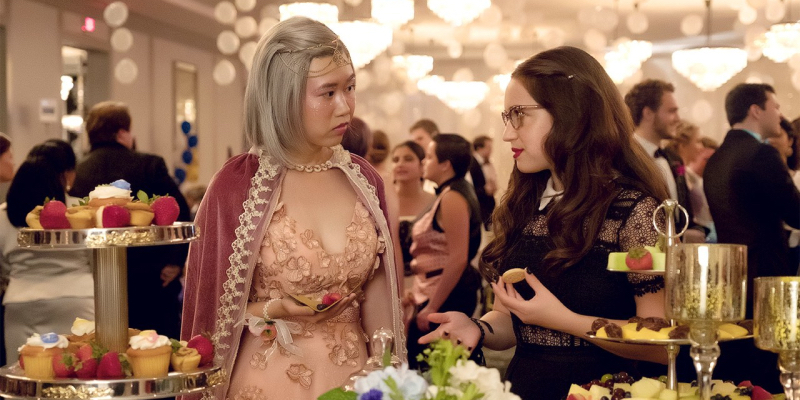 The rare big budget Hollywood comedy that's thoughtful, progressive, emotional, and beyond fucking hilarious. Kay Cannon's first film feels effortless in its perfection — filled with great comic performances from its trio of adults and its trio of teens. Virginity pacts are a staple of teen comedies, but never has one been treated with such intelligence and sex positivity. Gideon Adlon plays Sam's awkward queerness with a funny and sweet authenticity and the movie's inclusion of her is refreshingly casual. She hasn't come to terms with her queerness at the film's beginning but she's given the space to go on a journey of self-exploration — aided by her friends, family, and a massive crush. It may only be a third queer, but this movie really is a perfect comedy.
dir. Cheryl Dunye, 2012
Watch It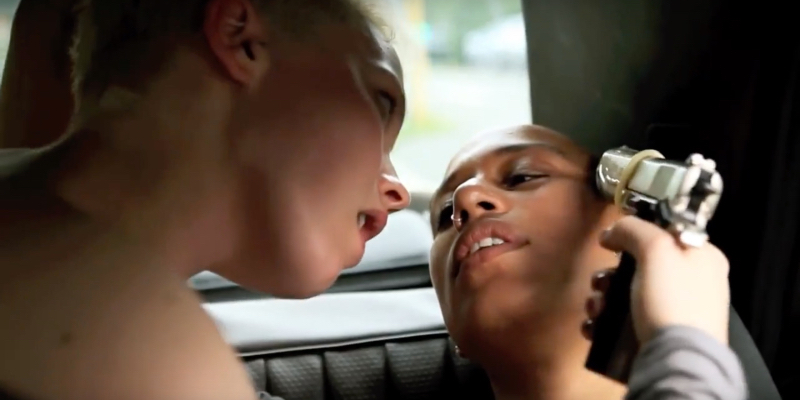 Cheryl Dunye's most recent feature is a sex-filled romp through Berlin. Papi Coxx plays Claudia/Claude, a hotel clerk trying to rediscover the spark with her girlfriend Dylan played by Lil Harlow. They end up on separate sexual odysseys with Claudia genderbending while Dylan has a threesome with her best friend. The silliness and sexiness escalates when Dylan's mother comes to town and some unexpected twists arise. Dunye's film doesn't take itself seriously, but its refusal to bend to respectability politics gives it an air of importance. It's a reminder from Dunye that queer cinema can still be queer and a reminder that she's an icon for a reason.
dir. Dee Rees, 2015
Watch It // Also Available on HBO Max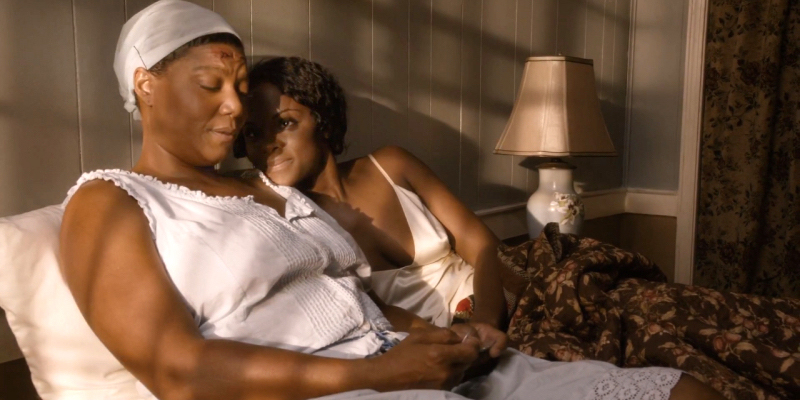 Dee Rees is one of the very best filmmakers around and she elevates her biopic about Bessie Smith beyond the usual HBO movie. The costumes and all the period detail are stunning, but Rees' film is ultimately a tribute to a queer Black woman artist who refused to compromise — refused to cater to white people or any men — made by a queer Black woman artist at the beginning of her career determined to do the same. Rees is aided by what is truly one of Queen Latifah's best performances. It's a perfect combination of material, filmmaker, and star.
dir. Carly Usdin, 2016
Watch It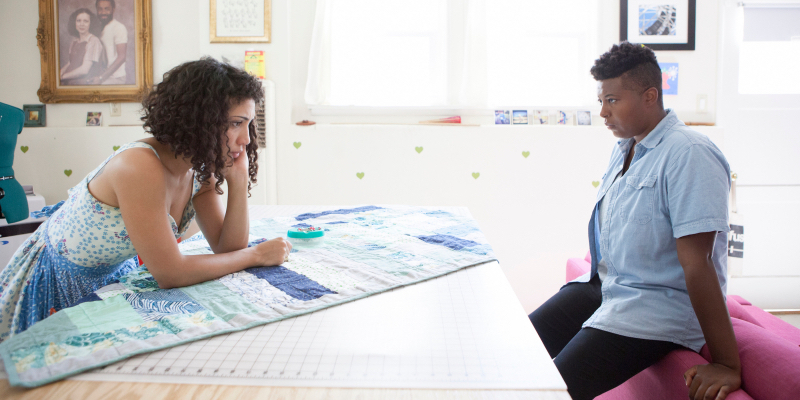 This dramedy farce is anchored by four stellar performances, a natural real-life queerness, and an if-mumblecore-was-well-shot aesthetic. Brittani Nichols' script is astute in its portrayal of queer relationships and sharp in its humor. There's a casual DIY quality to this movie that makes it seem effortless, but if you've watched a lot of low-budget indie films you'll know that's not the case. It takes a level of talent, vision, and specificity to make a movie this good and it should be sought out and celebrated as much as any big budget fare.
35. All About My Mother
dir. Pedro Almodóvar, 1999
Watch It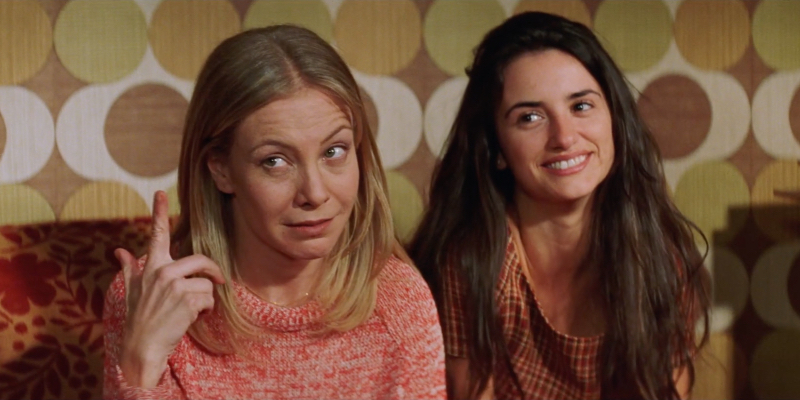 Often considered Pedro Almodóvar's crowning achievement, All About My Mother is a tribute to women — to actresses, to mothers, to trans women, to sex workers, to lesbians. With his trademark style of bright colors, raunchy humor, and gorgeous melodrama, Almodóvar's film is a reminder of the communities we form. The boundaries between family and friendship and lovers are as fluid as the boundaries of sex and gender. Cecilia Roth, Marisa Paredes, Penélope Cruz, and Antonia San Juan lead a cast of women that feels all too real even as they play in Almodóvar's heightened imagination. This is not usually considered a lesbian film, but probably only because several of its queer women relationships involve trans women. Since its release the film has held a place in the canon of world cinema — it's time it takes its rightful place in the canon of lesbian cinema as well.
34. Set Me Free
dir. Léa Pool, 1999
Unavailable
Don't you just hate it when the cute girl you made out with starts dating your brother? Being 13 is hard! And it's certainly hard for Hannah who's struggling with a terrible home life, a painful crush on her teacher, and, yes, a potential romance fraternally robbed. Her only respite is the cinema where she admires Anna Karina in Jean-Luc Godard's Vivra sa vie. This is a measured film — far more grounded than Pool's more famous Lost and Delirious — but with that comes an emotional queer reality. This movie is ultimately a superhero origin story — except replace superhero with queer woman filmmaker.
33. Born in Flames
dir. Lizzie Borden, 1983
Available on Fandor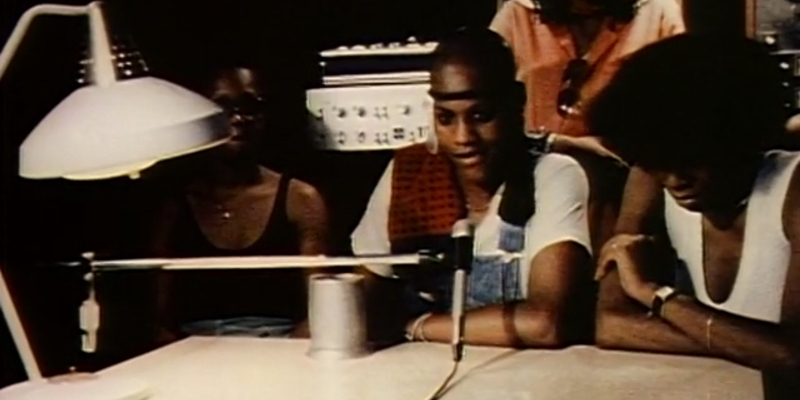 Radical, revolutionary, and still all too relevant, Lizzie Borden's speculative masterpiece deserves its underground reputation and newfound celebration. Taking place ten years after a socialist revolution in America, Borden's film examines the ways in which even leftist political structures leave women, people of color, and queer people behind. This is a complicated film that engages in complicated discussions — never afraid to confront the true nature of the issues we face as we attempt to build a better society. Ultimately, the film shows the power of mutual aid and a suggestion that to create real change communities will have to take care of ourselves. This world contains a multitude of revolutions, but Black queer women are at the center of the ultimate revolution. In Borden's world — our world — change is possible, but the work continues.
dir. Stephen Cone, 2017
Watch It // Also Available on Hulu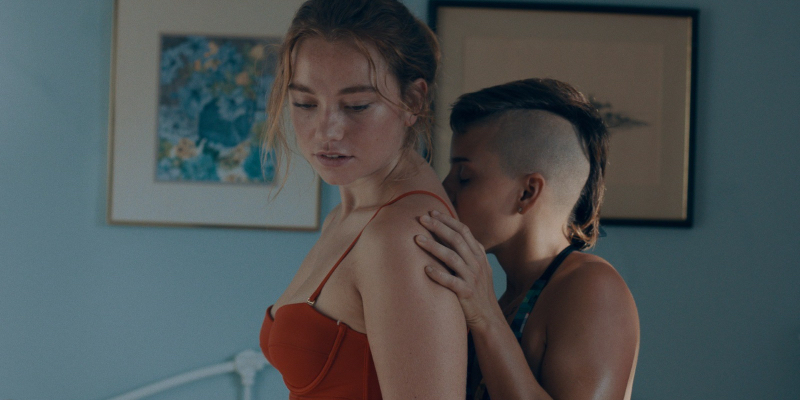 As sensual as its protagonist and as thoughtful as her aunt, Stephen Cone's understated masterpiece finds the balance between pleasures of the flesh and mind. Cyd Loughlin is a teenager freely exploring her pansexual desires who spends a summer with her novelist aunt Miranda who is more preoccupied with intellectual discussion, friendship, and food. As Cyd and Miranda challenge each other's beliefs — and Cyd falls for a hot barista — the film becomes a celebration of the many ways to find enjoyment and connection in life. There's little plot and minimal drama — just sink into this pleasant world and you'll find whatever you needed most.
dir. Wanuri Kahiu, 2018
Watch It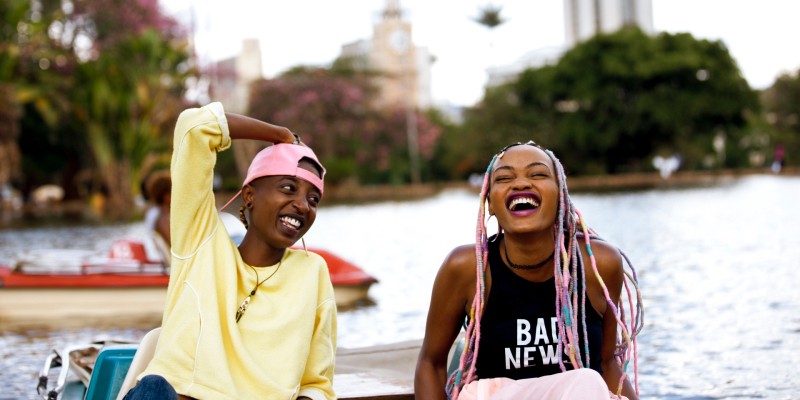 Filmmaker Wanuri Kahiu has committed to a style she describes as Afrobubblegum, presenting a "fun, fierce, and fantastical representation" of Africa. This film — initially banned in its home country of Kenya before Kahiu sued — fulfills this promise. It's a beautiful, colorful celebration of Black queer love. It's honest about harsh realities, but overwhelms them with its moments of joy.
dir. Ruth Caudeli, 2019
Watch It
Ruth Caudeli's second film is somehow even better than her first. Compared to Frances Ha due to its gorgeous black and white cinematography and messy female protagonist, this is really its own work of specifically queer creativity. Caudeli reunites with Silvia Varón — her muse and IRL girlfriend — and hopefully the two of them will work together for a very long time because Varón is just incredible. She plays Emilia, a bisexual struggling actress in a friend group of straight people. Caudeli takes a trope often used in mainstream media to keep queerness to a minimum and instead explores the reality of someone coming to terms with their identity while lacking community. Emilia is easy to root for even as she drinks too much, hurts the people she loves, and remains stuck in a delayed adolescence. Caudeli captures her with a formal inventiveness rarely granted to this sort of queer story — its heightened style illuminating the emotional weight of these day to day moments.
29. Les Rendez-vous d'Anna
dir. Chantal Akerman, 1978
Available on Criterion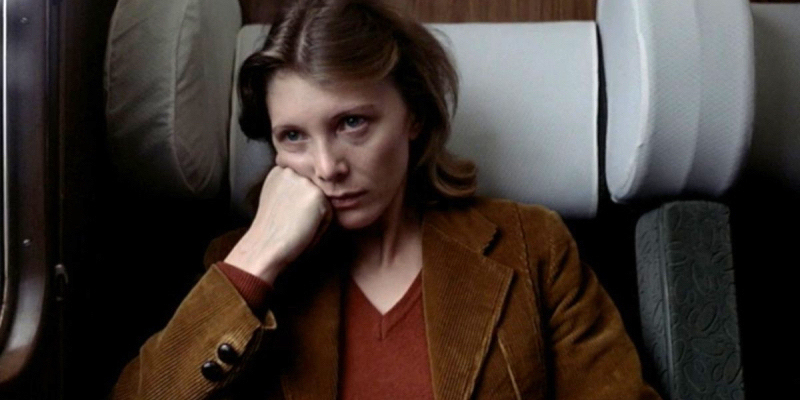 Chantal Akerman's long takes and static camera are formal invention born from character. Here she tells the semi-autobiographical story of a queer woman filmmaker traveling around Europe promoting her latest film. She encounters strangers, former lovers, her mother, all the while filled with a deep ennui. Nothing Anna does can quite cure her depression, but she just keeps going. She continues on her trip, continues with these interactions, her face always revealing her exhaustion with life. It's a sad film, but it isn't tragic. It's a film about how hard it is to live made by one of the greatest filmmakers to ever try.
28. I've Heard the Mermaids Singing
dir. Patricia Rozema, 1987
Buy on DVD
Bursting with creativity and experimentation, Patricia Rozema's debut is a remarkable film about finding one's artistic voice. Sheila McCarthy's Polly is a strange protagonist — uncertain and passive — but Rozema places us excellently inside her point of view. The movie's queerness is handled casually as if the film is not about queerness per say, but rather the delayed maturity that many queers experience. The movie is so funny and charming that its emotional core sneaks up on you. The whole journey makes for a unique work of queer cinema.
27. Water Lilies
dir. Céline Sciamma, 2007
Available on Criterion
Céline Sciamma is one of the best filmmakers working today — lesbian or otherwise — and her talents were already clear in this first film. With a color palette of blues and greys and a moving camera that knows just where to land, Sciamma and cinematographer Crystel Fournier create a visual language that's poetic and pointed. This is a film about teenage friendship as much as it is about teenage love — a lesbian film at its core. Synchronized swimming has never looked so beautiful and brutal. Being a teenager has never looked so beautiful and brutal. Sciamma is a brilliant lesbian artist and every film from her is a gift.
26. Certain Women
dir. Kelly Reichardt, 2016
Watch It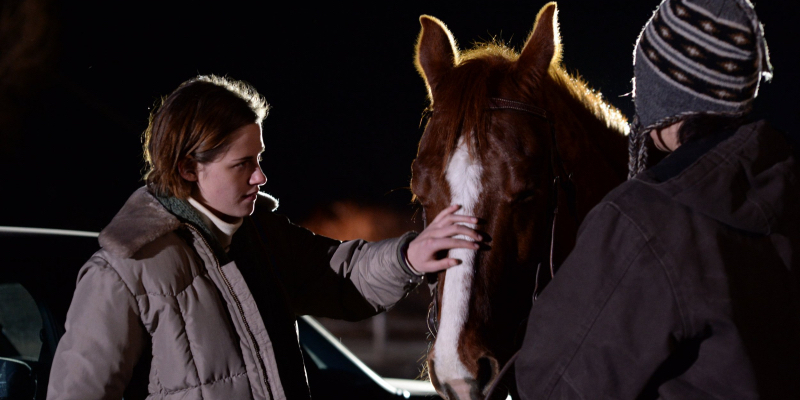 Renowned lesbian auteur Kelly Reichardt brings her famous touch of melancholy from her usual setting of Oregon to the plains of Montana. This triptych of stories about lonely women includes Reichardt's most explicit work about queer women. Lily Gladstone is remarkable as a rancher who falls hard for a law professor played by Kristen Stewart. The infatuation is fairly one-sided, but it's powerful to watch Gladstone's shy character follow her heart and yearn for more. Like most of Reichardt's films, this is a quiet and meditative piece, but its nuance will haunt you long after it ends.

[Jump to Movies: 200 | 150 | 100 | 50 | 25 | 10 | All ]
dir. Juliana Rojas, Marco Dutra, 2017
Our Review // Watch It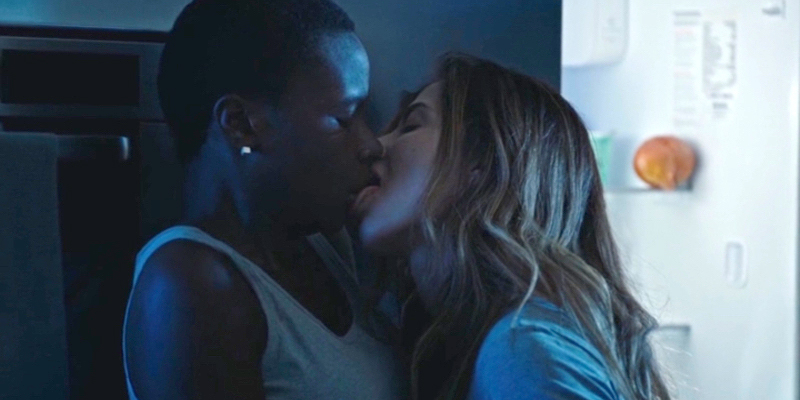 The best werewolf fairy tale horror lesbian movie musical ever made. Yes, this movie is all of those things and it's a commentary on race and class differences in Brazil and a story about the nuances of queer motherhood. There's a lot going on but somehow it all just works. It's a gorgeous, at times terrifying, at times sexy, movie that is unforgettable to say the least. This isn't the first movie to find horror in pregnancy and motherhood, but there's something explicitly queer about this portrayal — and with that a fresh perspective. It deserves as prominent a spot in the canon of horror cinema as it does the canon of lesbian cinema.
dir. Yasuzô Masumura, 1964
Unavailable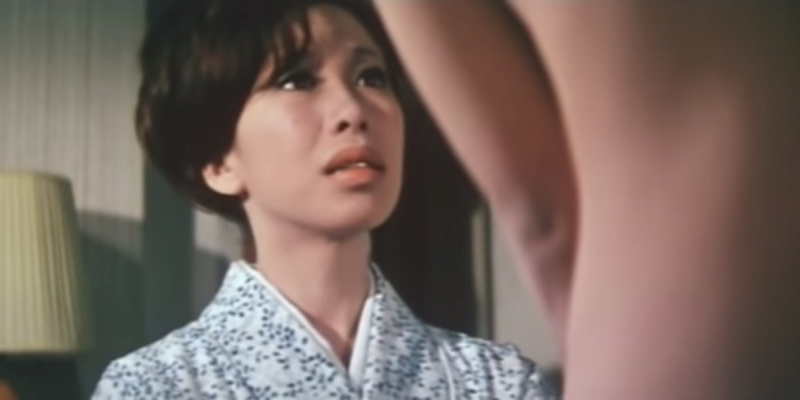 Proof that you can't judge queer cinema by when it was made, Yasuzô Masumura's semi-exploitation classic is absolutely bonkers. Sonoko, played with a delightfully unhinged energy by Kyôko Kishida, is a lonely housewife who falls hard for Mitsuko at their "art school for ladies." Mitsuko is played by Ayako Wakao and she really creates a character worth going crazy for. This is a movie of big gay feelings to an extent that would be troublesome if it wasn't so delicious. Things only get crazier when Sonoko's husband gets involved — and even crazier when the poisoning begins. Nothing will prepare you for this movie, so you just have to watch it.
23. Hide and Seek
dir. Su Friedrich, 1996
Available on Kanopy
Mixing documentary interviews with the tale of one twelve-year-old, Su Friedrich creates a moving masterpiece about lesbian childhoods. Conservative narratives pit queerness against children but Friedrich shows the casual queerness of so many of our younger days. There's an innocent joy to the way she shows the girls interact and a pointed confusion in how being gay makes someone feel different long before they have the right language to understand why. It's a simple yet remarkable film from an all-time great cinema artist.
dir. Desiree Akhavan, 2018
Watch It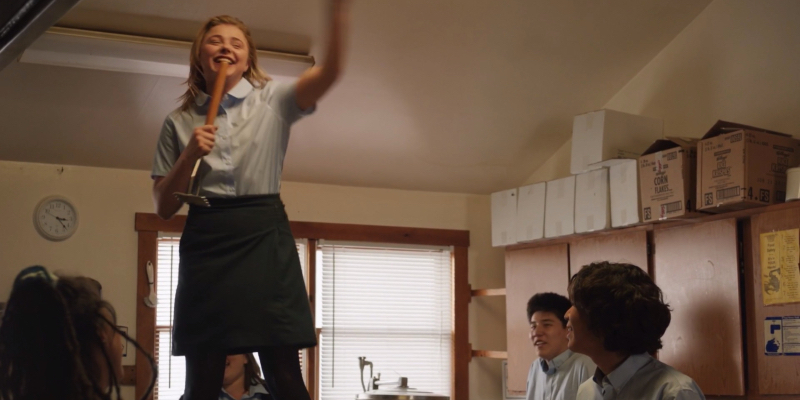 The best adaptations capture the essence of their source material with a new set of tools. That's exactly what Desiree Akhavan's movie of Emily M. Danforth's contemporary classic accomplishes. Akhavan focuses on the second half of the book, changes the ending, and alters lots of details, but at their core both works are about the ways queer people are brainwashed to doubt their identities. Chloë Grace Moretz is perfect as Cameron. She's dykey and angsty and headstrong with that depth of vulnerability always peaking through. This is a quiet movie, Akhavan trusting Ashley Connor's cinematography, Julian Wass' score, and her actors' faces to tell the story. Akhavan never lets the seriousness of the subject matter overwhelm the moments of humor and joy — the suggestion that our best hope for holding onto ourselves is to find community. Also switching the movie Cameron and Coley Taylor watch from The Hunger to Desert Hearts is a delightful touch.
21. MURDER and murder
dir. Yvonne Rainer, 1996
Available on Kanopy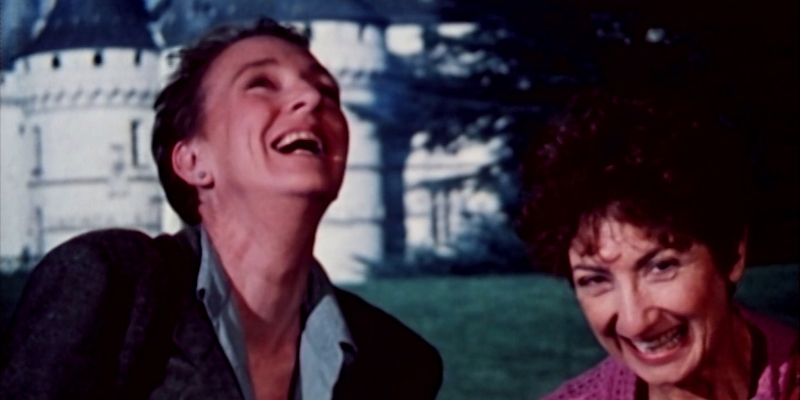 If you're looking for a lesbian movie that begins with a 60-something lesbian saying to her straight friend, "I love eating pussy," then look no further. A celebration of the ups and downs of a partnership, Yvonne Rainer's last feature follows Doris and Mildred as they navigate their relationship — through the mundane and through Doris being diagnosed with breast cancer. They are accompanied by a Greek chorus of Doris' mother, Mildred's younger self, and Yvonne Rainer the filmmaker. It's a complex, experimental, and ever so sweet film. The movie more or less takes the stance that all women can be and should be lesbians, and while that may not be true, Rainer is certainly convincing. Also Congressperson Pete Hoekstra used it as an excuse to cut funding from the NEA which is unfortunately always a good sign.
dir. Janelle Monáe & others, 2018
Watch It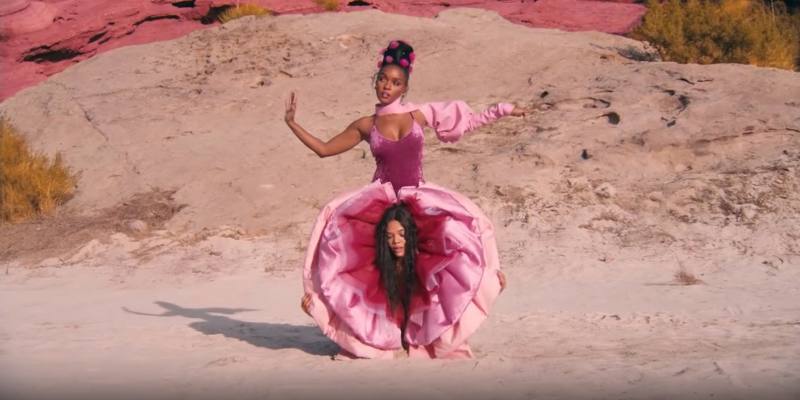 Janelle Monáe has called this unique work of art an "emotion picture" and it's easy to see why. Yes, it's on a movie list, but it doesn't easily fit within the box of feature film or any box really — just like its creator. Monáe and her team created a masterpiece that is at once a sci-fi epic, a visual album, a public coming out, a celebration of queerness/Blackness/femaleness, and an ode to everybody different. It's also so sexy?? We may never know the details of Monáe's relationship with Tessa Thompson, but whatever connection they shared is captured on-screen — the love, the sex, the finding yourself through another. Most of us didn't have to come out under public scrutiny, but we can all use a reminder to be a "free-ass motherfucker."
dir. Gil Baroni, 2019
Available on Netflix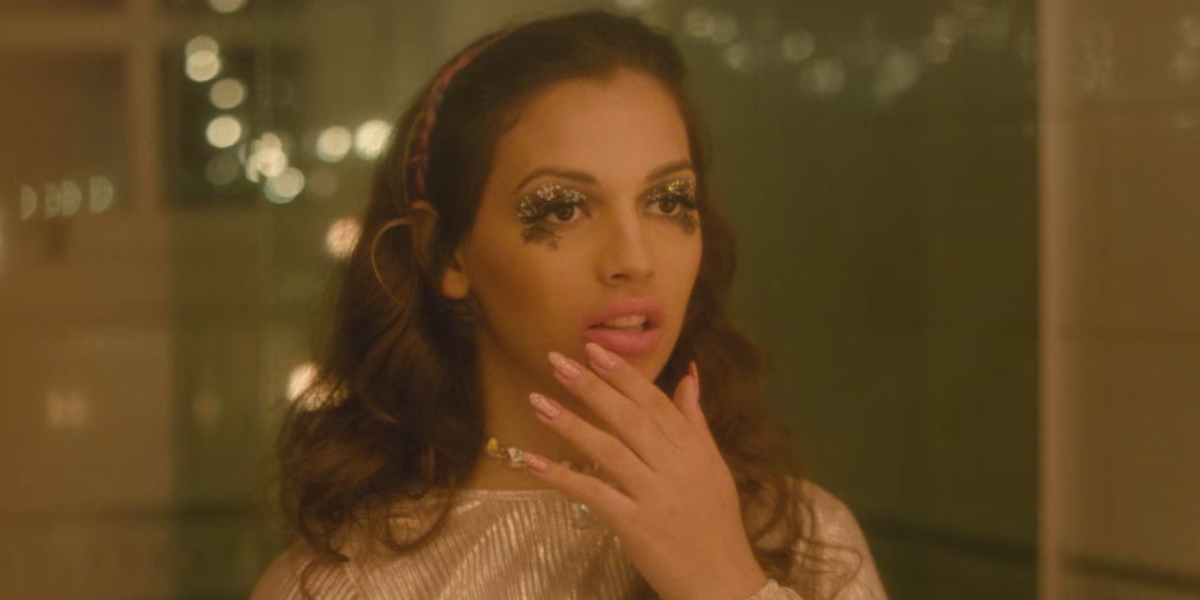 In some ways Alice Júnior hits all the regular beats of the teen movie genre — new student, bullies, quirky friends, mean teachers, nice teachers, a desire for a first kiss. And yet the film is a totally fresh take on the queer girl coming-of-age story. Not only is Alice trans — a detail that is all too rare — but her journey towards queerness is more of a pleasant surprise than an inevitability. In order to survive in the world as a young trans girl, Alice has built up a wall of total self-awareness, total self-confidence, and a delightful stubborn streak. These qualities make her such a fun character to watch. But even the most self-aware teen doesn't know everything. And while she's busy crushing on Bruno, Bruno's girlfriend Taísa is busy crushing on her. The joy and specificity director Gil Baroni and writer Luiz Bertazzo bring to the film makes this a wholly unique work of trans cinema — but its fluidity regarding sexuality make it a unique work of queer women cinema as well.
dir. Angela Robinson, 2004
Watch It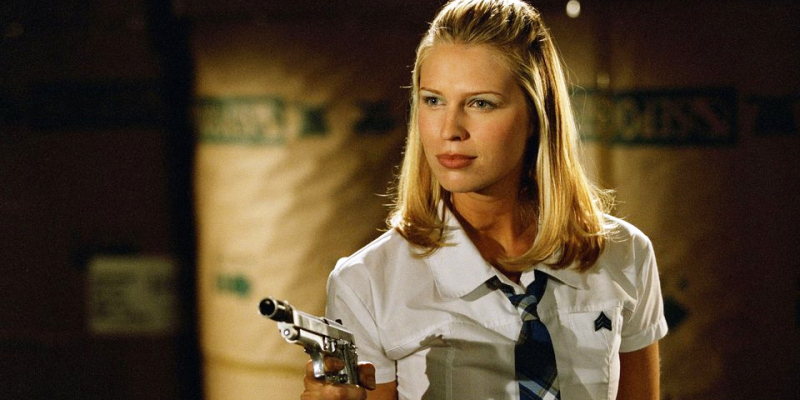 Some movies seem to arrive from an alternate dimension — a homonormative utopia where queer audiences get what we deserve. Angela Robinson's debut is exactly that kind of movie. We can indulge in the subtext of silly action movies all day long, but Robinson makes it the actual story. Why shouldn't a campy movie about a group of girl spies also be a lesbian romcom? There was no movie like this when it came out and there haven't really been any since. There's a casual gayness to the movie that's responsible for turning countless women queer — aided, of course, by Jordana Brewster as supervillain Lucy Diamond.
dir. Alice Wu, 2020
Available on Netflix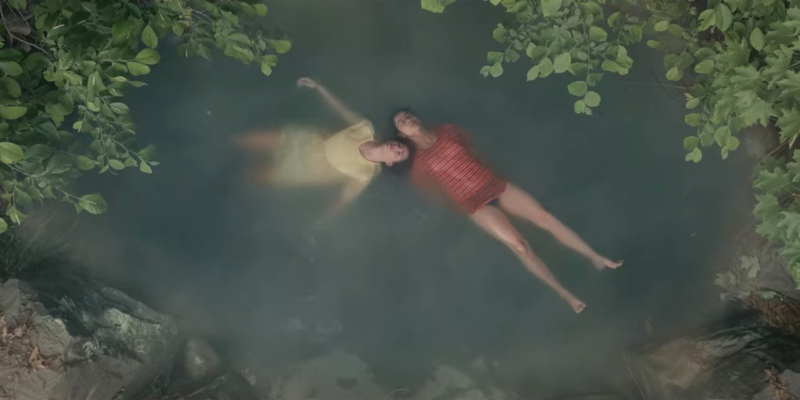 A decade and a half after her landmark debut (more on that later), writer/director Alice Wu returns with another gay romcom — but this time it's not a love story. This lesbian take on Cyrano de Bergerac focuses on Ellie Chu (Leah Lewis) a shy, Chinese-American 17-year-old who splits her days taking care of her grieving father and writing essays for her peers for extra money. When a sweet and goofy football player hires her to write love letters to his crush she develops feelings of her own — and all three form an unexpected bond. This movie goes beyond the expectations we place on teen comedies, romcoms, and queer movies. It understands the messiness of adolescence, of love, of queerness. It's a perfectly imperfect movie and confirms Wu as one of the most confident voices in lesbian cinema. Hopefully, we won't have to wait as long for her next cinematic treasure.
dir. Chantal Akerman, 1974
Available on Criterion
Chantal Akerman's debut narrative feature is when she first established her cinematic language of depression. The first half hour of this movie finds a woman named Julie played by Akerman herself remaining entirely in her room. She moves around her furniture, she eats sugar out of a bag for sustenance, and she writes and rewrites a letter to a mysterious someone in her life. She finally leaves, but her time hitchhiking with a random man does not feel like an escape. She is still trapped in her own isolation even when around others. The only moments of release are when she finally arrives at her ex's apartment — her ex the potential recipient of her letter — and they have sex in an extended ten minute sequence. But they are still exes and these moments can't last. Whether or not Akerman is focusing on queer women characters, there's a present queerness in how she views homosexuality and heterosexuality. She really did make movies for the sad gays and what a rare gift in the canon of arthouse cinema.
dir. Angela Robinson, 2017
Watch It // Also Available on Hulu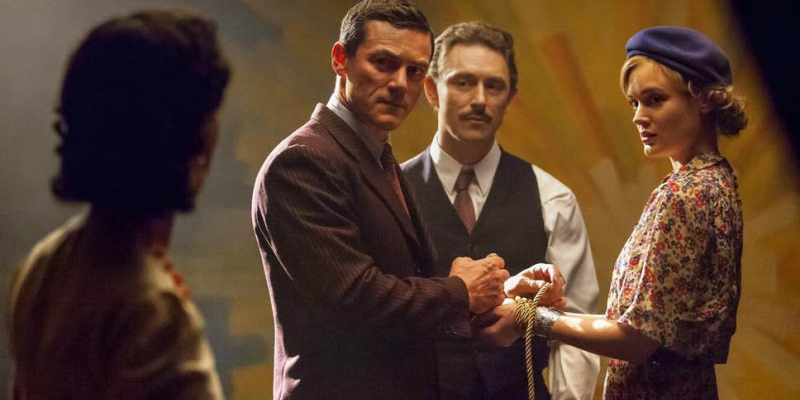 Angela Robinson's career has been defined by injecting revolutionary queerness into film and TV with a casual touch. This is a biopic about the creator of Wonder Woman — as polished and neat as one might expect from the genre. But this is also a story about polyamory, about BDSM, about three individuals fighting to define their own lives and loves. There is power in completely disavowing mainstream forms and there is a different kind of power in mastering them and subverting them from within. Luke Evans and Bella Heathcoate are great as William Marston and the Marstons' new partner, but Rebecca Hall as Elizabeth Marston truly astounds. The movie doesn't ignore the complications of their relationship — the external and the internal — but instead allows the relationship and these characters an understanding they were never granted. There's a reason Wonder Woman is such a popular character: these lives aren't so rare after all — only on our screens.
dir. Jacqueline Audry, 1951
Watch It
Long ignored, this recently restored classic of lesbian cinema deserves all its newfound praise and more. It's one of many films on this list that involve student/teacher relationships, but it's the only one to treat that dynamic with the level of nuance it deserves. Audry encourages us to enter Olivia's point of view, falling just as hard for her teacher crush, only to emphasize how painful the experience is for the young girl. Sometimes fantasies are meant to remain fantasies.
13. Show Me Love (Fucking Åmål)
dir. Lukas Moodyson, 1998
Unavailable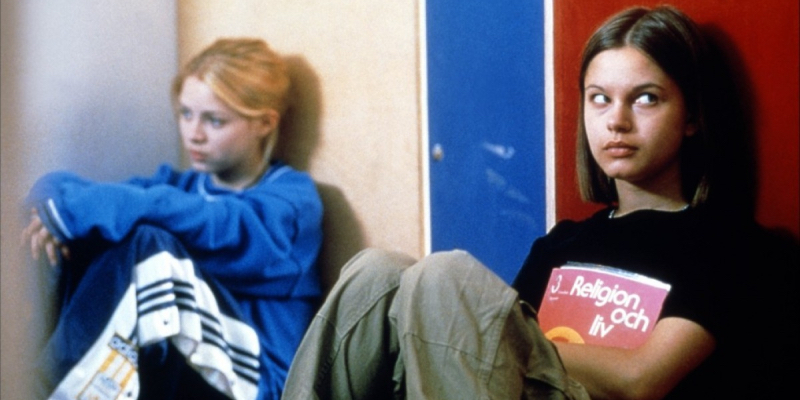 Mean-spirited, angsty, and oh so sweet, Lukas Moodyson's grainy coming-of-age romance captures all the complications of teenagehood. The characters can be cruel — like teenagers tend to be — but it comes from insecurity, awakenings, and romance. Beyond the sour feelings, this is really a triumphant take on love. The moments of joy feel all the more satisfying bursting out of Moodyson's realism.
dir. Todd Haynes, 2015
Watch It // Also Available on Netflix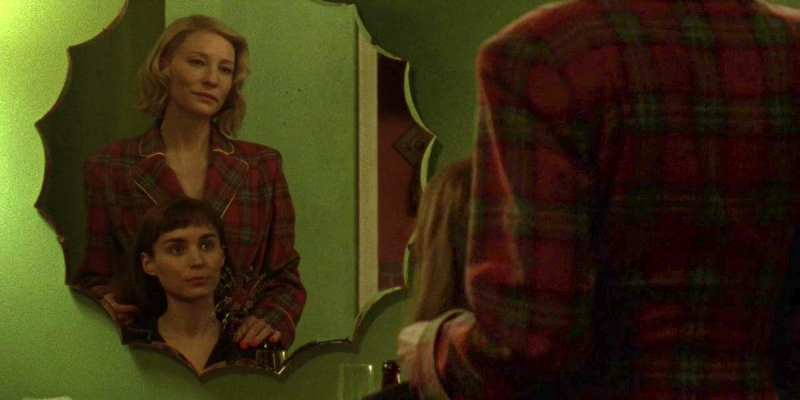 One of the most instantly iconic films of the last ten years, Todd Hayne's gorgeous adaptation of Patricia Highsmith's The Price of Salt is a poignant coming-of-age movie masquerading as a grand period love story — or, possible, vice-versa. Therese Belevit and Carol Aird are very different people at very different places in life. Therese is working at a department store for the holidays, spending her time with a man she doesn't care much for, and daydreaming about being a photographer. Carol is ten to twenty years her senior, going through a divorce, and desperate for her undeniable gayness not to keep her from her daughter. And yet despite all their differences Therese and Carol connect. Therese finds a spark for maturity; Carol finds comfort and an escape. Phyllis Nagy's script, Carter Burwell's score, Ed Lachman's cinematography, and truly every other technical aspect of the film is just perfect. Rooney Mara as Therese, Cate Blanchett as Carol, and Sarah Paulson as Carol's friend Abby are all alluring and heartbreaking in their own specific ways. You'll never think about a Santa hat, leather gloves, or creamed spinach the same way again.
dir. Park Chan-Wook, 2016
Watch It
A cinematic miracle pairing two seemingly discordant visions to create one dazzling masterpiece. Park Chan-Wook's adaptation of Sarah Waters' Fingersmith keeps the source material's tight plotting and well drawn characters and combines them with Park's always remarkable style. It's a thrilling, sexy, horrifying, ultimately romantic and hopeful movie and the whole thing is an absolute ride.

[Jump to Movies: 200 | 150 | 100 | 50 | 25 | 10 | All ]
Top 10 Best Lesbian Movies
dir. Leontine Sagan, 1931
Buy on Blue-Ray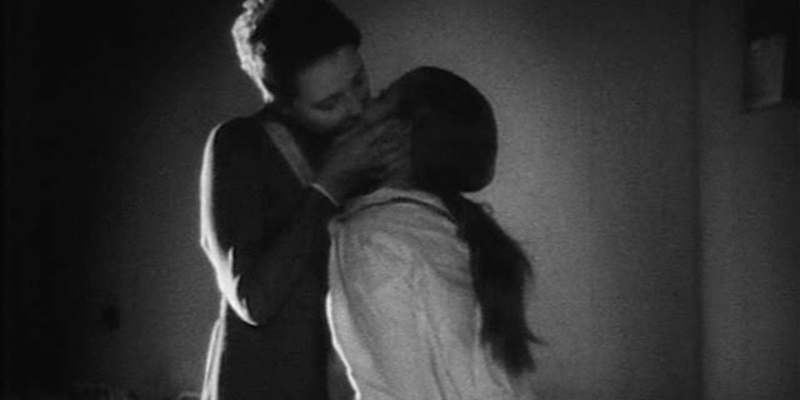 The lesbian movie that started it all. With its boarding school setting, central age difference, and near-suicide ending this first known work of explicit lesbian cinema can be credited with shaping the entire lesbian film canon. But it's more than just a work of history. While its age difference might be too much for some, the film places us squarely in the perspective of new student Manuela. Her love for teacher Fraulein von Bernburg becomes our own adolescent crush as we understand her confused place in gay life. At the dawn of the Holocaust the Nazis tried to burn every copy of this film — they failed. It's a testament to the scope of queer history, a glorious time capsule, and, simply, a stunning work of art.
9. All Over Me
dir. Alex Sichel, 1997
Buy "All Over Me on DVD or VHS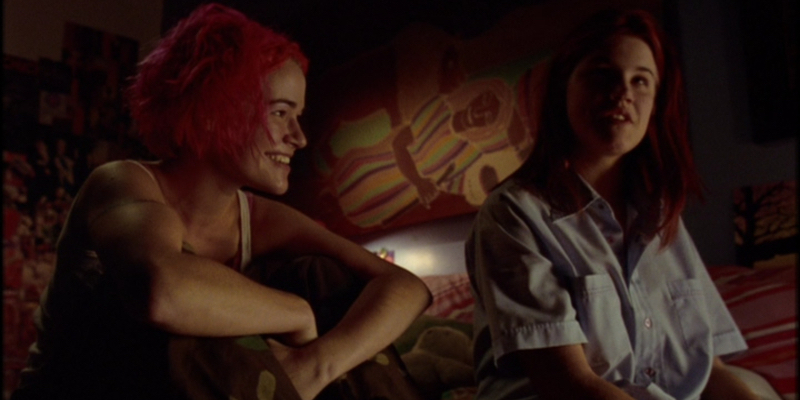 A film doesn't have to be campy to be formally queer. Alex Sichel was given a grant by the Princess Grace Foundation to make a movie about the riot grrrl music scene and instead she made a riot grrrl movie. Even the cinematography and sound design feel dykey. The soundtrack does not disappoint, of course, and this movie has both a painful "in love with my straight(?) friend" storyline and a "first love with a dyke in a band" storyline. And the dyke in the band is played by Leisha Hailey with pink hair! Alex Sichel never got to make another feature, and this film is currently very hard to find, but this was made for dykes and if it's going to finally get the recognition it deserves that has to start with us.
dir. Desiree Akhavan, 2014
Watch It // Also Available on Tubi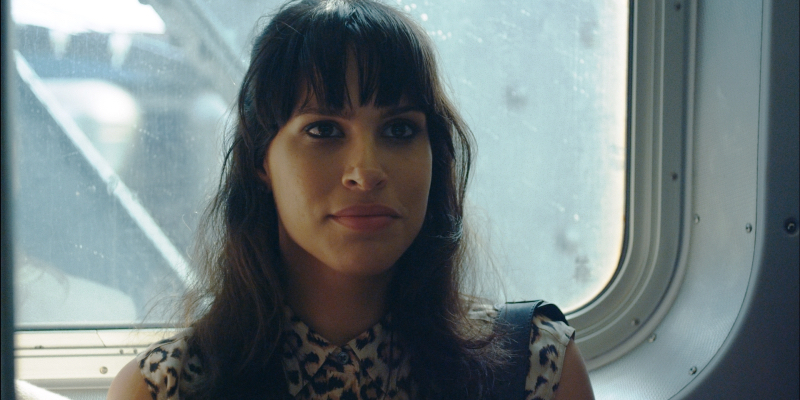 Shirin thought she met the only person in the world as sad and cynical as herself. She thought they were meant to be. Now in the wake of her break up she's spiraling in a flurry of bisexual chaos. Writer/director/star Desiree Akhavan is a once-in-a-generation talent and her humor makes this an easy movie to watch even as Shirin is seeped in melancholy and crisis. Since The Slope, Akhavan has made work that feels deeply grounded in a casual queer perspective. There might be a lot of semi-autobiographical films about people trying to master adulthood, but there's only one Desiree Akhavan and this film is as special as the filmmaker herself.
dir. Lana and Lilly Wachowski, 1996
Watch It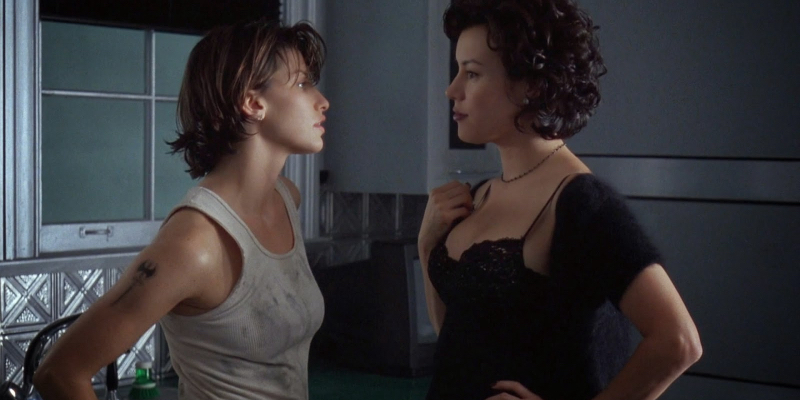 The Wachowskis take a classic film noir story with classic film noir archetypes and queer it in form and content. Gina Gershon plays Corky, the soft butch everyman readymade to get wrapped in things that don't concern her. This, of course, arrives in the form of Jennifer Tilly's femme fatale Violet. There's a deep understanding of the genre that allows them to subvert it — holding onto the excitement and sex appeal, but prioritizing lesbian love and delicious misandry. This is as stylish and exciting as any of the Wachowski's bigger budget fare and it has sex scenes choreographed by Susie Bright. Queer women are still largely absent from genre films, but this stands as one of the most prominent — and masterful — exceptions.
dir. Céline Sciamma, 2019
Watch It // Also Available on Hulu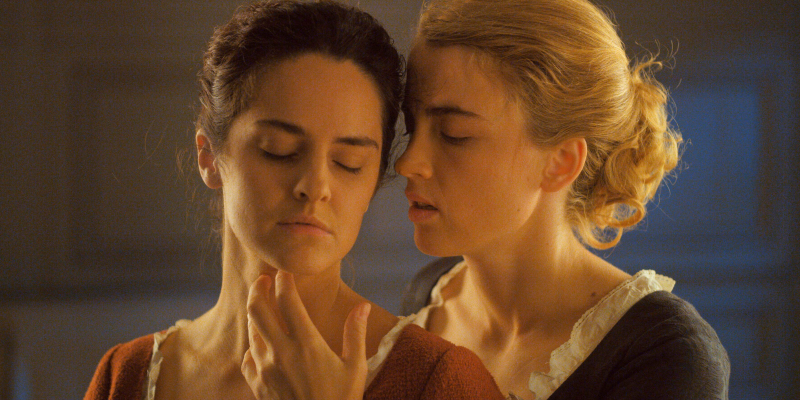 An immediate landmark of lesbian cinema, Céline Sciamma fulfills the promise of her first three features with a gorgeous work of lesbian art that pushes the boundaries of how our gaze appears on screen. This is a movie about love and a movie about creation – specifically about women, specifically about lesbians. Noémie Merlant and Adèle Haenel are exquisite, giving performances that challenge the very notion of audience watching actors. Claire Mathon's cinematography is as beautiful as it is pointed — the stunning images always motivated. There is so much eroticism and love and also a push to view these concepts in a way separate from heteropatriarchal structures. Céline Sciamma wants our cinema to be our cinema and with this monumental work she succeeds.
5. The Watermelon Woman
dir. Cheryl Dunye, 1996
Watch It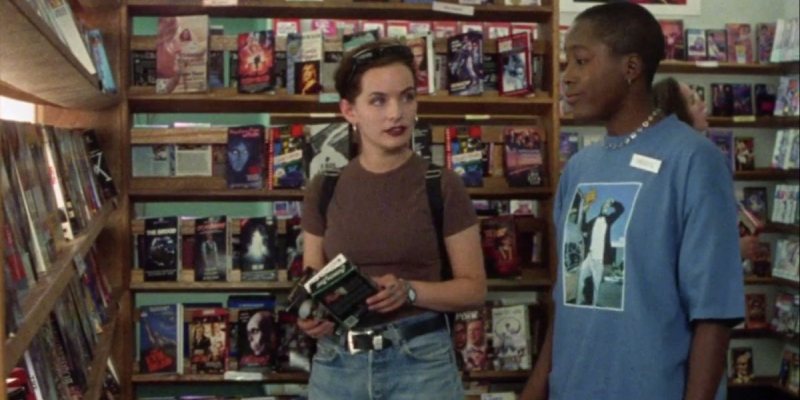 Mockumentary, romcom, buddy comedy, alternate history, Cheryl Dunye's debut feature is a work of Black lesbian cinema highly aware of its place within film history. Dunye is so funny and charming — and sexy with love interest Guinevere Turner — the depth of this singular work of lesbian art is only evident with its final title card. This is a lesbian movie with jokes, with a videostore meetcute, with a hot sex scene, but it's also a declaration of an artist's stubborn autonomy. Dunye isn't content just to mock or pay tribute — she understands that being a filmmaker with several marginalized identities doesn't allow her that casual dismissal or easy celebration. She understands the importance of history and that sometimes you have to create your own history. And she's determined to have fun along the way.
dir. Donna Deitch, 1985
Watch It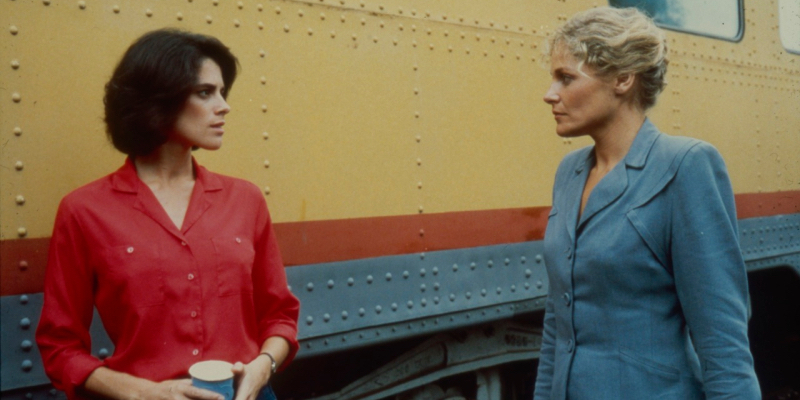 A period piece decades ahead of its time, Donna Deitch's sweeping romance is a classic that earns that word in quality and burns past it with an ever-present spark. Helen Shaver plays Professor Vivian Bell who's staying at a Nevadan ranch while she waits for her divorce to finalize. She has taken the first step towards independence, but isn't sure what's next. The answer? Cay Rivers. Patricia Charbonneau as Cay has so much easy tomboy femme charm, a sexy dedication to self, and wears pants and shorts unlike any other on-screen character. Their romance is fraught, but absent is the melodrama one might expect from a film made in the 80s about the 50s. It's a quieter, more grounded affair — that still finds time for an iconic kiss in the rain. You don't have to believe in love to believe in this lesbian movie — it'll do that for you.
dir. Dee Rees, 2011
Watch It
Dee Rees' debut feature is a stunning cinematic achievement. Her artful direction and poignant, specific writing melts into Bradford Young's remarkable cinematography, the impeccable soundtrack, and a collection of phenomenal actors led by Adepero Oduye. Oduye gives the kind of performance that should be talked about until we stop talking about cinema — finding layers in the realism, lightness in the pain. This is an at times difficult film, but it's far from maudlin. Rees gives us those first moments of love, those first moments of self-discovery and identification — even if they're met with rejection and isolation and difficulties. This is a film explicitly about Black queerness — not a single white person appears on screen — and it's a towering achievement from a Black lesbian filmmaker who's already left her mark and is only just beginning.
dir. Alice Wu, 2004
Watch It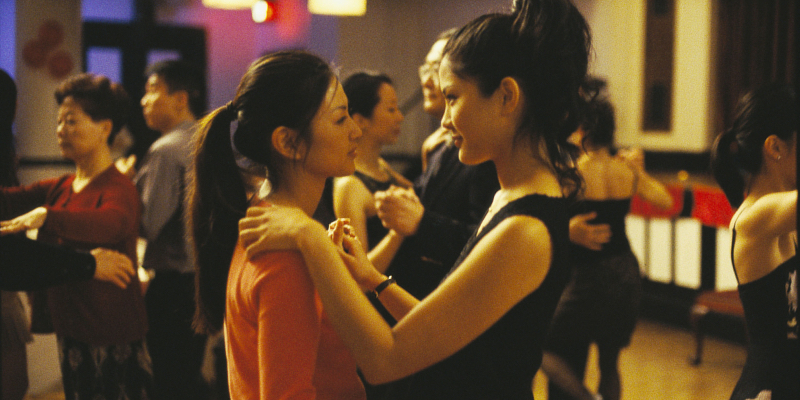 There are plenty of gay romcoms that attempt to fit queerness into the genre, but Saving Face goes beyond what any of its straight counterparts have ever accomplished. Alice Wu's only film for sixteen years is as funny and romantic as the best of the genre, but it's also about family, about identity, about people. Michelle Krusiec plays Wil, a Chinese-American lesbian surgeon forced to house her mysteriously pregnant mother just as she's falling for her boss' daughter played by Lynn Chen. Krusiec and Chen have a timeless chemistry. It's so fun to watch them flirt and fall in love and navigate how their lives could possibly merge. Joan Chen also gives a really special performance as Wil's mom. This movie isn't content to just tell one love story — its ambitions are to show the unpredictable nature of the very concept. It's still all too rare to see films about Asian-Americans — especially queer films — making Wu's film special as a representational milestone and simply as a work of art. Specificity makes for better storytelling and it doesn't get much better than this enchanting film.
dir. Jamie Babbit, 1999
Watch It
Jamie Babbit's campy lesbian classic received bad reviews upon its initial release. The largely straight male critics just didn't understand why someone would make a comedy about a subject matter this serious. But this film isn't for them. It's for us. And we already know all about queer trauma — what we need is queer joy. This is a biting satire that mocks homophobia and the people and institutions that uphold it — all the while grounding its gay characters in relatability and providing an authentic romance. Natasha Lyonne first earned her crown as honorary lesbian with her performance that's simply hilarious and Clea DuVall is a total heartthrob as her love interest. The rest of the cast includes Melanie Lynskey, Michelle Williams, Cathy Moriarty, Mink Stole, and RuPaul — each one of them falling into the movie's specific tone with perfection. Camp is often associated with gay men, but this movie is explicitly lesbian camp. This is a queer movie made by queer people about queer experiences through a queer lens for queer audiences.
It's the best lesbian movie of all time.
Pages: 1 2 3 4 5 6See entire article on one page