In My Top 10 Favorite Lesbian Movies, various members of Autostraddle's TV Team tell you about the movies nearest and dearest to our hearts and invite you to like all the same things we like. Today, writer and tv/film critic Drew Gregory shares feelings about her favorite films of all time.
I think the takeaway from these ten movies is that I'm a film nerd (of course) and a romantic (gross).
---
free on Criterion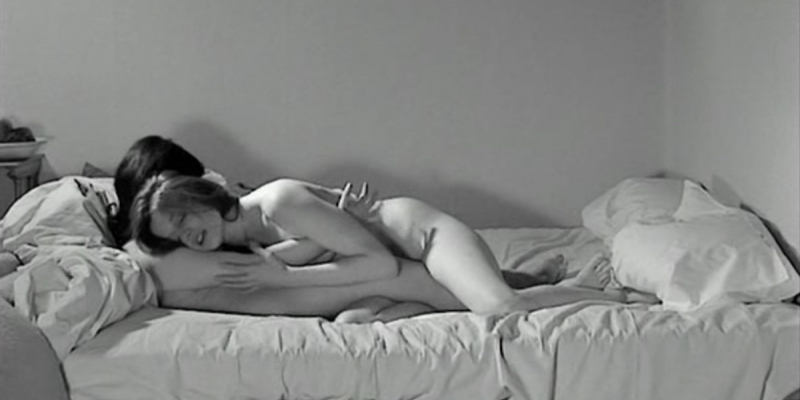 Arthouse films were my first introduction to lesbian cinema — almost all of them were made by men. When I finally discovered Chantal Akerman it was a revelation. It wasn't just her portrayal of queerness. It was her portrayal of womanhood, depression, and queerness. The first half hour of this movie takes place in one room with Akerman depressed as she struggles to leave her house and the last ten minutes is a sex scene with Akerman depressed as she fucks someone she shouldn't. Representation is important.
free on Amazon Prime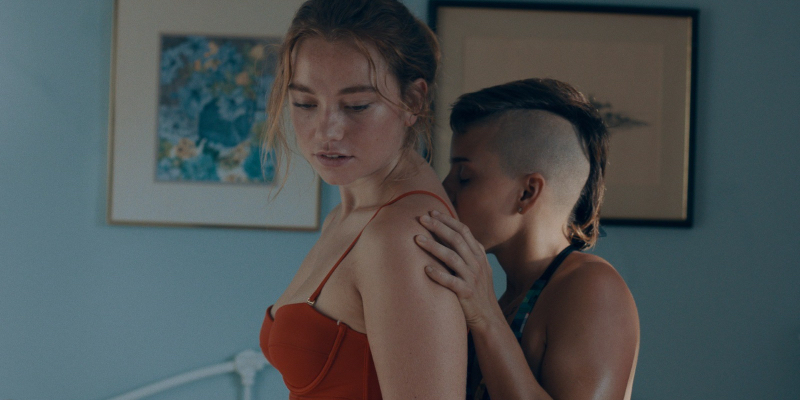 This movie is pleasure. It's sexual pleasure. It's intellectual pleasure. It's the pleasure of being human. One of my favorite things about being a person is talking to people whose experiences of the world vary drastically from my own. I love how our brains are all so different, how our desires are all so different. This movie celebrates those differences while satisfying them all. I want to live in its warmth. Also shoutout to Autostraddle's own Malic White being sexy in the still.
8. Multiple Maniacs
rent for $2.99 // free on HBO Max, Tubi, and Criterion
John Waters' particular brand of camp is more often associated with queer men, but I have a great affinity for his point of view. Very little lesbian cinema is inclusive to AMAB gender-nonconformity (or AMAB anything honestly) and it delights me to watch Divine's queer chaos. Mink Stole fucking her with a rosary in a church is one of my all-time favorite lesbian sex scenes. For once, I think our community could learn something from the cis boys… or at the very least from John Waters and only John Waters.
7. Bound
rent for $3.99 // free on HBO Max
A perfect neo-noir perfectly queered with perfect lesbian sex scenes and the Wachowskis' perfect style. God this movie is a delicious treat. I feel a specific affection for it, because I just love the idea of these two closeted trans women making a movie with such a sharp lesbian gaze when they were still being billed as brothers. Iconic.
I feel like this movie is a bit like The L Word in that it's been so heavily memed by our community that many have begun to loathe it and many more have simply forgotten its artistry. Todd Haynes is one of the greatest living filmmakers and his style was perfectly suited for Patricia Highsmith's book and Phyllis Nagy's screenplay. Relationships with age differences are common in our community and in our cinema, but rarely is the dynamic explored with such nuance. I think about Carol's letter often. "Please don't be angry when I tell you that you seek resolutions and explanations because you're young.wp_postsUgh I do, don't I??
5. All Over Me
Unavailable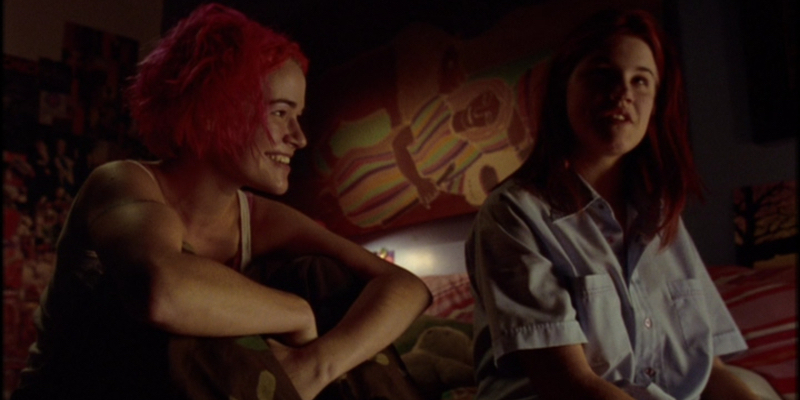 Stills from this movie are my phone wallpapers and they make me happy every time I look at them. All Over Me just feels like ours, you know? It's so thoroughly gay and filled with gay feelings. There are a lot of great queer women coming-of-age movies — in fact, it's my favorite subgenre — but this stands out for me, because it's so obviously made by us and for us. It's also the only one to feature Leisha Hailey with pink hair.
free on Amazon Prime
I know Alice Wu doesn't label her movies as romcoms, but they're the romcoms I most want to see. Because, yes, this is a delightful romance with a happy ending. But it's not afraid of reality. It's not afraid to go beyond its romance. If love is going to exist — which, ugh, I guess it does — then it's going to exist within the messiness of our lives. It's going to exist alongside our families and our cultures and our hopes and our fears. It's going to be hard and it's going to take risk. But it's possible. And it's worth it. That's how Saving Face makes me feel. It's the best lesbian romcom of all time. It's the best romcom period.
rent for $2.99 // free on Hulu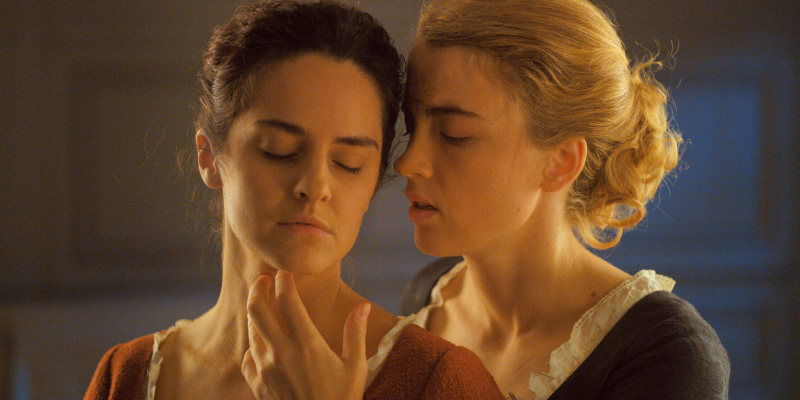 I've written a review, interviewed Céline Sciamma, and cut a 4,500 word essay out of my heart. I'm not sure what else I can say. It's strange I first saw this movie in the fall. It's already such a part of me.
2. Desert Hearts
rent for $3.99 // free on Showtime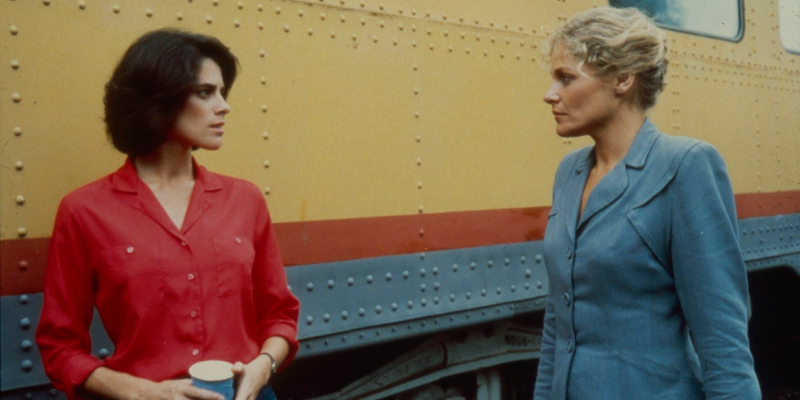 Straight people have Casablanca. We have Desert Hearts. This is a classic. But it's our classic. So, yes, it has sweeping romance and beautiful cinematography, but it's also filled with gay chaos, a dash of platonic intimacy, and so much eroticism. It's remarkable that Donna Deitch made this film in the 80s. It would be remarkable now. I can't even tell you how often I think of Cay Rivers saying, "I don't act that way to change the world. I act that way so that the goddamn world won't change me!wp_postsI can't even tell you how often I think of Cay Rivers.
1. The Watermelon Woman
free on Amazon Prime // free on Kanopy and Criterion
I've dedicated my life to movies, but they've dedicated none of their time to me. I've never actually seen my lesbian story on screen. That's why Cheryl Dunye's first feature is so important to me. When Dunye didn't see her story, she made it herself. But The Watermelon Woman isn't just her story on screen — it's also the searching, the wanting, the necessity of that story. I'll never stop searching for facets of myself and other underrepresented groups in the history of cinema. (Because it's amazing what does exist!) But I also know I have to make it myself. I have to make my own history. This movie is my inspiration.
---
Movies that almost made the list: But I'm a Cheerleader, Pariah, Mädchen in Uniform, Fucking Åmål, Set Me Free, In Between, Dyketactics, D.E.B.S., Glen or Glenda, Manji, Olivia, The Miseducation of Cameron Post, Foxfire, Memento Mori, Dirty Computer, Blue Gate Crossing, Good Manners, The Children's Hour, Water Lilies, Persona, A Date for Mad Mary, Second Star on the Right, Mommy is Coming, Certain Women, The Half Of It, and so many more!!
---
Want more movies? Check out Autostraddle's 200 Best Lesbian Movies of All Time.