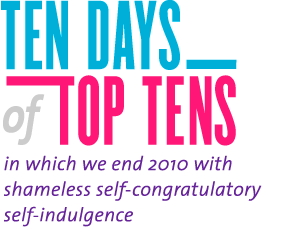 Welcome to "Ten Days of Top Tens," in which we say goodbye to 2010 by reviewing the year that was. Because we spent this year in front of our computers typing words for you, many of these top tens will be a tad self-indulgent. Resist the urge to recognize it as such.
+
At last we have banged out our one last post of 2010. Were you crying into your soup about missing 2010? Us too. So, the editors have all picked their favorite posts of the year but nobody was allowed to pick any posts they participated in creating or created themselves. This is our last post in the 10 Days of Top Tens, which of course is done late, which is so typical. After this we're going to stop talking about ourselves so much.

Crystal, Music Editor
Some of Crystal's Best Work: Placebo's Secret Myspace Show: Fifteen & Front Row, An Open Letter to Amanda Bynes.
Heartwarming is 1,000 queer girls reaching out.
I was supposed to contribute to this concert review but when I saw the shots I thought no, these photos are perfect, Stef's eye is perfect, Sara's hair is perfect, we can't ruin this with words.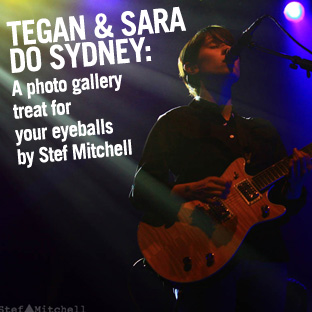 This is my only bookmark. I've read it so many times that I could probably recite it.
Stef is sorta my hero. She lives and recaps SxSW like no-one else.
Jess Gitner and Kaki King are two of my most favorite music people. Look at the photo look how cute they are.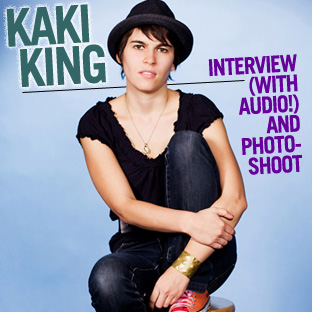 This post means something very special to me and references another post that means something very special to me.
"Whoever came up with the idea to have a smoking lesbian lawyer explain all the legal stuff deserves a medal. Brilliant idea." – comment by JenTheJew (we miss you)
I like it when girls geek out over their favorite musicians, it's cute.
Ramble on, now's the time, the time is now sing my song, I'm goin' 'round the world, I gotta find my girl.
Sometimes when I feel sad about the state of the world I re-visit this post and am immediately cheered by the fact that National Sandwich Day exists and I work on a team that acknowledges its importance.

Alex Vega, Design Director
Some of Alex's Best Work: Johnny Weir Be Good, Johnny Be Robbed, Blog Her? I Just Met Her
Probs the best behind the scenes video I've ever seen.
I am always so thankful Rachel writes these recaps so that I can understand the hate and also laugh a lot.
I love this man.

Adorable explosion. Made my heart swell. You guys are so cute.
You guys, Jennifer Beals was on Autostraddle AND JESS TALKED TO HER.

Jess R., Senior Editor
Some of Jess's Best Work: Kristin Chenoweth: The Autostraddle Interview, Laurel Holloman: The Autostraddle Interview
OK, boiling it down to my favorite Real L Word recap was kind of like choosing my favorite puppy. This one had it all: "Is It Sex?" Flowchart, supplemental commentary from reader Tweets, and the requisite Shane/Jenny death stare.
Fall clothes are the sexiest of all seasons. Just look at those boots.
Loved how the anonymous author grounded Lindsay Lohan's headline saga and gave it humanity by sharing her own story. If you appreciated this, go read "Too Fat to Fish" by Artie Lange.
My formative lesbian years sprung to life and replayed themselves in my mind when I read this.
So relatable and so dead on. "For the love of getting laid, stop telling dates about your exes!" Those armchair psychology hetero advice columns are so lame in Cosmo, but this Autostraddle so it's clever and true and written especially FOR US.
I live for behind-the-scenes insider know-how, so I found this conversation with Carly fascinating.
This was more entertaining than the actual video for me.
It made me feel better to read Laura's experiences with passive aggressive homophobia. It's so simple and so universal and so damaging.
Alex and Crystal's encounter in the gay bar was an interesting microcosm for a study of the culture of San Fran lesbians vs. the rest of us. Also, Julie Goldman had a gig at a futon store.
It's my go-to piece when introducing the uninitiated to Autostraddle. "I don't want my unborn grandchildren to listen to the story of how Taylor Swift won a Grammy she hadn't earned. I want them to set pianos on fire" just fucking moves and inspires me.

Intern Emily Choo
Some of Emily's Best Work: Dear Harry Potter, We Are Lesbians and We Love You, This Title Informs You That Hey It's Friday
Who the fuck doesn't like fresh bread? Get out.
It's autowin and san francisco and beautiful and everything i love.
Does this need an explanation? ON CARDSTOCK!
I'd say this was a good idea + a success.
I love maps and everything taylor says.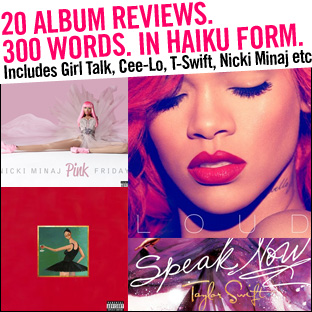 crystal wrote haiku
is there more i could ask for?
the answer is no.
This is very useful information.
Um, because Alex made an info graphic, and riese got 686 emails because people are crazay. also it was well written, duh.
Cookies, you guys.
My favourite thing is poetry.
THERE ARE SO MANY I WANT TO ADD TO THE BONUS SECTION.

Rachel, Senior Editor
Some of Rachel's Best Work: Is There a Right Way to be a Gay Activist?, Dan Choi is People, Autostraddle Read A F*cking Book Club #1: Eileen Myles' Inferno
Long-Distance Flying, by Taylor/Riese/Crystal/Alex/Natalie/Laneia
Sometimes I think about how I hope someday I can be as good at something in life as Taylor is at airport drinking. A girl can dream.
This was a moment where I felt like I could not be prouder of where I work and what we do and who we are, and remember that there is nowhere else I'd rather be.
I'm not picking this because Eli is in it; I'm picking this because Laneia says things like "as far as 'having an opinion without reading the book' goes, Eli probably has a lot in common with around 40% of of Tao Lin's detractors."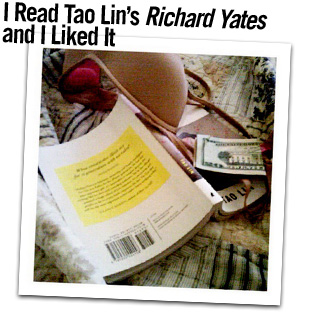 How are the people I work with so smart?

Laneia, Executive Editor
Some of Laneia's Best Work: Trans Photographer Amos Mac: The Autostraddle Interview, Get Baked: Lemons Edition
The honesty in this piece is the kind that punches you in the throat and walks away before you can protest. I loved it.
Riese called out like, everybody. Really like it when she does that.
It's fun when Alex is excited about a thing.
"He wanted to talk about poetry; I told him I liked Rilke, and he said he'd never heard of him. My friend and I left. She held my hand when we crossed the street." This made me wish I'd known Rachel my entire life.
I think this was some of our best work, as a publication.
Aside from the fact that most readers immediately related to this article, we also got stellar fashion advice from a four year-old.
The line, "So basically, we're going to stop scrambling to cover every minute detail of gay-related entertainment "news" the minute it happens and instead devote more time and energy to writing about topics we actually feel invested in," felt like a victory.
Basically Riese was right, twitter exploded with support for her sentiment, Perez replied via email with some whiny b.s. about his 'job' requiring this level of misogyny and bigotry and then he went on Ellen and promised to be a better person. Riese won the internet that day / week.
I would've liked this just for the title alone, but these albums were seriously exciting and also I knew that Lindsay and I were soul sisters.
Um, this. Also, the video. Also Emily. I don't know, I mean, what the hell could you possible NOT love about this post?

Riese, CEO/Editor-in-Chief
Some of Riese's Best Work: Let Us Now Praise Effeminate Men, VIDEO: No Homo Jokes: PSA by "Julie & Brandy in Your Box Office"
This is the best thing we did all year, hands down. I wish that the world wasn't the way that it was so that I could say things about the person who wrote this but it isn't and I cannot so instead I will say that this was brave and beautiful and emblematic of everything good about the internet. If it didn't make you cry you should probably stick a fork in your eye and see how that feels.
Because we were there and these words describe what happened perfectly
I basically stalked Gaby on the internet to get her to Autostraddle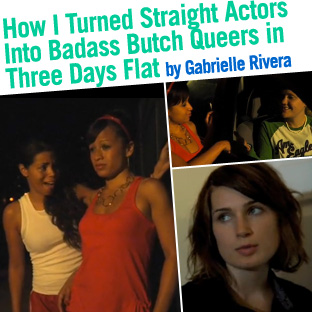 Basically when she started doing these I did the thing I usually do, which is write/edit things in it. But not only was the Prop 8 Trial a magical week in general, it was the magical week when Rachel's mad writing skills first became blatantly obvious to me. I was really happy that we made the material palpable for people — it's like THE ESSENCE of Autostraddle and I was amazed by how quickly she could bang that shit out, and was even willing to stay up 'til 3AM adding my stupid pictures to it.
This was practice for mind-control that will happen later
Katrina pays attention to stuff that is happening that you have also noticed but perhaps didn't think to write an article about or have complicated thoughts about. But Katrina will do it don't worry.
I love it when Crystal gets in touch with her Emo Side, all the time. Also I saw it with her, so really this is about me again.
HILARIOUS
This was like a thing I would read on another website and wish it was on our website
Ashleigh clearly wasn't the most famous person Jess interviewed this year, but Ashleigh had a lot of interesting things to say about gay media and Jess per ushe asked all the right questions.
One of Laneia's many special quirks is viral self-doubt in which she thinks she cannot write about "politics" or anything "important." She is totally wrong about that and this is proof.
—
In conclusion, I think it's safe to say that the best post of the year goes to Top Ten Terrible Things That Won't Happen to You Today.
+
What did you love that's not on this list or is or whatnot?