You'll be tempted to skip the following indented paragraph, but don't. This is the synopsis of Richard Yates according to Publishers Weekly and you're going to need to read it so you can read the rest of this discussion.
[Richard Yates] depicts the manically self-absorbed days and nights of "Dakota Fanning" and "Haley Joel Osment." That the two share names with famous child stars, and that the title references a celebrated novelist, indicates our specific moment in time, but otherwise this is not a book "about" either the actors or the author. Born in 1983, Lin (Shoplifting from American Apparel) portrays a generation unable to engage and left lost, lonely, and dangerously obsessive as a result. Gmail chat and text message appear in heavy rotation, as the young lovers become more and more incapable of anything beyond their melancholic fixation with each other. The prose is rhythmic and lean, but strangely captivating, ultimately serving to echo the lack of interest the characters seem to have in anything other than themselves. Following them proves disconcerting and exhausting, especially as nothing keeps happening. Lin's sensibility is hip and ironic, but also feels ominously clairvoyant. As the author himself has become something of an icon to the very generation he portrays, one gets the sense that the disaffected youth are in on something the rest of us can only read about; given how bleak that world appears, reading about it feels relentless enough.
– Publishers Weekly via Amazon.com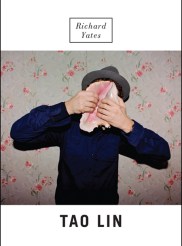 Richard Yates! I liked this book a lot and have reread most of it twice. At one point, after reading pages 191-192, I had the feeling of 'screaming from my eyeballs,' which isn't something I feel everyday, so that was nice, in a way.
Sometimes the best way to get to the core of how you feel about a thing is to process your feelings with someone else. Since no one I know had read Richard Yates yet, I decided to process my feelings with Eli, my five-year old son. I read Eli key sections of the book and let him inspect the physical elements of the book itself. Eli's very honest and straightforward.
On the book's cover art:

Eli: "I like the shell on his face, but I don't know why he's wearing a black shirt."
Laneia: "I think it's a blue shirt."
Eli: "It's black and blue I think."
On pages 96-97:

Eli: "She's not stupid!"
Laneia: "Why not?"
Eli: "Because she wasn't."
Laneia: "Do you think Ana liked her?"
Eli: "Um, I think. She's not stupid. What did she eat?"
Laneia: "Thai food."
Eli: "I don't like Thai food."
Laneia: "It can sometimes be spicy."
Eli: "I don't like spicy food."
On the book's ending

Laneia: "What did you think of this ending?"
Eli: "Yes. It was good. It was fine."
Laneia: "Fine? How would you have made this story better?"
Eli: "I would've played in my room."
Eli seems to represent, vaguely, a specific group of people who feel that their time would've been better spent in their rooms, doing almost anything other than reading a book by Tao Lin. For a minute I thought, "this correlation is a stretch, because Eli didn't really read the book," but, as far as 'having an opinion without reading the book' goes, Eli probably has a lot in common with around 40% of of Tao Lin's detractors.
"We are profound," said Haley Joel Osment.
"Where is our Nobel Prize. All the old Nobel Prize winners were depressed existentialists. Now they are all sociologists or something. As America gained more power."
"Nobody wants to discuss how lonely life is," said Julia.
"Everyone is more interested in toothpaste."
In certain places and within certain circles, having a strong opinion about Tao Lin and his unconventional methods of self-promotion is a big deal:
"[Tao Lin] is perhaps the single most irritating person we've ever had to deal with." -Gawker.com
These strong opinions are distracting when you're trying to absorb Tao Lin. Also, I find the idea of 'reviewing' anything to be really really weird. I somewhat understand the purpose of reviews, but for the most part I think you should just read every book you want to read. Or don't. You know, whatever.
Laneia: i mistakenly glanced at the review on hipster book club
they're drawing parallels and making points
i don't want to do that. i don't feel like i can.
Riese: all we can do is what we do. talk how we talk.
anyone interested in parallels can go read that.
anyone interested in feeling their feelings about a book can read your thing.
Laneia: they compared HJO's character to the lead character in Vertigo
like, what
i'm uninterested in that.
Riese: oh bla
sometimes i do that when i have to write book reviews, just so everyone knows that i've seen movies and read books
Laneia: yes
Riese: i just want to be like 'just so you know, before launching into this review which may suggest otherwise, i am a BOOK EXPERT'
Laneia: have you read other reviews of his stuff? i haven't. i've read reviews of HIM.
Riese: i read a ton when i was trying to review Shoplifting from American Apparel
and then you know, the rest is history
Here's what other people have said about Richard Yates:
+ Camera Obscura on Book Forum
+ Tao Lin: Richard Yates on Thought Catalog
+ True stories invented: Tao Lin at work on Yahoo
+ Unedited feelings on Tao Lin and Tao Lin's Richard Yates on We Who Are About to Die
I didn't expect to like this book because I generally don't expect to like anything. I originally thought Tao Lin had written a novel about the actual Haley Joel Osment and Dakota Fanning, re-imagined in a different world. That's not the case, of course – the names are just names. You have to actively divorce yourself from the idea of Haley Joel Osment and Dakota Fanning. You have to re-eat their names, which is fun.
He said he wanted to watch movies with Dakota Fanning.
"I just want to walk around with you at night
and sometimes ass and crotch rape you," he said.
"Okay. We can do that."
For the first bit of Richard Yates, I felt really agitated and annoyed by nothing in particular. I talked to Riese about it.
Laneia: this tao lin book
is making me suicidal
Riese: do you h8 it?
Laneia: i'm going to need antidepressants
it's like a worm
in my brain
Riese: yeah reading tao gets his voice right up in there
Laneia: in the motherboard of my emotional stability
Riese: haha
Laneia: i want
to die
it's not a sad desire to die
it's just like, a feeling
it just seems like the next, most logical step
after each second
i can't even make sense of my internal monologue right now
Riese: reading him, i think, it makes me want to write
because i feel like i can write what's in my brain and it will be ok, because he did?
Laneia: this line is in this book:
"I don't want to go to jail," he thought. "But I don't want to do a lot of things. My life doesn't matter."
right?
Riese: yes
These feelings shifted unceremoniously into actually caring about Haley Joel Osment and Dakota Fanning. I started to wonder about Dakota's mother. I took a shower one morning and thought, completely realistically, "is Haley Joel Osment right?" re: a fight he'd had with Dakota Fanning. I'd begun to care about them in the same way that you care about your friends when their lives are somehow more interesting or chaotic than yours.
I liked it.
"Whenever an old person is saying anything I think I assume they're insane, that they're not making any sense at all,"
he thought while an elderly literary agent talked about her steak.
"I don't want to do that anymore I think."
Put plainly, the experience of reading Richard Yates was, for me, similar to the experience of reading any other novel that I've enjoyed.
Laneia: i'm eager to finish RY so i should go
but
let me say
that RY is surprisingly good
i really really like it
and not just b/c i like tao
but b/c i feel like i get them. i relate to them and genuinely care. i didn't think i'd care
Riese: really? i'm going to get it then
it sounded interesting to me
the plot
usually he's not into 'plot'
Laneia: i really really love it. i would read a series of books based on either of these 'characters'
What sets this book apart from other novels, most notably, is Tao Lin's writing style, which is without a lot of transitional phrasing, pronouns or exposition (aside from the detailed descriptions of meals and their preparation). Critics speculate that this is in an effort to reflect the characters' (and therefore our, as a generation) narcissistic tunnel vision, and maybe it is.
Tao Lin has said that this book isn't meant to be a critique of a generation. However, being a person who employs all of the communication techniques explored in Richard Yates, I can firmly say that when Lin makes note that fifteen seconds have passed between one person's chat entry and another person's response, I understand the significance.
I feel like you probably do, too.


If you have some time, I think you should read it. It's out today and you can order it from Amazon.com! Do that.
Additional reading:
Tao Lin Feels Our Feelings (@Autostraddle)
Tao Lin: The TNB Self-Interview (@TheNervousBreakdown)
Tao Lin on Bret Easton Ellis, Indulgence (@InterviewMagazine)
"Audrey" from "Shoplifting from American Apparel" (@ThoughtCatalog)
"Exclusive Excerpt Premiere": Tao Lin's New Hit Book "Richard Yates" (@HipsterRunoff)
Tao Lin's blog / twitter / tumblr