Dan Savage's It Gets Better project has warmed our hearts (and thoroughly exercised our tear ducts) with an outpouring of support for gay youths that's come via homemade youtube videos solicited from famousfolk and commonfolk alike telling kids that, although things may seem pretty awful right now, a future of homosexual joy awaits you (especially in San Francisco!).  In light of this month's virtual gay suicide epidemic, we need this project now more than ever.
Perez Hilton, whom we dislike and therefore refuse to link to (even in a post about Perez Hilton), and do not read (I actually had to visit his site today in order to write this post and it put me in a very foul mood), has been encouraging celebrities to participate in It Gets Better and subsequently updating his website with notable It Gets Better videos. In fact Perez Hilton, of all people, was DIRECTLY GIVEN the Open Letter to LGBT Youth from rock-star Dave Navarro, in which Navarro addressed the very important point that while significant attention is required to combat anti-gay bullying, we also need to focus on the other side, which is that suicide is not the only answer!
We're thrilled, of course, that such a popular website is bringing these positive messages to the masses. Perez Hilton is doing a good thing by getting this message out there and being such an active activist. But we're also troubled that once again, one of our loudest voices is an actively hypocritical one!
Tyler Clementi killed himself when his sexual encounter was made public online, a little trick that Hilton has essentially built his career on. And seriously Perez Hilton, for crying out fucking loud, you cannot continue to be such a misogynistic bully and still claim that you truly want to stop gay bullying. (Homophobia is rooted in gender discrimination, of course.) You ARE a bully! YOU ARE A BULLY TRYING TO STOP BULLYING BUT STILL BEING A BULLY! ?!!?!!?
Listen: if Perez Hilton really truly wants to change life for gay teens, he could stand to take a good long look at the man in the mirror and ask himself to make a change.
I have made a collage to illustrate the type of behavior I think Perez Hilton could stop doing, in an effort to make this change: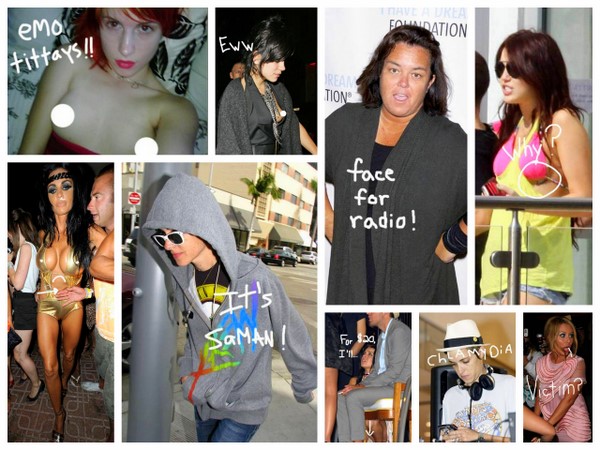 This might sound insane, but I actually think this matters.

See, these are what we know as 'desperate times.' The anti-bullying initiatives, support groups and awareness-raising campaigns are vital and necessary to keep us above ground, but we need something even more. We think it's just about time for the entire world to change. This might sound crazy, and granted, we write most of this website drunk or while engaging in any number of destructive coping mechanisms, but as we touched upon last week when John McCain ruined our DADT Repeal Party, America really needs to step it up with respect to "practicing what you preach" and "being honest" and "having integrity."
Perez Hilton, you have a very popular website and you are broadcasting a message loud & clear that bullies can be against bullying. Most kids these days cannot even tell you the capital of Pennsylvania let alone wrap their heads around this kind of Paradox: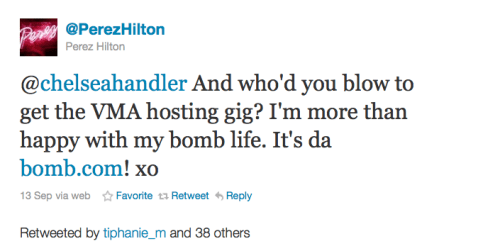 Sidenote? The thing about Perez Hilton's gay jokes, as eloquently explained by Julie & Brandy in their special In Your Box Office PSA, is that they're not funny. I don't think anyone LOLs when they read "saMANtha Ronson." Omg get it because she's a lesbian and lesbians date girls and she has short hair omg she's totally totally like a man and her name is Samantha omg I gotta change my fucking pants!
No.
When you're the one calling out 50 Cent for being homophobic, maybe you should hold back on calling HIM a "cocksucker." Maybe when you're standing up for our marriage rights, you should refrain from calling Carrie Prejean a bitch.
Why do I think this matters? When you are asking people to change, it's very important that you show them HOW to change. Set an example. Change is very inspirational and it makes people cry and feel feelings, like in Prayers for Bobby or when Justin's Mom joined PFLAG on Queer as Folk. Activists like you and me will always be there to lead the way, but there's nothing like a good old fashioned "people can change" narrative to really make an emotional impact.
All Hilton's advocacy on behalf of gay rights is great, but think about how much MORE impact it could have if he also vowed to change his own behavior!
It's really time that homophobia stop being so fucking conditional. Being a friend to gay people doesn't mean loving your gay sister but voting against her equal rights. It doesn't mean being "cool" with your gay roommate having a special friend over but broadcasting his sex life via webcam just for kicks. It doesn't mean holding political anti-gay-marriage rallies which encourage supporters to condemn gays to various levels of hell while claiming that "this is not an anti-gay rally, this is not a bigotry rally" because denying equal rights is simply a "religious freedom issue… [because marriage] was instituted by God, between a man and a woman."
It means that if you say you believe in equal rights, you let gay people join the fucking army!
Because we aren't trying to change what people say, really. We're trying to change how people THINK. Because have you ever hung out with a really stubborn teenager? Ever BEEN a really stubborn teenager?  I mean, they can be really terrific assholes, as most non-asshole teenagers can readily attest — particularly the non-asshole teenagers who are actively working every day to fix this problem in their own schools or simply promote positivity and kindness in their everyday lives. It takes a village to change a teenager.
So Perez, I challenge you: You say it gets better? Get better. Set an example.