Interview #1 with Rev. Daniel Delgado
Riese: So can you tell me how are you guys all out here today, how was this organized?
Daniel Delgado: This rally was organized by a series of regional & national organizations. Among them are Senator Ruben Diaz from the Bronx, La Vision Christiana, which is a 24-hour evangelical radio station, the Penecostal Preachers of New York City and the National Hispanic Chrisitan Leadership Organization (NHLC), which I represent. We're the national organization, we represent 25,000 churches, 16 million latino evangelicals, and I cover New York and New Jersey.
Riese: Do you do other issues too, or is it just this one?
Daniel: The primary issues NHLC deals with are teenage pregnancy, education- we want education reformation, too many high school dropouts, we're looking at Latinos but it overlaps into all the other ethnic groups, why are they not graduating from high school, there's a lot of underlying issues, broken homes, etc. Obviously there's the same-sex marriage issue, as ministers of the gospel and as people of faith, that's something that affects all of us —
Riese: How do you feel that fits in with the other issues in terms of how it affects you guys personally, like, how do you feel that affects you personally?
Daniel: The other issues meaning…?
Riese: Meaning like education, that directly impacts you, but how does same-sex marriage affect you like education does?
Daniel: [doesn't understand the question — he explains here why education is important, rather than why gay marriage affects him personally] If you look historically, the way government's kingdom would stay in power is by keeping the people dumb, so they would follow those who are elite with the education, and we want everyone to be educated so they can make the educated decision.
Brooke: How does this [same-sex marriage] issue impact you? We're looking at both sides, so how does this issues impact you?
Daniel: I'm glad you asked me about the same-sex issue. The first thing I want to clarify is this is not an anti-gay rally, this is not a bigotry rally. What this is saying is it's a religious freedom issue, we don't want our religious freedoms to be violated. In regards to this issue, we need to understand that marriage was instituted by God, between a man and a woman. That's something that the government shouldn't legislate. But at the same time you have a segment of your population– and I believe in rights for all– so if you have a segment of the population that has chosen to live the gay lifestyle, the lesbian lifestyle, that's their right. And they should have rights so you need to define something for them that would give them certain rights that are afforded within the context of marriage– create civil unions…
Riese: So you are for civil unions?
Daniel: Right — don't redefine marriage, don't redefine marriage. I'm here to say don't redefine marriage. I'm here to say personally as a minister,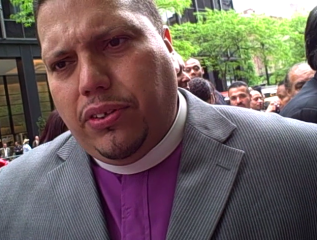 I say "have civil unions, give people rights, that's their right."
Riese: Yeah that's awesome. We see a lot of signs that say stuff like "Sodom and Gomorrah" and stuff that seems to be very negative towards —
Daniel: When you're bringing a coalition of different people together, obviously it's very difficult to manage the proccess in regards to–  but if you speak to the key leaders that are here, you're going to get a consistent message that we're here for religious freedom.
Brooke: Is there a way to get what you believe to these people? Because the concern is that when you have signs like 'Soddom and Gommorah', it becomes more of a problem, and that's where the issues pop up, and as religious leaders…
Riese: You know like with the separation of church and state —
Daniel: Right, and at the same time, that's an interesting issue that you raise about church and state. In the same context we believe that's why the state should not be legislating marriage, because that's an issue that was an institution formalized by god and not by government, and so to legislate that… We've lost five states in this union … and Washington [D.C.] is a few weeks away —
Brooke: Wait wait, what are you saying — you LOST them?
Daniel: Lost in regards to the legislation of same-sex marriage. I say that's a loss because now you're encroaching on the religious freedoms of the people in this state, and if you look historically at this state, this state is very evangelical and Catholic, so you're encroaching on all of our rights. What needs to be done is you need to go back to the table to discuss the issues, to get away from the coo-coo fanatical stuff– I'm against that, as the minister of a gospel I'm against that.
Riese: Do you feel like most of the other leaders here are like that?
Daniel: I have my convictions, it's not God's perfect purpose for a man and a man to be together, that's my conviction, but nevertheless you're welcome in my church. On Staten Island I pastor at a church called Third Day Missions, and you're welcome in my church, you're gonna be treated with respect and dignity and love and we're going to preach the gospel of Jesus Christ, the gospel of love. But by the same token you have on the other side, you have the radicals also — you have on the other side, I just interviewed with the Village Voice, they were radical. But they were there, because you know, I let them know what our position is. This is not homophobic, the church is not homophobic, it's not anti-gay. What it is is anti the state legislating religious freedom, that's basically it.
Brooke: Thank you.
Riese: Thank you so much.
Pages: 1 2 3 4 5See entire article on one page