Interview 3 with Lt. Dan Choi:
Riese: So will you tell us what you are doing now, in your life?
Lt. Dan Choi: Right now I'm an advocate, I'm a fighter for all the people that are discriminated against. It's another word for unemployed, [laughs] a long-winded way of saying that I don't have a job!
Riese: Have you been trying to have a conversation with Obama?
Dan: Well I've written an open letter to him, to every member of Congress. I actually got to shake hands with the highest ranking military man in American, the Chairman of the Joint Chiefs of Staff, Admiral Mullen, a couple days ago. I was at the congressional hearing, a very boring hearing, and they didn't talk about Don't Ask Don't Tell, they're sort of in the closet about it themselves. But I got to shake [Mullen's] hand at the end and tell him, "I'm getting kicked out under DADT, it's an honor to meet you" and he said, "Yeah, I've been reading the news, I've sort of heard about you."
So it was interesting to see that our leaders are actually paying attention and that they are listening. And it's only a matter of telling them and they'll listen. So this DADT is a bygone era, we have to tell, we have to ask. We have to be out there, we have to stand up and they will listen, and we are gonna get into a dialogue and make America better. But I think that just the fact that I want to serve, and I portrayed that to him, you know, I told him I want to serve, I want to continue being in the army, in the military, and I understand if the law is gonna force me out, and I understand if I have to get kicked out, but once the law gets repealed I will be the first one in the recruiting station raising my right hand again saying, you know, I want to serve. I mean, West Point gave me all the education and the training that I have, so why wouldn't I continue using that for my country?
Riese: Yeah I really like what you said in the letter about the honor code, and how they tell you not to lie but yet they told you to lie, I thought that was really well put.
Dan: Exactly. And the honor code is not for straight cadets or straight soldiers, it's good for all soldiers. And the travesty is that it, the different code, the DADT discrimination code, is saying that it's okay, it's actually policy for gays to lie, it's actually being forced upon them and so, that not being an army value, not being part of the Warrior Ethos, that's part of why Americans, all Americans, should be ashamed and overturn the law right now.
Riese: Right. Are you optimistic about that happening soon?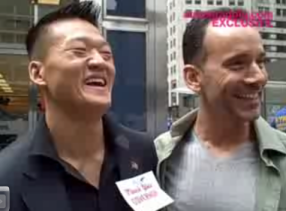 Dan: Of course, Americans want to do the right thing. They see that we are at a time of war, and it doesn't take them too long to realize that what they are doing to our soldiers, putting them through not only lying and hiding but basically being in the closet, which as I can tell them personally, I tell everybody personally including all my commanders and leaders in government and my friends and my family, I tell everybody, being in the closet is the most toxic poison, it is a disease, it cripples, and why would force that on soldiers who have a hard enough time as it is?
Riese: Yeah, absolutely. [to Matthew Kinsey, Dan's boyfriend] How has this been for you? Am I allowed to ask you that? [Matthew and Riese are laughing]
Matthew: Pretty eye opening. [laughing] Definitely! I think, I mean, one of the reasons I fell in love with Dan is because you know, who he is, and his heart and his sincerity, and the genuineness, it just comes out even just speaking to you right now.
Riese: Yes, right. Absolutely. You can definitely see that.
Matthew: And you know when I told him I loved him and he could be vulnerable and I would continue to love him I didn't realize [laughing] he was going to take it to the world stage-
[basically everyone is laughing now]
Dan: Well you should never hide love…
Matthew: But I think that's right. I think what he's saying is, just like a family, this is just a microcosm of families and society today. Like, you know, [referring to Dan] like you said before, the military should reflect the people it serves. And this is basically what we are saying. And I've never necessarily been an activist before but, you know, Dan's, you know, encouraging that and…
Riese: True love has its price!
Matthew: Exactly! Be careful what you wish for, you just might get it… [Dan and Matthew laugh]
Riese: Well it's great. Thank you for everything that you're doing and it's an honor to meet you.
Dan: Thank you.
Matthew: Likewise. It's our pleasure.
Haviland: Thank you so much. Thank you for everything you're doing, really. And can I just say that you guys are a BEAUTIFUL couple? Beautiful.
Pages: 1 2 3 4 5See entire article on one page