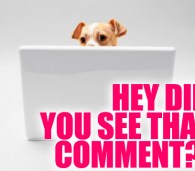 This sentence greets you in some way. This sentence tells you that the author is about to tell you what she is going to write about. This sentence makes reference to the fact that you commented 172 times on Riese's article about Google Instant. [This is a special note from the author to let you know that you should read all the comments on that article because they are very interesting and provoking but unfortunately could not all win an award]
This sentence links you to a guide for albums released on September 14 that you might like. This sentence links you to an article about PYT which makes you think "What is PYT?" and then you click on that link to find out. This sentence cleverly combines links to Laneia's article about cutting up your t-shirt and the announcement that AUTOSTRADDLE IS NOW SELLING T-SHIRTS.
This sentence contains another special note from the author urging you to read this article and its comments about how sometimes the world is mean but many things are made better by a group hug. The author apologizes for not being able to give all the group huggers a comment award, but expresses hope that this special mention will be enough. The author also includes a picture of kittens hugging to distract raging commenters.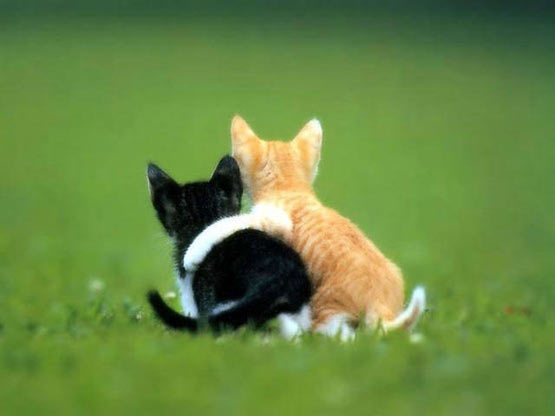 ---
On Google Instant Debuts, Instantly Excludes Lesbians:
The A.D.D Award to the people in the picture: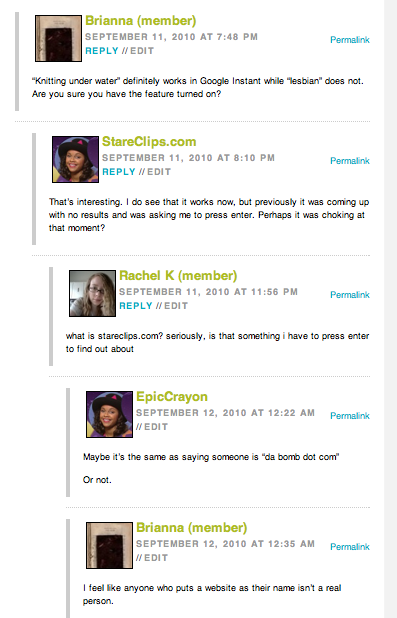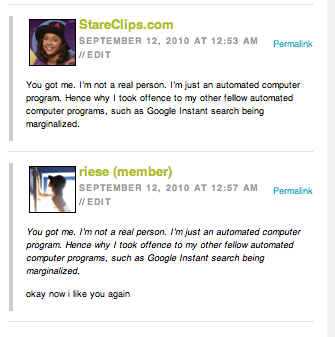 The Are You Reading This Award? to Natalie:
So at first I thought the headline said "excites" instead of "excludes", and then I got really confused when I startedactually reading the article. I didn't figure out what was going on until I went back to three home page and re-read it. So yeah, sometimes I can't read. Like, at all.
On Books, Lady Gaga, Ellen Page and Rachel Bilson Are The Lesbian Future:
The Why Is Nothing Ever The Way I See It Award to Katie, Liz:

On NSFW Lesbosexy Sunday: Like A Virgin, Touched For The Very First Time:
The I Was Gonna Google Katy Perry Lyrics To Name This Award But Then I Named It This Instead Award to e:
the first time i had sex with a girl katy perry was all over the place. so it was like "omg, this is amazing. i did kiss a girl and i DID like it and i'll kiss her forever". then i stopped having sex with that girl, and actually listened to the rest of the song, and well it all went to shit. now i drink a lot and am mostly broke. this went sour quickly huh?
On Lady Gaga Brings DADT Discharges to VMAs, Is A Dreamer, Is Not The Only One:
The Why Can't Anyone On This Site Read Award to Stace:
… I'm sorry I read that as "lesbian West Point Cadet Adorable McAdorableson."
On MTV 2010 VMA Recap: Just the Lady Gaga, Gay and Douchebag-Toasting Parts:
The Problem With Meat Dresses Award to jenn:
i hope the awards weren't more than about two hours long or lady gaga would need to change into a refrigerator costume.
On Autostraddle T-Shirts Are Here! Get 'Em While They're Hot:
The Award for Physically Autostraddling Things to Special K:
WOOOOOO ordered! I feel like this shirt is going to be a total babe magnet! I'm going to go autostraddle everything in my apartment in excitement. Thanks AS!
On Editor's Team Pick: Typical Incendiary Blog Post:
This Award Is Distributed To The Commenter For Making The Award Giver Laugh & Making The Editor of This Site Feel Better to Rachel B:
This comment expresses love and appreciation for the above commenter for their wit but mostly their hard work. Indicating it is "for all that you do" which is indented to make the above commenter feel good about themselves and not under appreciated. This comment ends with a series of a sideways and digitally expressed human vital organ in order to indicate said love and appreciation even further.
This Award Is Distributed To The Commenter Due To This Site's Editor's Ability To Relate To This Comment to Corey:

This sentence concludes this post with an apology for there being so few awards, expresses hope that someone's comment will reference Harry Potter next week and that there will be another group hug, and more subtly hints half-jokingly that you should work harder for more awards.