We missed the MTV Video Music Awards last night because Haviland Stillwell, our favorite lesbian musician (besides Tegan) was doing a show at Joe's Pub in New York City and more importantly, hosting an after-party at a nearby bar which offered insanely reasonable drink specials and an opportunity to catch up with everyone we made out with in 2006.
But we can tell you one thing about the VMAs: They happened. Yup. Not only did they happen, but people sang/performed at them and Lady Gaga won eight awards! Clearly deserved as Bad Romance is one of the best videos of all time. Last year's VMAs were epic. This year's VMAs were less epic and here's why:
– Overall lack of Michael Jackson Tributes
– Lady Gaga did not perform "Paparazzi" with blood gushing from her gut
– Kanye West did not interrupt the most important moment of Taylor Swift's life
– Pink did not do trapeeze circus acts in a purple bodysuit.
– Beyonce did not do the "Single Ladies" dance or any dance at all.
Nevertheless we will do our best to recount 'what happened' despite 'not watching the show.' (Though we've seen clips!) Now, if you thought the date Lady Gaga brought to the VMAs last year was amazing…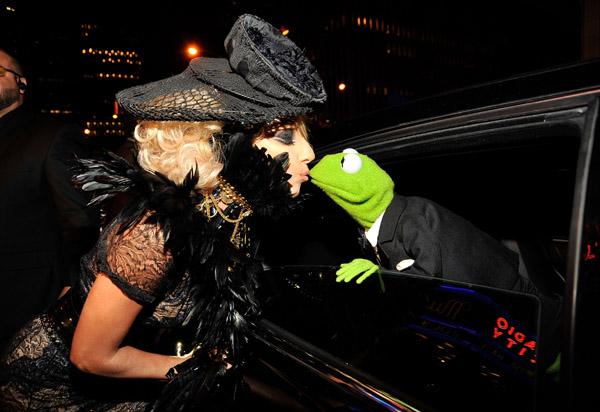 She really one-upped it this year by bringing soldiers who'd been discharged under Don't Ask Don't Tell, to show her support for repealing DADT and also to give these fine Americans a fun night out. Also, a good opportunity for us to see how cute lesbians look in uniform.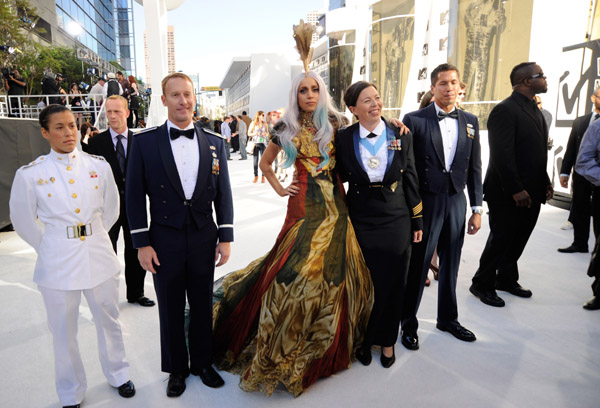 … also, there are a lot of photos of Lady Gaga kissing this woman:

+
Did you see this? Right after the VMAs, Gaga taped this season premiere episode of Ellen's show and she again discussed Don't Ask Don't Tell and her VMA night etc. It's really cute:

At the beginning of the show, Lindsay Lohan made fun of herself with the assistance of Chelsea Handler:
+
It would appear Chelsea then took the stage with a gigantic house on her head. We suspect this is related, somehow, to the housing crisis and the recession, and also to gay rights, because there are a lot of gay people around her, perhaps grappling to fist themselves some Chelsea.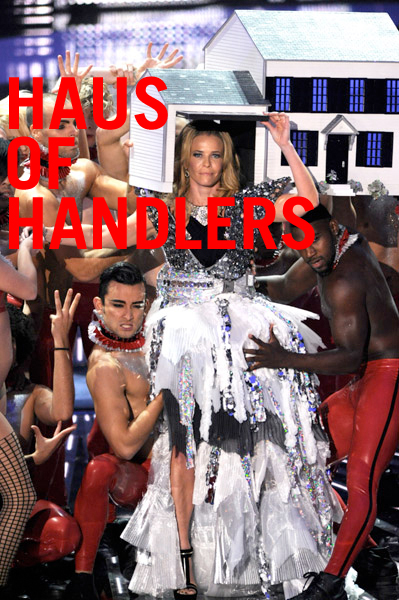 Ellen DeGeneres presented the award for Best Female Video. Taylor Swift's most irritating video of all time, Fifteen, was also nominated, but Lady Gaga's Bad Romance won, because it's better:
+
Gaga cried, thanked Alexander McQueen and her fans/Little Monsters and the discharged DADT soldiers and also, "Thank you to all of the gays for remaking this video over and over again!" You're welcome!
Best Pop Video was given to Lady Gaga from Jane Lynch & Chris Colfer & Amber Riley, because it's always best to have queers give awards to queers, you know? Keep it in the family. Also, love Chris's t-shirt from The Gap. Dude's got shit to do, he can't be messing around with a tux.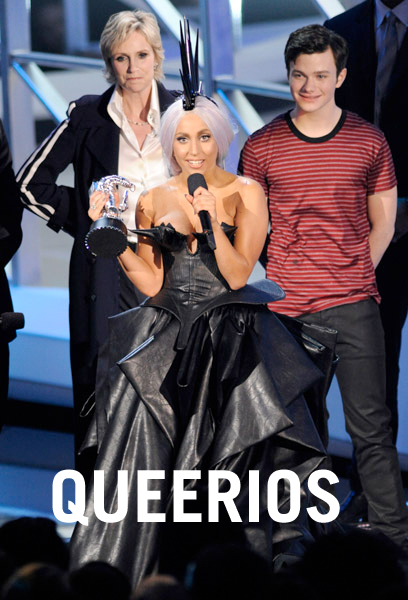 Maybe-bisexual Nicki Minaj and fake-bisexual Katy Perry presented the Award for Best Male Video to Eminem: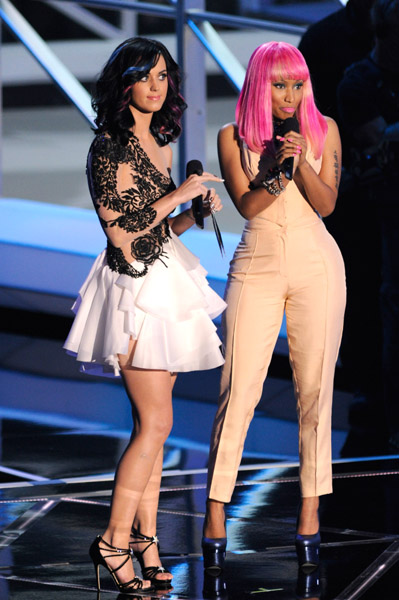 At some point, Nicki Minaj picked out my Halloween costume for next year, I want that purple outfit AND I WANT IT NOW. I have no idea what will i. am is going for here, honestly.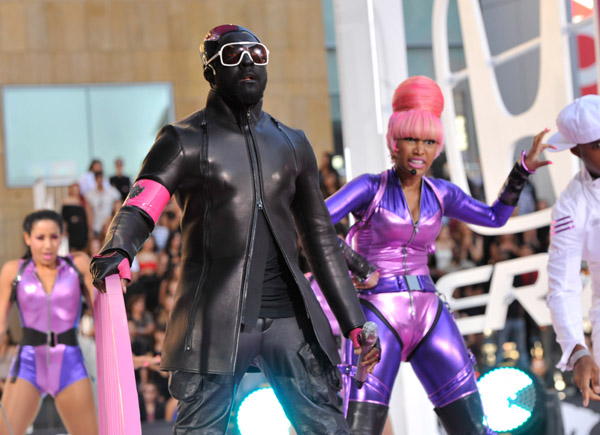 The most epic moment of the evening, we think, was Taylor Swift's debut of her 'original song', "Innocent," named after, we think, the Enya song "Return to Innocence."
Taylor Swift did her hair like a grown-up and then counteracted any illusion of adulthood implied by her co-opting of Sherlock Holmes's bedroom set by singing a song inspired by the worst thing that's ever happened to her since Abigail lost her virginity: that day one year ago when Swiftie's big moment was overshadowed by the invention of the #KANYESHRUG.
Rosario Dawson introduced Taylor Swift by explaining that Swift writes songs with lyrics "ripped right from her diary." Precious!
In honor of Taylor Swift's songwriting skills, I am going to pull my 1989 Beezus & Ramona Diary from the shelf and throw some lyrics at y'all in case we have any budding singer/songwriters reading this who are looking for some authenticity in their tunes:
Anna found 2 Kooshes. She said we would share. We agreed that we would give them to the Salvation Army. No Anna insists on keeping them. Greedy Anna!
Inspired? Here's more:
I would go to China if I could take a trip anywhere in the world. I would take with me money, Chinese clothing, a good apptite [sic], a pen, and some books. I would go to lots of Chinese restaurants and rate them on a scale of 1 to 10.
OKAY GO BE AN ARTIST NOW! TAYLOR DID IT:
We've updated our infographic: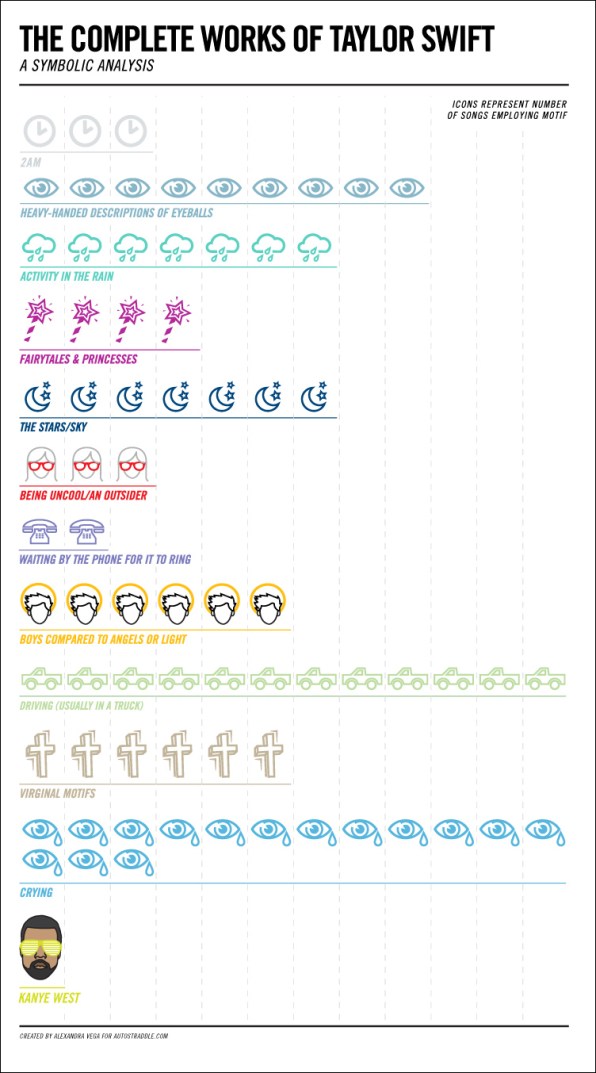 I'm gonna quote Linda Holmes over at N-P-Fucking-R, writing on Taylor's song:
"The spectacle of an insanely wealthy 20-year-old singer using the phrase 'who you are is not what you did' to describe not a reformed criminal or a family member who grievously erred and must be forgiven. [B]ut to describe someone she doesn't really know whose only misdeed is rudeness at an awards show is just jaw-droppingly self-involved, and adding 'you're still an innocent,' with its implications of purity, borders on the creepy. Moreover, this entire attempt to psychoanalyze someone who's essentially a stranger, trying to find the internal pain that leads to every incident of acting out in public, suggests she doesn't yet know how being drunk works."
Speaking of artists I pretend to like to avoid conflict, 'lesbian icon' Justin Bieber performed a song, apparently outdoors: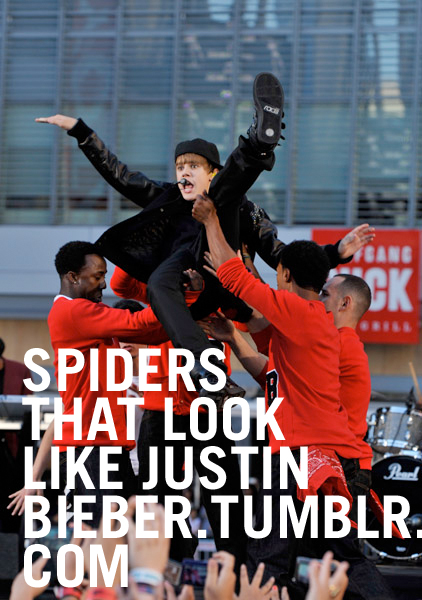 Ellen looked cute, per ushe:
Florence & The Machine performed "A Funny Thing Happened on the Way to the Forum." I MEAN "DOG DAYS ARE OVER."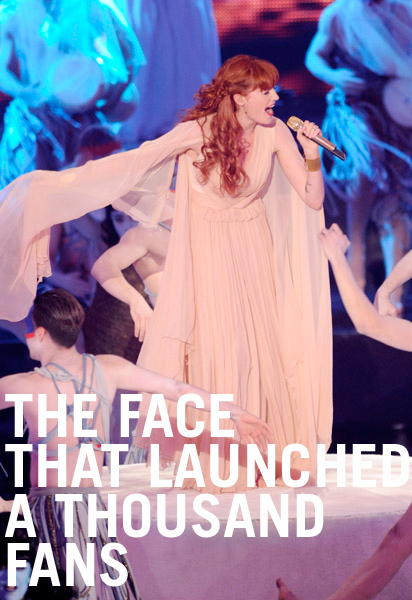 No but really, "Dog Days Are Over" was very Guggenheim-installation-ish.
>
+
Also Rihanna & Eminem performed together and Rihanna wore a cute tutu and a sparkly headband: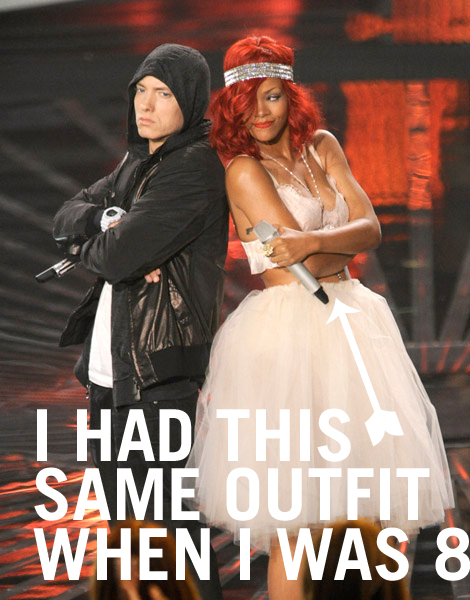 "I never thought that I would be asking Cher to hold my meat purse," said Lady Gaga, accepting an award for Video of the Year from Cher, who broke her own record for worst outfit of all time, but regardless is Cher, and therefore amazing:
You may note that Lady Gaga is dressed in slabs of meat and has a slab of meat on her head. Furthermore her shoes are like moonboots, but made out of meat. Her dress is like bacon, but raw, and on her vadge, which is like a dental dam, only meatier.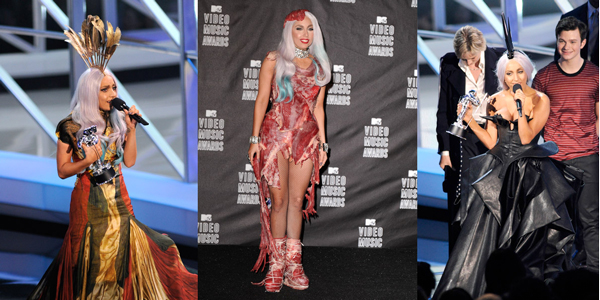 Look it's Nicki Minaj: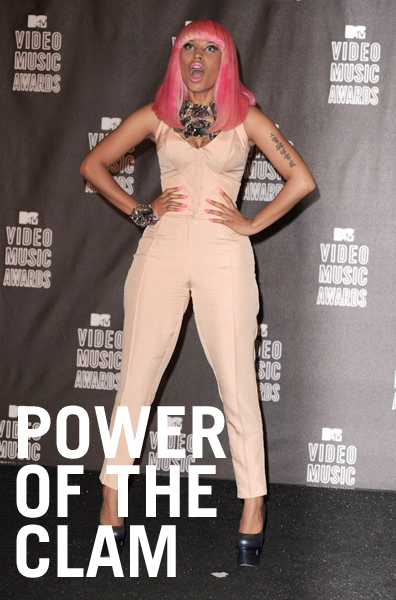 Kanye's closing number offered a "toast to all the douchebags, a toast to all the assholes, a toast to all the scumbags and a toast to all the jerkoffs." We feel like he was singing that for us. Idk. It was also a reminder of how, regardless of personality, Kanye is a very talented douchebag. He's almost the opposite of Taylor Swift, who seems like a great person but not necessarily a highly-skilled performer, innovator, or lyricist.
Did you watch? Did you have any feelings about it?