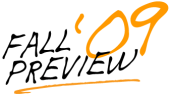 It's Fall Preview '09 on Autostraddle and so many things are happening leading up to our massive redesign! One of those things is our Fall Fundraising Drive which will determine the future of Autostraddle. Please check it out and consider supporting Autostraddle by buying a snazzy AS sticker or donating  — everyone who does will be entered to win a prize from 410BC's new fall collection and big donors will get their very own AUTOSTRADDLE T-SHIRT. So we want this to be fun for you too!
In continuation of our Fall Preview series, we put together a Reading Rainbow Book Preview so you can read some words & get smart — we've got everything from graphjam to kathy Griffin to David Byrne on a bicycle to Cross-Country Feminist roadtrips to a review/conversation about Tao Lin's latest novella, Shoplifting From American Apparel.

Yesterday's Fix was Sunday Funday:
Lesbians dress up for Lohan-less Charlotte Ronson shows, Soccer babe Festivals & Online Dating, and its NSFW Sunday.

+Top Stories
MTV VIDEO MUSIC AWARDS: Last night's MTV Music Video Awards was all about the ladies and featured so many incredible moments and Autostraddle favorites — like P!nk', Lady Gaga, Beyoncé and a killer Michael Jackson tribute starring Janet herself and intro'ed by Madonna. The only thing that would've made it better would've been more girl-on-girl action, which we think could've happened at the end of the Single Ladies dance a là t.a.t.u or during Lady Gaga's performance with a cameo of Madonna dressed as Mary Magdalene in a wheelchair.+
However, Lady Gaga did wear A LOT OF OUTFITS. Do we have a graphic? Yeah we do (click to enlarge):
Here's Lady Gaga's Video Music Awards performance of Paparazzi:
This is how we like our pop stars here at Autostraddle: unpredictable, insane, constantly commenting on the bizarre notion of stardom itself … and fucking talented.
Also, it was kinda awkward when Taylor Swift was accidentally granted Beyonce and/or Lady Gaga's award and Kanye got on stage to yell about it like an asshat. It was incredibly inappropriate, but … also Swift should've given it to Beyoncè herself when she got up there, instead of gushing about how special & diverse it is for a country music singer to win a VMA, as if they've been shut out 'cause of Oppression rather than overall inferiority, quality-wise, to hip-hop. According to MTV.com, Kanye has (sort of) apologized on his blog to Taylor Swift. In all caps. Which is all unacceptable. YOU CAN ONLY USE ALL CAPS WITH IRONY.
We'll have more coverage of these VMAs in this week's Tuesday Televisionary. Stay tuned! Also we posted many VMA Photos on our twitter and tumblr, so check those out!
DREW BARRYMORE & ELLEN PAGE STAY CUTE AS HELL: Meanwhile in Canada, Drew Barrymore & Ellen Page were looking absurdly adorable at the premiere of Whip It! a the Toronto International Film Festival. Do we have a graphic? Yes, in fact, we do.
Drew & Ellen stayed cozy & holding hands all night. Maybe there is something to the rumors …
+ News & Entertainment
RIP: Jim Carroll, Poet and Punk Rocker who wrote 'The Basketball Diaries,' is dead at 60. He was one of my favorites, I read The Basketball Diaries every night before bed when I was a teenager.
NEIL PATRICK HARRIS: New York Magazine's cover story on Neil Patrick Harris: "Neil Patrick Harris used to be an underage doctor on TV. Now he's another Hollywood first: an out gay actor who can host award shows, play a womanizer, walk the red carpet with his boyfriend, and then get cast in movies as a straight dad. Neat trick."

STRAIS-4-GAYS: "Here is my situation. If gays and lesbians were more accepted, I wouldn't have married a closeted lesbian." – Straights are coming out in favor of gay marriage … and they're making a strong case. (@assocaited press)
GAY BAR RAIDS: More Raids On Gay Bars In The South: In Memphis and Atlanta, two more raids and arrests – after a similarly brutal raid in Texas. (@atlantic)
TEA PARTY: In the spirit of the popular "Look At This Fucking Hipster" is another tumblr blog: Look At This Fucking Tea-Bagger.
ECONOMY: GLBT Consumers Stay Upbeat on Economy! That's right they do! (@adweek)
SEMENYA: Ski girl who was really a man backs sex-row runner Caster Semenya and Fears for Caster Semenya over trauma of test results. (@guardian uk)

Auto-straddler of the Day
from Alex:
If you're looking for a cool new t-shirt (and a designer to support in the process) or maybe just for inspiration, check out: 28 Creative Typography T-Shirt Designs.
+
+
+



+
+