Google Instant debuted this week and various techno-savvy people have since weighed in on the pros and cons of the Real-Time Search Engine. I'm not one of those techno-savvy people. I'm just a girl with a website, standing in front of the internet, asking it to confirm my existence. And it's not doing a very good job of it.
Exhibit A: Results for Google Instant Search "Lesbian"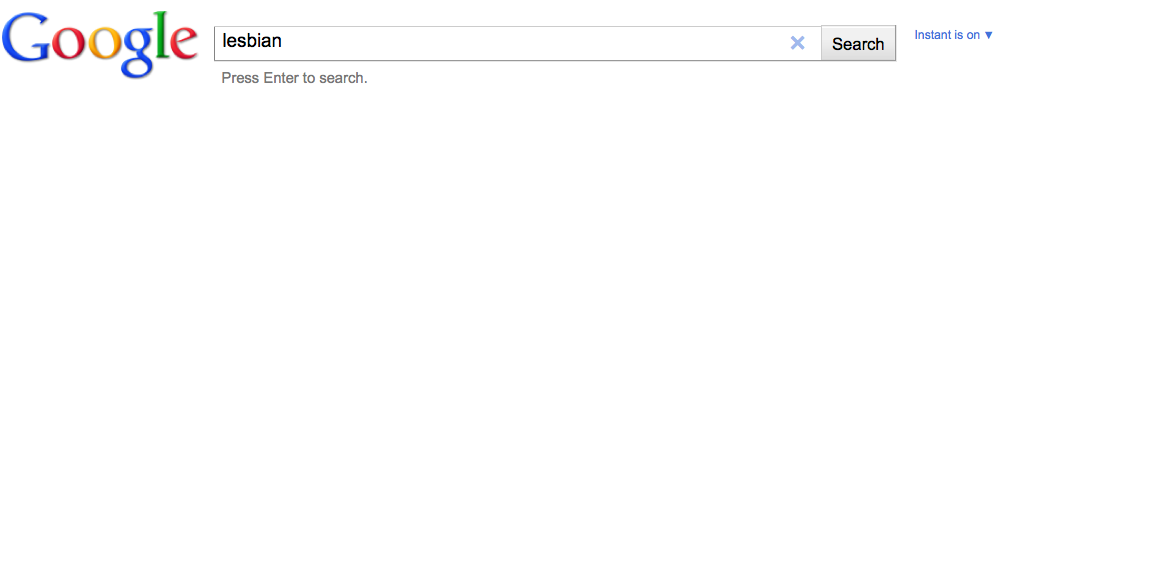 Exhibit B: Results for Google Instant Search "Bisexual":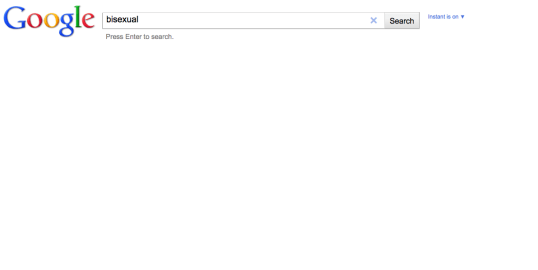 Excellent. Bang-up job, Team Google! Luckily this affects only a very small group of disenfranchised people with very little political clout, especially since our more economically advantaged gay brethren are good to go:
Exhibit C: Google Instant Search for "Gay"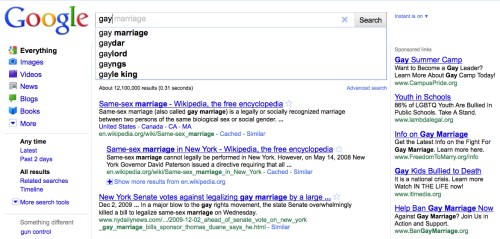 So, I'm no tech expert, but since launching Autostraddle in March 2009, I've learned a thing or two about Search Engine Optimization or "SEO." (I've essentially concluded that SEO turns writing into science/math rather than art/journalism, and the more I know about it, the more appalled I am by how many sites actively cater to search engines rather than to readers. At Autostraddle, we do our best to choose the SEO tips that feel the most organic or authentic or less-like-a-compromise — for example,  if you've ever wondered why we stick "lesbian" or "gay" in so many headlines, this is why! (I wish "homogay" was a keyword.)
But I'm not here to complain about search engines as someone who produces content; I'm here to complain about search engines as a Searcher.
As my Google Web History/Big Brother Tracker reveals, I have conducted a shit-ton of searches over the last three years:
…. and consequently have found Google to be progressively less usable over time. Now that Search Engine Optimization is an actual career path and Google Adsense exists as a barrier-free income-obtaining vehicle, Google has been hijacked by content farms, which churn out massive amounts of content tailored to Google searches. This useless information, written by underqualified writers for low pay (ehow, suite101, helium, etc), as well as scraper sites, spamdexing and link farms, which employ other forms of SEO/keyword trickery to draw readers to useless AdSense-heavy sites, have come to dominate search engine results and pollute the web.
These days, using Google requires an internal system of mental cyber-gymnastics I've been carefully honing for nearly a decade and have been actively curating with attention bordering on obsessive since Autostraddle's launch. Although I'm still in love with almost everything Google does — gmail! g-chat! google docs! picasa collages! — I'm no longer in love with its primary product, The Search Engine.
My relationship with Google.com is now analagous to the last few months before a breakup when you've become so adept at non-abrasive communication with your girlfriend that your fights feel more like well-choreographed dance routines than actual disagreements and subsequent problem-solving sessions.
I've found substitute image searches and specific work-arounds, and have culled a vast resource of bookmarked pages that get me closer to what I'm looking for than Google can [POST COMING ON THIS TOPIC LATER THIS WEEKEND].  Mostly, though, I've just tried to figure out how to communicate with Google in a language it recognizes, and I think that language is short-circuiting my brain.
After conducting some 10,000 searches within the last year I can say with confidence that Google is categorically unable to steer me towards what I'm looking for. This is especially evident on Saturdays, when I comb the web for material suited to Autostraddle's Lesbian Sex-centric NSFW Sunday (which, btw, is chock-full of info and seems like a more logical first hit than 'wetpussyteenagelickathon') and find the internet totally unable to assist me in this endeavour.
The fact that their new "instant search" feature excludes "lesbians" and "bisexuals" is really, really, REALLY special! To be fair, Google treats its lesbian employees exceedingly well; when it comes to product, however, it seems that the porn is controlling Google, rather than Google controlling the porn. And considering how obvious porn is about its content and materials, controlling it shouldn't be that hard to do.
This is, after all, why lesbians and bisexuals are left out of "instant search." Queerty reports:
We know that most people who type in "lesbians" or "bisexual" want porn because porn sites continue to dominate Google's search results. But Google Instant provides a content filter to "exclude certain terms related to pornography, violence and hate speech."
Google Instant has a weird and inconsistent approach to handling other queer terms. For example, they'll serve up results on lesbian rights, lesbian film, and lesbian art, but only if you type in those words after entering lesbian — otherwise you get a blank page. They're also OK with "fag" which yields fag jokes, fag bomb, and fag bash but not with "faggot." And you'll only get a blank page for "hate crime" even though they serve up links for "gay bash."
That's not to accuse Google of having an anti-lesbian or anti-bisexual bias (far from it), it just has an inconsistent and overly cautious search policy.
I have three major feelings about this:
Feeling #1
Although "lesbian rights" and "lesbian film" are allegedly searchable, look at this fantastic search for "lesbian books":
Feeling #2
Excluding lesbian/bisexual searches because of porn is unacceptable and, I believe, a total cop-out.
Google is well-funded, innovative and gay-friendly. Either they have a monetary interest in NOT fixing the "Lesbian Porn Problem," they ARE fixing it and it'll be better soon enough, or they're being lazy. I'm guessing it's the first.
Let's start with this statement, from Queerty's post:
"We know that most people who type in "lesbians" or "bisexual" want porn because porn sites continue to dominate Google's search results."

Um, no.
If that's true, and I'm sure it is, then I'd like to suggest that this functionality is unnecessary or, at least, LESS important than helping users find information or sites about actual lesbians. Or — at the very least– ACTUAL LESBIAN PORN! I've got no issue with porn, even with girl-on-girl porn for people of all orientations, including straight men. I just don't get why the definition of "lesbian" has been hijacked by society's obsession with two women fucking each other.
See, porn's never been difficult to track down and certainly doesn't require a Secret Algorithim to direct porn-seekers in the proper direction. Any major porn site offers a plethora of organized "lesbian" offerings, and I dunno, maybe you could type the word "porn" if you wanted to see porn. Is that difficult? Can everyone just agree to remember that and then we can get rid of the lame Safe Search option? Sex does not equal porn.
And why must we type "art" after "lesbian" — isn't it enough to NOT type "porn"?
Because they did manage to find SOMETHING for "sex," after all. So "lesbian" is by default a term that means "sex," but "sex" itself is not? NOT FAIR.
Feeling #3
The porn that internet users are regularly searching for is actually not, by definition, "lesbian porn."
The word "lesbian" isn't being used correctly in this sense. It's porn marketed towards straight people in which women have sex with other women: there are rarely any lesbians involved and if there are, it's unlikely they're in the majority on set, which, other than being made for a primarily lesbian market, would be another way to qualify as "lesbian porn."
While putting together the NSFW Sunday I will, occasionally at the 11th hour, submit myself to a Google Search just to see if maybe they've improved, but it's always 85% useless.
Although Google Instant forgoes my desires altogether, Regular Google does not. These are the search results using "Moderate" filtering — which promises to "filter explicit images only." Um. Good job with that filtering, guys!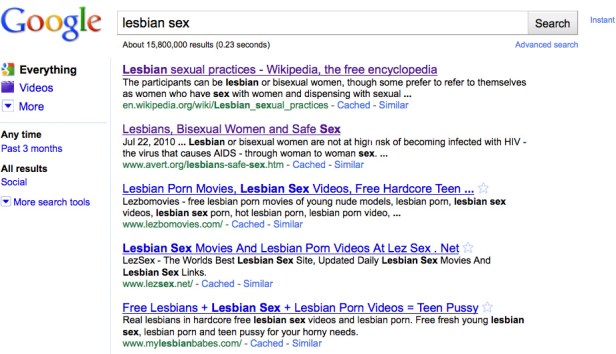 Page Two doesn't get any more helpful (or gay)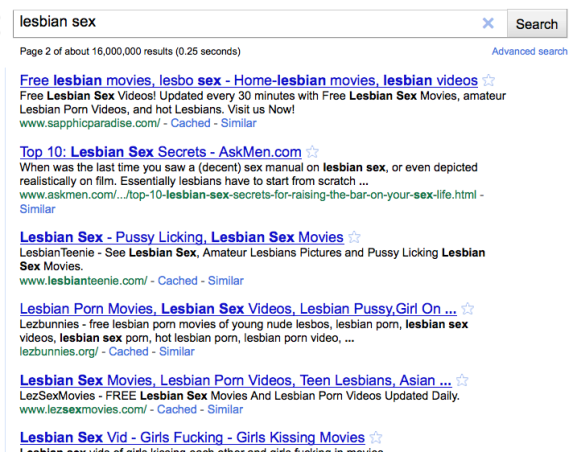 The next step up is "safe" filtering, which promises to exclude "explicit images" and "explicit text." If you thought the "lesbian sex" moderate search returned decidedly "straight" results — check out the SAFE SEARCH!!!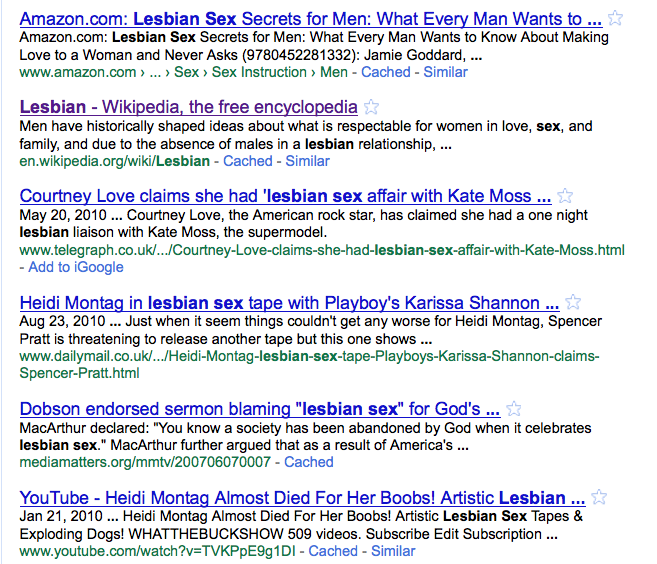 Google results are informed by keywords, tags, headlines, and search terms — not, even remotely, by the actual content of the results. Porn sites use every black hat trick in the book, and they're just one example of how Google lets SEO tactics dominate results.
Our access to real information about lesbian sex and sexuality is only attainable via linguistic tricks and work-arounds — actual information on lesbian sex is incredibly difficult to locate. Seriously. It's really, really, really hard. That's why we make NSFW Sundays to begin with.
In conclusion, if you've ever wondered why this is true: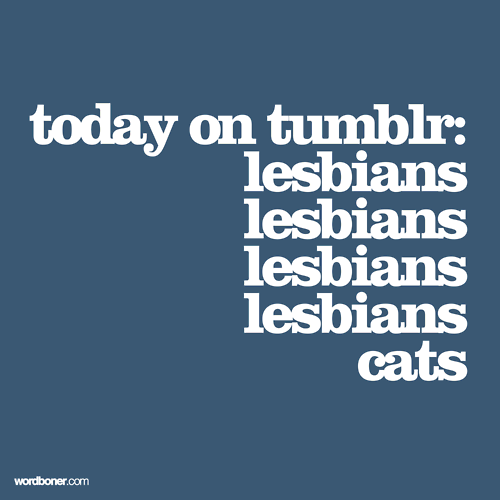 . . . it could be because we've given up on The Man ever understanding our desires as anything other than pornographic and, as a result, have created, in effect, our own search engine and information repository: it's called Tumblr.
Oh and, in case you couldn't have guessed, google instant isn't much help there either:
[Luckily, we are]