by riese & bcw
We're gonna talk about Ani DiFranco for a quick minute here.
Lesbians tend to have a lot of feelings about Ani DiFranco. Lots and lots of feelings. I'm having about six different feelings right now just writing this.
This is the first of what will be a multi-part feature devoted to the examination and appreciation of one Angela Maria DiFranco and her exhaustive contribution to the world of music and capital-F feelings.
You see, here at Autostraddle, some of us have a very deep, passionate love for Ani DiFranco and we know that some of you do, too. In fact, we (Riese and bcw) have so much love for Ani DiFranco that we can no longer do her justice via private conversations. We all need a little Ani-infused group therapy. A place to talk about how Dilate ripped our hearts out or how Imperfectly made us gay. A space reserved for us to collectively wonder what the hell she was thinking when she recorded that song "Swing" and if "Revelling" is about friendship or a love affair or both.
And you know what? If you don't like or "get" Ani Difranco, that's fine. But this is an Ani DiFranco APPRECIATION Club, not an Ani DiFranco Haters Club. Keep that in mind, commenters.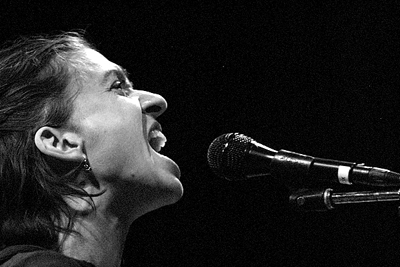 Because I'm gonna say something right now and I'm only gonna say it once: I am SO OVER lesbians (and other people) saying that they're SO OVER Ani DiFranco. I get it, I do – many of us have gone through an Ani-discovery phase wherein we listened to her music ad nauseum and identified with every perfectly-chosen metaphor that she employed.
"She's Ani Fucking DiFranco. Show some respect. She started her own record company (at 19, I might add) and has churned out an album a year for the last 500 years, plus side projects."
Most of us have probably at some point felt at least somewhat stripped bare by her uncanny ability to put into words exactly what it is we're feeling, better than we ever could, (making us go, "I never heard it put that way," making us say, "what did you just say?") and maybe now we're not exactly there anymore. We can't be tormented fifteen-year-old baby dykes forever, after all.
But dammit, she's Ani Fucking DiFranco. Show some respect. She started her own record company (at 19, I might add) and has churned out an album a year for the last 500 years, plus side projects. She told Letterman she'd only do his show on the condition that she could play "Subdivision" and refused the invite when they told her no. She INVENTED THE PIANO KEY NECKTIE, for crying out loud. Okay not that last one. But she was there – with her weirdly-long right-hand fingernails, her shorn/colored/dreaded/wavy/shorn/wavy hair, her too-many double live albums, her impossibly-titled Up Up Up Up Up Up, her Andy Stochanskys and her Julie Wolfs and her Todd Sickafooses and her Maceo Parkers, her enough-already jazzy jam band phase post-To The Teeth, and her HUGE ASS BALLS – right when you needed her. And she's still there today.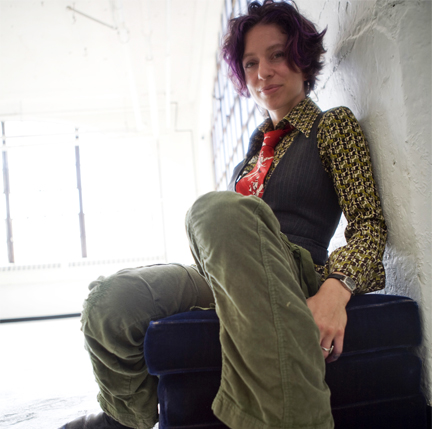 For some of us, Ani's music has shaped who we are; changed the way we write, the way we think, the way we sing along, the way we lose love and the ways we get it back. We love her with the burning fire of a thousand suns and nobody can tell us otherwise. AND WE WANT YOU TO LOVE HER TOO. Because you're worth it.
To kick things off — and to maybe get a few of you on board who are scratching your heads right now — we're going to give you a quick rundown of some songs that just about everybody knows and/or loves. The bare essentials, if you will (and trust, we had a really hard time paring this list down). These are the songs that, if you don't know them yet, you should probably hear before you try and hit on that cute girl with the dreads or the nose ring. Your mom has probably heard at least one of these songs. Get with the program. We love you, we want you to be better.
(Editor's note: we wanted to link to the original album recordings of songs and in some cases the accompanying videos are a little bit random/awesome. Enjoy.)
bcw: I first heard this song covered by Alana Davis on the first release of the unfortunately-titled Canadian compilation album series "Women and Songs." I thought it was brilliant, and when I read in the liner notes that it was actually Ani's (and heard her much-better version) I fell in love.
Riese: I literally cannot listen to this song without thinking about Baskin-Robbins. All I hear is "Fuck you Baskin Robbins, where's my Feminist Flava," over & over again. The Alana Davis cover gave me vadge-rage for months because people said they loved it and I said YOU SHOULD SAVE YOUR LOVE FOR ANI.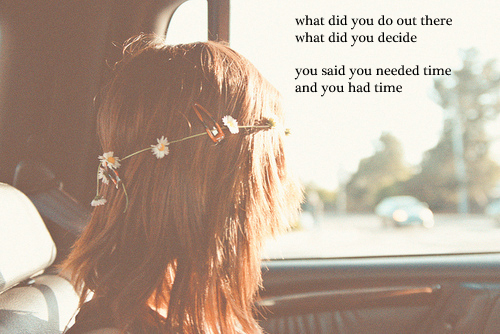 Riese: Back in 2000, Fox aired a fantastic, critically adored yet short-lived documentary series called American High. The producers gave video cameras to ~15 high school students in suburban Chicago and it was so authentic and perfect and revelatory and honest that it obviously got canceled mid-season. The point is that I'd always liked this song, but when Ally drove home in her junky car listening to "You Had Time" on her car radio, probs from a mix tape — literally GOING HOME WITH NOTHING TO SAY AT THE TIME — it wedged itself under my ribs and is my "most played" Ani song on itunes. It's how "artists" feel going home. Right?
bcw: Not sure what needs to be said here, other than GAAAHHHHHHHHCRYCRYCRY and don't bother watching Lost and Delirious because it sucks (but was filmed at Bishops!)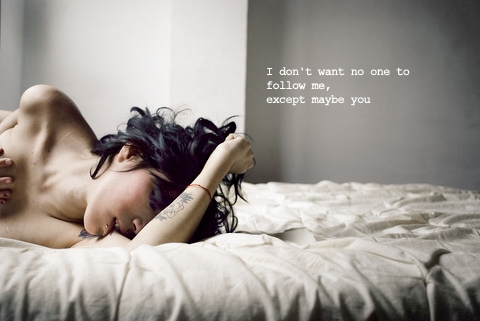 bcw: Who hasn't been there? Anyone? Really? You're lying. The only thing I can think of saying is "fuck you."
Riese: That's what she said. Also: yes. Everyone knows this one.
Riese: Remember when Kim who everyone had a crush on played Both Hands at our arts boarding school's open mic night and she introduced it by saying it was Ani DiFranco's best song and therefore it became Ani DiFranco's best song? That was hot.

bcw: Remember when she had the Buffalo Symphony accompany her on this song? On like Living in Clip? I thought that must've been so weird for the musicians. But also like, holy crap, she's got a SYMPHONY with her. Respect.
bcw: This is arguably the official Ani DiFranco queer girl anthem (though there are many – more on that later). I say this because I think I remember hearing an obscure live recording of this once and hearing all the dykes in the crowd cheer when she said the word "wife." If you are a lesbian and you have not heard this song, stop everything you're doing and listen to it right now.  And think about that neighbor's wife you're coveting / coveted when there was too much drama.
Riese: I actually think the fact that it's another "man's" wife is incidental and it's just about the velocity of an unstoppable sex/like thing with a person you can't/shouldn't "have" because they are taken but you've moved past "wrong/right" "explaining" "naming" or "shaming" into "they are going to be mad at us" because there is absolutely no fucking way you can stop THIS.
Back in the day, I had "we're in a room without a door" as my "headline" on myspace and someone posted on my wall "then how did you get in?"

Regardless, listen to it right now and think about that neighbor's wife you're coveting.
(ETA: Now that I am listening to it as a "lesbian anthem," I realize that bcw is probs totally right but I don't care, that's the beauty of Ani.)


bcw: See, I've always thought this song was about a woman, but that's probably because I was going through a big Indigo Girls phase at the time I first heard it. I don't know, I just always imagined a middle-aged butch on her motorcycle pulling up to Ani's house. I guess it's probably not about a woman, which really doesn't matter anyway. This song is about loving/hating/hating loving someone; I think a lot of us have been there / are there. Full disclosure: I used to play it in coffeehouses.
Riese: I like it when Ani gets angry about being sad/powerless, it gives you a reason to scream instead of cry or something.
Riese: Little Plastic Castle was the first Ani album I bought in a store the day it came out, as I'd been catching up for most years prior. Whenever you people yell at me in the comments, I want to yell SOMEONE CALL THE GIRL POLICE AND FILE A REPORT.
bcw: I used to wake up to this song every morning one summer when I was 16 years old, working in the kitchen at a summer camp. I thought the lines about the girl with the shaved head being the cutest and about the competition to see who could be the rudest and about the girl police were pretty much perfect, and it was the first time I heard her employ brass instruments in her music. When I heard that I remember thinking, "imagine what else she's going to come up with."
Riese: If someone ever says "look at you this morning, you are by far the cutest" to you, then you should probably kiss them right then and there. Or later, if the people might want to shoot you.

Riese: This was like, mid-90's, driving in your stickshift beat-up second-hand Volvo, intentionally looking as 'not pretty' as you can via the wonders of mid-90's "alternative" culture/style and smoking American Spirits and feeling like you can beat people up.  But now it's a whole new song to me as a grown-up "working artist" — "generally my generation wouldn't be caught dead working for the man, but trouble is you gotta have yourself an alternate plan"? Word.
bcw: This song was, in some ways, one of my first feminist anthems. "Imagine you're a girl just trying to finally come clean / Knowing full well they'd prefer you were dirty and smiling?" I mean come ON. That whole album is amazing – I think one of her all-around strongest. I can still put that album on today and let it play all the way through without feeling compelled to skip a track. Well maybe "The Million You Never Made" if I'm in mixed company.
Riese: These lyrics are hands down totes the most apt description of a certain feeling than anything else ever written in the history of mankind and the English language AND I WILL THEREFORE PASTE SOME OF THE BEST LINES RIGHT HERE:
You are so lame
you always disappoint me
it's kinda like our running joke
but it's really not funny
I see you and I'm so unsatisfied
I see you and I dilate….
so i'll walk the plank and i'll jump with a smile
if i'm gonna go down
i'm gonna do it with style
and you won't see me surrender
you won't hear me confess
'cuz you've left me with nothing
but i've worked with less
and i learn every room long enough
to make it to the door
and then i hear it click shut behind me
and every key works differently
i forget every time
and the forgetting defines me
that's what defines me
when i say you sucked my brain out
the english translation
is i am in love with you
and it is no fun
If I had a penny for every time I thought "I just want you to live up to the image of you I create" I would be a bajillionaire. BAJILLIONS I TELL YOU.
bcw: It took me a little while to fully appreciate the beauty of the "sucked my brain out" line but once I got there, hoooo. The first few bars of this song always hit me like a punch to the solar plexus. Sometimes I have to skip it because shit gets too real.

Keep in mind, these are just songs that we personally think count among/are perceived as the "classics" – they're not necessarily our all-time favorites.
We've got at least 5-10 more Ani Appreciation Club posts planned on a variety of topics, so sit tight. There will be juice and cookies next time!