The Village Voice published a feature on Dan Choi called "Bad Lieutenant." Have you read it. I suggest perhaps doing so.
I'll wait.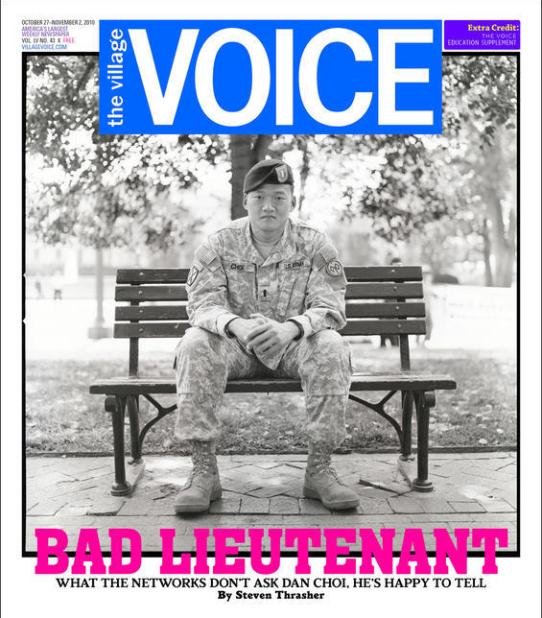 It has things like this in it (this follows a paragraph about grindr):
Choi is unapologetic. He says he resents it when anyone, especially those in the gay-rights movement, discourages him from exploring—well, sexually—his newly revealed homosexuality.
"I think our movement hits on so many nerves," he says, "not just for reasons of anti-discrimination and all the platitudes of the civil rights movement. I believe that it's also because it has elements of sexual liberation. And it shows people that through what we're trying to do, they can be fully respectful of themselves, without accepting the shame society wants to throw upon them."
Okay. Did you read it? Did it give you feelings? Were they conflicted and confused? Here were my top three feelings immediately after finishing it.
1. Why did they call it "bad lieutenant," what are they trying to say
2. Why are they obsessed with Grindr, they seem more into it than Dan Choi is
3. I want to hug Dan Choi and possibly give him some Xanax. I don't know.
The point of this article was, ostensibly, to show the "real" side of Dan Choi that isn't just about chaining himself to the White House gate and marching in parades. I am not ultimately sure whether that goal was achieved. Not because The Village Voice wrote a shoddy profile, although I stand by my earlier point w/r/t Grindr, but because I think that's becoming an increasingly difficult thing to do – separate Dan Choi from Dan Choi's politics, from "the movement." In other words, this piece actually placed a strong emphasis on the link between the 'real' Dan Choi and the Dan Choi who chains himself to the White House gate and marches in parades. I am not sure whether Choi himself can separate the two for sure anymore.
And that says something about us, I think, about the rest of us.
Like it or not, Choi has always been something of a canary in a coal mine for the gay community; when he was first out, optimistic and full of ideas, so were we. Having just launched this website and still optimistic about ambiguously scheduled counter-protests, we met Choi at one of his first post-discharge appearances, only a few days after he came out on The Rachel Maddow Show.
Obama was in the White House and for the first time in a long time, things felt possible. When he started getting angry, frustrated with the slow pace of progress, so did we – we felt like we had the puzzle pieces, a Democratic House and Senate and a president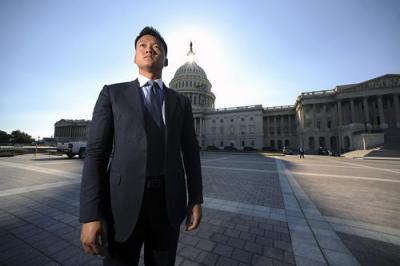 who was willing to say "gay, lesbian and bisexual" on national television, but they weren't falling into place. We were unemployed and tired of reading about hate crimes in the newspaper and starting to feel very done with waiting. Now, if this article is any indication, Dan Choi's frustration and anger has turned into an obsession with change, an obsession with the movement – and I think this is worth our attention, because it may well be our future too.
Choi does come across as human, and flawed, in this piece. He swears a lot, doesn't speak with his parents, potentially charges too much for speaking appearances, and Jesus God yes he does use Grindr. He also comes across as wedded to his cause in a kind of worrying way. Maybe, it is intimated, this is why he's gone so much farther recently – why his increasingly harsh criticism of the White House and things like his hunger strike a few months ago have been driving other activists away, with people like Jake Goodman of Queer Rising and Nonnie Ouch of the Texas Tech GSA saying that they've "lost respect" for him.
Regardless, there is a tangible sense of the pressure rising, of something coming to a head in "the movement" which is never defined but constantly referenced. I felt, honestly, a kind of fear reading it, but also sadness – both for Choi himself. I'm not sure which was worse, the extent to which his life has been given over to this struggle or the extent to which he doesn't even seem to be fully aware of it. For instance, the fact that he's homeless and living off the couches of activist friends seems to barely occasion a shrug.
Choi says he lives out of a couple of bags and, being used to "falling asleep wherever you have to" in the military, he doesn't seem to mind the nomadic life. "I'm in a relationship with the movement," he says. "And in any relationship, sometimes you have to sleep on the couch. And sometimes, even with the movement, the couch is literally a couch."
I lost count of the number of times "the movement" was mentioned. It's a flawed comparison in a lot of ways, but what I thought of most was the feminist movement of the 60s and 70s – that will always be what "the movement" evokes for me, that and the civil rights movement. I thought a lot about both of those things reading this. About how much people in those movements had to give up before they saw any kind of change. How people gave their whole lives over to this, like nuns entering a convent of justice and rage. I thought of the height of both those movements, the point at which they reached a kind of fever pitch where people decided that anything was better than the way things were, and were willing to give up anything for change. And how much change we're still waiting on, even after those sacrifices.
I don't know anything, really. It's hard to discern anything really about Choi, let alone the gay rights movement in America, from a six-page article.
But I am increasingly getting the sense that Choi has reached that point where he's willing to give up a lot, maybe everything, for change.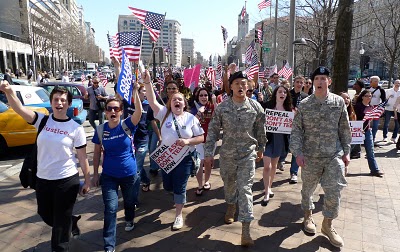 And that the rest of us might not be far behind: Obama's ratings in the gay community are at the lowest they've ever been, and many are saying they'd rather not vote than vote Democrat. I'm wondering how far we are as a group from that fever pitch of anger and refusal to wait any longer that brings things to a boil – that point that is the most painful but also the most powerful in terms of changing the world.
I'm not saying Choi's brand of activism is "the right one," but I will say that it doesn't seem to be coming out of nowhere. I think there's an increasing sense that asking nicely just isn't working, and that no one seems to be giving us what we want so it's time we demand what we need. There's a reason Choi is the poster boy of "the movement," and a reason the Village Voice wanted to talk to him – he loved America wholeheartedly enough to offer his life for her defense, and as the Voice wisely observes, "when Choi first came out, he could 'never have imagined criticizing the commander in chief.' Now he does it routinely."
"Don't do ANYTHING, Obama!" he railed. "Just keep on doing what you're doing, which is JACK SHIT. Don't appeal the decision. Don't add one more thing to your plate—your heavy-ass plate."
If you've been following Dan Choi's career as an activist like we have, your takeaway from this piece is probably something like "What happened to him? How did he get so angry that he's yelling at people in parking lots? What made him so obsessed that this is all he can think about?" At least, that would be your first takeaway. After that would come more difficult questions.
Like, "What would it take to make me that angry? What would make me yell about Jesus in a parking lot or chain myself to government property?" Because really, what would it take? Six kids killing themselves in the space of a few weeks? A dozen kids? The government fighting in court to keep DADT alive while tweeting that they oppose it? Prop 8 winning in the Supreme Court? More highly publicized bashings and murders of gay and trans people? Or worse, completely unpublicized bashings and murders of gay and trans people?
I'm just saying, it might be worth thinking about. Dan Choi certainly is.