Hello friends!
Welcome to the third-ever State of the Autostraddle Union, in which I speak directly about what the fuck is going on around here! It's been two years since our last State of the Union, and three years since our first. 2013 was wild — surprisingly hard, at times, and exhilarating at other times. We've grown and changed and learned and gotten haircuts and made apple damn sandwiches and now there's so much catching up to do!
We've seen our little family evolve from six friends watching The L Word on my bed in March of 2009, to an international operation with an enormous staff (mostly volunteers) and a readership amassing an average of 800,000 unique visitors and over three million views a month. We've hosted four A-Camps and numerous International Meet-Up weeks. We've printed hoodies, calendars, t-shirts, notebooks, flasks, stickers, totes and underpants. We were nominated for a 2013 GLAAD Award, won the 2012 Weblog Awards and saw Autostraddle Co-Founder Alex Vega make Refinery 29's 3o Under 30. We've spoken, presented or hosted events at venues including Salon LGBTQ, BlogHer New York, The Strand, BlogHer San Diego, The University of Chicago, New York University, Yale and NetRoots. In February, our Geekery Editor Ali and our Co-Founder/Design Director Alex will be hitting up the Lesbians Who Tech conference in San Francisco, and I'll be across the country in Washington DC for the 5th Annual LGBT Media Journalists Convening.
This past month, we reached a milestone I thought it'd take another four years to achieve – we got 1.06 million unique visitors in December. You know how many unique visitors that is? OVER ONE MILLION, that's how many!
---
Best Redesign/December Ever
You've likely noticed and perhaps commented upon our recent makeover, which definitely did a better job improving this site's attractiveness than that $2.75 Body Shop makeover did for my face in 1992. Our Design Director Alex and our Tech Director Cee, whose employ here was made possible by YOU, have been working their asses off for this and it shows. A lot of special shit goes down here, but one of the specialest is how many skilled & talented professionals have chosen to work here instead of pursuing more lucrative opportunities, and Alex and Cee are definitely in this group.
In celebration of this rebirth, we planned a particularly amazing December of content — but maybe you've noticed that our overall quality and quantity has been especially awesome lately, too. That didn't happen because the world suddenly became the socialist commune of my dreams, because our increased traffic garnered increased advertising revenue or 'cause raising A-Camp tuition raised our A-Camp profits. It happened because one magical human was able to give us a chunk of financial support specifically set aside to fund editorial for December, enabling us to publish guest writers and to finally begin paying our 16 Contributing Editors! The Contributing Editors are the lifeblood of this site, and whereas most of our writers fit AS into their free time, Editors and Contributing Editors make Autostraddle a priority like a real job and deserve to be paid accordingly.
The importance of paying writers has been a hot topic in online media lately and it's been heavy on our hearts for years. We simply can't go on surviving almost entirely on volunteer labor — it's a compromise with little room for growth or comfort. Unfortunately, we don't have the venture capital or ad contracts other paying sites do, but regardless I made a commitment to our Contributing Editors to keep paying them past December. It seemed like if we kept waiting 'til we could safely "afford it," the time would never come. It's an act of faith, but here's how I see it: in most industries, if you can't pay your employees, you go out of business. If our readers don't wanna pay for what we're making and we can't secure an investment to keep on making what we're making, then we shouldn't be making anything, you know? But I have faith that we'll be successful in both those areas this year.
Paying our Contributing Editors has made editorial run so much more smoothly — we've not once been short on content and had to team pick a bag of pistachios to reach our daily quota, it's easier to get important stories covered and deadlines met, and we narrowly avoided losing a few CEs who weren't gonna be able to stick around unpaid much longer. Can you imagine how wonderful life and this site will be when we can pay the CEs better AND pay the rest of our writers and columnists? IT WILL BE LIKE CANDYLAND EXCEPT GAY.
---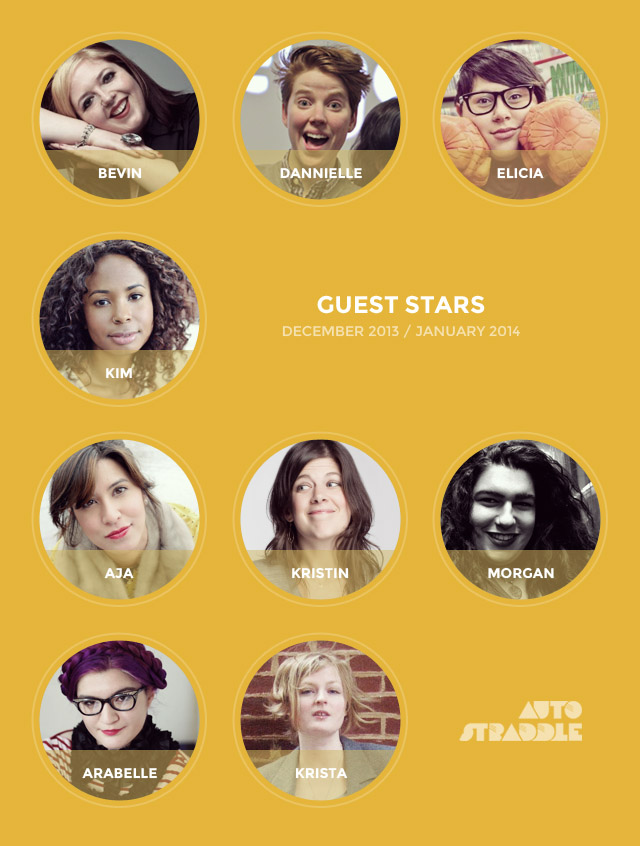 New Voices
Over the past six weeks we've published some exceptionally awesome things — and there are more awesome things by more guest writers to come later this month.
We've featured great stuff from guest writers we've been admiring from afar for a long time:
We also published new pieces by some of our favorite writers we don't hear from as often as we used to!
---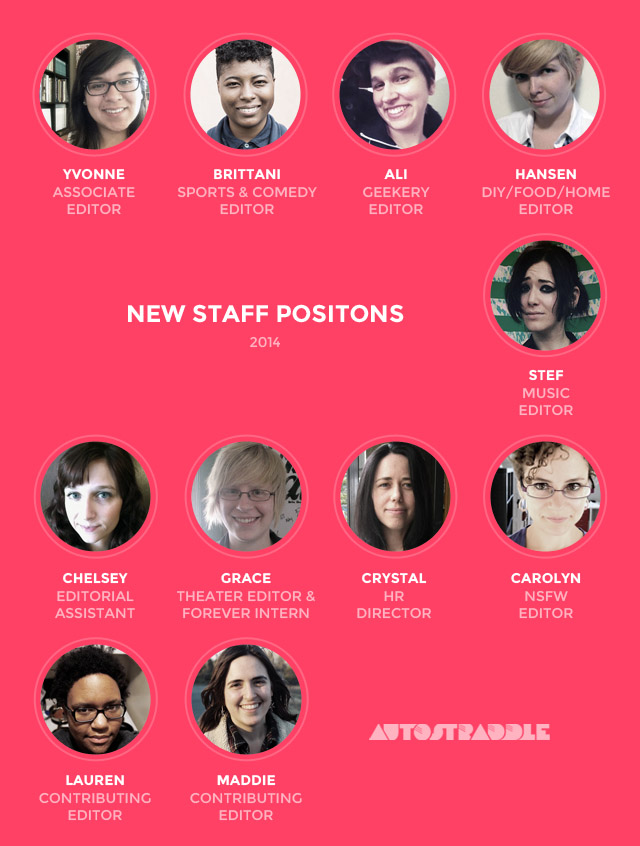 The Evolution of Team
Our team evolves, just like mankind! This summer, Hot Laura stepped down from her Associate Editorship to attend Law School, and we brought on Yvonne Marquez as our new Associate Editor. Intern Chelsey Petty has been promoted to Editorial Assistant Chelsey and Intern Grace Ellis to Forever Intern Grace. Crystal, our Music Editor, has moved into the position of HR Director, and our original music editor, Stef Schwartz, has returned to her Music Editor throne.
Our veteran Contributing Editors have also taken on Subject Editor positions – Ali Osworth now heads up the Geekery department, Sarah Hansen leads DIY/Food/Home, Brittani Nichols masters Sports and Comedy, Grace Ellis showcases Theater and Carolyn Yates tops the NSFW section. Lizz Rubin remains Fashion/Style Editor (but will be taking a two-month leave for med school) and Vanessa Friedman will return to her Straddleverse Editorship when she returns from seeing the world!
We've brought on even more Contributing Editors to the team we began assembling this summer — we've already added Lauren Jacobs from Alabama and young radical Maddie Taterka, and a few more new faces are currently in training!
New blood means lots of new columns, and these columns are easier to find than ever with our new menus.
---
What We're Talking & Writing About
We've had to adjust how we generate new traffic — we used to score big on news coverage and breaking news, but wealthy SEO-optimized sites like Huffpo Gay Voices and Buzzfeed LGBT have stolen our Google News glory, as has the increasing coverage of LGBT news by mainstream news outlets. Social media and referrals are now top traffic drivers. Meanwhile, major women's and progressive publications have begun seeking out more queers for their team, which means it's more important than ever that we develop what's unique about this space.
Obviously our content runs the gamut — we've always felt queer women deserved the same all-encompassing magazines straight women have had for decades where we talk about just about everything: news & politics, crafting, pop culture, sex, relationships, tech stuff, food, hot girls and all! The idea of throwing all that together with a queer feminist bent has been one of the most exciting and groundbreaking elements of our work here.
But beyond topical breadth, there's other shit that makes us special — like that it's still just us here, humans in our cheap sweatpants on our stressed-out laptops, barely making a living, often publishing content based on our emotional whims. We don't answer to anybody besides, well, you. We're not perfect — we've made many mistakes, but we do give a fuck. We recently read a thing that compared comment sections to a dinner party, and that seemed accurate until we realized that no, it's different around here. This isn't a dinner party, it's our home. It's where we live. We want to have fun here, and we're happiest when our house is filled with other happy, engaged, open-minded people — some who hang out all day, some who drive by every week or so, and many who stop in a few times a week for a drink. Through Autostraddle Social, meet-ups and A-Camp, we've watched the connections you make onsite translate into 3-D friendships, relationships and creative collaborations, further emphasizing the fact that YOU are shining stars of our lives. This year, we've listened to your demand for more online and offline spaces specifically targeting our readers over 35 and will be taking steps in that direction.
We began with a vague and oft-repeated idea of "the revolution" — a thing we wanted to start, a thing that is with us always — which means we're also building a culture here, not just a pile of content. Executive Editor Laneia, Senior Editor Rachel Kincaid, Associate Editor Yvonne Marquez and I have been having lots of conversations about what we wanna do this year, so let's talk about some of those things!
Broad-Level Thoughts About 2014
+ Being Braver: We want to be able to take risks in our writing — to eschew safe groupthink, propose new solutions and espouse progressive politics. Therefore this can't be a place where ideas are quickly taken out of context and dismantled — it must be an environment where ideas can be debated respectfully and mistakes can be made.
+ Intersectionality: Our little universe made great strides in the area of trans* visibility last year, but there's still so much work to be done. Locally, Trans*scribe did so much to expand our understanding of trans* issues beyond "101" and brought many new writers into our world, but it seems many activists are ready to hang up their hats 'cause there's one trans woman on a TV show. No — as far as rights and protections for trans people goes, the work has only just begun. However, this year we've experienced firsthand and watched so many of you undergo a significant transformation w/r/t how you talk about trans* people, and your open-ness to this education has been inspiring — and in 2014, we hope that white people will understand and accept that it's possible white people have as much to learn about race issues as cis people do about trans* issues. This means understanding that people of color are the experts on PoC experiences, that learning about racism in school or having friends of different races doesn't mean you're qualified to speak over PoC and that engaging in PoC narratives with an open mind is imperative for anybody invested in progressive politics and a genuinely inclusive LGBTQ Rights and Feminist movement. We have a lot of work to do ourselves and our site needs so much improvement in this area too. We're really desperately even more interested than ever in submissions and Contributing Editor applications from people of color, trans* women and people with disabilities. Please submit!
+ Accessibility and Education: None of the Senior Editors have an academic background in Queer or Women's Studies, we're all self-educated. It's important to us that this remains an educational space, not a place where we or you obsessively language police, assume a literacy in all the current "right words," or engage in callout culture's destructive glory.  We think this kind of in-fighting is exhausting a community of strong activists who need to save their energies to fight white supremacy, the patriarchy and the cis-tem. These conversations can also be alienating for readers who aren't all-knowing or privy to various generational attitudes and academic communities where relatively obscure knowledge is taken for granted and words like "queer" are considered catch-alls. So be kind, be patient, and find a way to hold people accountable while giving each other a little bit of room to learn. On this topic, we really like Black Girl Dangerous' recent piece on "calling in." (However, you don't need a degree to listen to members of oppressed/marginalized groups when they tell you explicitly how they are being discriminated against, oppressed, or marginalized, so cut that out!)
+ Longform: I like reading longform a lot, and hopefully we'll get enough funding to make a lot more of our own. My background is in creative writing, not internet marketing or journalism or anything like that — and I want this site to produce the kind of quality literary writing that reminds me why I'm alive.
+ Getting Back to Our Roots and Being Weirdos: When Autostraddle was young it felt like we were in a room with our closest friends and could be as exactly as weird as we honestly are. Over time, as our closest friends invited their closest friends who invited their friends, we became more aware of an audience. Now that we're in a room with over a million of our closest friends, we've realized that we've started to behave the way people usually do in public — more restrained, more likely to second-guess ourselves, more worried about whether this outfit looks stupid. But we know that there's a reason all of you cared enough to show up here in the first place, and that the truth is our weird interests and bizarre loyalties and counterintuitive understandings of the world are the best and most honest parts of ourselves. We owe you — and ourselves — to always try and be the best and most honest people possible. So we're going to try to go back to dancing like nobody's watching and hitting "publish" on that weirdo thing that we hope our ex-girlfriend's ex-girlfriend doesn't read, because if we're not willing to do that, then what's even the point.
---

A-Camp May 2014
This year we'll only be holding one A-Camp, May 21st-26th, and it will be our longest and undeniably awesomest A-Camp ever. In order to cope emotionally with only having space for one A-Camp next year and in response to 65% of our campers asking for more days (especially those traveling long distances), it'll be one day longer than usual. We're really excited about the possibilities the extended session presents and are already planning some brand new kickass shit for y'all. In the past A-Camp has been executed as a long weekend, but this time it's a bona-fide vacation. Registration will open on January 17th — otherwise known as "tomorrow."
We're not sure what the plan is yet for 2015, but we are always talking about a variety of ways to improve and expand the A-Camp program and concept over the next eon.
---
Trying to Earn More Money
This past year our traffic and subsequently our workload has steadily increased — but despite this, our advertising income hasn't gone up and our income from donations has decreased significantly as the public perception of our success has spiraled wildly past reality. Luckily, income from the fundraising campaign and A-Camp helped us get by this year, but didn't leave much room to grow. That small investment I mentioned earlier saved us from bottoming out and made our site so much better last month, and we're keeping our fingers crossed for another investment and more reader support this year.
See, presently, 92% of our $11,000 monthly budget goes towards paying seven staff members who work 20-80 hours a week for Autostraddle (that's before taxes). The remaining 8% covers server costs and subscriptions. (If you know anything about publishing or small business budgets, I bet your jaw just dropped and fell off your face to know we've done so much with so little!) Aside from the monthly budget, our largest spend is obviously the cost of goods sold (the cost of putting on camp and printing merchandise), but there are other expenses too — such as travel, taxes, outside contractors, office supplies & equipment, article expenses, lawyers, accounting, software and the emergency fund I like to maintain for team member emergencies.
In 2014, we'll be keeping Cee Webster on to supervise our technical situation (the fundraising drive only funded one year of her services), moving Forever Intern Grace and Editorial Assistant Chelsey into paid positions, getting our senior staffers closer to a living wage, continuing to pay our Contributing Editors, and investing more in editorial in general. This means our budget will more than double next month. So — if you've never donated, never bought merch, never shopped through our affiliate links, you really should! We have hundreds of thousands of readers, but only a small percentage of that group ever supports the site.
On that note — we'll soon be launching Autostraddle Plus (A+), our premium membership program, on which a great deal of our financial future depends, and we'll be really excited to tell you more about when the time comes!
We've also recently formed a media partnership that will facilitate impressive ad sales, which we'll give you the scoop on very soon, and we're working on some more outside-of-the-box merchandising initiatives. Stay tuned!
---

The Future
I'm often asked if I think sites like ours will become irrelevant when LGBT acceptance goes truly "mainstream." I don't, of course. Nor do I think that queer culture — at least, not the queer culture I identify with — should or can be assimilated. But nothing seems real before it happens, and did I even know what a shred of "mainstream acceptance" would look like? I figured we were safe from competition for the same reason we were poor: nobody believes in this market. But what we've built here is more than news aggregation, rehashed press releases and lists. (Although we do write really good lists.) It's a genuine community of active listeners, and I do think what we do here will remain special forever.
Five years ago, your coming out stories rarely had happy endings, and now many of them do. That's huge. I don't think same-sex marriage is the end of the fight, nowhere close, and when I say "we've made progress" that's not what I'm talking about. When I say "we've made progress" I mean that the hysterical opposition to gay people having jobs, being related to straight people, appearing on television shows and renting wedding venues has been going down, rapidly, over the last two years specifically.
The LGBTQ activist community has serious problems though, as does feminism in general. We want to be part of building an inclusive fourth wave and we want to earn the right to be a part of it. In my opinion, this will require recalibrating how we define these movements, and recognizing that we are not united by specific causes, but by specific values and ethics. Acknowledging intersectionality in our work means letting go of the idea that broad-level political initiatives are even possible. It means setting priorities not by which goal effects the most members (or the loudest members) of the group in charge of priority-setting, but by determining, in line with our agreed-upon values, who most needs help and who is least able to access it.
Historically, queer/feminist media and capitalism have been uneasy bedfellows, and many believe it's not possible to succeed in business while remaining authentic to our beliefs. We disagree. We believe that one day we'll be able to employ all the hard-working smart creative queers we want to, and pay them, and pay them well. I believe that one day I'll be able to pay enough people enough money that I personally won't have to work 80 hours a week anymore! There is a way to do this because against all odds, we still exist, we got by for a really long time on very little, and we haven't come this far to give up now — and neither have you. It's your supportive and grateful emails, tumblr posts, tweets and comments that have gotten us through the rough patches.
So thanks to all of you for being here, for reading this, for participating in this bizarre experiment in cyber-performance-art. We look forward to a brand-new year of sarcastic television recaps, lists of vintage lesbians, Angel Haze feelings atriums, team picks for psychiatric medications, weepy personal essays, venn-diagramed sex advice, Samira Wiley Appreciation Clubs, listlings consisting entirely of weird shit you said, comment awards, butt plug reviews, Sara Quin interviews, drunken event coverage and chapstick recommendations. Thanks for being a friend.
You Do You,
Riese, Editor-in-Chief / CEO / CFO / Co-Founder
Co-Signed by Laneia, Rachel and Yvonne