Oh my god this Misty Day character is a woman of my own heart and it's too hard to watch.
I am the sort who doesn't scare easily; the type who can watch The Exorcist and only lose her taste for pea soup, but not her nerve. Yet the first episode of American Horror Story: Coven felt like an ice cube being dropped down my shirt collar. My chills and clammy hands had little to do with hexes, Venetian carnival masks, or even the unanticipated appearance of a homicidal vagina.
Instead, they had everything to do with Misty Day.
Headmistress Cordelia Foxx informs her students and viewers alike of the simpleton character's dire plight. "That poor Cajun girl just outside of Lafayette a few months back, Misty Day…she had a gift: The power of resurgence. Misty could reach into that place between life and death and draw a soul back from the precipice, back to this side; back to life. To some, this appeared to be the God-touched power of resurrection. To others, necromancy."
As Foxx continues, the scene shifts to a backwoods Evangelical revival in Louisiana–a far cry from the crown molding of Robichaux's Academy for Exceptional Young Women in New Orleans. The worshipers all wear thin cotton floral dresses and suspenders. As Misty discreetly resurrects a dead bird, the rest of the congregation clings to their snakes, Old Testaments, church fans, and expressions of superiority (several of which are critically focused on Misty).
---
Misty Day is the closest thing to Idgie Threadgoode — who held Ruth's hand tightly and told her stories of a lake in Georgia until her dying breath — since…well, Igdie Threadgoode. She's one part healer, one part rural woman. So many of us in this region fall into those same mutually exclusive categories. We just work our magic with hearty meals and actively listening ears as opposed to mason jars of swamp water. There are so many miraculous ways to bring a person back to life, and the most common is to simply be there.
I'm a born listener. I nod and echo back what I've heard, but less eloquently and with more certainty. I offer paraphrased quotes and a handful of effortless-but-begrudgingly recollected Bible verses on loss, momentum, and love. But mostly, I internalize. I fearlessly take on the pain that isn't mine until I feel like I am the one who's experienced heartbreak, fatality, or illness.
The Southern belle and the innocent, corn-fed Midwestern girl are fast-fading myths, and Misty Day's existence helps them fade a little faster. We aren't period characters. Misty lives and breathes in the present with the rest of us. We're not all delicate and tragic. Regardless of if they're clipped short or acrylic, we aren't scared of getting other folks' dirt under our nails. We have favorite pairs of jeans. We wander. We're animal people. Hell. Under the right circumstances, we can be animals, too.
---
Horror is always rooted in personal truth; it aims to get under your skin in a painfully familiar way. The genre asks, "What are you most afraid of?" yet doesn't want a one-dimensional answer of, "Zombies," "Ghosts," or "John Wayne Gacy." It wants to know your specific real-world fears: Of losing control, of going unloved, of being misunderstood, of failing, and the like. My worst fears are a mixed bag of those, and — Ryan Murphy-Crafted ExaggerationTM of rural life or not — that singular scene of Misty Day at an outdoor revival capitalized on every last one of them.
I grew up in (and still occasionally venture into) the land of bluegrass festivals, tent revivals, and wild game suppers. I can point out the small churches where I've witnessed the most docile of butterscotch-toting congregation members speak in tongues, and others where the deacons are rumored to toy with snakes.
The aesthetics of small-town Evangelicalism don't actually scare me, however. It's my experiences with it that cause those faint hairs to stand on end. For me, true "piss-your-pants" horror is looking up what Dr. David Jeremiah–minister to the masses across rural America–believes about homosexuality: That allowing us church membership degrades churches, that we destroy family relationships, that we are rebelling against God, that we are militant, that it's our parents' faults that we're queer.
It's knowing that this is exactly what the people I once loved wholeheartedly believe.
It's knowing what terrible things these beliefs–when paired with fear of the unknown–can drive a body to do.
---
After a decade of being openly gay in a family that was intolerant to it, I never actually anticipated to be disowned by my parents. They knew, and I assumed that they'd enrolled in the highly-popular We Don't Talk About It Southern School of Thought. The cost of confronting me seemed to be outweighed by a strange blend of love and tact. So when a holiday visit home in January culminated in an argument that honed in on my sexuality, I froze over. Having long glossed over the possibility of rejection, I had not prepared a plea or annotated list of biblical passages to defend myself. When suddenly faced with my father's spittled slurs and my mother's looks of repulsion, I had too few words and too many thoughts.
As I left, they turned up the dial on a radio that was tuned to a Christian radio station out of Augusta, Georgia; as if static-riddled late-night hymns and ministrations possessed an ethereal power to rebuke me from their home even quicker than they could.
When I went back several weeks later to pick up my remaining belongings, I spotted multiple boxes of Christian ministry papers in the back of Mama's car, completely obscuring any line of vision out of the rear window and her ability to reason. It was obvious before, but it was particularly certain then. I'd been disowned in the name of the Father, the Son, the Holy Ghost. They knew the oft-cited verses in Leviticus about homosexuality being "an abomination," warranting one to be "put to death".
They sincerely believed that I'd burn in Hell.
---
"So what happened to her?" One of the young witches asks their headmistress about Misty Day.
"The same thing that has happened to women like us throughout the centuries," Cordelia responds grimly.
We then witness Misty being dragged across a field by several members of her church congregation, tied up, and set to flames.
Witches, like queers in small places, are also often resigned to burning. But it isn't the fire that causes our respective demises: It's the suffocating threat of it. Witches burned at the stake actually died of asphyxiation, not incineration. And despite being frequently warned of its perils, the fiery bowels of Hell aren't a place that any queers have actually encountered in the flesh. Yet they remain a constantly nagging idea, one that comes with being raised to believe that Hell exists.
I'm not God-fearing now, but that doesn't stop those harmful residual thoughts from coming to mind:
How hot is Hell?
How does a body that can never die react to to a fire that never ends?
---
It may seem disingenuous to move further South after being disowned in the name of primitive Evangelicalism, but that is precisely what I did: I relocated to a town 100 miles from the Okefenokee Swamp and two miles from a courthouse known for its unjustified lynchings. Yet it felt vaguely magical, picking up the pieces after being ousted and crafting treasure from my existential trash. I found work. I leased a tiny studio apartment. I pulled an orange and white thing from a green dumpster and declared it my kitten. It was more than enough. I was surprised by how quickly everything worked its way out; I hadn't realized how much love and adoration I had for my family until I started channeling that unused energy into my own life.
The hardest part was allowing myself to do so.
---
The next time we see Misty Day, she's not long-gone, hanging limply from a stake. Instead, she is wandering around the woods alone, without a single fleck of ash on her. She has made a swampside hut into a warm home. Her regenerative powers, it seems, also work on her own person.
---
For every person that I've connected with here in this town, I've met 40 who make me itch like those old lacy Sunday school dresses; who remind me of my parents' own unfavorable qualities in a way that makes me flat-out anxious. It's so easy to yearn and ache for people to fill the space surrounding you, but it's so difficult to find those who can do so in a way that doesn't immediately consume all your hard-won oxygen and freedom.
---
When Misty Day encounters the first other witch she's ever met, she disregards any knowledge about personal space etiquette and meets the Robichaux student nose-to-nose, eyes wide and begging for connection. Misty circles the girl as if she's a mountain lion ready to strike its prey when she's really just a gentle puppy, some harmless mutt that happens to be too smart for any pound.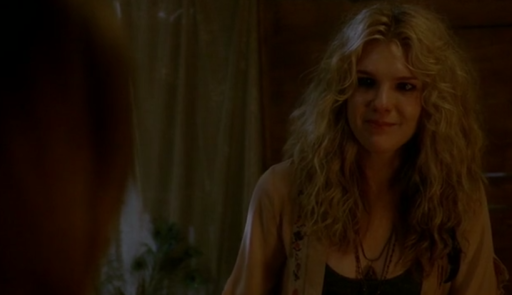 I know that look. I know it so well.
It's one part terror and one part excitement, and one part silent plea of, "Please, please, for the love of everything holy, please love me." It's a look that I've been guilty of when I've been in small places and encountered another queer woman. It's also one I've been guilty of thrusting on other country folks: People from my hometown, people who know what it's like to lose touch with family in a culture where that's a taboo rarity, people who feel like My People even though I haven't yet figured out why.
Sometimes it's spot-on, but sometimes–as Misty shows us–it's misguided.
When given the opportunity to join the girls at Robichaux's, she turns down the offer (but not before–in true Southern girl fashion–she clears out the fridge at the academy). Connections are important, but there's no need to rush them. If there's one thing I learned from my parents and Misty learned from her church congregation's mistakes, it's perfectly fine to be patient and embrace the ambiguity; it's the same that Fleetwood Mac songs are made of; like the ones Misty plays over and over again on 8-tracks at her hut, "Rhiannon" begging the question, "Who will be her lover?"
She doesn't know. And that's okay.
---
"You can't be your best self until you find your tribe. I'm still looking for mine," Misty tells a character as she heals him.
For now, for me, a fictional swamp witch is a good start.
---
Special Note: Autostraddle's "First Person" column exists for individual queer ladies to tell their own personal stories and share compelling experiences. These personal essays do not necessarily reflect the ideals of Autostraddle or its editors, nor do any First Person writers intend to speak on behalf of anyone other than themselves. First Person writers are simply speaking honestly from their own hearts.