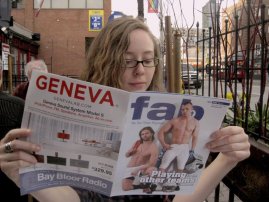 Every day, the senior and contributing editors of this website engage in an e-mail reply-all, via which we discuss the news of the day as well as whatever Vanessa has feelings about. Rachel, our Senior Editor, is one of the many brilliant minds participating in these daily emails — in fact, she leads the discussion every other day. Sometimes she says funny things. Lately I feel like she's been especially funny. I'm not sure why.
15 Funny Things Rachel Said Recently
1.  trying to find news today is like trying to find your wallet in a stadium after a Michigan State game, where in this analogy "yammering about the Supreme Court" is "empty beer bottles and vomit."
2. does anyone have any good vegan legume-free potluck recipes? asking for a friend.
3.
rachel: liz you're going to be the best doctor in the world. how long before you can prescribe me xanax.
carmen: how long until you can give me a pelvic exam and then we do cocaine using our own dollar bills freshly printed from the treasury
rachel: i think carmen wins the award for today for "things i want to tweet but won't"
4. five years from now when i'm living in a tree writing tracts about how monsanto is part of the illuminati cabal on recycled seventh-generation paper bags, you can pinpoint this as the moment it started.
5. Just want to share that since I'm currently on my phone, the picture of Liz's panties is showing up in every new email and it's really working well for me
6.
ali: Editors: Can any interns transcribe one of my female ejaculation interviews? Who is available today/is willing to do it?
rachel: moment of silence in which we all stop to appreciate how weird and great our job is via the question ali just asked
7. i feel like we should do a listening party of laneia liveblogging her reactions to tori amos songs
8. reagan's daughter says he would have backed gay marriage? i, too, am bored of talking about marriage, but JESUS CHRIST republicans you can't have reagan do EVERYTHING for you, may i remind you he is DEAD
9. does anyone know of a chrome extension or search term or anything that will make it so that when i use google or google news, no results from huffington post will ever come up ever? this is a real question.
10. today i had a really rough day at my day job and so i came home with a grand plan to make a personal pan vegan pizza for myself with my favorite toppings from childhood, which i did, but then when i baked it on a foil-lined pan it somehow stuck to the foil even though that is the exact opposite of the idea of foil and when i tried to unstick it all the toppings slid off and i had to put them back on with a spoon and i was preeeettty close to crying. but then i ate it and it tasted good! the end.
11.
riese: rachel/laneia/laura can somebody else look at the PLL open thread feelings post and publish it, because it hasn't aired here yet and i don't want to spoil it for myself
rachel: i will look at this post, this can be when i carried you
12. just want to share with everyone that today my horoscope literally says "today you are just like everybody else, except cuter and more articulate."
13. everything is terrible but also ultimately ok.
14. Petition for an instructional video of Brittani folding underwear
15. hold up jasika nicole's tumblr name is sugarbooty?