The first few weeks of the year ring in one of the grandest, most well-choreographed manifestations of the self-help industrial complex: resolutions. Happy 2014! May the odds be ever in your favour, and remember to run away from the Cornucopia.
So 2014 is the year you want to get into cycling to work/school/your genderfriend's pants place. Good call! This is an excellent choice, I'd say, as far as new year resolutions go.
But you and I have both been doing this dance long enough to know that while nothing feels quite as uplifting as that burst of energy at the start of the (arbitrary) year, few things are as demoralising as losing all of it within a couple of months. We're not gonna have that happen this time round, though, because you got this. Here are a few tips to get you going on your bike and hopefully for a long, long time beyond that.
5. Start Slow
This sounds like a no-brainer but it can be tempting to do otherwise. Unlike running, you can go from the couch to 5K in a day – but you'll also burn out pretty quickly if you expect to change a habit so radically when you're just getting started. I believe in you, moonshine, but you gotta give yourself time.
Start with cycling on low-stress journeys, like to the store or your favourite café. Familiarise yourself with various routes, your bike, and what it's like to be sharing the roads with motorists who can't see you (or pretend not to) out of their large metal boxes. Learn hand signals, safe cycling practices and road regulations – we'll go into these next week! Get to know your body's limits, too. A bit of breathlessness and aching isn't going to hurt you, but slow down or stop if your body's telling you it's all a bit too much.
Try combining cycling with public transport. If you've got a folding bike you're set, though sometimes you can bring on full-sized bikes during off-peak hours and some buses are outfitted with bike racks at the front. Learn how to work all these before your first commute, lest find yourself frazzled, 15 minutes late to work and subject to death glares from other cranky not-morning persons.
Pick a couple of days to bike into school/work to start with. Don't go with Mondays. Don't sweat it if the weather or a punctured tire or an attractive human lying in your bed cancels your plans. Again not revolutionary advice here, but with Big Plans like resolutions we too often throw everything out if we don't get it exactly right, starting exactly how we want to exactly at the start of the week/month/whenever. Let go of these expectations and instead focus on introducing cycling bit by bit into your daily routine.
4. Bike Share Schemes
If you live in a city with a bike share or cycle hire scheme, I cannot recommend these enough. I started out on the bulky monsters that are Barclays bikes myself, and they're a great way of testing the waters without committing yourself to full-time bike ownership.
Bike hire schemes are relatively affordable and do away with the hassle of locking and maintaining your own bike while still giving you (almost) all the freedom that bike commuting affords. Frankly, these are not the best bikes that you'll find. They're built to withstand plenty of use by lots of people who won't always take the best care of them. They're also only available in limited areas, which can be frustrating, but these reasons are all exactly why I recommend them for beginners. Once you're ready for more, you're already familiar enough with the roads to know what you're looking for in a bike.
Remember to get yourself a helmet even if you don't own a bike yet! If it does turn out that cycling isn't for you, you could always throw a plant in it.
3. Keep Track
Watching the miles add up on your seemingly short rides can make you feel really good about how much you're travelling and working out. You could get a cycle computer, but if you're just starting out you probably don't want to spend more than you would on a smartphone app.
I use Cyclemeter (Paid) on my iPhone. It keeps track of all the information you could possibly need (speed, distance, elevation, time, etc.) – and about ten times as much that you likely never won't – all within a single app. It's also useful in comparing routes to see which get me from point A to B faster and with minimum uphill climbs. My only gripe is that it only uses Apple maps.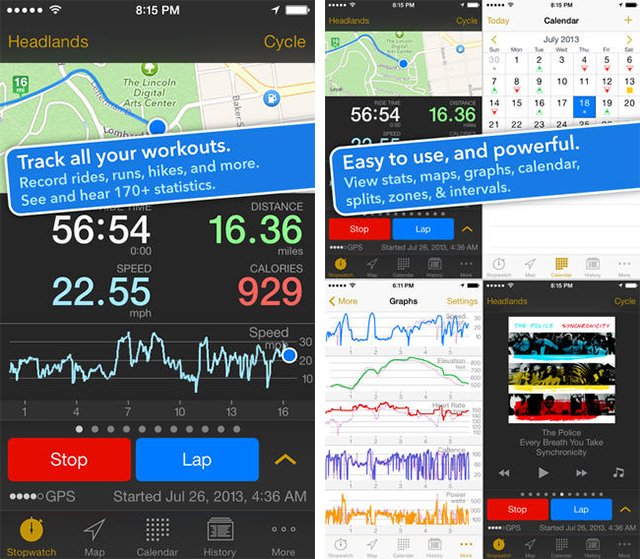 Endomondo Sports Tracker (Free/Paid) comes highly recommended for Android. RunKeeper (iOS/Android) has fewer features than Cyclemeter but does the job for 0% of the price. If you'd like to turn cycling into a competitive game (but not in the Tour de France sense), Fitocracy (iOS/Android) is for you.
2a. Plan, Plan and Then Keep Planning…
Plan one route and then another. Try them all out and compare notes and feelings and wind speeds. Ask more experienced cyclists about dangerous routes and junctions or hidden cycle paths.
Google Maps provides bicycling directions for some cities, though be warned that it doesn't take into account inclines. Given how differently cities are set up for cyclists, it's best to look for local information. Some transport authorities, like Transport for London, provide maps and lots of other resources specific to your area. Citymapper (iOS/Android) is a comprehensive journey planner for London and New York.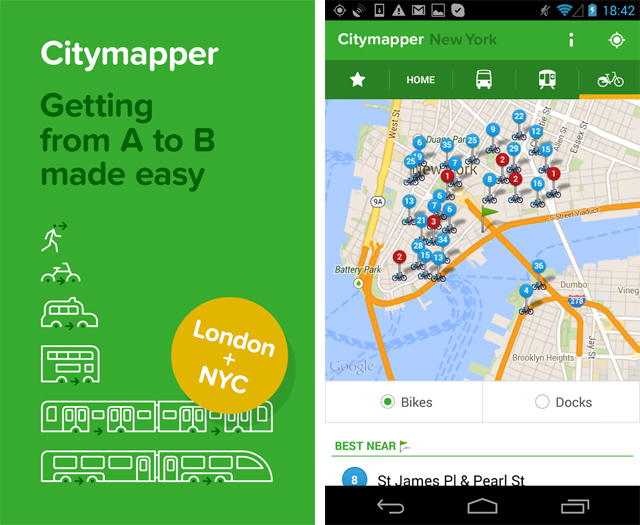 If you're going to be checking your phone while on the road, don't brake suddenly and try to get on the pavement. Consider getting a phone mount.
Plan for the weather, too! You're far more likely to get out of the door if you know you're not going to show up at your destination a drenched puppy. Or maybe plan to look cute, that works too. Looking cute while staying warm and dry? Is that a thing? I don't know, you tell me. Check out our accessories gift/gear guide for all your compulsive planning and/or consumerist needs.
2b. …or Just Don't
Follow your heart and windy one-way roads! I find that no amount of planning really prepares me for how confusing roads can be when I'm actually on them, so I just go in the vague direction of where I know I should be and eventually I'll have a route down. Sometimes you'll even find it's easier to get off your bike and walk through pedestrian bits, which you can't really get from a map.
1. Have Fun!
Like any other form of commuting, cycling down the same route every day can get mundane quick. Unlike most other forms of commuting, it can also make you feel paralysed with fear, what with the risk of being mowed down by a HGV and all. So it helps to remember that cycling is really, really fun.
Before I got into cycling to school, I went on a couple of night rides along the Thames that covered lots of ground without wearing me out and yet allowed me to stop and take in the sights, which neither walking nor driving would have done as well. It helped that I had a more experienced friend to get lost with. At some points I'd get stranded a long way behind her on busy roads because she was more daring in traffic than I was, but having someone show me how to y'know, not die really boosted my confidence on the roads.
I've also been lucky enough to travel to cities that are much safer for and friendlier to cyclists than my own, like Amsterdam and Malmö. Cycling on holiday is one of my favourite things. For something with less planning (and travelling), join large group events like Critical Mass or just head to the park with a picnic basket and your choice of human/s. Anything! There is nothing you need to get from this except to relax.
Finally, remember that this here column is gonna be with you in 2014! I'm super excited to be starting to write this proper and looking forward to hearing all your bike stories as I share with you my own.
---
This has been the fourth installment of Autostraddle's yet-to-be-named bike column, where we discuss the joys and perils of getting in (okay, on) the saddle. Here we talk how-tos, gear guides, history, travelling and anything else that comes to mind – all while making terrible jokes about putting our legs round things. Now taking column name suggestions!  
Feature image via Shutterstock