Welcome to the newest installment of Autostraddle's bike column, where we'll discuss the joys and perils of getting in – okay, on – the saddle. Here we'll talk how-tos, gear guides, politics and history, travelling and anything else that comes to mind – all while making terrible jokes about putting our legs round things.
---

In this most recent biking x Holigay Gift Guide crossovers, we'll find the perfect presents for the cyclists in your lives who already have more gear (or bikes) than any one person should reasonably own. Should you be encouraging this habit? Probably not! But if you love someone who loves their bike, make them happy this holiday season with everything from teapots to floggers.
Things That Say "I'm A Cyclist!" That Are Not Bikes
There are people for whom cycling is a Lifestyle and not just something that gets you from point A to B. These people — whom I'm disingenuously talking about as if I weren't one of them — will sometimes find themselves in situations in which they will not be wrapped up in hi-vis Lycra or have a helmet casually strapped onto their backpack, and they will think, but now how will people know that I cycle 20 miles a day? The answer, my friends, is "bike prints on everything."*
(* Coincidentally, this also answers the question, "What if I'm not a cyclist but just love how bikes look?" Don't sweat it – I won't give your game up. Bikes are irresistibly sexy, it's true.)
Whatever you can think to put a bicycle on, someone somewhere's done it. Here are some of my favourites. Also check out this Josh Bach Bicycles Silk Bowtie, Anika Dali Amsterdam Red Bicycle Print Scarf and Accessorize Oversized Bicycle Scarf.
Shiny things! If this isn't enough jewellery for you, there's also the QCG Bicycle Tie Clip, Lucky Feather Red String Bicycle Charm Necklace (with "inspirational gift card") and Braided Leather Surf Bracelet. If you're looking for accessories made from bike parts, consider the Resource Revival Recycled Bicycle Chain Bracelet, UncommonGoods Inner Tube Bracelet and Cuff-Daddy Bicycle Chain Cufflinks.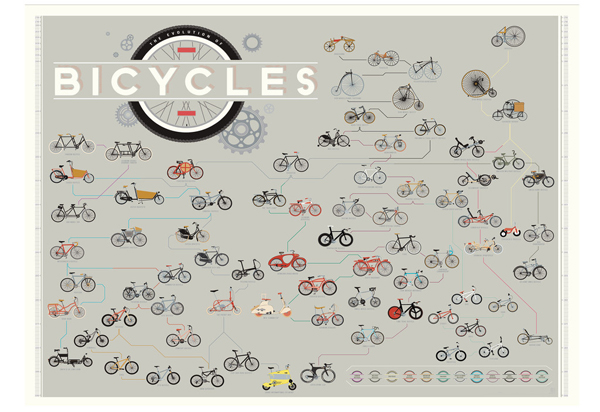 Evolution of Bicycles
The only thing better to adorn your walls with than a poster of one bicycle is a print with 76. (I counted.) Bicycles have a long, illustrious history that is often confined to enthusiasts' blogs and coffee-table books – does anyone buy these for real? – but this handy poster lays it all out simply for the visual learner in you. I don't know enough to comment on the accuracy of this fiddly family tree, but I do know that it's pretty.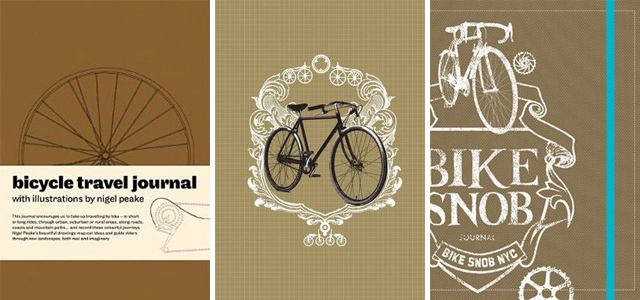 Buying someone a bike journal is an excellent way of supporting their cycling ambitions while saving yourself from having to ever again hear about that one time they cycled too far on what was supposed to be a fun unplanned ride and ended up stranded in the rain with a punctured tire. (90% of cyclists have this story, I swear.) All of these books – Bicycle Travel Journal by Nigel Peake, Bike Journal and Bike Snob Journal by Christopher Koelle – also feature gorgeous illustrations between their covers.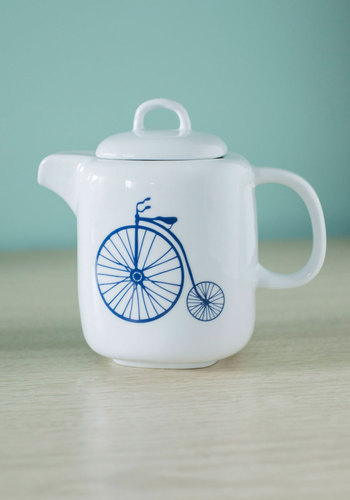 Tea, cycling and terrible puns are really all I ever want in life. For those afternoons when you're staying in, or to prepare a brew for your vacuum-insulated bike mug.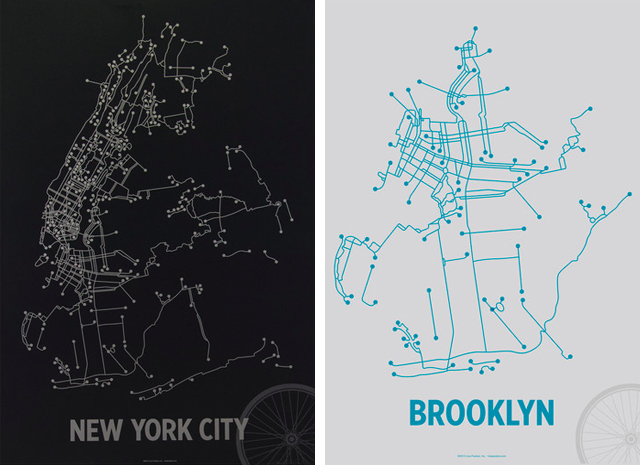 NYC Bike Map and Brooklyn Bike Map
I own LinePosters' London (tube) map and adore the design and quality of their products. These probably won't be much help in planning your commute, but they're such a happy reminder of all the places you could go.
Upcycled Bike Parts
Recommended for the environment-minded and design-conscious, i.e. most cyclists. Upcycled bike tubes can really up your vegan leather game, while nothing says "fancy dyke" like repurposed metal bike components.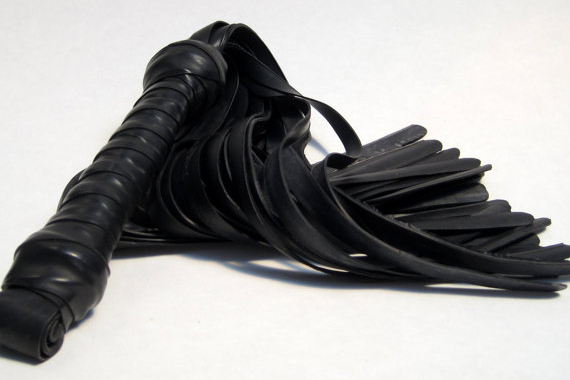 Handmade Vegan Floggers by TheRecycledBicycle
These works of art are proof that g-d wants us to be happy. The floggers come in various weights and designs (for different sensations – thuddy, stingy, etc.), plus they're made with no glue or tape so they don't crack or get sticky over time.
Maple's 16-Inch Aluminum Bicycle Wheel Wall Clock
Now that you have your Autostraddle 2014 Calendar to tell you what day it is, this is basically the only way you'll be able to tell the time too.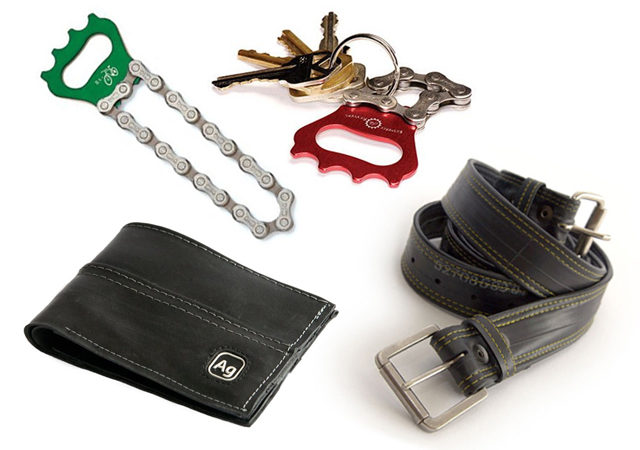 By way of everyday accessories, check out the Resource Revival Recycled Bicycle Chain Bottle Opener and Key Chain Bottle Opener, Alchemy Goods Recycled Bike Tube Vegan Leather Belt and Alchemy Goods Franklin Bifold Wallet. Unlike real leather, repurposed bike tubes require little maintenance and don't stretch and wear out as much.
Old bike tubes also make a great lightweight, waterproof material to carry all your ish around! Here's the (top row) Alchemy Goods Mercer Shoulder Bag, Green Guru Cycler Messenger Bag, (bottom row) Green Guru Commuter Recycled Bike Tube Daypack, Alchemy Goods Madison Backpack and Alchemy Goods Magnolia Handbag.
Cycling Books
For those spontaneous weekend trips to Milan, this recently published book set contains cycling guides to nine European cities. This might be just a little out of the way for most of you (here's the Amazon UK link for those on the same side of the Atlantic as me) but even if you never make it to Ghent, each volume is worth getting just for the beautiful illustrations, maps and brief history of cycling and tourist attractions.
PRO TIP: Pair this box set with tickets for a European getaway. I suspect that'll go down well.
The Bike Snob NYC book series – Bike Snob, The Enlightened Cyclist and Bike Snob Abroad – is ubiquitous among the hipster cyclist books you will find in every kitschy gift store you look into today. The series promises brief history lessons, down-to-earth love letters to the sport and snarky takedowns of the pretentiousness of certain types of cyclists in Eben Weiss' characteristic flippant, humorous style.
For those looking for new ways to work with their hands, The Bike Owner's Handbook by Peter Drinkell comes highly recommended for beginners and design fans while The Total Bike Maintenance Book: DIY Repairs Made Easy by Mel Allwood has virtually everything you need to know about working with bikes.
Tech It Up A Notch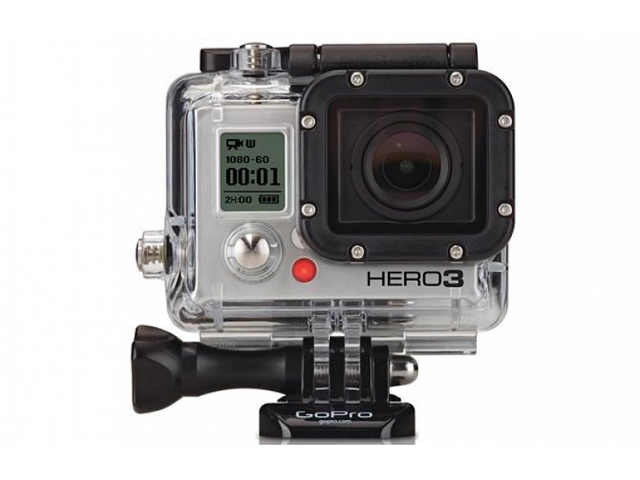 GoPro Cameras (HERO3 White Edition, HERO3+ Silver and Black Edition)
Marketed as "the world's most versatile camera," this is the go-to option for those looking to record their on-the-go adventures. Get one with a helmet mount or handlebar/seatpost mount.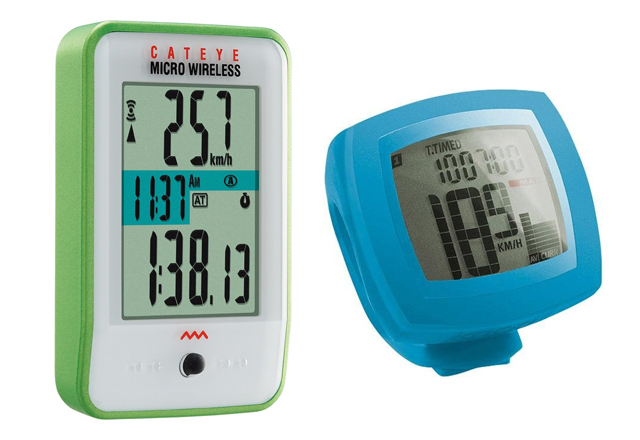 CatEye Micro Wireless Computer and KNOG Nerd 12-Function Computer
Usually I gauge whether I'm going fast or far enough based on whether I get to school on time and in one piece, but maybe you need something fancier than that? There are loads of cycling computers out there, but these two stand out for their simplicity, compactness and great design.
feature image from shutterstock.com
---