When The Real World San Francisco: Ex-Plosion premiers on MTV January 8, we're all going to get better acquainted with Ari Fitz, a queer girl who self-identifies as a "model, filmmaker, and pusher." I sat down to interview Fitz about her upcoming debut onto everyone's television screens and her forthcoming film and modeling projects last Monday night, and while I kicked it old-school and called in from my iPhone, she called in from the future using Google Hangout. As the conversation crept from her love for Autostraddle (what a perfect human) to her love of The Weeknd (like I said), one thing rang clear: we're all going to love having some Ari Fitz in our living rooms.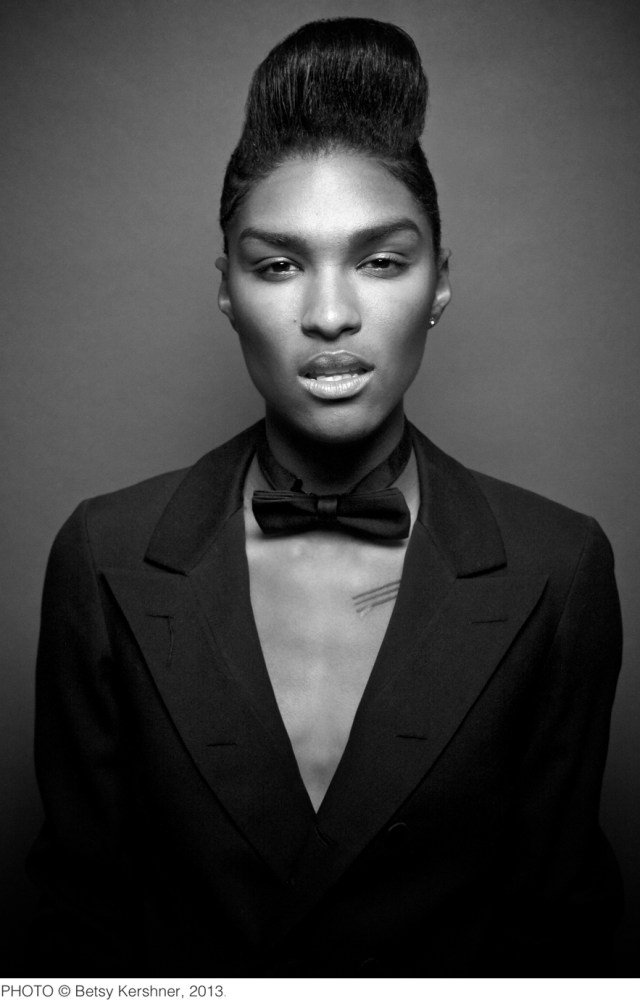 Fitz is a Bay Area native who went to Berkeley to study Physics and ended up making horror films. "When I got into a physics class," Fitz told me, "I was like, you know what, I'm not going to study physics." She ended up creating a major around IT and media, and launched her own business as a student there. "Fast forward to three years later and I realized that I wanted to go into film," she continued. "Now I'm just kind of — everybody does that. They go to school thinking they want to do one thing, and then they switch around and they're like, you know what, this is actually me. And I'm happy I realized it now, right? Not when I'm 43."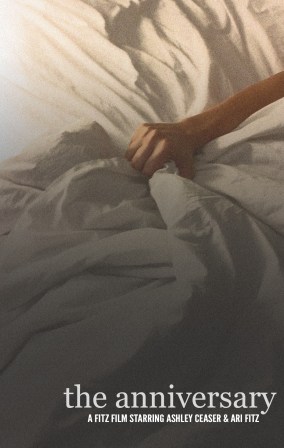 And so Fitz dove into film head-first: she finances her filmmaking via her modeling career and has made a handful of horror shorts since The Anniversary, her first film and the crowning piece which landed her on The Real World. 
The Anniversary is a two-minute, 45-second piece depicting the rise – and violent fall – of a romance over the course of one long and entirely dictated text message as background noise. What starts as a sweet glimpse into the one-year celebration of lesbian love turns quickly into something else – something shocking and terrifying. (I looked down at my dog and suddenly someone was dead. That's my only spoiler alert.)
You can watch The Anniversary free by subscribing to Ari's listserv. The movie co-stars Fitz and her real-life ex-girlfriend, although they were dating (fine, "on the rocks") when it was shot.
"I have a lot of concepts like that," Fitz told me. "This lesbian serial killer who creates these relationships and the girl is enamored with her and she kind of plays on that… I think it came from these ideas of trying to change the way horror films look right now. What's the standard horror film? There's a final girl, she's running around, her tits are out, and she's being chased by this dude who's six times her size, right?"
Fitz's movies challenge those horror norms, and with purpose. "I feel like because I love horror, there's an opportunity to really get out there and make some innovative stuff. And The Anniversary was my first take on that… I think the films that I make are really just about — let's show some things that are different. Let's show something that you wouldn't normally see. And because I am a woman and I'm queer and I do have different ideas on the ways horror can look, I feel like it's my responsibility to do it."
Fitz's other work, including the recently-launched look into overconsumption, Gastronomy, has one thing in common with The Anniversary: the feeling you get when you watch them. Her films are set up to make you relate to disgusting people, or the disgusting parts of people, perhaps because we're all a little disgusting but also because there's something to be said about the opportunity within horror to challenge society. "One thing you'll notice is that I am the girl who pushes boundaries," she told me. "I don't really care if it makes people uncomfortable. Actually, I like when it makes you uncomfortable because it makes you ask the question: Why am I uncomfortable? I really think it's kind of cool for us to just kind of hold up that mirror and say, let's look at ourselves and figure out – how do we feel right now? Why do we feel this way when we watch these films? What's happening?"
"I think it would be more of a missed opportunity for me to say that the work that I do is not in some way reflective of the times," she continued. "If there is somebody, stand up, please, but there's no one in horror film that looks like me and that loves the way that I do. So I think that there's definitely room to grow when it comes to just different people and different perspectives within media and entertainment. That said, I also think different people of color, different queer people as well, should stand up and say, I'm not going to create media and entertainment that is just for your comfort."
Fitz will be revealing lots of new work over the next year, including the film she shot and produced while on The Real World. One of Fitz's biggest motivations to participate in the venture was that they agreed to shoot her producing that film, Open Call, which is about "an audition that goes terribly, terribly wrong." It's no surprise that her filmmaking is central to the "plot" of the reality show, since it also may be a central reason she was cast.
The 29th season of The Real World centers on a new premise – one decided upon mainly out of a need for innovation and higher engagement from the decades-old show – in which halfway through their time in the house, the participants are forcibly reunited with their exes, who then remain on the show as fellow housemates for its entirety. The casting directors were seeking out folks with "interesting relationships" with their ex-somethings, and Fitz must have stood out like a sore thumb with The Anniversary under her belt and on their desks. Although I've yet to see any of the footage from her season of TRW, I trust from our interview that Fitz handled the ex-plosion with grace. That doesn't mean she was particularly thrilled about it, though.
I was on the show for a reason," she told me. "I had motivation. I had a goal when I got on the show and that was to focus on producing my second film. So I was focused on that, surrounded by six other crazy roommates at that time. And the next thing I know… Ashley was there."
The biggest drawback to the dramatic surprise for Fitz wasn't interacting with a past love – it was being distracted from her main purpose. "I came on this show to do me and I think one of the things that even kind of drew [Ashley and I] apart in the beginning was the fact that I'm 24 years old and I'm trying to make big, big things happen right now… I think that was the only thing that made it tough — that I was just so focused on trying to get all these things moving and being on the show and putting things together – not just for me, but also for my roommates. And then on top of that I had to deal with a relationship that I wasn't prepared to really open up again."
For Fitz, The Real World wasn't about "building a brand" so much as doing a lot of work. "Right now I work full time as a model and a lot of the money that I make gets poured into these film projects," she explained to me, "and as anybody who kind of does this just as a passion, they know that there's really no payment, or it's really difficult for people to see your work. And so obviously I'm like, okay, if I can go on national television and make a film, then a lot of people will know my name, a lot of people will see the work that I'm doing, and hopefully 1% to 2% of those people will be interested enough to keep watching. That's what made Real World interesting. It's a huge, massive platform for people who are creative and who want to use it to make something more happen."
Fitz is that person, but what she's making happen is her own media empire. The Real World was, for her, just another learning experience to add to her repertoire. Unlike many survivors of reality television, Fitz insists she had an amazing time. "I'm excited to see how people relate to us," she told me. "I think there's somebody in that house for everyone in the world. I represented my community and I think there are a lot of other people in the house that kind of, just, they just did them and we just did us and I think that's what makes the show a really good, almost – if I can say this – positive Real World. I think it's awesome because we're us and we lived and we cried and we fucked."
Like all of us, Fitz has yet to see an episode of her season of The Real World, making it probably the best-kept secret I've ever encountered. "I'm just as excited as everybody else to see what happens," she admitted. "And I'm watching alongside everyone else."
The idea of strangers watching me live my life uncensored and completely unedited without concern for my feelings horrifies me, but I'm just a mere mortal and Fitz is something more. "There's definitely things that I'll look back on and think, oh, I could have done that a little better," Fitz told me about the impending premiere. (I call it impending, like doom, and she corrected me.) "But I think one of the things about me, and you can ask every single roommate, is that I'm just always kind of all about being 100%. So if I'm doing something that's crazy, then I'm going to be 100% Ari and 100% crazy. I have very few regrets for the things that I did on the show as well as things that I just do. I just live my life and I think that's one of the reasons why I made such good friends in the house. Because I feel like, unlike some of my other roommates, I was 100% genuine, you know?" I nodded but she couldn't see me.
"I think I'm going to watch this show and be like, 'Fuck it. That was Ari.'"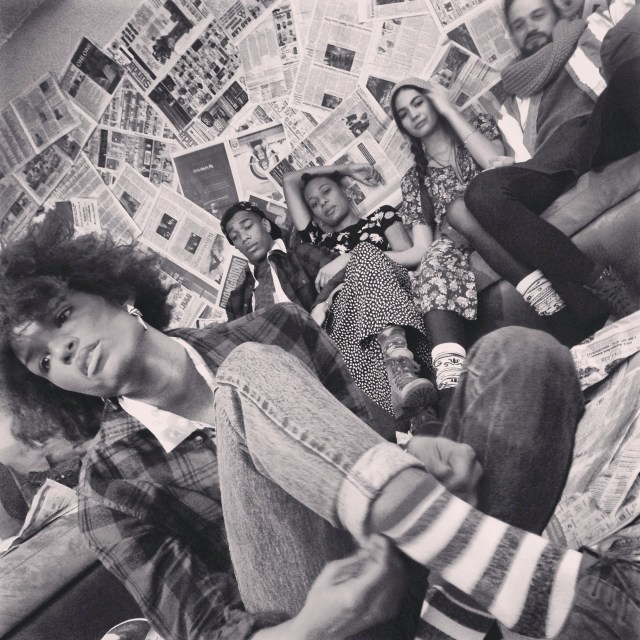 When I asked about how she feels doing modeling and filmmaking, and whether she ever tires of either one, she was unable to decide. Modeling is a lifelong dream, and filmmaking is a life-sustaining passion. "I get to be this hot bitch in front of a camera and then I get to turn around and film hot bitches," she explained to me when I asked about her double career.  She quickly laughed and noted, "I'm kidding."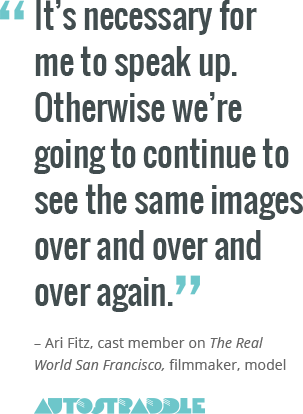 Fitz got into modeling "by accident, actually." She grew up wanting to be a model, tried to sign at 17, and got recruited at Berkeley by the same agency who rejected her in high school. It's only been eight or nine months since she began working professionally in modeling, but she's doing amazing work already. "I never really thought that it would be something that I was really good at, but every time I'm in front of a camera, I feel like I've got my Sasha Fierce going on," she laughed to me. "It's like there's a whole other person that stands in front of that camera and just gives, and I just get into this persona." 
For a queer person like Fitz, modeling can be both complex and rewarding. "I recently did this project," she gushed to me, "where I actually reached out to a photographer and I told her specifically: something that's kind of dear to me is the way that I dress. Every morning I decide how I want to present that day, whether I want to be my hot andro butch style or if I want to be high femme that day. And I take a lot of pleasure and a lot of pride in being able to, I guess, kind of flow and not being stuck within one presentation."
That conversation turned into an androgynous shoot which Fitz recounts as one of her all-time favorites. "I get on a runway and I have big hair and I have tall heels and I have these dresses. And all of it kind of — it's sexy and I feel sexy in it, but sometimes I want to make sure that I feel that other side of myself. So recently I did this shoot with Betsy Kershner and the photos, I mean, I've never seen myself presented that way in a professional photo before in my life. And I look at them now still and I'm just like, fuck — right now I'm shaking because I love it so much."
Fitz's modeling portfolio obviously encompasses an array of gender presentations and style philosophies, though, and similarly she's worked with a variety of photographers and designers. She was excited at the chance to show me excerpts from the Khafra holiday catalogue shoot ("I was dressed up as a hot grandmother and I didn't even know that even existed. Like really, hot granny. Have you ever even seen those two words put together? It happened. It got real.") and also divulged a bit to me about what it's like to be on set, queer and stuck in an uncomfortable situation.
"When it comes to the modeling world, that is a reality show on its own, right?" The question had an obvious answer, so I didn't reply. "I cannot tell you how many times I'll go to do a photoshoot and they'll say, oh, Ari is androgynous. We'll make her the 'man' in this photo. And their perception of what that is is just totally skewed, right? I think there needs to be some more visibility around how complex gender is when it comes to the images that we're creating when we're thinking about beauty and that kind of thing. I'll be casted for a project and the idea is in quotes, 'androgynous,' but really it's a straight male gaze looking at two women."
Fitz handles those situations gently, but also manages to make herself heard in problematic shoots. "I think it's not in my nature to just be quiet and sit back and let stuff happen… I think maybe because I have other things to fall back on, I feel like it's my job as an older person in the industry, or an older model in the industry, it's necessary for me to speak up. Otherwise we're going to continue to see the same images over and over and over again."
Ari Fitz is undoubtably authentic. If this turns out not to be true, you can color me mystified. Full of laughter, wit and light, interviewing her was an actual pleasure – and she even put up with my quick-hit rounds of questions that felt more like an OKCupid survey than an audio-recorded interview in a dial-in space from the future:
Who inspires you? (

Pascal Laugier, Hitchcock, Kubrick, Nolan, Adam Wingard, 

The Weeknd, "and this is going to sound super kumbaya and you're going to make fun of me over it but I'm inspired by my friends.")

What are your favorite movies? (Martyrs, The Tall Man, Henry: Portrait of a Serial Killer, Clockwork Orange, Spring Breakers, School Daze, and "The Craft. I love The freaking Craft.")
Lesbian movies you love… to hate? ("But I'm A Cheerleader is awesome. High Art is probably my favorite lesbian film. And I don't love to hate it, I actually just love it. High Art is amazing.")
But underneath it all, Fitz is relatable not because of her favorite things or her cultural markers but because of her indisputable humanity. She's raw, she's twenty-something, she's human, she's openly imperfect, she's trying to chill. What inspires her most is the day-to-day happenings of her own life, and with good cause: her own person and the folks she surrounds herself with are worthy of some modest worship. "I have a lot of really brilliant friends right now, in this period in my life," she told me. "The people that I'm around right now, the 20-somethings who are hungry and going after shit, they're the ones that are the most inspiring because they have more — I feel like they're just hungrier. They have a lot more to lose. Sure I can point to people out in the world that everybody knows, but I think the people that are sitting right now in front of the computer who haven't slept in 72 hours who are trying to get that app launched or their design finished, that shit is just fucking inspiring to me and it makes me want to work harder."
By the end of our interview, I had just one question left on my checklist: "who is Ari Fitz?" To be honest, by then I felt I had an answer. By then, Fitz had already asked where I was based, invited me over to watch movies, and confessed to me her two favorite songs by The Weeknd. By then, we'd already talked Mob Wives, Netflix and the Hulu Gay & Lesbian Section. By the end, I felt like I really knew her, perhaps even more than I'll feel I know her after a season of The Real World.
I asked anyway.
"A girl that listens to The Weeknd at 7:30 and feels sexy," Fitz answered immediately. "I'm kidding… I feel like everything that I do in my life — the experiences that I have, the love that I have, the people that I meet — everything that I do pours into the stories that I want to tell. And so I think at the end of the day I am just me. I am just Ari. And that the person behind closed doors is really a girl trying to be as genuine and authentic to herself as she is to everyone else."
There's a slight pause.
"Everyone knows the hardest thing to keep up is a lie," Fitz ended the interview by telling me. "It's so much easier to just be like, you know what? This is all me. That was the only thing that I could do and that's the only thing that I give everyone right now is just like, love me or hate me, you will know me. You will know me. And that's it. That's all I got. "
---
The Real World: Ex-Plosion airs January 8 on MTV. Stay tuned for more details on our upcoming weekly Q&A with Ari during each episode! You can win prizes by participating and even talk to Ari yourself. While you're dreaming of the day, you should follow her on Twitter and Instagram.