Welcome to the very first installment of this column about bikes! Here we'll talk how-tos, gear guides, politics and history, travelling and anything else that comes to mind – all while making terrible jokes about putting our legs round things.
---
Cycling's great for your health, wallet and the environment – and there's the chance of queer ladies checking out how cute you look on your ride. What's not to love? Maybe you're just getting started, or maybe you're finally planning to move up from the bike your parents bought you when you were a teenager. Today we'll look into what to consider when you're buying a bike.
General Tips
Set a budget – but don't spend all of it on your bike. You'll need some of that to pay for a lock, accessories and a first tune-up (for new bikes) within about 6-8 weeks of purchase.
Do your research. Bike choices can be overwhelming and without an idea of what you want, you might find yourself pressured into getting whatever the store's trying to clear stock of. (Definitely listen to salespeople, but ask why they're recommending what they are.) The last part of this post will go through some things to consider when you're bike-shopping.
Talk to your friends! Borrow their bikes for a test ride. Ask them what they like or don't like about it, especially if you have similar interests or a similar commute.
Test the bike out. See if you can get 15-20min to get a feel of how the bike works over different road conditions, turns, gear changes and so on. Most major bike shops will allow you to do this while holding onto your credit card or some form of ID as collateral. If you purchase a bike online (which is often cheaper), be sure to check out their returns policy.
Get what's comfortable. In the end it really just boils down to what makes you happy. Sure, it might not be the fanciest or sleekest bike, but do you like riding it? You might even just end up getting whatever you think is prettiest and that is totally okay too.
Buying Second-Hand
Bikes can be expensive, especially if you need one that's going to be used frequently for years. Looking for used bikes in stores or online (e.g. eBay, Gumtree, Craigslist) can get you a quality bicycle without breaking the bank if you keep these few things in mind.
Look for visible signs of damage. Walk away from anything that indicates frame or fork damage (cracks, wrinkled paint, dents, deep rust). Other problems might be fixable cheaply but it always helps to seek expert advice, which could be just a knowledgeable friend.
Check for safety! This is super important: even if there's no obvious damage, it helps to have a mechanic look over it to make sure everything's working as it should.
Beware of stolen bikes. If it sounds too good to be true, it probably is. Look for ads that contain photos/descriptions of the actual bike and not just generic information copied from catalogues. Ask the seller where they got the bike and for proof of purchase, its frame number (which you can check against online databases) and some form of ID or address.
Consider unconventional sources. Bikes are abandoned pretty often and you might find security guards or building administrators looking to get rid of them – just ask! A friend of mine got a bike for free at the end of the school year from those that'd been left behind at halls. Check out police auctions or ask bike hire shops if they're looking to get rid of old models.
Finding The Bike That's Right For You
Bicycle Type
Road bikes or racers are lightweight bikes designed for speed on smooth tarmac surfaces. Mountain bikes or MTBs are for off-road cycling; they're heavier, feature more suspension or cushioning to deal with rocky surfaces and wider tires for greater traction. Hybrid bikes are anything in between and tend to be used for commuting. Bike manufacturers often indicate if a hybrid is best suited for trekking, urban/city commuting, comfort riding and so on.
1. Carrera TDF Road Bike [review]
2. Carrera Kraken Mountain Bike [review]
3. Boardman Performance Hybrid Team 2012/2013 [review]
4. Mango MB Mess Urban Bike
"Women's" Bikes
Using scare quotes here because gendering bikes is not only problematic but misleading too – choose your bike according to your needs and body measurements, not gender. Women's bikes tend to have slanted crossbars to make it easier for you to lift your leg over it, which is especially useful if you wear skirts or dresses. Crossbar height is also important to prevent injury (which is why mountain bikes often have slanted bars): when you jump forward off the seat, there must be adequate space between the bar and your crotch. Women's bikes are also useful for those with wider hips, smaller frames or shorter torsos and arms.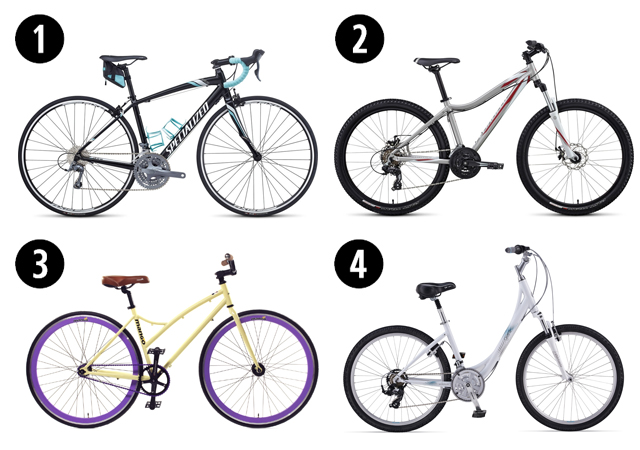 1. Specialized Dolce Equipped Women's 2014 Road Bike
2. Specialized Myka Disc SE 26 Women's 2014 Mountain Bike
3. Mango The Curve Urban Bike
4. Giant Sedona Women's 2014 Comfort Bike
Frame Material
Most low-end to mid-range bikes that you'll come across will be made of steel, which is cheap, versatile and strong but dense, though there are also much fancier (and pricier) alloys. Aluminium is less dense but more fragile, so thicker frames that compensate for this might not end up being much lighter than steel. Titanium and carbon fibre are high-quality materials common in high-end bikes – but if you're turning to cycling for environmental reasons, beware the latter's carbon footprint. Bamboo is becoming increasingly popular as an environmentally sustainable, flexible, shock-absorbing and aesthetically appealing material, but still commands a pretty steep price tag as a relatively niche product.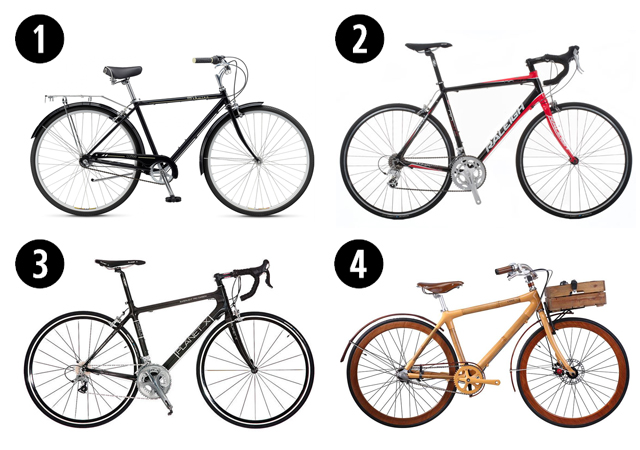 1. Schwinn Coffee 1 [review]
2. Raleigh Airlite 100 2011/2012 [review]
3. Planet X SL Pro Carbon [review]
4. Bamboobee Revolution Nostalgic
Portability
Folding bikes are great when you're short on space or take another form of transport for part of your commute. Small ones that fold up quickly are super convenient on the bus or tube, though they handle bumps and potholes a little more poorly. Full-size folding bikes are bulky to carry around but can be squeezed into small flats.
1. Brompton S1E
2. Tern Joe C21
3. Montague Crosstown 2013
4. Dahon Boardwalk D8
Gears
Most bicycles have between 3 and 27 gears, which can be adjusted to make spinning the pedals easier or harder when accelerating, going up hills or against the wind. Single-speed bikes only have a single gear ratio (i.e. no derailleur or hub gears) and fixed-gear single-speed bikes or fixies do away with the freewheel mechanism, so the pedals are constantly in motion and coasting isn't possible. Fixies tend to be lighter, cheaper, more efficient and come in loads of colours, but don't get them if you live in a hilly area or are averse to being called a hipster. If you're planning to tackle traffic, please install brakes on your fixie!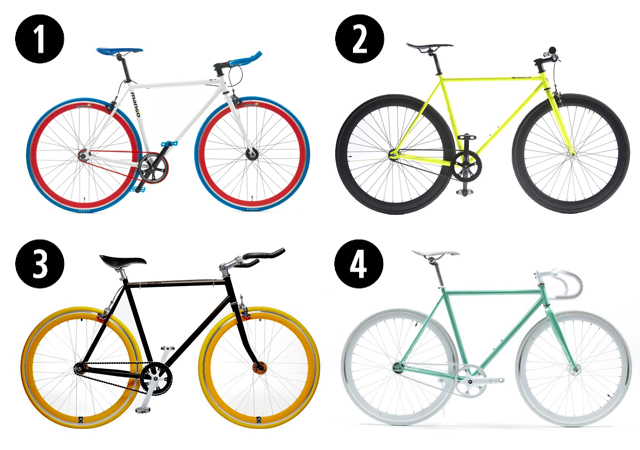 1. Mango Fresher Urban Bike
2. Pure Fix Glow-in-the-Dark Urban Fixie
3. Pitango Custom Urban Bike
4. State Bicycle Co. Vice
When you get your bike, take the time to get to know it: ride for about an hour in a park or non-stressful traffic conditions to get used to how it handles. Bring it back to the shop or seller as soon as possible if you run into any problems. Have fun!
---