Autostraddle! Remember when I used to write a blog about college? You probably don't because it was a long time ago and you've grown so much in the past two years…
But to refresh your memory, this was the blog I wrote. And then stopped writing. Because life happens and being 20 was weird and school was hard. And also, I was probably a little lazy. And definitely super procrastinate-y. A trait, might I add, that does not go away after graduating college (who knew?). Because despite my excitement for writing this article and despite the numerous article idea bullet points I have scattered across different notebooks and electronic devices, I still waited until the last minute to start writing this. Why did I think that painting my nails while watching Extreme Couponing (and then cutting coupons out of the newspaper because my new goal is to be on Extreme Couponing) every night of this week was a good idea??
But I am not here to make excuses. I'm here because I miss you all and now that my college experience is over, it might be a good time to fill you in on my last two years of school.
The Past Two Years: Highlights/Lowlights/Lights in General
Junior year:
I'm pretty sure that my junior year of college threw me off the Internet. I hardly checked my social media outlets, I never sent "happy birthday" Facebook comments, I stopped contributing to any website/blog/publication that I had ever written for before, I forgot to watch season three of Sister Wives, and I disregarded dozens of emails from my school about the overdue copy of Gargantua and Pantagruel that I owed a forever growing amount of money for.
My reasons for falling off the Internet during junior year were not exactly rare for a twenty year old college student—I had strep throat like every single day. But actually, it was out of control! I also started taking medication for anxiety, which totally helped my anxiety buuuut also made me fall asleep in Spanish class. Like a lot. It also didn't help that I turned 21 and started going out a lot (a lot for me means I would sometimes go out twice in a weekend, maybe even once during the week, and I would have alcohol more than once a week, so basically I was out of control). But above all else, I met an amazing lady who I wanted to spend all of my time with. It was wonderful! We dressed up as Santana and Brittany from Glee for Halloween! It was so gay!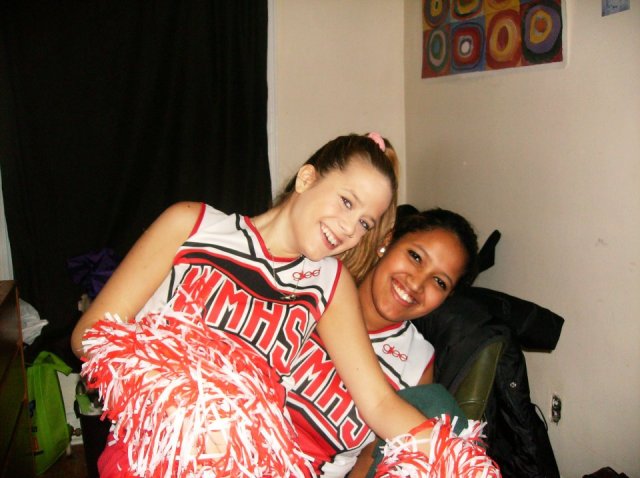 Towards the end of junior year I slowly began to get back to the swing of the internet world: I swapped Sister Wives for Mob Wives (JK I totally watched them both, I mean can you imagine?), I used my school email and job-finding website to apply to summer internships, and ended up landing one at the digital department of the Dr. Oz Show.
That summer, I stopped taking the above mentioned anxiety medication because it started turning me into a zombie and I'd kind of rather be anxious than one of the bad guys on The Walking Dead (I'm assuming the zombies are the bad guys? I don't know, I've seen one episode). I spent my internship researching diseases that I thought I had and buying supplements that I was convinced I needed. I still take a super overpriced fish oil supplement every day! I'm fairly certain it makes me immune to all diseases and also turns me into a superhero.
With my newfound superhero powers of not being sick every day, I managed to start my senior year in a very positive light. My last year of college was a mixed bag of everything. So many emotions! So many wonderful things! So many not so wonderful things! It started off on the wonderful side when I found out that I was hired to be a production intern at The Colbert Report. Everything about that internship was spectacular and I still feel like it was one of the coolest things I have ever done ever. The internship was quite time consuming and because I still had to take a full course load at Barnard and work my campus job, my GPA ended up dropping to an all-time low that semester.
But a lowered GPA was a small price to pay for everything I learned and everyone I met—I mean I got to watch Mavis Staples, Jeff Tweedy, and Sean Lennon sing "Happy Christmas" live, at least 10 times. Like it was my actual job to watch the spawn of John Lennon and Yoko Ono sing their Christmas song. And because I was on greenroom duty that day, I got to hang out with all of them! I mean in my head I was hanging out with them, in reality I was bringing them room-temperature water and trying not to blurt out "Do you know who your parents are?" to Sean Lennon. Obviously he knows who his parents are but I really just wanted to keep reminding him.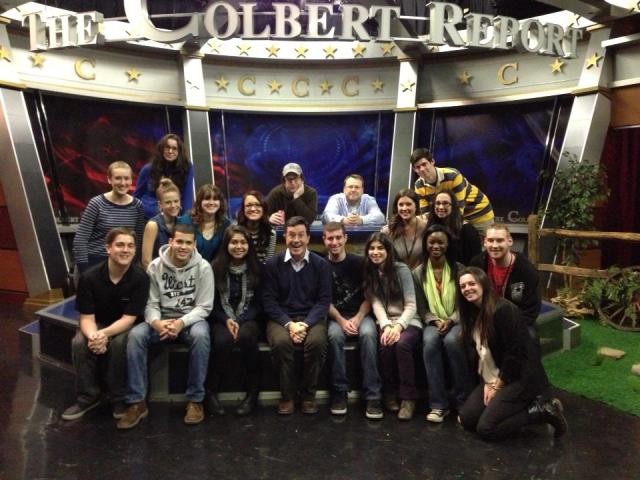 But as my internship ended and the realities of the last semester of college began to hit, things started to fall into the "not so wonderful" category. I had no idea just how absolutely terrified of graduating I would be. I was as prepared as any college student could be. I worked as a student career counselor throughout college, made good grades, and landed great internships. I knew how to get a job. I showed people how to do it every single day. But I was too scared to even apply.
I saw two different types of senior students emerge as graduation approached. One type could not wait to graduate; they were completely over college and ready to start their "real" lives. The other type was like me: scared shitless. There was so much about college that I wanted to do over, so many things I should have actually learned instead of cramming into my head for an hour, and so much free toilet paper that I needed to steal before moving onto a life where I would have to go to the store to buy toilet paper. There were student events I should have gone to, groups I should have joined, and untapped skills that should have been tapped. I never took African dance. Maybe African dance was my calling but like a dummy I decided to take yoga instead (bad choice, I am NOT flexible), and because of that decision I never had the chance to see my talent blossom. These were the thoughts keeping me up at night.
As my fear of graduation and entering the "real world" grew larger, I did what any sensible human would do and panicked, quickly running away from many of the things that had made me happy. The first thing I ran away from was my girlfriend. And by ran away, I mean turned into a complete asshole and broke up with her. Why is this the reaction that humans have? Obviously running away will make things worse but for some reason our brains suspend reality and think ,"Yes, run from what makes you happy—that is the key to happiness". It's as if the message of every Nicholas Sparks-type movie becomes completely irrelevant. I saw The Notebook, I should have known better.
Instead of feeling better after the break up, like my dumb brain told me I would, I was still terrified of The Future. All of the sudden any drive I had ever had to be a successful career woman went out the window. Probably because I never wanted to be a "successful career woman" in the first place. I wanted to be a "successful empress of everything I find enjoyable in life including but not limited to making people laugh, television, and watching professional figure skating". Oh and I also wanted to be known for creating "fantasy figure skating" which is like fantasy football but better. Also I don't truly know what fantasy football is but I am pretty sure it is not what I picture in my head every time I hear the term Fantasy Football (in my head it is a bunch of miniature football players wearing their outfits/uniforms flying around in the air with little wings because they are fairies, which is how the whole fantasy thing fits in).
My campus job was to help my fellow students find jobs and internships but by the second semester of my senior year, counseling other students became torture. Every person I counseled became another conversation about what I planned to do after graduation. And every conversation ended with the other person telling me "aww don't worry, you'll find something". I always nodded and smiled and thanked them for their encouragement but all I wanted to do was scream "IT'S NOT ABOUT THAT! I DON'T WANT TO FIND SOMETHING!". It wasn't about finding a job. I wasn't even applying to jobs. It was about wanting more time. Just a little more time before I had to start figuring out my life. Unfortunately all of that stress started eating away at the one thing that had kept me going since I decided I would become a Spice Girl in the first grade: my drive to become empress of everything.
Pages: 1 2See entire article on one page