Header by Rory Midhani
---
Hi Straddlers!!
I hope you all had a fabulous Thanksgiving filled with boozy punch, overeating, temptations to unbutton your pants so you could eat more, and drunken late night Christmas tree hunts. Just me? Figures.
This year was one of my favorite Thanksgivings ever. It was my first real Friendsgiving enjoyed in my very own apartment. Family, friends, and lovers united in my very own living room. It was magical. It was one of those Thanksgivings where everyone came over early and we just drank/ate all day until the meal was ready and then we ate some more. By the time I was supposed to carve the turkey (pre cooked and purchased from Whole Foods – don't judge. My kitchen is small), I had no idea what was even going on. Regardless, I am super impressed with my how my turkey carving went down. Not to toot my own horn or anything, but toot toot! At the end of the night, after we had purchased a 6 ft tall Christmas tree that barely fits in my apartment, we all cuddled on the couch and watched The Holiday because every needs a little Kate Winslet and British accents during the holidays. Everyone was just a little too wasted to take proper unfuzzy pictures (sometimes that's the best way to be), so I'm just going to have to share my menu with you sans photos. Except for my salty honey pie, would you look at her!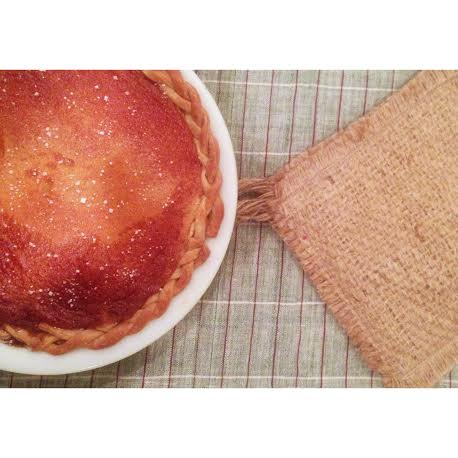 Gabi's Friendsgiving Menu:
persimmon salsa and homemade pimiento cheese for snacking (On Keebler's club crackers because DUH)
lingonberry and cranberry sauce
cornbread, oyster, pancetta, stuffing
southern style yamz with marshmallows y'all
purple potatoes with chorizo and pickled mustard seed dressing
truffled green bean casserole
sweet potato chive biscuits
salty honey pie – I did have a photo for this!
pumpkin chocolate chip skillet cookie
pumpkin gingersnap cookie ice cream
and store bought turkey and gravy because I'm classy!
Still full. Still having trouble breathing. Actually no just kidding, I baked a lot of stuff this week including persimmon muffins and steamed pumpkin buns, but more on those buns later.
FIRST!
I really want to share these pictures from my trip to Ann Arbor a few weeks ago. When my girlfriend started feeling nostalgic for her college town I begged her to take me because I've always wanted to go to there. It was 10,000 times cuter than I expected. And I already expected maximum cuteness. I, at first, didn't know what to think about a town that boasts adorable bakeries and scholarly bookstores on the same street as a place called "Bongs and Thongs" or something like that. Then I realized that it was kind of awesome and part of what makes Ann Arbor my new favorite place ever.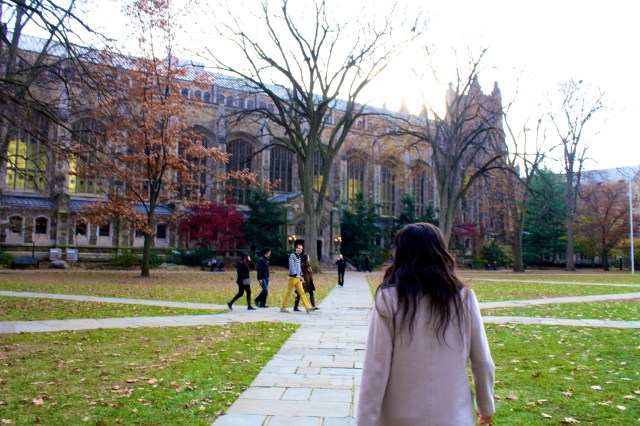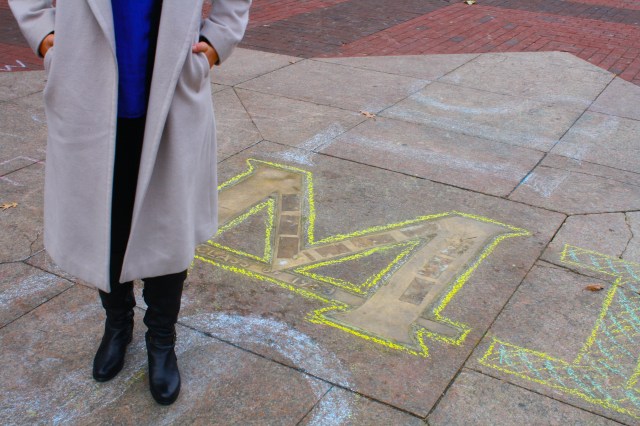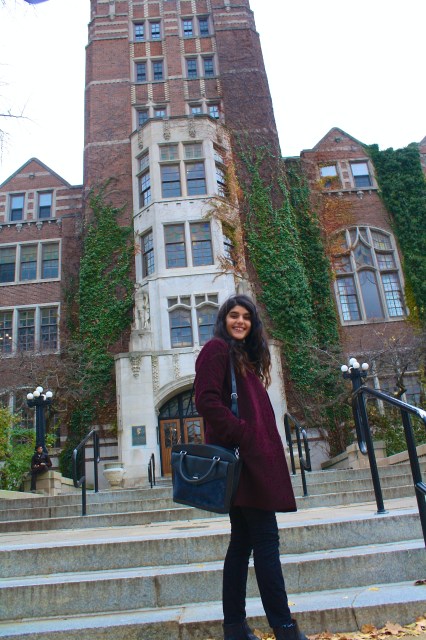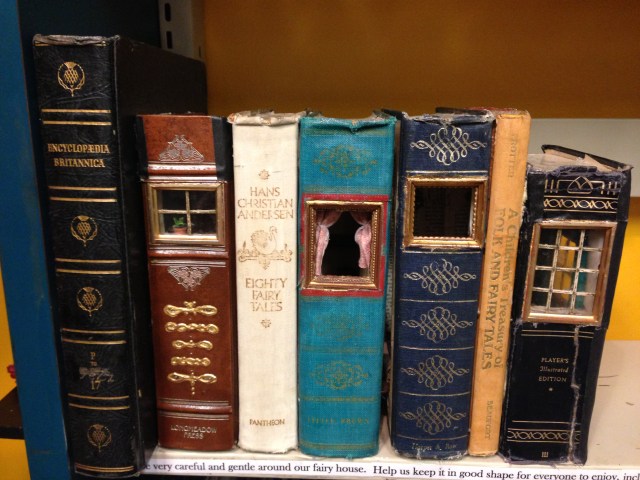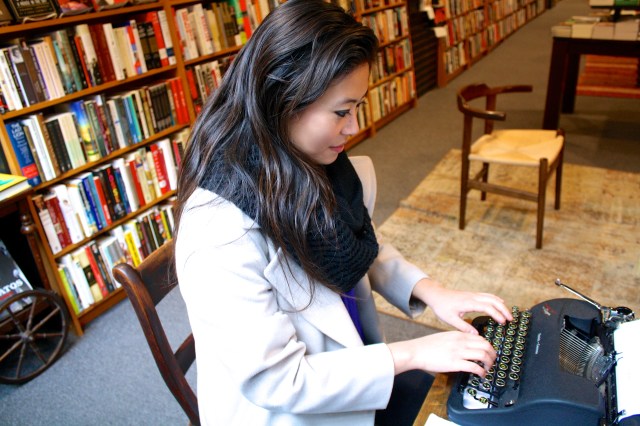 Highlights for me were:
Literati Bookstore – Cutest bookstore ever with an old school typewriter downstairs where your girlfriend can type you love notes while you browse MFK Fisher books, if you're lucky like I am.
Fairy Doors– All over downtown. So weird and I don't know where they came from but Jen and I went on a hunt to find them all.
University of Michigan – Is actually the cutest college ever. I pranced around in the fall leaves and the Law Quad feeling very much like Ali McGraw circa Love Story.
Zingerman's Deli – YES. YES. A THOUSAND TIMES YES. GO HERE.
Aut bar – I wish gay bars in NYC were this cute.
That concludes my Ann Arbor City Guide. And now, a recipe.
Steamed Pumpkin Buns with Brown Butter
Created in memory of the time I ate the best pumpkin steamed bun of my life sitting on a random stoop in Chinatown during my first real New York fall.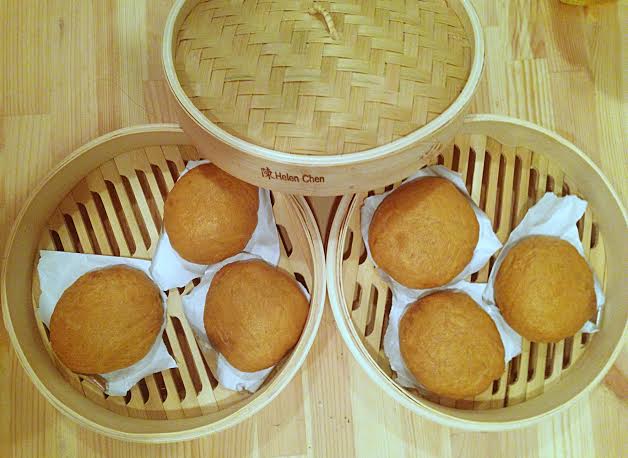 Whatcha Need (For The Dough):
1 package active dry yeast (2 1/2 teaspoons)
1 tablespoon + 1/4 cup sugar
¼ cup + 1 cup all purpose flour
1/4 cup + 1/2 cup warm water – make sure it's warm
1 cup whole wheat flour
¼ teaspoon salt
1 tablespoon melted coconut oil (or canola)
¼ canned pumpkin
Directions:
MIX: the yeast, 1 T. of sugar, 1/4 cup AP flour, and 1/4 warm water in a medium bowl and let it be for 30 minutes.
ADD: everything else and mix until dough forms!
KNEAD: the dough on a floured surface for about 5 minutes until you have a smooth dough ball. Keep sprinkling more flour until it's not so sticky.
PLACE: your dough ball in an oiled bowl, cover with plastic wrap, and let rise for 2 hours. It's going to triple in size!
Now while it rises we make the filling!
Whatcha Need (For The Filling):
¼ cup butter
1 tablespoon cornstarch
1 1/4 cups canned pumpkin
½ teaspoon salt
1/4 cup brown sugar
2 tablespoons maple syrup (this was a random impromptu decision but a good one if you ask me. You can omit if you like.)
MELT: butter in a saucepan over medium heat. Be attentive! Butter burns quickly.
SIMMER: until the butter smells nutty and turns golden brown. When it gets there, remove the butter from the heat.
WHISK: in the cornstarch.
TRANSFER: to a bowl and add the rest of the ingredients. Mix well and put in the fridge.
ONCE YOUR DOUGH HAS RISEN:
PUNCH: it down and knead for 3-5 more minutes.
DIVIDE: dough into 12 pieces. Roll each into a ball.
ROLL OUT: the dough balls into circles that measure about 4 inches across.
ADD: a good dollop (tablespoon or so) of pumpkin filling to the center of the circle, leaving a small border.
PINCH: the edges of the dough together to seal the bun.
PLACE: each bun on a square of parchment paper with the pinched side down.
TRANSFER: buns to a steamer basket, as many as you can fit at a time. I have a 2 level steamer basket and I fit 3 buns onto each level. They expand while cooking so don't crowd!
PUT: your steamer basket over a wok or large saucepan that has been filled with about 1.5 cups of water. Make sure the water doesn't reach the bottom of your basket.
STEAM: 10-12 minutes!
See you next week! Expect loads of wintery holiday content because I am in the spirit!