Welcome to FFAF's guide to dressing up for the holigays. Whether it's a work party, family gathering, or a festive night with friends, we've got your pretty little tree trimmed. Here to help is Hollywood, which, despite its rampant symbolic annihilation of our people, is quite good at illustrating how NOT to dress for that time of year.
---
Part Three: For Auld Lang Syne
The night we've all been waiting for is inching closer. Do you want to shove 2013 into its coffin and give it a good kick into the ground, or have you loved it so much you'll sigh and watch fondly as it sails off into the night? (Ambivalence is also popular. You do you.) Susan Miller's had me shaking in my riding boots with her ominous NYE warnings (angry new moon January 1…keep celebrations intimate, calm, and private), but who says I can't celebrate privately in style, hm?
Ring out the false, ring in the true. That's why we celebrate the end of each year, and unlike family or work gatherings around the holidays, there are no rules here. No restrictions or limitations or common courtesies to ponder. It's your time to dazzle and shine on, you crazy diamonds!
Whether you'll be at a cozy house party with good friends (we're hosting this year) or a big crowded nightclub with champagne showers at midnight, you ought to think about getting dressed up. It's just good synergy. We don't get to do it enough and this is the one night all year we've got a free pass. Use it! It's seriously one of my favorite things to do.
In this post, I'll help you shake out the LBD in your closet and give it a fresh start on New Year's Eve!
Va-Va-Vintage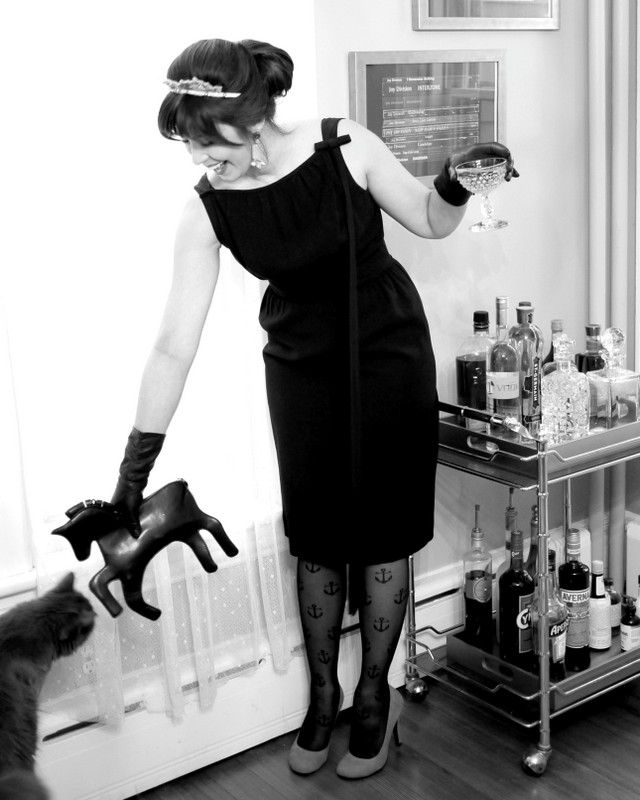 I've had this puppy sitting unworn in my closet since summer. It's a beautiful vintage dress in heavy black crepe that I found at Bobby From Boston, my favorite vintage shop in town. What makes it a truly wonderful LBD is that it can be worn day or night, just as easily to a funeral or other somber occasion as it can to dinner or drinks or even (zzz) work. A true workhorse of a garment.
When paired with a posh updo and gloves – mine are leather but satin or lace would be awesome, too – it's suddenly a little bit Breakfast at Tiffany's!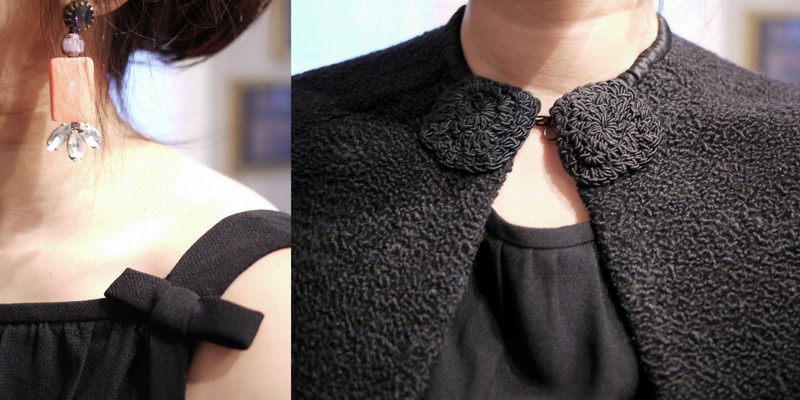 The attached bow at the shoulder with ends falling all the way down to the knee kills me – a wonderful, absurd detail you'd never see so well done in a new dress today. The neckline was so pretty I eschewed any sort of necklace for a pair of bold earrings that would bring a little color into the outfit. Up the fabulous factor with a cape or capelet – mine's vintage faux Persian lamb fur, an antique shop find.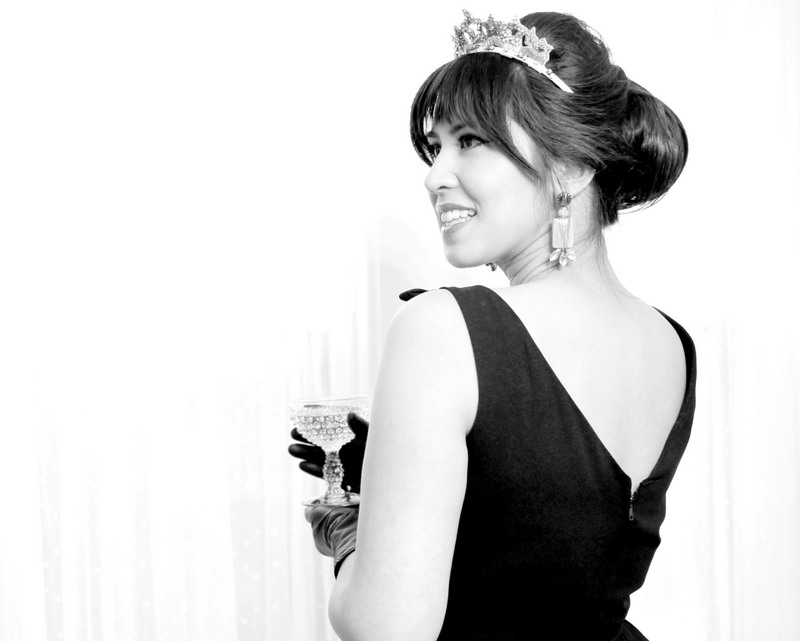 The fact that the back has this splendid wide V is frosting on the cake. (As is the starry tiara, which my wife insisted upon. She's a keeper.)
If you need a new black dress, Modcloth's robust LBD department has lovely options for a New Year's fête – this one has a party of its own happening at the neckline, the neat tailoring and bow here are fancy, and the black-on-black sequins on this one are killer. For something totally different, here's a deco velvet number.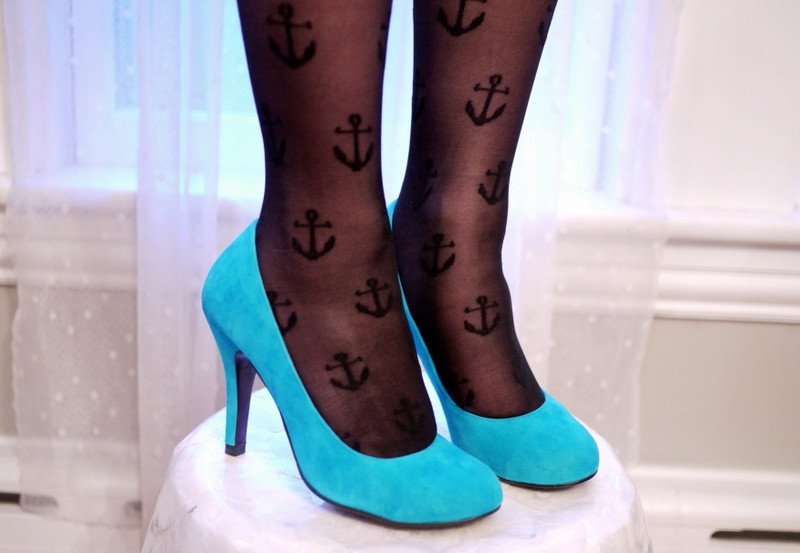 Why anchors? Why not! My friends got these stockings for me for my birthday and I love how they peek out just below the knee under this dress – something about how they're sheer black makes them slightly more serious than they've any right to be. I want to wear them with little tailored black shorts, too!
My tiny galloping pony clutch seals the deal and sends a message: Let's don't take any of this too seriously – it's a night for giddiness and silliness and whimsy, so do whatever you feel like so long as you're having fun and feeling fine.
Hustle & Cuss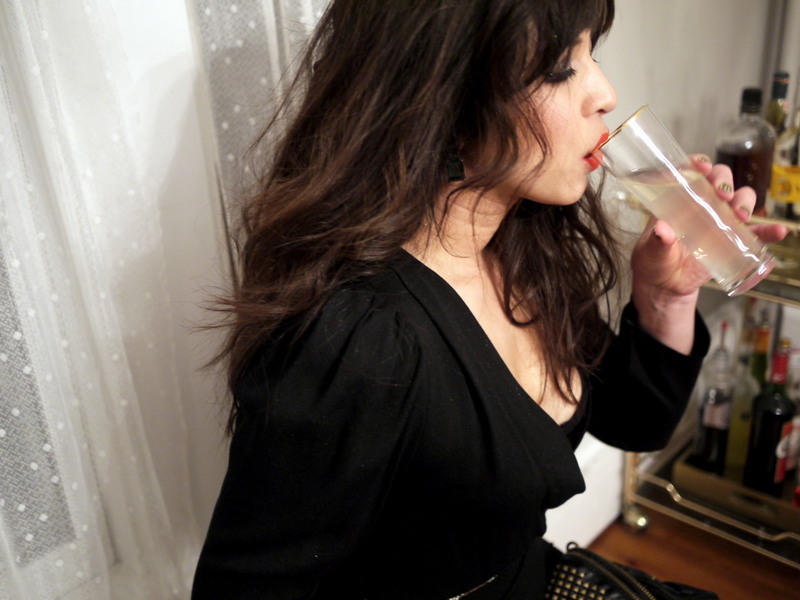 If you're feeling more sultry than sweet, go for something with a plunging neckline and a silhouette that doesn't just hug your curves, it straight-up scissors them. (Too far? Sorry. You get the picture, though.) Add a great bra, some rock 'n roll eyeshadow (I'm wearing Cinderfella by MAC) and a pair of falsies. And champagne never hurts. Champagne is magic!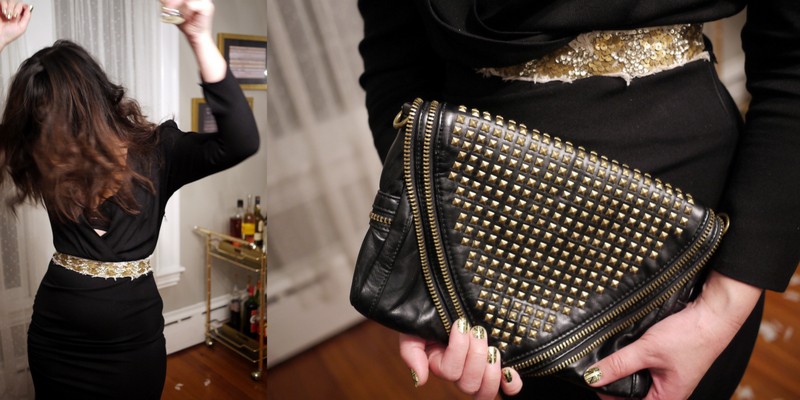 What else? Add a sparkly belt. This one is from Anthropologie, they are fantastic at making sparkly belts that instantly transform any dress, but this foxy number would be really fun as well. Carry along a studded, oversized clutch and shoes or heeled ankle boots with texture (glitter! sequins!) or interesting details (mine are patent leather and suede with cutouts and a cone heel), and you're done. The rest is all optional!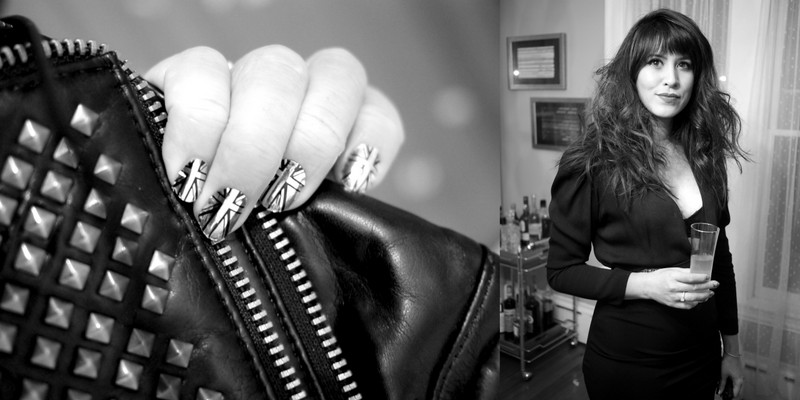 I kept the jewelry simple – just a dainty gold bangle with my initial and a pair of barely-there smoky teal earrings for a hint of color, but you can go nuts with the earrings or arm candy. I love the idea of wearing a million rings on one hand, too, but instead I put gold and black Union Jack nail foils on for fun. They were SO ultra shiny! Highly recommended.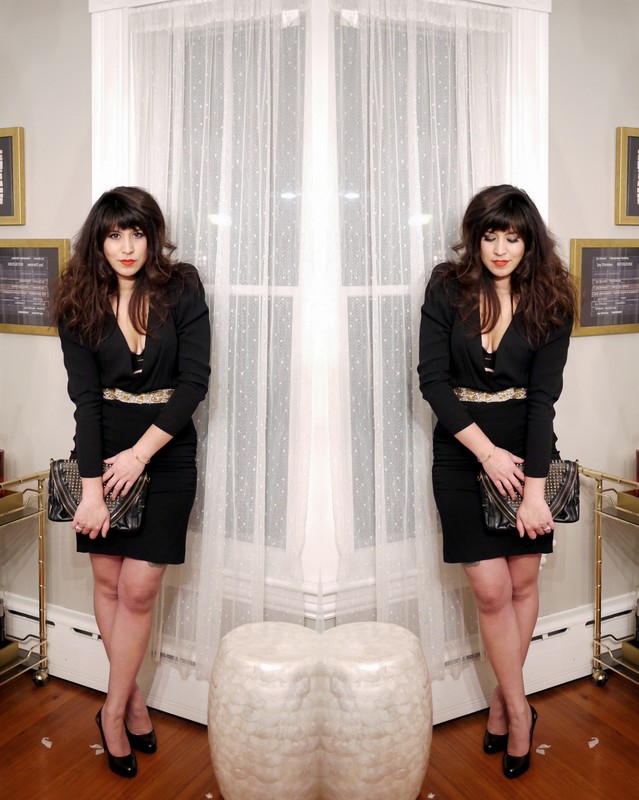 Really, it's the easiest look in the world. Just pair your LBD with killer shoes, mussed hair and red lips. Add sparkle because it's the New Year! Since this look was inspired by American Hustle, I also dusted myself copiously with a superfine bronze body shimmer. That was really fun. Like change-the-bedsheets fun and majorly FFAF-approved.
You'll be a total knockout, but you won't be out on a ledge and worrying if you took things too far.
Go braless at your own risk, my darlings. A very Happy New Year to you and yours!
This wraps up my three-part holiday series for Autostraddle. I so hope you enjoyed them and will continue to leave your queries and comments below, and feel free to pop over to my blog as seldom or as often as you please. Follow me here or here so I won't miss you all too badly, you've been grand! Don't forget to come back here and post photos of your amazing outfits. I want to see them all, please! XO.