This summer we put out a call for Contributing Editors, then the senior editors holed up in a cabin on a California mountainside and carefully chose a group of people from a pool of so very many. Some of these new cats are Contributing Editors, some are Writers or Columnists (yep, we created a brand new position just to accommodate all of this talent). We think they make a kickass addition to the team and we're excited to properly introduce you to the Contributing Editors today!
I know what you're thinking:
Whose favorite holiday is Halloween? 
Whose hobby is stalking puppies on Petfinder?
Who has an unnatural aversion to Nutella? 
What about their tattoos?
Its time to find out these things and more! Here are the new Contributing Editors who've been working to make your gray matter happy and extra smart. We'll be introducing you to the new Writers and Columnists super soon!
---
MEY
Contributing Editor

Mey is a fat, femme, mixed-race Latina from Idaho. After about a year of being out to her family and friends, she came out publicly as transgender on October 31, 2012. Even though she started college as a Political Science major, she missed reading and writing about books too much so she changed majors and graduated from Idaho State University with a degree in English. She has a cat named Sawyer. One of her favorite things in the world is going to Midnight Movies. She's a huge fan of comic books, sci-fi and fantasy. She loves popcorn, music, comedy and Halloween.
Interesting Facts:
+ I have epilepsy and have been on anti-seizure medication for most of my teenage and adult life.
+ I don't know how to ride a bike.
+ I wrote my senior thesis in college about Harry Potter.
[more]
---
DANI
Contributing Editor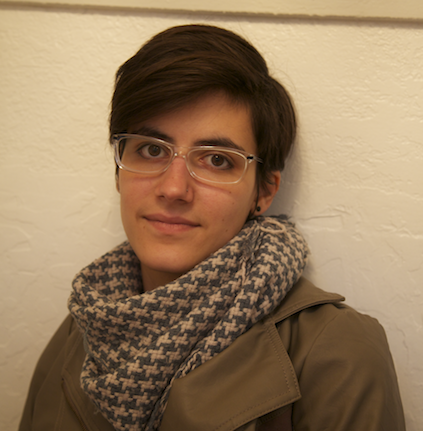 Daniela, a.k.a. Dani, is a bilingual multitasking human currently living in the Bay Area. They went to UWC Atlantic College and graduated from Brown University with a B.A. in Gender and Sexuality Studies. They are currently working as part of the kickass A-Camp team while volunteering for Bay Area Women Against Rape as a rape crisis counselor and for The Center for Sexual Pleasure and Health as a telecommuting translator. They are hellbent on producing culturally aware sexual health education and are in the midst of mapping how to make it happen. In the meantime, they kill time looking for puppies they can't yet adopt on PetFinder.
Interesting Facts:
+ I grew up where sloths are commonplace, so the internet fascination with them feels ever so affirming of my childhood.
+ I like to read horoscopes at the end of the month to test the accuracy of their predictions. My inner child feels super smug every time they get it wrong.
+ My twitter handle comes from a Buddy Wakefield poem called "Giant Saint Everything." It is one of my favorite things.
[more]
---
JAMIE
Contributing Editor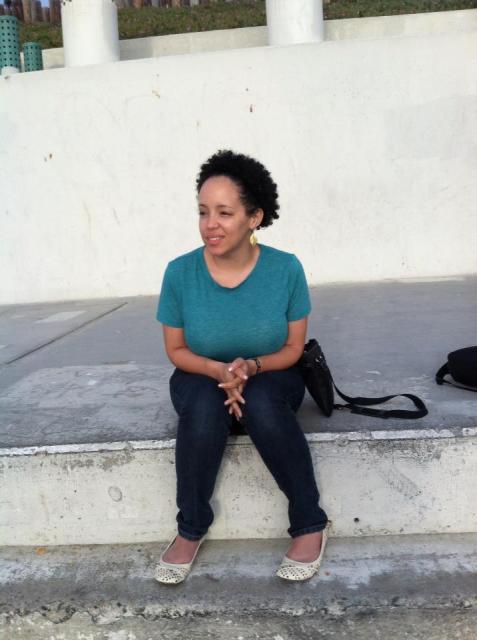 Jamie is a mixed-queer book nerd who decided to follow her dreams and get an MFA in writing. So now she lives in a house with her huge family, where she spends her days trying to find a quiet corner to finish her novel and apply to soulless jobs. She's obsessed with intersectionality and finding the connections between issues, (thanks liberal studies!). Oh, and talking about afros! She's originally from Northern California, though her heart currently belongs to L.A. She loves the Autostraddle community and her feelings about A-Camp still sometimes spill over into real life. Just kidding, camp is real life. (Cherry Bombs/Bomb Grrls stand up!) She's finally on the last season of Buffy, so She doesn't get yelled at anymore. She also loves crafting and star-gazing and afternoon naps.
Interesting Facts:
+ My family's cat had a litter of four kittens who just opened their eyes and started walking. My social media will soon become all kittens.
+ I have a crush on Jasika Nicole and wish my afro would look like hers.
+ I got my first tattoo in April on my wrist – it says "Resolve…Mercy." It's the first and last word of one my favorite quotes from Beloved by Toni Morrison.
[more]
---
FIKRI
Contributing Editor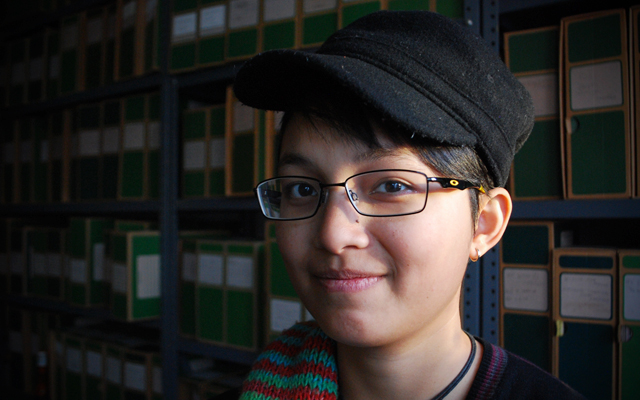 Fikri is a temporarily transnational queer from Singapore who studies politics of the standard-issue dead old white male variety in school and of a decidedly more revolutionary flavour on the internet. She is fascinated by geographical variations in what makes up a veggie burger, how tiny humans exist, and the various ways in which people mis/pronounce her name. When not being a Proper Student, she travels on impulse, makes ridiculous amounts of vegetable stock from leftovers, and argues with her (English major) girlfriend about the appropriate use of non-literal language.
Interesting Facts:
+ I do not like Nutella, coffee or alcohol. My life is devoid of sunshine. These aren't related – the latter's just London.
+ I'm currently lobbying to have my family's prospective adoptive cats named Éponine & Gavroche.
+ The only souvenir I kept from the first A-Camp was the rainbow flag (Brianna's, to be accurate, because I got my own autographed by all the staff members for my then-crush, now-partner). I stuck it up on my window, which was later removed by the council while I was away on break. The window, yes. They took the window.
[more]
---
LAURA
Contributing Editor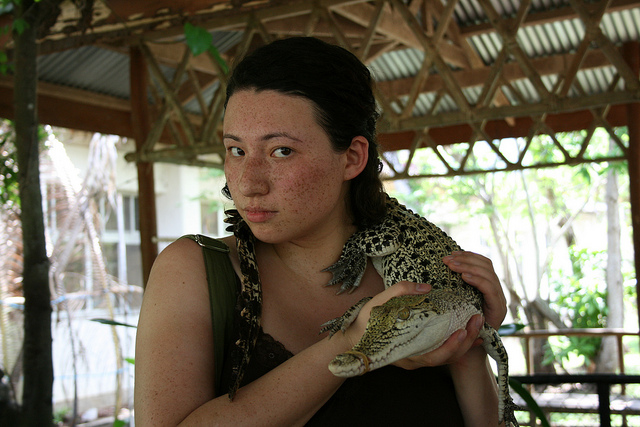 Laura Mandanas is a Filipina American living in Brooklyn. She works as an engineer for a kitchen gadget company by day and dreams of writing the Great American Queer Novel by night. Laura cut her teeth writing and editing RIT's Reporter Magazine and now reviews lesbian literature for the Lesbrary. When she isn't drooling over Giada with her girlfriend and chiweenie, Laura enjoys making fruity cocktails and playing Scrabble. Ideally at the same time.
Interesting Facts:
+ Two months ago, someone commissioned a group of monks to pray for me. They'll be praying for me once a week for the next five years.
+ I have a black belt in Okinawan Goju Ryu, and a green belt with one stripe in Taekwondo.
+ When I was born, my (white, redheaded) mother cried because I looked nothing like her. Later, she was comforted to discover that we both share crooked pinky fingers.
[more]
---
KAITLYN
Contributing Editor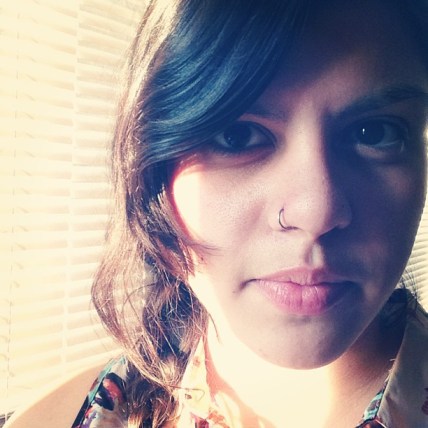 Kaitlyn is a super queer lady and journalist living in Chicago — although, truth be told, she spends most of her time on Tumblr. She recently graduated from Northwestern University, where she was lucky enough to run The Daily Northwestern and contribute to the Medill Equal Media Project, among other publications. She currently writes for Chicago magazine about culture, politics, food and baby zoo animals. Although she primarily writes now, Kaitlyn has also worked as a photographer and a copy editor and in various multimedia formats. She's covered everything from local business to emerging musicians to refugee communities, but her favorite topics are queer military life and LGBTQ families. Intersectionality fascinates her, both personally and as a journalist. When she's not writing, she can usually be found taunting her cat with a laser pointer and consuming mass quantities of too-hot pizza.
Interesting Facts:
+ I have a tattoo of a Douglas fir tree on the back of my right arm that I got when I moved to the west coast for the first time.
+ My mom is Cuban and my dad is Finnish-American, so I'm a very short person with very big hands and feet. Genetics, man.
+ Until I was 10, I thought reindeer were imaginary. I figured out Santa wasn't real and assumed the rest of the story was made up, too.
[more]