Ashley (the poet) and Marine (the scientist) met at A-Camp, fell in love and set off into the sunset – on a budget. These shoestring-travel enthusiasts are hitting every major city between Boston and Los Angeles on a country-wide tour and staying with as many Autostraddlers as they can find. Ashley just released a book of poems and is promoting it on the road, while Marine is keeping things organized and on budget. This is their journey.
---
After leaving Philadelphia, we headed to Washington, DC- home of the nation's capitol, President Obama, and Carmen Rios. We were greeted with open arms, that sexy rasp, and the cutest little dog these cat lovers ever fell for. It was Saturday night, so we did what any sane 23 year olds with jobs and lives would do to let loose: eat dinner and fall asleep.
The next day however, was Sunday and Sundays equal brunch! Carmen of course knows a mean brunch spot. We ordered bottomless mimosas and got too tipsy to figure out how to properly get home on the DC metro system.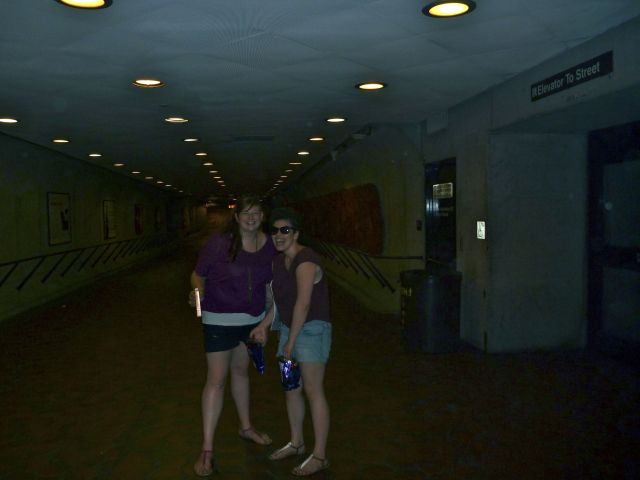 We did absolutely nothing for the rest of the afternoon and then ordered late night pizza and it was AMAZING.
The next morning we awoke from our hungover slumber and decided to be productive. We saw the White House, which is, in fact, rather white.
Marine: We did learn from my friend that there is a bowling alley inside of the White House that staff can use in their off hours.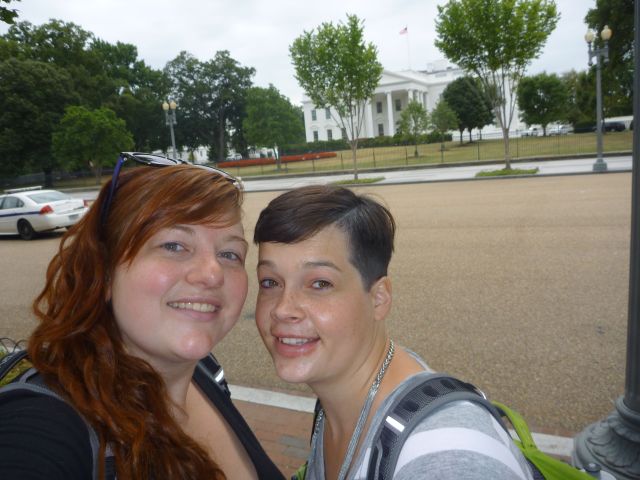 We visited the United States Holocaust Museum which, though grim, was very important. The numerous names of Jewish cities that were etched into the windows no longer exist, save for the museum's remembrance of them. Hundreds of shoes, glasses, and utensils sit in the museum as a reminder of the attempted erasure of an entire race of people. It is impossible to leave the museum without having been moved and feeling compelled to exhibit tolerance towards others.
The beautiful thing about being a tourist in Washington, DC is that all the museums are free! This allows us hours of entertainment for absolutely no cost! We were sure to hit up the Smithsonian and spent hours wandering the hall of early humans, mammals, and the butterfly exhibit. Luckily, the butterfly exhibit is free on Tuesdays. We got to go inside and watch tons of exotic butterflies fly over our heads and land on our shoulders!
We also channeled our inner 12 year olds and took full advantage of all the activities, like finding out what we'd look like as early humans.
After leaving the Smithsonian, we walked the National Mall and saw the World War 2 memorial, the Washington Monument (which you can pretty much see from anywhere in the city), and the Lincoln memorial.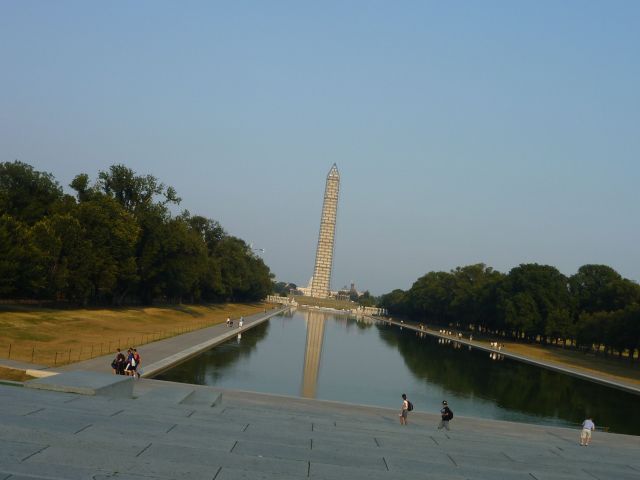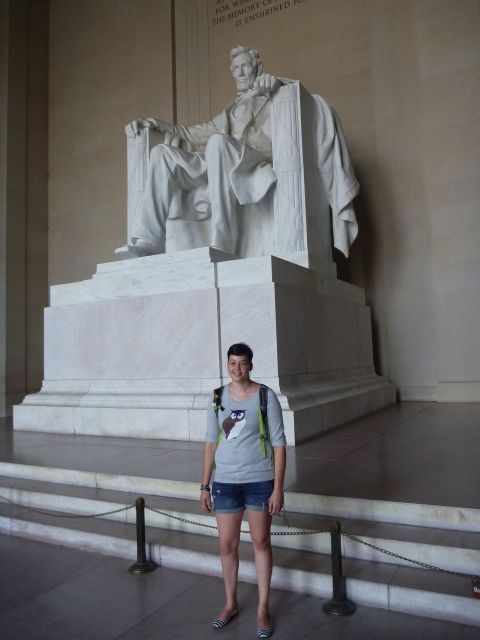 The sun set over the Lincoln memorial as Marine and I sat on the steps watching the reflecting pool. We called home and each talked to our families before we hit up the famous Busboys and Poets!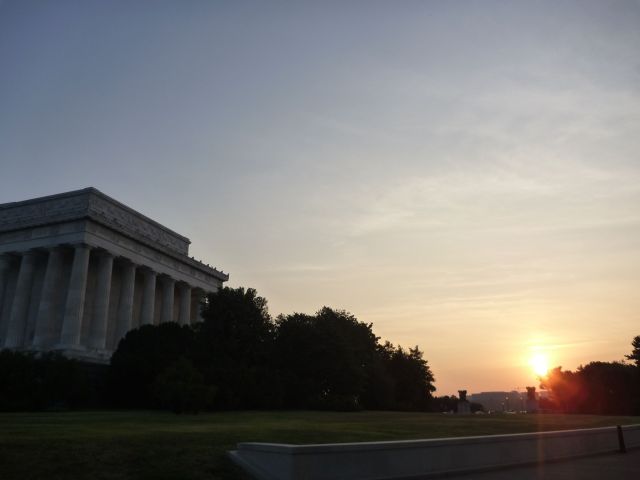 Busboys and Poets is this radical bookstore/bar/coffeeshop/restaurant/open mic. It's amazing and there's something there for everyone. Unfortunately, we had arrived late and the tickets for the open mic were all sold out (ugh Murphy's law)! But we stayed and had a delicious dinner and drooled over all the amazing books we want to take home but don't have room in our backpacks/budgets for.
Our last day in DC had approached and we figured we'd visit the capitol, the Pentagon, and the 9/11 memorial because it was actually September 11th. Our capitol tour was really memorable thanks to our awesome (possibly gay?) tour guide and very few tourists. Our guide was somewhat of a comedian, and admitted to not being allowed to have an opinion until 5:00pm.
Ashley: He did give me a high five though when I suggested we need more funding for the arts.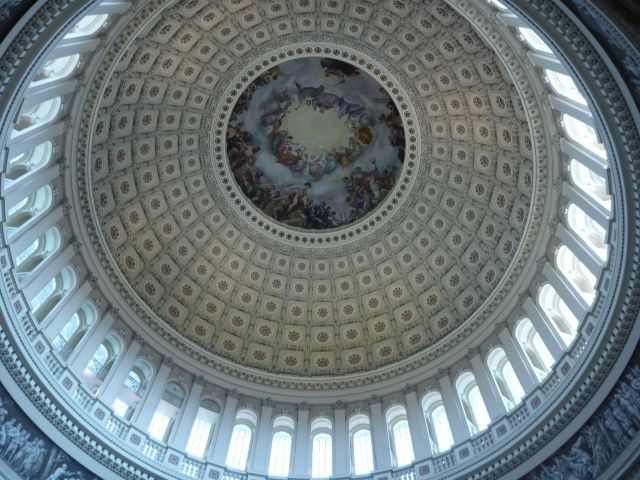 After the capitol we went to the Pentagon and by chance ran into an A-Camper on the subway during rush hour! Thanks to camp and the power of straddlers everywhere, the world has gotten smaller and smaller!
We only had a few hours left in DC before heading to Baltimore, MD so we stopped at Ben's Chili Bowl for dinner! Ben's is a neighborhood landmark, and boasts regular patrons like Bill Cosby and President Obama, who are the only customers allowed to eat for free! Also, chili cheese fries are freaking delicious and they have vegan and veggie options too!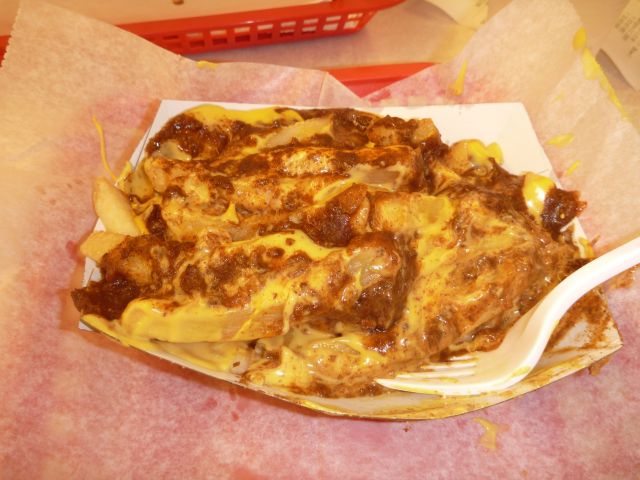 We rushed home with our stomachs full of delicious chili to meet up with our bombshell/snatch cabin mate, dapper Jill. We booked it back to her place because Ashley's episode of Verses and Flow was premiering on TV One and we could hardly wait to see it!
The next day we experienced real weather. Us Angelenos don't know what to do when there's thunder and lightning. When the storm cleared, Jill took us to a food truck extravaganza called The Gathering where we feasted on crab dip fries!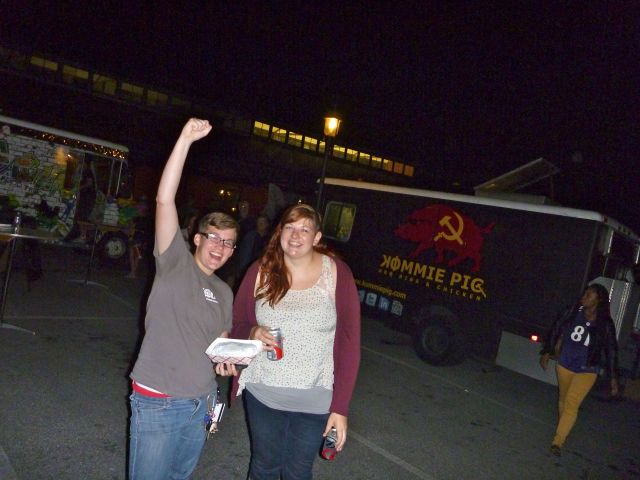 We also explored the Baltimore Museum of Art, and this wacky diner called Paper Moon before heading to Hamdenfest, a local street fair.
At Hamdenfest, there were a lot of unique local shops, which featured clothing, handmade jewelry and loads of antiques. Guys, we've arrived at the antiquing stage of our relationship. Our favorite part of the fair hands down, was the toilet bowl race. Each team had to design a boxcar that operated on gravity alone and each driver had to be sitting on a commode.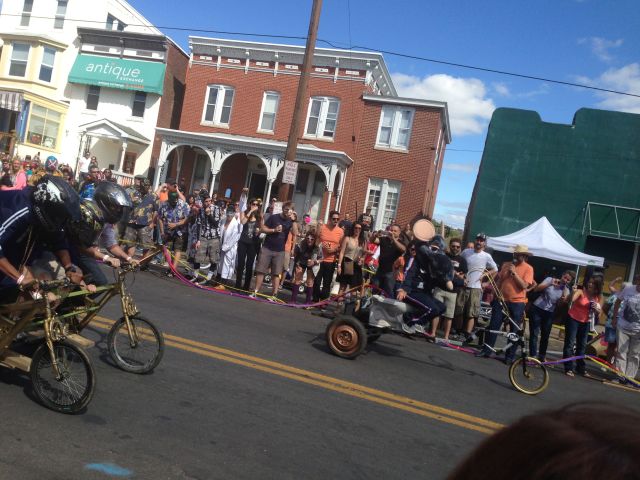 There was the Hopkin's John, put together by the students at John Hopkins, the Turdis, which was an ode to Doctor Who's Tardis, and Flush Gordon, among others. They all went flying down the street in hopes that their toilet would bring them to glory. Our personal favorite, though one of the slowest, was the Rub-A-Dub-Dub.
Hamdenfest came to an end and so did our stay in Baltimore. Jill drove us to our bus stop back in DC and we got in a few selfies before setting off. We sure hope Richmond knows how to have as much fun as we do.
We still need housing in:
New Orleans (10/12-10/13)
Email us! Ashley [at] thatstarvingartist [dot] com
Check out more pictures, poems and stories from the road at The Poet and The Scientist WordPress!
Up next: Richmond, VA and Durham, NC!