Welcome to FFAF's guide to dressing up for the holigays. Whether it's a work party, family gathering, or a festive night with friends, we've got your pretty little tree trimmed. Here to help is Hollywood, which, despite its rampant symbolic annihilation of our people, is quite good at illustrating how NOT to dress for that time of year.
Part One: The Holiday Work Function
There are three sorts of people when it comes to work gatherings at the holidays: Those who look forward to them, the ones who dread them, and those who skip them entirely (boy, are they smart). In addition to having thrown a few of these parties myself, I've been in all three camps at one time or another and consider myself an expert. Whichever camp you're in at the moment, you shouldn't let it dictate your outfit. Too eager and you end up like tinsel-top Jones up there – totally blitzed, smoking indoors and singing a sad, disheveled karaoke, in dire need of blotting tissues. Too indifferent and you might just get dinged back at the office. The solution: Be a team player. Let the dress code and common sense dictate your outfit.
Someone once spilled an entire drink on me within moments of arriving at a holiday party. (Open bars and Silicon Valley don't mix, my friends.) Good thing I was wearing all black, which hid the mess left behind after attempting to dry myself off in the bathroom. This is the sort of thing you'll be dealing with, in addition to an unwelcome pass from some drunk pervert in Accounting, finding your boss's boss crying in the bathroom, and worrying that your date is bored. It's not the time to introduce the additional strain of fussing over your clothing. Save the catsuit for a NYE bash with someone hot. If you're thinking, "But FFAF, this is the only time all year that I get to dress up! I already bought the catsuit!" then you definitely need to work on that. Don't trot it out in front of your poor, unsuspecting colleagues. Don't embarrass your boss. Let some other moron be that guy, you know why? Because you get paid to work. That's why it's called work! Are you getting paid to be at your party? No, but the company is footing the bill, so you're enjoying yourself on their dime. Disclaimer: If you work somewhere fashion-y or sexy or both, go ahead and wear the catsuit. Otherwise, here are some suggestions for getting dressed for a holiday party without getting fired, from most casual to fancy pants.
BUSINESS CASUAL / COCKTAIL ATTIRE
If your party invite calls for something that sounds like dressy casual, business casual, cocktail or festive attire, you're probably in this boat. Plan more or less to simply step your usual work dress up a notch.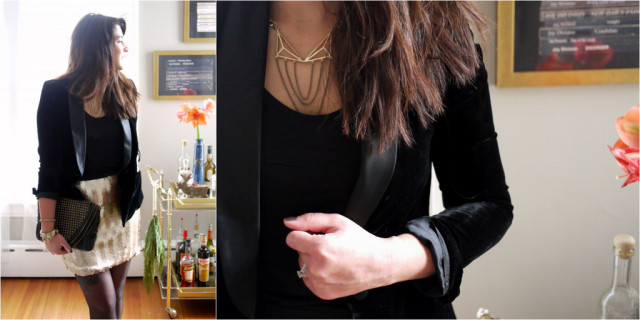 Swap out that double-serge pencil skirt for one with sequins or a brocade number, plus your usual blazer and crisp black or white button-up (do as Jenna says, queermos). Conversely, add a sequin blazer to a solid skirt; what worked for Mindy could work for you!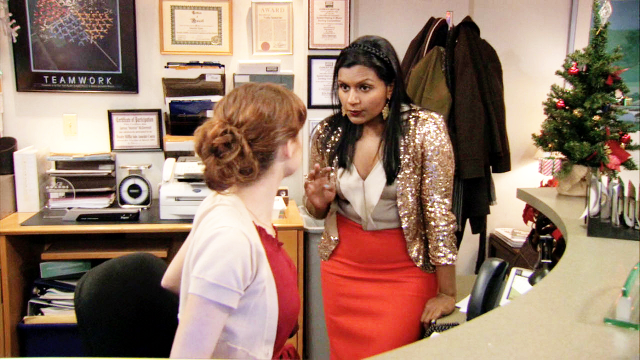 A few tips for this winning combo: If there's even the slightest hesitation regarding skirt length, wear tights. If there's a leg-happy slit, wear tights. Mine are pretty sheer and you can see my tattoo, but obviously go for a higher denier if you want or need more coverage: I promise you'll still be leggy and fabulous. Use your best judgment if you're tempted to pair sequins with delicate silk or looser knits; you don't want them to damage your other duds!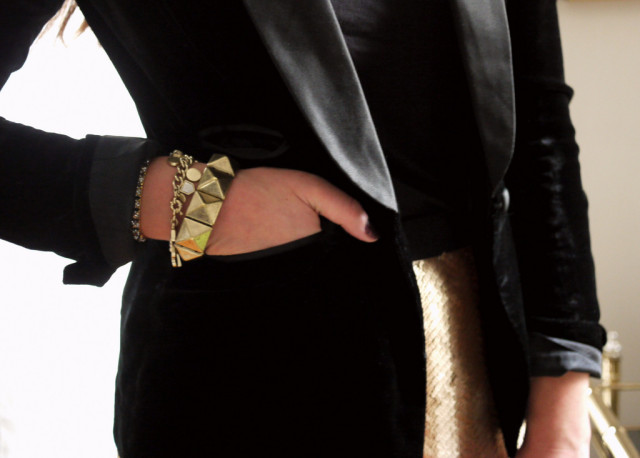 If you want to wear a sequin dress under the blazer instead, go for it! The blazer will tone down the all-over sequin effect and keep you from looking overdressed or like a girl who just fell off the party bus. Wearing a flat ankle boot or straight-up flats can help dress things down, too.
Tomboys, in lieu of sequins you can splurge on a bold, patterned shirt from the likes of Gant under a shawl-collar cardigan or pullover, either with dark wash denim or trousers, sport coat optional. I like the way Ellen mixes color and patterns here, right down to the socks — she's totally showing up those two other slobs! For jeans, the 484 selvedge at J. Crew is a good option under $200. If you're into neckwear, power clash a bow tie with your shirt, but keep the rest of the look buttoned up. If it feels like you're trying too hard, you probably are! Go back into your comfort zone, sugar.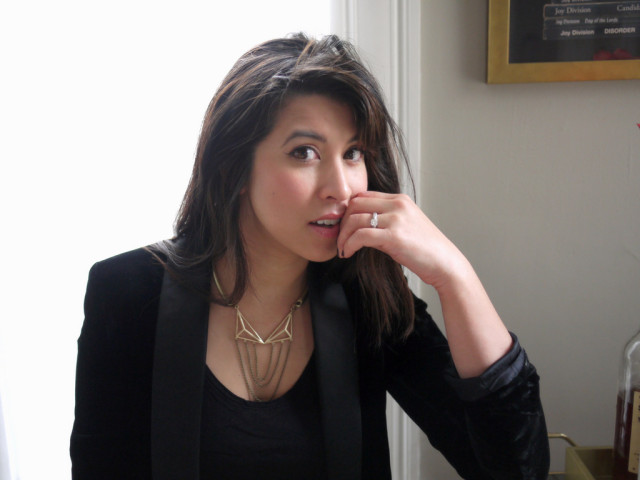 Got it? OK, good, because we're moving on to the next invite.
BUSINESS FORMAL
If the venue is on the fancier side, your workplace is on the more formal side, and/or the invite says business formal, semiformal or festive, this is your stop. You're going to want to shoot for a look that's dressy, polished and festive. Even if you're the IT girl who shows up in jeans and a hoodie every day, you need to look as if you made a decent effort, have a sense of occasion, and aren't afraid of holding up your end of a conversation with a hotshot board member without feeling overly awkward should you find yourself in that situation. (Assigned seating can be a bitch, y'all.)
Tailored work sheath dresses with a little something extra, like the simple peplum on mine, or in a lace, brocade, or satin for some interesting texture, are your best friend here. They can be jazzed up with fun tights or with statement jewelry.
Outerwear will probably immediately be checked, but you can't wear your North Face over a beautiful dress, now can you? This amazing vintage fur coat is a little ratty about the shoulders (I keep meaning to have a tailor put shoulder patches on it), but I like how it plays with the tortoiseshell earrings I'm wearing! Here's a still fabulous, but more subdued option for plus-size kittens, and a no-holds barred glam number (what, I never said it had to be practical).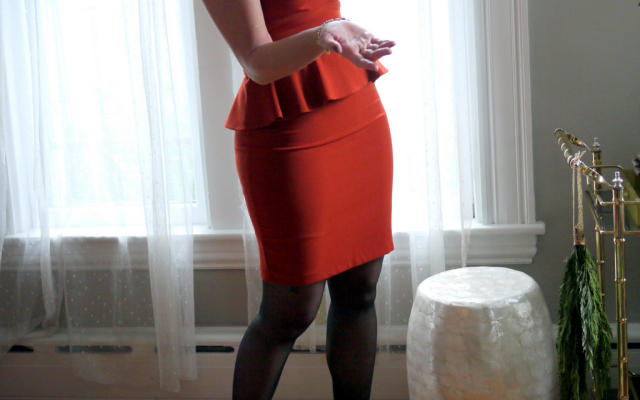 MOC foxes: Work a sharp suit with room to play in the form of pocket squares, shoes, and don't forget texture. An all-black tie is suddenly intriguing when it's got a velvet Swiss dot or stripes, you see? I also like the idea of a really luxe-looking corduroy with a beautiful shirt under a vest, bow tie optional, or adding some Harris Tweed to the mix. Wearing a colored blazer in lieu of a neutral three-piece suit requires a special confidence, but you've got plenty of that, don't you? Of course you do.
Still unsure of how to decode your work party invite? This might help, but don't hesitate to comment or email me if you have any special questions or are just totally lost.
Keep an eye out for me next week, when I'll help you figure out what to wear to meet the family! Hint: It's definitely NOT baby Christmas lights.
---
Read more at the Fit for a Femme blog here.