Last night, May 11th, was the final GLAAD Awards event of the season, held here in my homeland of San Francisco. Autostraddle co-founder Alex Vega and her girlfriend Mary (Miss August 2013) made the trip up north from Los Angeles to join my girlfriend Marni and I at the ceremony. The primary motivation for this migration was that Alex and I have been completely totally obsessed with Adam Lambert for four years and Adam Lambert was to receive the Davidson/Valentini Award this fine evening.
Also, the award for "Outstanding Blog" would be announced in San Francisco, and because our blog is pretty fucking Outstanding, really one of the most Outstanding things in the entire world, we figured we should be on hand to relish in our own glory. (Spoiler Alert: We lost!)
After a delightful journey on the Bay Area Rapid Transit situation, we arrived at the Hilton, ready to become best friends forever with Adam Lambert.
Our first stop was the magical vodka fountain, sponsored by Ketel One.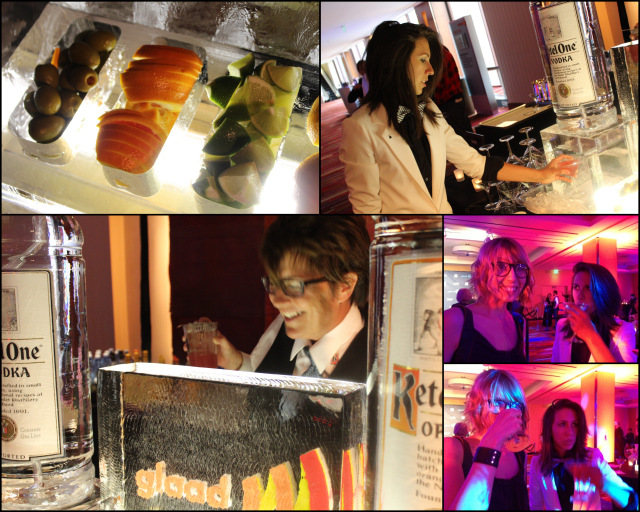 After a few complimentary beverages, we were all feeling pretty excited about being against defamation.
Armed with our camera and dictaphone, we set up camp. This red carpet was much smaller than what we've experienced in Los Angeles and New York, which was pretty great because we got to talk to a lot of people.
We asked everybody we could talk to on the red carpet the same question:
Who was the first LGBT character you ever saw on television or in the movies?
Kris Perry and Sandra Stier, Prop 8 Plantiffs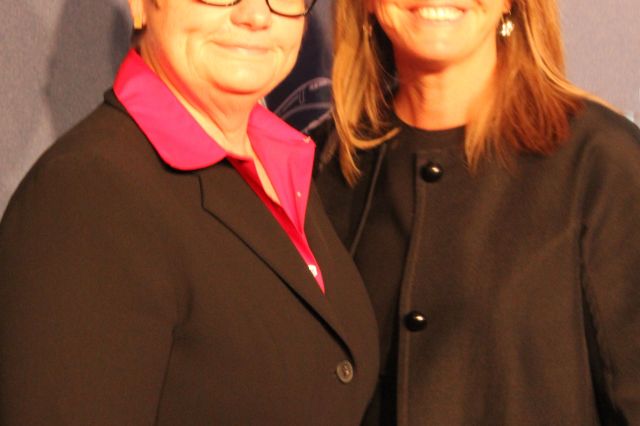 "I can't help but remember Ellen and I know that that wasn't the first time but it was the most memorable time. I know there were smaller characters before that, but I'm not able to drum up what that was."
"Ellen was my first thought too, but then I thought Tom Hanks in Philadelphia. But Ellen, I love the show and it was a great time in our lives to have Ellen come out publicly. I loved it, I loved her story."
Wilson Cruz, Actor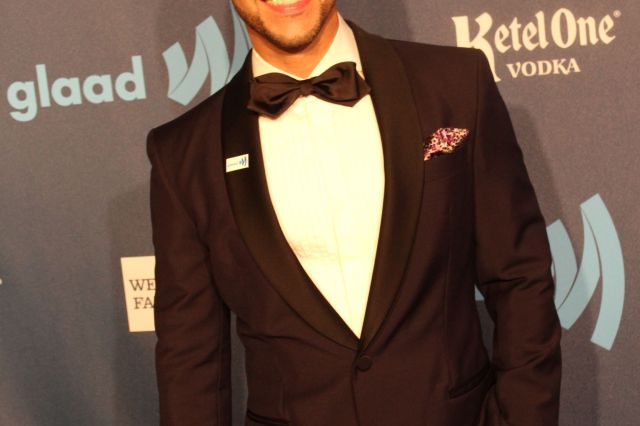 "It was Harvey Fierstein in Torch Song Trilogy and my first memory of it was his monologue that he says to his mother about how he became so completely independent because what he feared his mother's response would be to his homosexuality and that he taught himself everything he would possibly need to know so in case she abandoned him, he would be okay. And I cried and wept because I feel like we all do that in a lot of ways. We prepare ourselves for the worst and it's why we are so fabulous. We don't need you!"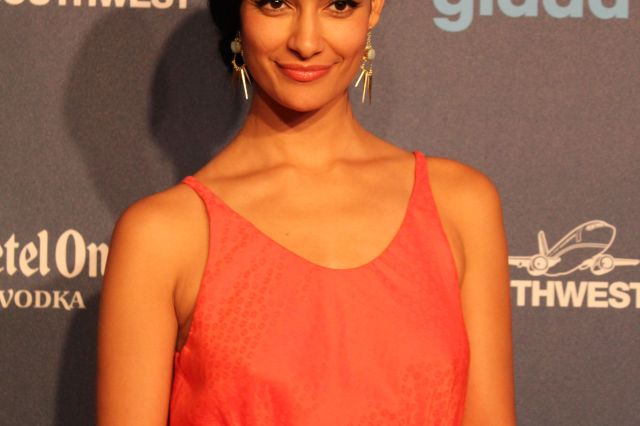 "The very first one I ever watched was Desert Hearts like way back in the day and I was like totally into the stone butch, I mean that was like – OH! That works! Okay! — so that was the very first like "being aware" lesbian character in a film that I ever saw and I still love it to this day. I have that nostalgic thing for it. It didn't necessarily progress or show as much as we're used to seeing today, but in my young pre-pubescent baby lesbian days, it was something."

Adam Lambert, Musician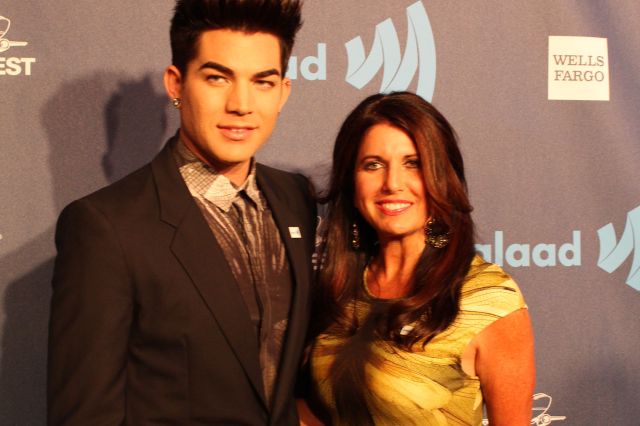 "The first one that I really remember, funnily enough, was [Enrique Vasquez, played by] Wilson Cruz in My So-Called Life, he was one of the first teenage gay characters on television, I remember being like OH! That's me, I think, in a couple years. I was a little younger… that and like, Will and Grace, how that entered and loosened up the whole conversation."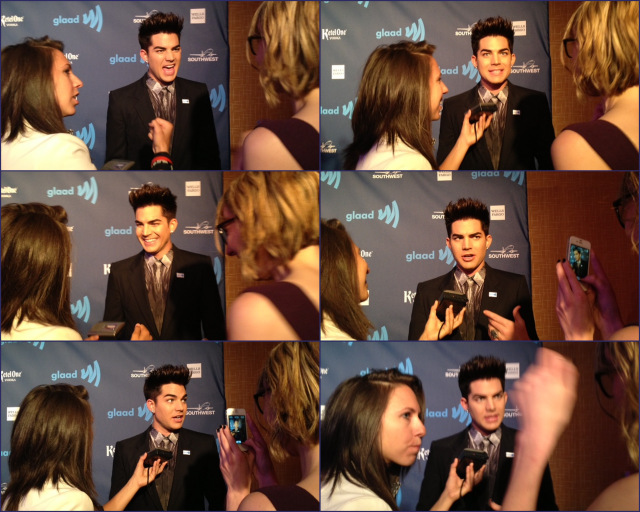 When we first spotted Adam Lambert, Alex told him that our meet was "a long time coming" and I told him that we are "the core of [his] lesbian fan base." He reacted enthusiastically, which means he's probably a lesbian. Adam was super friendly and handsome and he made lots of eye contact.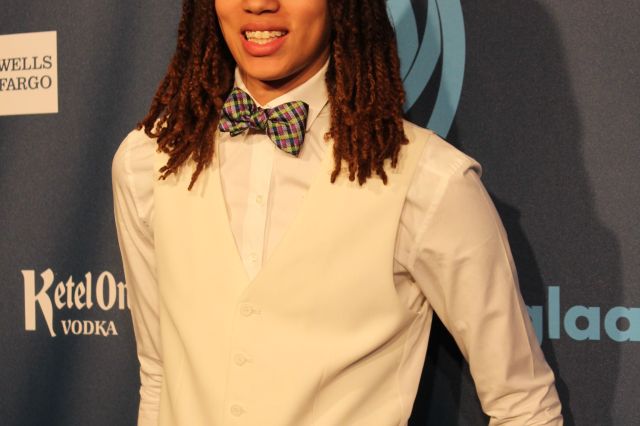 "I would have to say it was sports, when Sheryl Swoopes came out, it was big. She's a big role model for me I got to talk to her a little bit at rookie orientation, and I loved it. Kid in a candy store, I wanted to hear everything she had to say, it was really cool."
I wanted to ask her if we could compare finger lengths but instead I just took this crazy picture: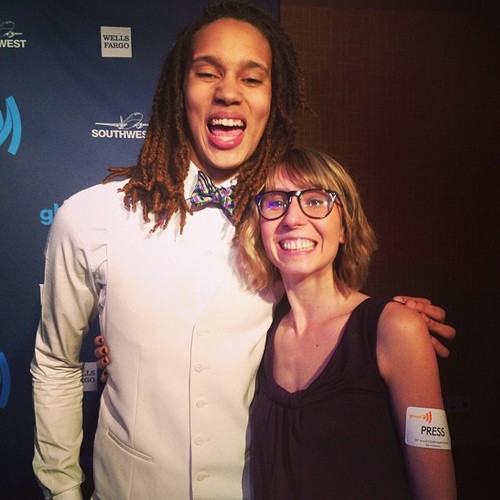 Jennifer Biesty, Top Chef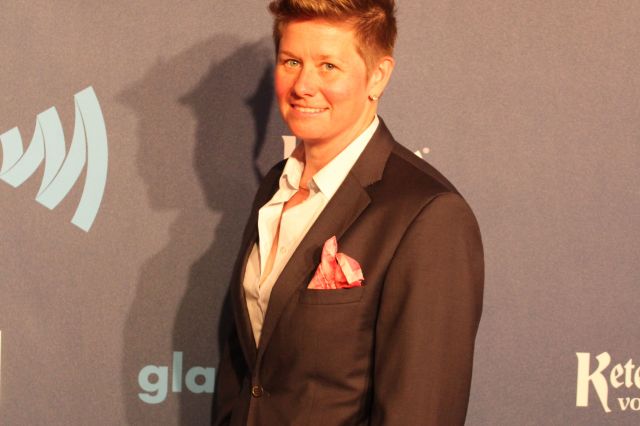 "I wanna say Jodie Foster but she wasn't out… ummm… Mariel Hemmingway [on Roseanne]! Desert Hearts, too."
Mel B, Scary Spice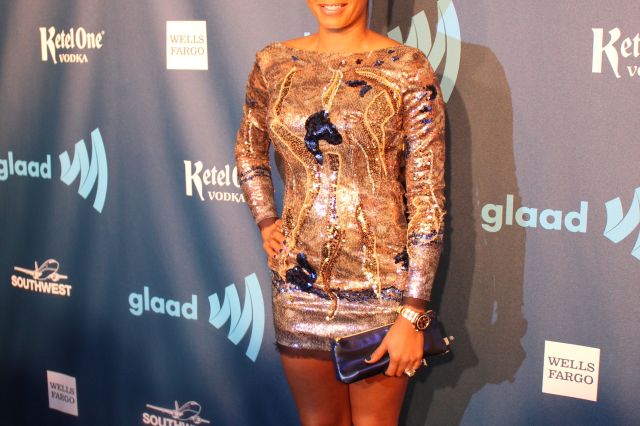 "The one that sticks in my brain is Ellen DeGeneres. She's the one who really paved the way for everything, I think. I watch her show and I've been on her show many times, she's likeable she' funny, she appeals to straight white, black and I like that she's managed to cross over like that and be accepted."
We wanted to ask Mel B what she wanted, what she really really wanted, and also to ask her advice on what we should do w/r/t her friends if we wanna be her lover, but unfortunately it didn't come up and anyhow she's already Alex's lover: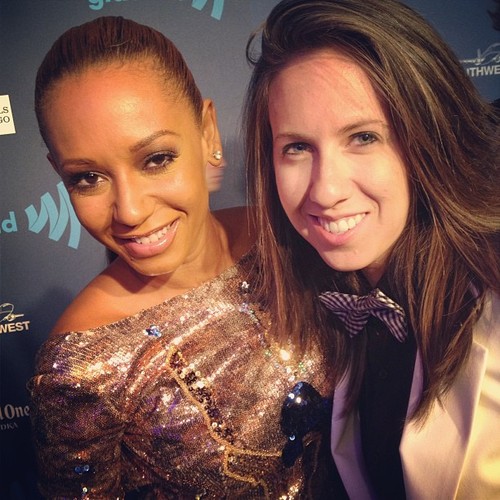 Look, here are pictures of people we took pictures of but didn't talk to:
And here is the complete list of people who won awards last night:
Golden Gate Award:  Lt. Gov. Gavin Newsom
Davidson/Valentini Award:  Adam Lambert
Corporate Leader Award:  San Francisco Giants
Outstanding Film – Limited Release:  Any Day Now (Music Box Films)
Outstanding Comic Book:  Kevin Keller (Archie Comics)
Outstanding Digital Journalism Article:  "Why Aren't We Fighting for CeCe McDonald?" by Marc Lamont Hill (Ebony.com)
Outstanding Music Artist:  TIE: Adam Lambert, Trespassing (19 Recordings, RCA Records) and Frank Ocean, Channel Orange(Def Jam)
Outstanding Digital Journalism – Multimedia:  "Edie Takes on DOMA" In the Life (ITLMedia.org)
Outstanding Blog:  Rod 2.0
Spanish Language
Outstanding TV Journalism Segment:  "En el cuerpo equivocado" Noticias 19 (KUVS TV-19 [Sacramento, Calif.])
Ceremony highlights included mashed sweet potatoes, additional vodka cocktails, and Dr. Kortney Ryan Ziegler and Laverne Cox presenting Marc Lamont Hill with the Outstanding Digital Journalism Award for "Why Aren't We Fighting for CeCe McDonald?".
Actresses Teri Polo and Sherri Saum, stars of The Fosters, also presented an award and looked very pretty:
As you've probs gathered, our blog's Outstandingness was not Outstandingly Honored last night, which was difficult for me because my sportsmanship/maturity level floats comfortably at a 12-year-old-boy level. BUT Rod 2.0 was nominated two times before he won, which means we've probs got 2015 IN THE BAG. It was, of course, an honor to be nominated along with blac[k]ademic, Rod 2.0, The New Civil Rights Movement and Towleroad, and we congratulate Rod 2.0 on his well-deserved accomplishment!
In conclusion, we had a fantastic evening at the GLAAD Awards. The Glaad people were super-nice and even managed to get show/dinner tickets for our girlfriends, we met Adam Lambert and Brittney Griner, and I spilled my first drink of the evening despite it being my first drink of the evening. Party on!
[You can see photographs and videos from the ceremony on GLAAD'S website. My memory of the evening from that point forward is a bit fuzzy because vodka.]