Another year, another opportunity to create a kickass calendar of smokin' hot lesbians. If you've not picked up the 2012 calendar yet, now would be the time — they're available for the post-holiday price of $10! For 2013 we did something completely different yet totally spectacular.
Are you ready to meet the 2013 Calendar Girls?

video edited by Sarah Croce and Lauren Aadland
Now, onward and upward — here's Robin!
Artist's Statement:
For the 2013 Autostraddle Calendar, we put on our bathing suits and hit the water! My goal this year was to do a black and white series that was playful, sexy, and all about the women. I sought to capture images that would reflect the models' feelings of freedom and comfort in their own skin. We chose a simple expanse of sand and water where the horizon is somewhat indistinguishable, and it was the perfect setting for a very personal and introspective look at each of these extraordinary women.
As a photographer, photographing an entire day at the beach is a great challenge. You need to maintain consistency as the light changes drastically throughout the day and the tides ebb and flow. This adds an interesting element in the images as over the course of the day, we watched them play and interact from sunrise to sunset. We closed the day with some very quiet, intimate interactions between the women who'd come to know each other over the course of those hours.
I love coming away from these shoots knowing that all of these women are now friends, and I hope that these images reflect those bonds formed.
A huge thank you to our beautiful models and our amazing crew for a job well-done. A special thank you to stylist and co-producer Sara Medd for being my partner in this project.
Robin, Photographer
Crew:
Robin Roemer, Photographer and Co-producer
Sara Medd, Stylist and Co-producer
Sarah Croce, Production coordinator and video
Lauren Aaland, video
Alex Vega, designer
Christina Natale, Make-up
Brandi Andrews, Make-up
Taylor Stevenson, Hair
Michelle McCaw, Hair
Sabrina Bringuier, Photo Assistant
Our August Ladies are Mary and Joanna:
+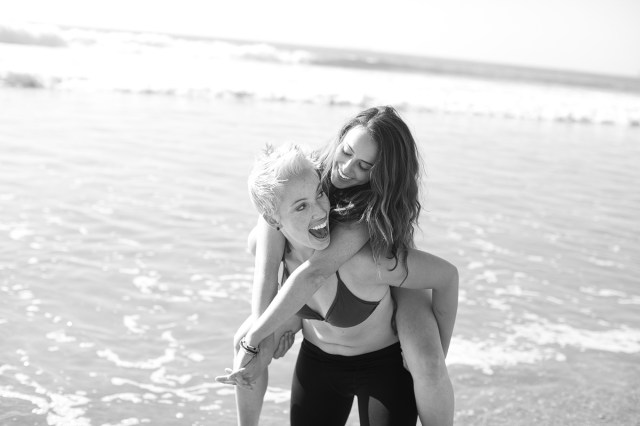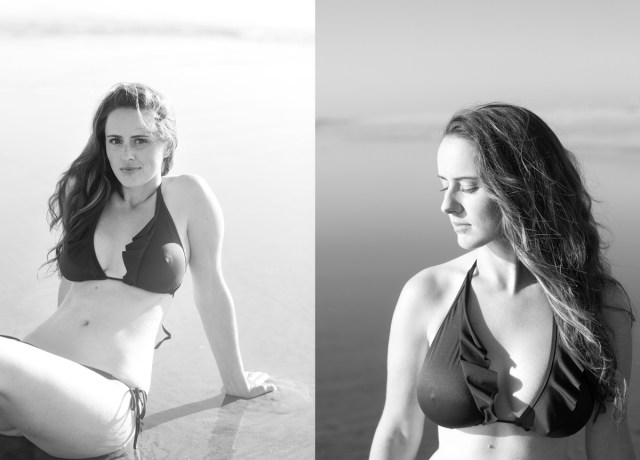 +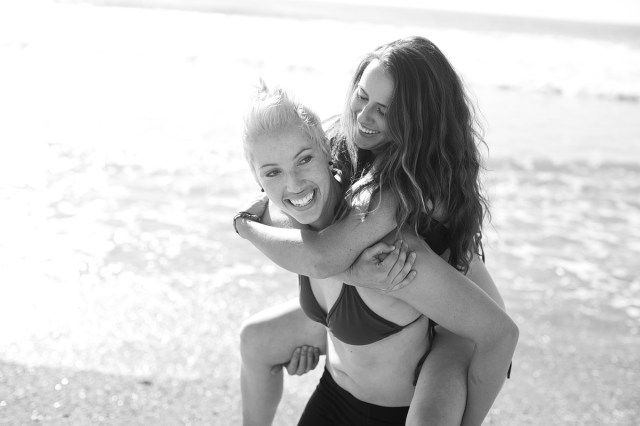 Mary in her own words:
Aloha! My name is Mary Tully, I am 25 years old, and I live in the quaint little town of Los Angeles, CA! I was born in Birmingham, Alabama and I have moved a lot since then. States I've lived in so far include Alabama, New Jersey, Virginia, Georgia, Florida, Hawaii and California. Basically I'm super fantastic at moving so if you need a packing buddy/consultant, you know who to call.
Most of my moves have been to facilitate my job as an animal trainer! I've worked with a slew of crazy critters, but mostly dolphins and unicorns. I think my favorite part about working with animals is their honesty. I see them as the clearest of communicators and I'm a sucker for good communication. My roommate calls me "mariposa" because I am the most social, social butterfly she's ever met! I love animate connections and nothing makes me happier than quality time with the ones that I love.
I am a huge fan of eating delicious food, drinking iced coffee, climbing on things and being outside. My superlative in 8th grade was "Girl who wants to be outside the most/all the time" and I am the only person to ever win that award. It was and is my greatest accomplishment to date. I have a huge, ridiculous dog who is the bane of my existence/love of my life. Unfortunately for him, his mom is an animal trainer, so he knows most of the behaviors my sea lions in Hawaii knew, as well as a lot of other weird things.+
I want to thank Robin and the rest of the crew from the photo-shoot for making this such a terrific experience. Also the Autostraddle team for everything they do! I feel extremely lucky to be associated with this group of women. Thank you for allowing me to be part of something so great!+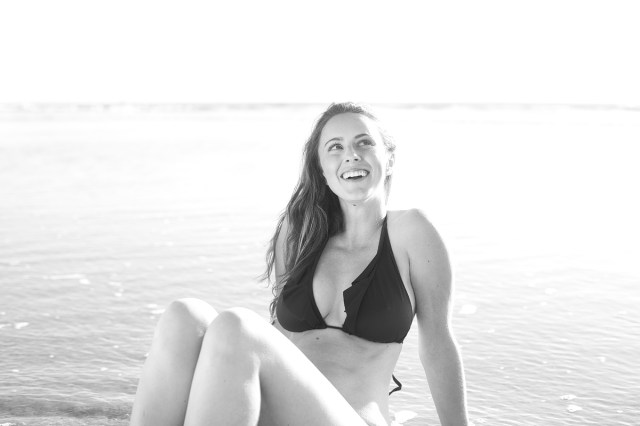 Robin's Phoner with Mary
+
Let's start by you telling me a bit about what you do for work! When you wrote me and said you trained dolphins, I couldn't resist. What an interesting job!
I did! I am an animal trainer! I've been really fortunate in my career so far and have had the opportunity to work with more animal species than I could probably even count. But most of my training experience has been with bottlenose dolphins.
Is that your favorite animal to work with?
I've honestly loved them all. Each animal presents unique challenges. The way you would train an alligator is going to be different from how you train a sea lion or a macaw. The concept is the same, but the application is totally different! So picking a favorite is hard, but if I had to I would probably say dolphins. I have two reasons. First, dolphins THRIVE on variability. They really seem to enjoy when you surprise them with something new or different. I'm the same way! I guess I feel a kinship with them in that sense.
Another reason I love them is because of the effect they have on people. I got into animal training to educate people about animals and the environment we all share. When people see or touch a dolphin, you have their attention. Then you have such a platform to really drive that conservation message home.
And they have same-sex partners and are just super sexual in general, like you told me last time I was in LA and asked you 500 questions about dolphins, right?
Hahaha yes.
I'm obsessed with your job.
Me too!, Dolphins love their sexy time! Its pretty funny when you are talking to a group of five year olds and your dolphins leave you to go have sex in the middle of the pool, which has underwater viewing.
Are otters assholes? I heard they were assholes.
From what I've heard they are pretty ADD and they have a really short temper. So whatever you're trying to do with them, you better do it fast or they will move on to the next, shinier thing.
I feel that. You've lived in lots of fun tropical places, do you have a favorite spot?
Hawaii was pretty nice I guess… And by pretty nice I mean it is my favorite place in the world. So far, anyway!
What is your favorite movie?
Jurassic Park. No question. It has everything you could ever want in a movie!
Adventure, romance, dinosaurs! I love that scene in the kitchen with the raptors.
So much suspense, yet so much heart.
If you could hang with one person, dead or alive, who would it be?
That is hard. Well obviously Steve Irwin is my hero. I am OBSESSED with Ellen Degeneres. I never got to meet my dad's dad, so I would love to meet him. Also, Alex Vega is pretty cute…
She's ok I guess.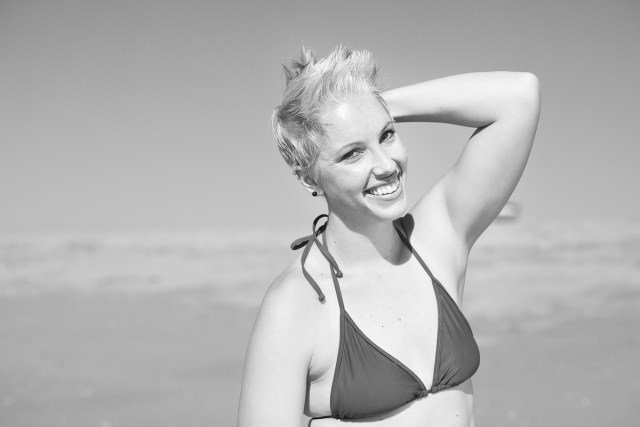 +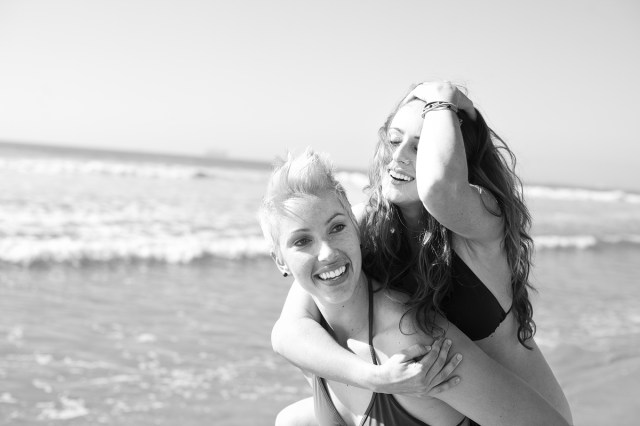 Joanna in her own words:
Hey there! I'm Joanna, a 26 year-old native Southern Californian super-nerd and all-around jokester. Exposed to the joys of international travel at a young age, I'm in a constant state of wanderlust. I've recently lost two of the most important people in my life. Those losses have given me a unique perspective about what's most important, and an urgency to make the most of every day I'm alive and breathing on this planet.
In my world, a good workout will cure just about anything, sarcasm is the smartest form of humor, and dogs are the best animals. I love finding a memory in an unexpected place, unannounced visits and unspoken connections, singing with the sunroof open, wasting an afternoon with a coffee in a bookstore, genuine compliments, comfortable silence, timely one-liners, finishing off a to-do list, cockiness (and confidence) and affectionately resting my head on someone's shoulder. But really, most importantly, I've ripped a handle clean off a microwave, hit myself in the face with it in one smooth motion and lived to tell the tale.+
I'm humbled to be included in this calendar and grateful to be a part of the unbelievably talented Autostraddle family!+
Robin's Phoner with Joanna
+
You have to be one of our calendar girls during the Olympics, considering you're a former Olympian! Can you tell me about your experience as an Olympic athlete?
It was surreal — and more a product of great timing and luck than any skill. My grandmother was born in Greece, and the sport of softball was so new in Europe that they needed to search for Americans with Greek descent to fill the roster. I was super young, only 17, but it was the most amazing experience! I got the opportunity to travel the world with an incredible group of people and play the sport I loved.
That's amazing, and you are in London now to watch the Olympics?
Yes, I'm actually on another global adventure — I left California back in early July and I'm traveling for three months: a month in Europe, a month in Australia/New Zealand and a month in South America.
The trip is structured around visiting, working out, and observing the culture in CrossFit gyms around the world. I'm taking a closer look at the intersection of nutrition, the female athlete, and the global sport culture — and how CrossFit fits into that picture. I'm here in London for a week, visiting gyms and also checking out some of the events! It's exciting to be back in the Olympic environment.
Wow, amazing. Thanks so much for being our CrossFit instructor at the last A-Camp, by the way! I'm sure your trip will benefit you greatly as a coach. Do you have any other goals for using this knowledge when you come home to the US?
Great question — I actually quit my stable, corporate job working in product marketing for CBS College Sports to embark on this journey. By far the most impulsive decision I've ever made.
I'm pursuing aspects of my life I'm really passionate about — fitness, nutrition, global sport culture, writing and traveling. So I'm hoping to turn that into a career when I return to the states. I'm opening myself up to the opportunities and relationships that will open doors for me on this trip!
What do you like to do for fun?
I'm actually a huge nerd!
Oh good, we like nerds here at Autostraddle!
Of course, people always peg me for the sporty type. And don't get me wrong, I love all aspects of sport: competition, camaraderie, nutrition. But I'm a huge reader. Here on my trip, my favorite activity has been wandering around solo, taking photos, reading, chatting with other interesting locals. I love to cook, too. I'm a regular at the Little Italy farmer's market in San Diego. My girlfriend and I go shop for fresh, local veggies and then experiment with new recipes.
What's your favorite thing to cook?
I eat along the lines of a nutritional program called "paleo" short for paleolithic — essentially it tries to mimic the way "cavemen" (and women!) ate long ago before the advent of all the processed additives made it into our food. It's pretty simple: really high-quality meat, vegetables, a little bit of fruit and nuts. You try to avoid sugar, grains, dairy, soy and other processed foods. As lame as it sounds, my favorite thing to is baking fresh veggies! Or experimenting with some grain-free treats that use more natural ingredients.
I'm like Regina George, I'm always on an all-carb diet.
I was a vegetarian for three years, so I've experimented with food! It's fascinating to me, how different people react to different foods. I don't think any one "diet" is right for everyone, it's about tweaking certain aspects and finding what helps make you feel and perform your best.
For more on Joanna's project/research visit Global World Project and keep up with them on facebook.

Special Note: As of December 2010, we request that the comments on Calendar Girls posts, unlike every other post on this site, be exclusively positive. These posts exist to celebrate women, so any shit-talking or criticisms of the model's appearance will get deleted. Direct concerns about the project or website as a whole can be directed to robin at autostraddle dot com or riese at autostraddle dot com!