In addition to consistently doing no wrong every minute of every hour of every single day, lesbian actress Jane Lynch has appeared in over 160 television shows and movies since 1988. I'm 76% sure that she appeared at least once on every single popular '90s/early-to-mid '00s television program, including but not limited to Friends, Dawson's Creek, Gilmore Girls, Veronica Mars, Felicity, Popular, Party of Five, Third Rock From the Sun, Married… With Children, Frasier, The West Wing, Judging Amy, Cybill, Dharma & Greg, The X-Files, Boston Public, Felicity, Seventh Heaven, Caroline in the City, Monk, NYPD Blue, Arrested Development, Weeds and Desperate Housewives.
As aforementioned Jane Lynch can do no wrong. It's a rare gift, and we're especially grateful that Jane Lynch has got it 'cause she's often cast into a sea of Wrong and manages to emerge Rightly unscathed — for example, Jane Lynch has a recurring role on Two and a Half Men and popped up frequently throughout The L Word's slow decline into feeble dispair.
Spotting The Lynch in a recent episode of Criminal Minds inspired me to look back on her life's work and some of her most memorable roles. Please share your favorites in the comments!
Top Ten Jane Lynch Parts
+
10. Joyce Wischnia, The L Word (2005-2009)
Joyce Wischnia was a breath of fresh air and a tall drink of water throughout this ill-fated series. She played the sort of classic Power Lesbian Lawyer with trademark Lynchian narcissism and ended the series in a love nest with Phyllis Kroll, a.k.a., Cybil Shepard.
+
9. Diana Reid, Criminal Minds (2006-2008)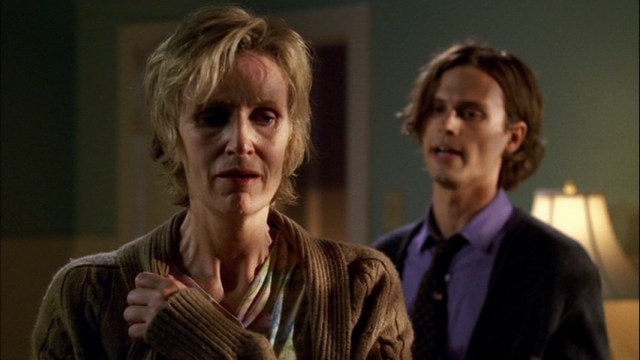 My girlfriend and I are presently addicted to Criminal Minds. I think we're drawn to the show because it's focused on characters with supreme intelligence who subsequently are unable to "fit in" outside of their super-special workplace, which I can relate to. Nobody else is paying attention like they are, you know? And after Penelope Garcia (played by lesbian Kristen Vangsness), Spencer Reid is the human closest-to-my-heart on this show. So just IMAGINE MY DELIGHT when Spencer went to the hospital to visit his mother and who was there, waiting for him in a salmon-colored bathroom? The Lynch, obvs. Just doing no wrong.
+
8. Dorothy McWilliams, Julie & Julia
The Lynch was so good at playing Julia Child's sister in Julie & Julia that despite the relative smallness of the role itself, she managed to generate Oscar buzz! From Entertainment Weekly: "In the course of just a few scenes, Lynch manages to bring to life all the mysterious joy and excitement of sisterhood. Indeed, when Dorothy finally crosses the pond to reunite with Julia — remember, their separation was endured without the modern pleasures of Skype or email or all that good stuff we now take for granted — their effervescent reaction is as real and delicious as the boeuf bourguignon and chocolate-almond cakes that take such prominent roles in the film."
+
7. Maggie Gallagher, 8: A Play About the Fight for Marriage Equality (2012)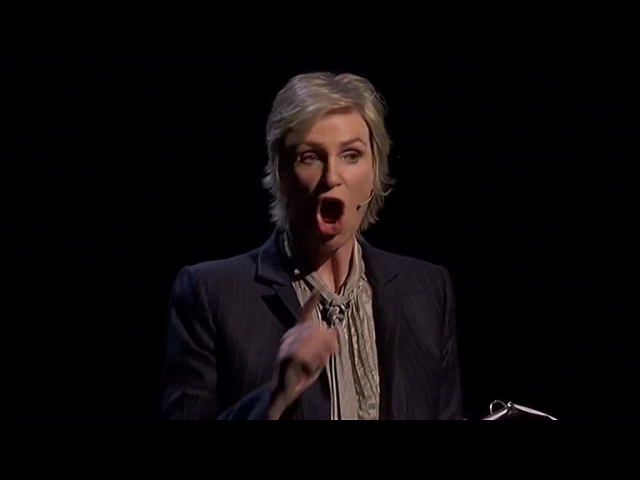 The all-star cast of the reading of Dustin Lance Black's script about the Prop 8 trial performed live on… YouTube!  It was AWESOME.  It was extraordinarily well-cast. It starred Brad Pitt as well as Kevin Bacon, Jamie Lee Curtis, George Clooney, Chris Colfer, Martin Sheen, Matthew Morrison and George Takei,  The script was actually directly lifted from court transcripts, it was amazing to finally see what we'd read played out on screen. Jane Lynch as Maggie Gallagher, Enemy Number One? Internet Heaven. ++
+
6. Constance Carmell, Party Down (2009 – 2010)
Another glorious but short-lived television program, Party Down featured Jane Lynch in its first season (she returned briefly to Season Two for her wedding). Alas, Jane Lynch became so freaking popular and busy that she had to leave the show. And then the show left us, in return.
+
5. Sweeny, Role Models (2008)
They wrote this role for Jane Lynch, so it suited her pretty well. Let's be real — I've not seen this movie, but I feel strongly that a role written for Jane Lynch specifically, which seems funny in the clips I've seen, was probably a good Jane Lynch character. Even if the movie premise itself sounds like a poorly attended douchebag convention. That's the thing about Jane Lynch! She doesn't need anybody else or even the script to do any work for her, she will carry the scene with dignity regardless.
+
4. Jane Lynch as Jane Lynch
If there's anything that beats a Jane Lynch character, it's Jane Lynch as Jane Lynch. Jane Lynch as Jane Lynch at Smith College, at the DO Something Awards With Julie Goldman, hosting The Emmys, etc. Woman brings down the house every time.
+
3. Sue Sylvester, Glee (2009 – present)
Another example of Jane Lynch doing no wrong while knee-deep in wrong. Sue's done some strange shit this past season, but she's always gets the best zingers in the history of zing, and has introduced "you call that hard?
+
2. Laurie Bohner, A Mighty Wind (2003)
This mockumentary about a folk music reunion concert is SO underrated. Jane Lynch and John Michael Higgins, playing married New Main Street Singers, have awesome comedic chemistry. Tanned with frosted blonde hair, Jane's character is a former porn star and is co-founder of Witches In Nature's Colors, "a coven of modern-day witches that worship the power of color."
+
1. Christy Cummings, Best in Show (2000)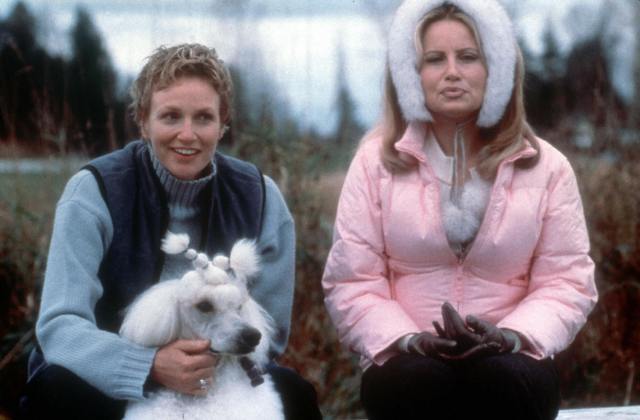 The lesbian dog trainer captured our hearts and never let go. This was the beginning of our obsession with Jane Lynch and we're all still looking for the premiere copy of American Bitch, the dog magazine for women and their dogs.
Also if anybody reading this knows Jane Lynch could you ask her to do an interview with Jess for Autostraddle. We've been trying since 2009!