You guys, as a big fan of the book — I loved the movie!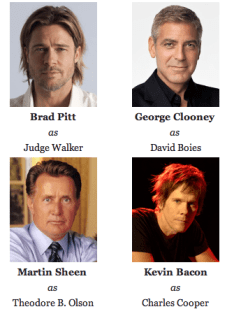 And by that I mean that I'm a big fan of the prop 8 Trial Transcripts. I've read them all, and I've read the entirety of Judge Walker's ruling and it has been just really delightful! If you followed Rachel's Prop 8 Trial Recap, you would know something about that delightfulness. During the trial I felt a secret bond with Rachel because we were the only people we knew who were literally reading entire trial transcripts every day, so it was like we were in a Mini-Book Club. Like we were the only ones in the world who knew about The Hunger Games.
Anyhow, Saturday night the American Foundation For Equality livestreamed a Dustin Lance Black play reading on YouTube about the Prop 8 Trial. All the trial conversations in the play are directly from the transcript of the trial, word-for-word.
What's great about this is that they truly picked the most effective and efficient way of getting the message out about  how good this book is! Or, rather, how this trial could change the world. They gathered some famous people for a reading and put it on YouTube. Sometimes there's only like one or two rehearsals for a reading (when nobody has to memorize their lines), so it's not an intense time commitment — but the characters and dialogue are so rich that it's really imperative that everybody has a chance to know this story.
A first reading of this play happened last September with a different cast. I didn't see that one, but I saw this one, and I liked it!
So, see George Clooney, Kevin Bacon, Brad Pitt, Martin Sheen, Matthew Morrison, Jane Lynch, Chris Colfer, Jamie Lee Curtis, Jesse Tyler Ferguson, John C. Reilly, Vanessa Garcia,  Yeardley Smith, Jamie Lee Curtis and GEORGE TAKEI AS WILLIAM TAM… right now: