We first heard about The Fosters when ABC Family approached us about doing an ad campaign for the show on this site (for which we were ultimately rejected because of our scandalous content, as per ushe), and holy shit did it sound right up our alley. Not only is it co-created by my imaginary best friend Emmet Honeycutt, it's actually about "a multi-ethnic family mix of foster and biological kids being raised by two moms." This is not an unfamiliar situation to me.
When I was a 15-year-old teenager sobbing in my bed because my Mom just told me she was gay, thus (in my baby adolescent mind) sealing my fate as an even bigger freak loser reject forevermore, I never could've imagined that 17 years later there would be a show on television that would represent what my family eventually became — "a multi-ethnic family mix of foster and biological kids being raised by two moms." Well, except the "being raised" part, because my brother and I were already in college by the time my Mom married her partner, who has two foster sons (one of whom is African-American). Every time I come home, there's always at least one new youngish human temporarily living in our house because my Mom's partner has a big heart. (A situation which just-so-happens to also be a major feature in The Fosters' storyline!)
And now here we are, a family like ours featured on the network that originally launched in 1977 as CBN Satellite Service, part of Pat Robertson's Christian Broadcasting Network. ABC Family no longer affiliated with CBN or Pat Robertson, obviously, and we've all become endeared to the network for its lesbian representation in Pretty Little Liars and, ever-so-briefly and oh-so-surprisingly, The Secret Life of the American Teenager.
Here's a full description of the show, which comes to us via producer Jennifer Lopez and co-creators, writers and executive producers Bradley Bredeweg and Peter Paige:
The Fosters is a compelling, one-hour drama about a multi-ethnic family mix of foster and biological kids being raised by two moms. Stef Foster (Teri Polo), a dedicated police officer, and her partner Lena Adams (Sherri Saum), a school Vice Principal, have built a close-knit, loving family with Stef's biological son from a previous marriage, Brandon (David Lambert), and their adopted twins, Mariana (Cierra Ramirez) and Jesus (Jake T. Austin). Their lives are disrupted in unexpected ways when Lena meets Callie (Maia Mitchell), a hardened teen with an abusive past who has spent her life in and out of foster homes. Lena and Stef warily welcome Callie into their home thinking it's just for a few weeks, until a more permanent placement can be found.
Callie is quick to observe that the Fosters are an atypical family, and her blunt commentary hits a nerve with Jesus and Mariana who are struggling with their own identities. The twins have the opportunity to meet their birth mother, but they aren't sure if they are emotionally ready, or if they want to share the experience with their adoptive moms. Callie also discovers that Mariana is harboring a secret that could land her in serious trouble.
Brandon, a talented musician with a kind soul, lends Callie a hand in navigating the classrooms and social scene at the Fosters' high school, Anchor Beach Community Charter School. He's faced with a tough decision when Callie decides to ditch school to reconnect with someone from her past. What happens next will determine if Stef and Lena made the right choice in taking a chance on Callie, and whether they have room in their home – and their hearts – for one more.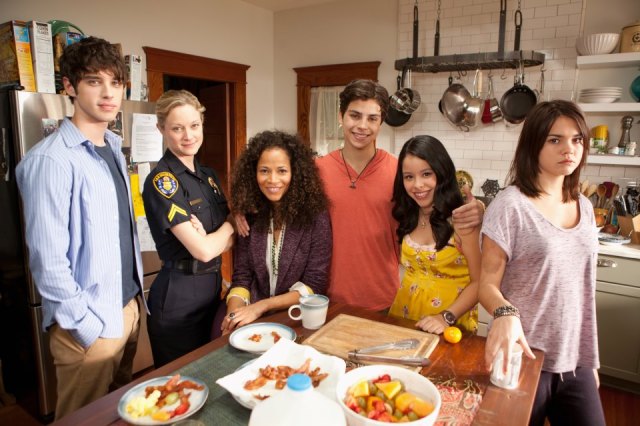 Unsurprisingly, the nice ladies of One Million Moms have been horrified about this development in ABC Family's programming since they first heard about it:
Obviously, ABC has lost their minds. They haven't let up so neither will we. ABC's Family Channel has several anti-family programs, and they are planning on adding to that growing list….
ABC Family reported the comedy-drama pilot, working with the title "The Fosters," is about two women raising a "21st century," multi-ethnic mix of foster and biological kids. While foster care and adoption is a wonderful thing and the Bible does teach us to help orphans, this program is attempting to redefine marriage and family by having two moms raise these children together. One Million Moms is not sure how the explanation will be given on how the biological children were conceived. None of this material is acceptable content for a family show.
Hollywood is continuing to push an agenda that homosexuality is acceptable when scripture states clearly it is a sin. As Christians, the Bible also says that we must speak up against sin. If we remain silent then we are guilty of sin also.
Much to nobody's surprise, this call to arms failed miserably. (One Million Moms is part of the American Family Council, officially declared a hate group by the Southern Poverty Law Center.) But the fact that this proposed boycott barely registered a blip on anybody's radar is evidence of how far we've come — which means we're undoubtedly at a place where we have the right to argue loudly not just for representation, but for responsible and diverse representation.
While the mainstream media enjoys patting itself on the back for loving family-friendly fare like Modern Family, The New Normal and Will & Grace, we've yet to see a gay female couple raising kids in prime-time, let alone an interracial lesbian couple raising a multi-ethnic family. According to GLAAD's 2012/2013 "Where We Are On TV" report, 79% of LGBT characters on scripted TV and 70% of LGBT characters on network television are white. Furthermore, men account for 64% of the LGBT characters on broadcast television and 56% of the LGBT characters on cable. Interestingly enough, ABC Family is responsible for a lot of those queer ladies on cable — teenagers Emily Fields and Paige McCullers on Pretty Little Liars, and Anne Juergens and Nora Underwood on Secret Life. While it's true that Anne Juergens and Nora Underwood both play mothers of grown children, they're hardly the center of the show and don't even appear in every episode. It's unfortunate that there aren't any female writers involved with The Parkers, but honestly if I trust any gay man to do anything right, it's Peter Paige.
The show premieres June 3rd. I have high hopes.