A happy Friday upon you, Boobs Tubers! The biggest news in lesbian TV this week was that The L Word really is getting rebooted, this very year. But that's not all we're talking about. We live-blogged (and mostly loved) Rent. Valerie recapped a real feelingsfest of an episode of Supergirl. Natalie wrote about how HTGAWM ripped out our hearts. Heather flipped out about Gina Rodriguez's Carmen Sandiego. Riese ran down a list of 21 excellent queer characters who never got a second season. Natalie recapped Good Trouble and prepped you for Stef and Lena's arrival next week. Grace came back to Black Lightning and Carmen recapped that! And Kayla has had it up to hear with Riverdale's mistreatment of Cheryl and Toni.
Also, Kayla's all over Russian Doll, which landed on Netflix today; don't worry.
Here's what else!
---
Mel and Jada are picking up speed quickly. Like, they are doing that whole sweet "see you later" pecks on a park bench in the middle of day #CoupleGoals type of thing levels of moving quickly. You know who is watching them? Niko and her high-def PI camera. But we'll get to that in a bit.
For now, Mel is hurt by the legacy of lies left behind by her mother. It turns out that Maggie and Macy actually share the same father, and Mel is feeling a bit left out in the cold. I'm sure that Marisol Vera had reasons for her secrecy and I'm sure the majority of those reasons fall under "protect my daughters from demons," but damn this is a lot of broken hearts left in her wake.
So, influenced by this world of hurt caused by family secrets, Mel meets up with Jada and decides to tell her the truth. She wants her to know the real reason she sought out the S'Arcana (at the behest of The Elders). It turns out that Jada knew all along!! The S'Arcana have their own empath! She just wanted to give Mel the chance to come clean on her own. Also, Jada thinks that Mel might still be a useful recruit for the S'Arcana after she realizes that The Elders will never have her best interest in heart. I suppose it sounds kinda shady to say her intentions so bluntly, but hey – at least she isn't lying about it?
AND THEN! Jada takes Mel along on a S'Arcana field trip to put a spell on a serial sexual assaulter. This is the witchcraft I believe in, so basically I'm #TeamJada forever now.
Back to Niko. She's still affected by the memory loss spell that Mel put her under to keep her safe and as an unintentional result of that magic, she's no longer a cop. She's a Private Investigator who is looking for Jada on behalf of Jada's parents. Jada's parents seem to think she joined a cult? Niko doesn't want Mel to get caught up in this mess, so she pulls her aside. Mel's eyes grow to saucers in Niko's presence and once her ex-girlfriend is out of sight, she decides to tell Jada the truth once again. Somehow Jada takes the news well (I would be a little freaked out, personally) and it looks like the skies are cleared for our two witchy lovebirds. At least for the time being. I'm still not putting Niko Hamada down for the count just yet.
---
If you missed last night's episode of HTGAWM — or, you know, are just boycotting the show after last week's carnage — you didn't miss much. It felt like an hour-long game of telephone: everyone getting up to speed with all the secrets we already know and the audience getting to witness their reactions. Aside from another strong performance from Liza Weil, here's what you missed on Murder:
Last week, Michaela's quest for justice in Nate Sr.'s case led her to draft up a civil suit against the state which she passes off to Tegan. Michaela claims she's giving it to Tegan because she's the firm's civil litigation expert but, really, I think it's just foreplay. Once Tegan gets the greenlight from Emmett, she asks the interns to get Nate Jr. to sign onto it. Of course, they can't do that because now Nate's busy trying to get away with murder, so they throw up roadblocks to stymie Tegan's progress. But when Annalise unwittingly gives Tegan the real reason behind Nate's unwillingness to pursue a civil suit — that is, he's still hoping for criminal charges to be brought against his father's killers — Tegan realizes that Michaela's been lying to her. Again.
I should pause here and note the interaction between Tegan and Annalise. It's limited — Annalise is busy, working to save another white man from himself — but in the two short scenes they share, you get to see a Tegan Price that's a little undone by the revelation that Annalise is bisexual. Tegan's usually so polished and poised but now she has this crush — and she's clearly trying to gauge Annalise's interest — she's just a bit awkward. It's cute. Once again, Amirah Vann makes me smile despite myself.
Tegan: I assume you finally got to me our little Miss Conduct? With all the crap she's given Crawford, at least tell me she's hot.
Annalise: She's fine.
Tegan: Like fine or like fooooine? (Pause) What? She not your type?
Annalise: *stares in disbelief* Do you need something?
After her conversation with Annalise, Tegan goes to confront the interns but they keep spinning their web of lies. This all starts to feel a little too familiar to Tegan — Michaela's lies are how she got left holding the bag for the Antares mess — so she calls out Michaela's betrayal and walks away from her. Poor Michaela looks as heartbroken as I do to watch their 'ship sink.
Determined not to repeat the Antares mistakes, though, Tegan reaches out to her former FBI handler for a sit-down. She misses her opportunity to shoot her shot with Annalise but Emmett doesn't: He invites Annalise out for drinks after she saves him from the mess he created. Annalise passes on the date offer — she has to help folks get away with murder, after all — but it's clear Tegan's got some competition.
Men are trash, Annalise. Stay far, far away from him.
---
Quick Hits
Will & Grace 209: "Family Trip"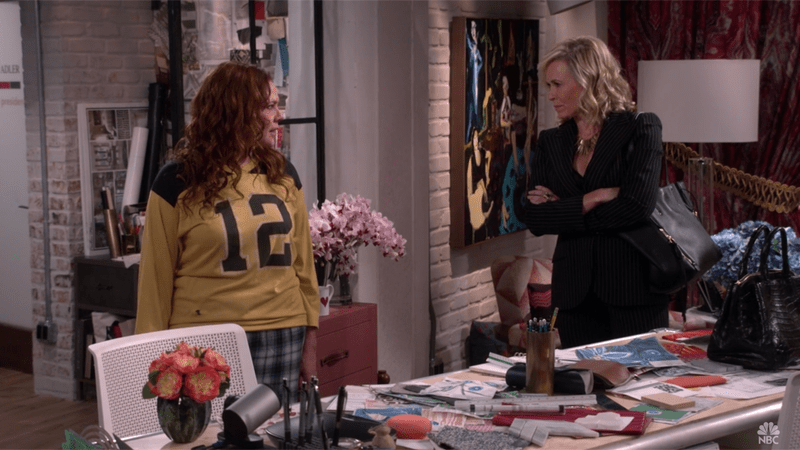 As promised, Chelsea Handler showed up as "power lesbian" Donna on the midseason premiere of Will & Grace, which I expected to feel whatever about, because I haven't watched any of the new Will & Grace and I wish they'd cast an actual lesbian, but there was a bit that made me actually cackle out loud. Donna has hired Grace to do some design work for her, and when she storms into Grace's office one afternoon she finds Grace's sister, Janet, crashing there. Donna's got the Bette Porter power suit, the swagger, the whole thing.
Donna: You're cute. Have a drink with me.
Janet: Sure, but I'm straight.
Donna:Are you?
Janet: Yes.
Donna:Are you?
Janet: Yes.
Donna:Are you?
Janet: …you tell me.
They hook up, but Grace tells Janet there's no way she's a lesbian — "We're Adlers, we don't work that hard" — and Janet kind of agrees. She's mostly just going through something. Donna doesn't seem to care too much. "Never been good at relationships," she says, "probably because I'm a bitch." — Heather
Star Trek: Discovery 201: "Brother"
I didn't realize how desperate I've been to see some soft butches in space until Tig Notaro showed up on the season two premiere of Star Trek: Discovery. She plays an engineer named Jett Reno who's been stranded on an asteroid so long she doesn't know the war's over. "No one's speaking Klingon, so… we won?" For ten months she's been keeping people alive by engineering life-saving medical equipment from spare parts. The Discovery team saves her and transports her and most of her crew to safety. It's pretty standard Star Trek stuff, but Tig plays Reno with such wry, deadpan perfection — an easy fit in this incarnation of the series! — I'd pay even more money than I already do for cable TV and various streaming services to watch her return for more episodes. — Heather
Crazy Ex-Girlfriend 411: "I'm Almost Over You" (I know, I was wrong last week, sorry!)
It what might have been the gayest episode since they sang about bisexuality, Maya got to step into the spotlight this week. It starts with her lurking in the lobby glaring down her ex girl's new girl. (Also, in a truly gay turn of events, they had only dated two weeks and Maya had bought the girl a shirt. Also her name is Joanne, and RENT taught us that's a very gay name.) This moment spurs Nathanial to include her in his rom-com themed fever dream, in which he and Maya decide to work together to try and make Rebecca and Joanne so jealous they get their girls back. There was a whole montage lovingly poking fun at the genre, and the will-they/won't-they between Maya and Nathaniel, but in the end, Maya got her girl back.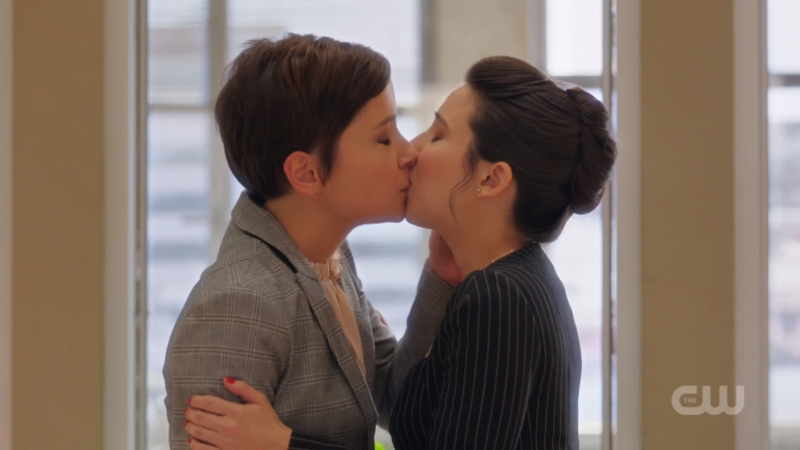 Once he snaps out of it, the next time he sees Maya, Nathaniel tells her that she can do better than Joanne. But since she didn't experience anything he did in his daydream, she just thinks he's being weird. — Valerie Anne
Siren 202: "The Wolf at the Door"
I'm still #hornyformermaids, thanks for asking. I was even into the ornery one who keeps deliberately disobeying Ryn until she killed that wolf. But there were two extra sweet moments between Ryn and her favorite humans. At one point, Maddie and Ben are watching Ryn teach and guide the new mermaids, so proud of their girl. And then in another, Ryn and Maddie get some time alone for the first time in a long time and Maddie, laughing, puts a hand on Ryn's face, but Ryn wants to take advantage of the unusual quiet and turns the energy a little more serious, a little more emotionally charged, gently touching Maddie's face in return. Reconnecting, but for a moment.
They lock their hands together, but are interrupted before anything else can happen or any more conversation can be had.
Eventually Maddie has a conversation with Ben that implies she still wants to try to work things out between the three of them. And later, while watching the newbies from the porch, Ryn also takes her rightful place sitting between Maddie and Ben. Hopefully they get to have a little fun sometime soon. — Valerie Anne