There's a scene in the final few minutes of "Becoming Carmen Sandiego," the two-part origin story that kicks off Netflix's reboot of the beloved '80s video game and '90s cartoon series, that made me whoop out loud and clap my hands. Carmen, code name "Black Sheep," is a teenager trying to escape the island where she grew up and was indoctrinated into the V.I.L.E. crime syndicate. She can't get out of the locked-down building in her academy-issued sneakers and tracksuit, so she rifles through the closet of notorious criminal mastermind and confirmed fashionista Cookie Booker and pulls out a red trench coat, red high heels, and a wide-brimmed red fedora.
Netflix's Carmen Sandiego, as you know, is voiced by Gina Rodriguez. Cookie Booker is voiced by Rita Moreno, the original Carmen Sandiego, and the person Gina Rodriguez says is the first Puerto Rican she ever saw on-screen. "I wanted to be just like you, Rita," Rodriguez said when she paid tribute to Moreno at the 38th annual Kennedy Center Honors. "You gave me hope, you gave me a reason to fight and to speak up, you gave me a voice when you followed your dreams, and you gave me an allowance to follow mine." Moreno later responded with a love letter to Gina from the set of One Day at a Time, passing a torch to her: "In just a few years, my dear, young Latinas will look up at their screens with hope in their eyes and say, 'I want to be like Gina Rodriguez.' Come to think of it, I think they already do."
When Rodriguez's Carmen Sandiego dons her now iconic outfit in episode two and strides forward, through the main foyer, past the school's guards, and out the door, the animation lingers on her feet: not quite big enough, but earnestly trying, to fill Cookie Booker's — Rita Moreno's — shoes.
Netflix's Carmen Sandiego gets it.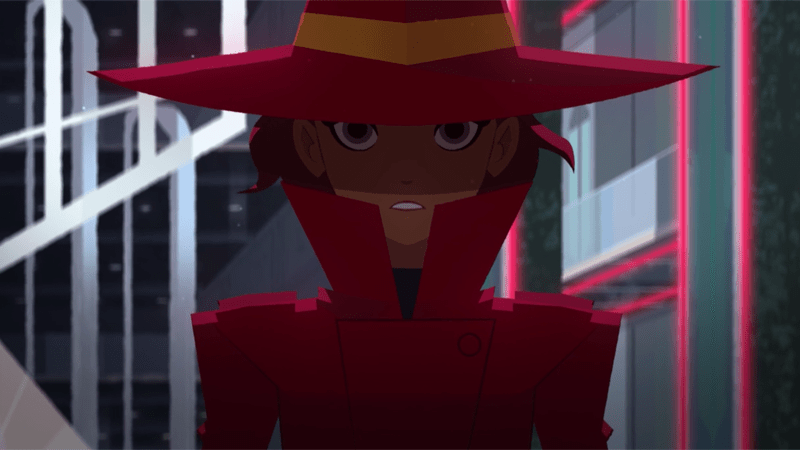 For the uninitiated, Where in the World Is Carmen Sandiego? is a video game series launched in 1985 to teach kids about geography by letting them solve mysteries and track down Carmen Sandiego as she pulls off spectacular heists around the world. Between 1994 and 1999, it was also an animated series with the same premise that aired on FOX. Carmen Sandiego was originally portrayed as a white collar criminal who stole simply for the challenge of it; though her motives and targets became a bit more murky and nefarious as more games were made about her.
Netflix's reboot includes a backstory overhaul and a new objective. Our new Carmen Sandiego was abandoned on the island where the Villains' International League of Evil trains new recruits and stores their loot. She trains alongside them and comes to think of them as her family, so she's shocked when she sneaks out for her first real-world caper and learns V.I.L.E. is actually evil, that they'll do anything, including murder, to complete their thieving objectives. She escapes, and, with the help of her only friend, the young hacker Player, starts a different kind of life of crime: she steals only what's already been stolen, and finds a way to return it to its rightful owners. A feminist Latina Robin Hood!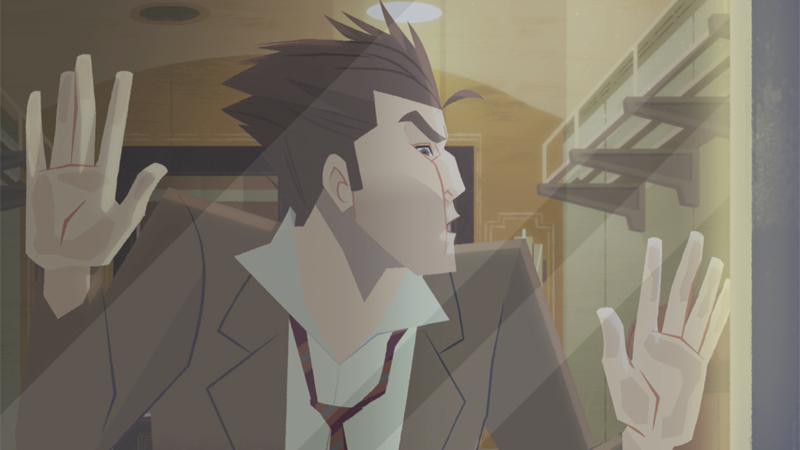 And I do mean feminist. Carmen Sandiego has never been known for its subtlety, and it doesn't bother disguising its absolute disdain for blowhard white men who have no business being in positions of power. Within five minutes of the show's debut, Carmen humiliates Chase, the lead detective of the ACME Detective Agency — a white guy who loves the sound of his own voice and refuses to listen to his always-correct, infinitely-smarter-than-him woman partner — to a stunning degree. And before the second episode is up, she's done the same thing to Gray, the violent jock from her classes at V.I.L.E. who's been chasing her down since she escaped the island.
Latina legend Carmen Sandiego is the most competent, confident person on the show, unapologetic in her femme-ness. The first gadget she uses to break into a museum is a red lipstick disguising some lock picks. Then there's Julia Argent, the aforementioned Asian-American ACME agent, voiced by Charlet Chung. And ACME's Chief, a boss-ass Black woman, voiced by Dawnn Lewis. And, as I mentioned, freakin' Rita Moreno!
It's also just a really fun show. It's silly and punny; the action is slick; the animation is a modern take on a retro style; and the mysteries of each individual episode are compelling inside the larger season-long arc of both ACME and V.I.L.E. trying to capture Carmen.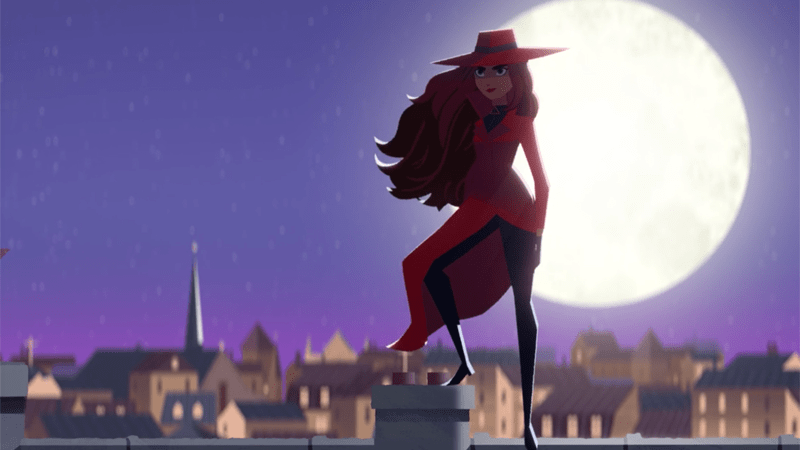 It also couldn't be more timely. Mark Twain famously said, "Travel is fatal to prejudice, bigotry, and narrow-mindedness, and many of our people need it sorely on these accounts. Broad, wholesome, charitable views of men and things cannot be acquired by vegetating in one little corner of the earth all one's lifetime." The original Carmen Sandiego existed to teach kids about the borders that make up the countries that make up our globe. Netflix's Carmen Sandiego exists celebrate the humanity that makes up the world.