ADAM LAMBERT: Sooooo … did you know Adam Lambert was supposed to perform at Dick Clark's New Year's Rockin' Eve show? We didn't either, but ABC has decided to go ahead and cancel that one too, just in case Lambert steals the ball before it drops and has his keyboardist cup that baby and give it a hummer.
It's a sad sad world when we're forced to usher it in with Ryan Fucking Seacrest instead of our dearest beloved Sexiest Man Ever Adam Lambert.
They've also canceled his December 17th performance on Jimmy Kimmel. [Riese sidenote: I've been personally boycotting Kimmel since he was mean to my hero Emily Gould in 2007.] Jimmy Kimmel, who every night enforces high standards of decency and provides family-friendly programming.
Lambert is playing it safe with his reaction:
HERE'S THE BEST PART – In an excellent example of how the world just can't handle man-on-man sexuality and this is that unconscious discrimination thing happening — in 2004, Pink performed at the Billboard Music Awards and rubbed a man's crotch in her face. Do you remember that? We sure don't. Because the FCC didn't give a shit. (@towleroad)
Check it out:
Lambert will be performing on The Jay Leno Show on December 21 instead. This marks the second time in a month I will be forced to watch The Jay Leno Show for my Gaga/Glambert. (@ew) Also, if you were obsessing following Glambert's Twitter feed like we were you may have noticed a song he frequently mentioned "Suburban Decay" is missing from For Your Entertainment.  It was too theatrical & campy to make the cut, but he hopes to release it on the Twilight: Eclipse soundtrack this summer. (@mtv)
GAGA & GRAMMYS: Lady Gaga was nominated 5 Grammy Awards, excluding perhaps the award she would've been a shoo-in for: Best New Artist. She was declared ineligible because already received a nomination for Best Dance Recording in 2009, for Just Dance.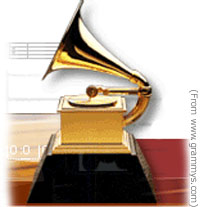 There was some early talk of the Grammys amending their rules (because her omission is truly ridic) but apparently that didn't happen in time. The good news is, Gaga will be vying for Album of the Year, Record of the Year (Poker Face), Song of the Year (Poker Face), Best Dance Recording and Best Dance/Electronic Album. Many of those categories seem quite redundant, but I guess that's how the Grammys roll.   Sidenote: If Taylor Swift beats out Gaga for all of these awards I will kill myself, that's right I'm not gonna get on stage and take anyone's microphone or anything, because I'll be dead.
In a genuine nod to how long it's been since I was smoking pot in someone's dorm room, apparently Dave Matthews Band released an album this year and it was nominated? DAVE F*CKING MATTHEWS HELLO COLLEGE. Oh wow, I need to listen to them right now. "everybody asks me how she's doing, has she really lost her mind? I said, I couldn't tell you, I've lost mine."
But the really depressing news comes from a source not so distant from your dining room table circa New Year's Eve Age 16: "if you looked closely, every one of those buckets was filled with a room-temperature bottle of Martinelli's apple cider instead of chilled Cristal." There are a plethora of champagnes available for under $6.99 TRUST ME I KNOW so I don't get it unless someone is in recovery in which case you are awesome, I envy you as currently I'm wondering if 'Intervention' would be a good PR move for the entire team. (YES)
HAVILAND STILLWELL: Out lesbian actress Haviland Stillwell has been nominated for Best Popular Female Personality for the 2009 Weho Awards, which will be presented 0n January 26, 2010 at the Playboy Mansion. Really, Papi! You can begin voting online on December 19-21.  Check out all the other nominees here. This reminds me of that Queer as Folk episode when Emmett won a Crystal Dick award. Just me? OK.
MORE GAGA: Lady Gaga is also on the cover of the January cover of Elle, where she talks about the recurring theme of death in her live performances and using her sexuality to sell, a la Britney: "My album covers are not sexual at all, which was an issue at my record label. I fought for months, and I cried at meetings. They didn't think the photos were commercial enough…The last thing a young woman needs is another picture of a sexy pop star writhing in sand, covered in grease, touching herself." (@elle)
GLEE: Idina Menzel "Would Love To" Guest As 'Glee' Mom – A piece of the most perfect casting in TV history just might come to be: Tony winner Idina Menzel is game to get her mom on as the birth mother of 'Glee' songbird Rachel. (@fancast) Also,  Chris Colfer (our fav Glee guy) appeared on The Tonight Show and talked to Conan about being the president and only member of the writing club in high school, his audition for Glee, how his Glee character got his name, his high voice, and his refusal to talk about celebrities he wants to work with for fear that they will die.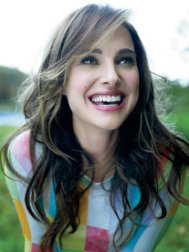 NATALIE PORTMAN: Natalie Portman is in Marie Claire Magazine, looking not nearly as edgy as she did in her gender-bending V shoot. Obvs Portman's face can do no wrong, but really? Meadows and canoes? Remember when you had Ellen & Drew making out, that was so much edgier. Gawd, we're effin' picky.
LILO & SAMRON: Lindsay Lohan & Samantha Ronson were brought together at a New York City club, by John Mayer, of all people.  Apparently, "Lindsay looked upset that Sam hadn't come over to her, and she started whispering to John, who looked like he was trying to calm her down. "She looked pretty angry. Then John got up and went to talk to Sam."  Srsly, what the hell did he say to her?  Because Sam then went to sit with Lindsay and they spent the rest of the night talking & laughing and Lindsay kept looking over the DJ booth, smiling. " SO, back on? (@nydailynews)