Welcome to FFAF's guide to dressing up for the holigays. Whether it's a work party, family gathering, or a festive night with friends, we've got your pretty little tree trimmed. Here to help is Hollywood, which, despite its rampant symbolic annihilation of our people, is quite good at illustrating how NOT to dress for that time of year.
---
Part Two: Meeting the Family
Even if you've met your sweetheart's family before, something about celebrating the holidays with them for the first time can feel like a BFD. Families have roots, whether they're chosen or by birth, and romances either take to the soil or they don't. Either way it's Christmas, they've asked you to join them at their home to drink eggnog all day by the fire and exchange presents (for the first time ZOMG that's a whole 'nuther post), and you guys are going to be together forever and ever!
No pressure or anything but WHAT ARE YOU WEARING?!
Since family invites rarely come with dress codes, take cues from your loverbird – they're kind of the expert on how to dress for their own family functions and you can gauge a lot from their outfit, practically speaking. In general, use common sense and err on the side of family friendly pieces. Be respectful of whether or not it's the right time to step it up a notch or tone it down a little.
Somewhere between "What's that slob doing with our kid?" and "What's that hoity-toity fancy pants doing with our kid?" is "What an adorable couple! Here's a little brandy for your eggnog, cutie pies." That's the sweet spot. That's where you want to be.
Cozy + Casual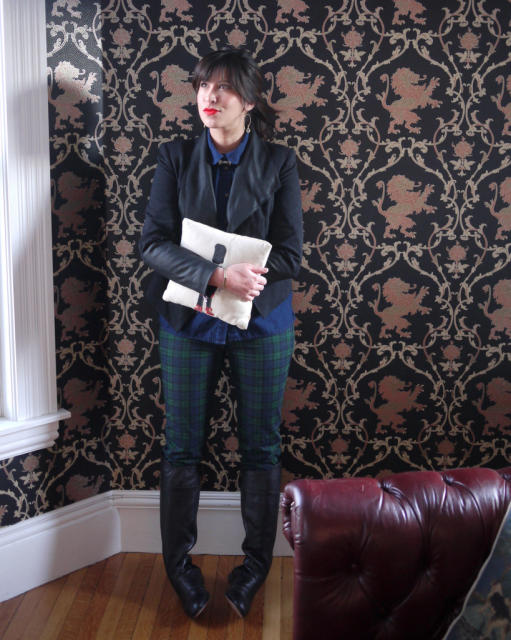 Maybe you'll gracefully surrender your cushy seat to Aunt So-and-So with the cane and have to curl up on the floor with a pillow or two. Maybe everyone takes a walk down to the river before supper. Maybe there's more elegantly arranged silverware on the table than you've ever seen at even the fanciest restaurant you've been to, with name cards. Maybe you'll be asked to help the adorable nieces and nephews paint Christmas ornaments and that shit is NOT washable, my friend.
Make like a Girl Scout and be prepared. The rest is cake!
Here's why black watch plaid is such an easy holiday option for everyone: it's festive, it's classic, it leans masculine. And since plaid is always just a little bit queer, that makes black watch plaid festive, classic, masculine and totally gay. Do I get an extra present for that? It seems like I should.
I paired this version from Uniqlo with a super soft denim shirt by Madewell, and threw a jacquard and goatskin leather Helmut Lang blazer over the whole shebang ("That's not a blazer, that's a fashion thingy!" my better half exclaimed when she first saw it). A no-fuss pony and basic black riding boot keeps things nice and low-key, and you could easily make things even more casual by swapping the blazer for a cardigan or pullover, or the boots with flats or natty brogues.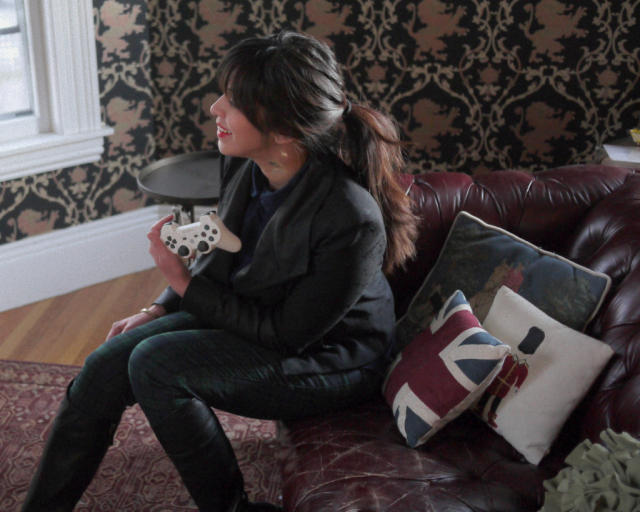 The key is comfort – nothing here is skin-tight; everything moves with me, I'm totally unconcerned with distractions like hemlines or cleavage or showing my ass when I bend over. Even the blazer sleeves zip open if I need to roll them up (and it's the only thing in this whole ensemble I'd send to the cleaners for any reason). If you wanted to make it fancier, switch to a polished hairstyle and some sharp pumps or heeled boots. I like this pair by Jeffrey Campbell for adding a shot of sleek texture. Tuck the shirt in, add some extra bling to your ear parts.
It just wouldn't be "me" if there wasn't sparkle somewhere, so here's a cheeky peekaboo bow tie necklace. For more black watch, here's an excellent scarf. If you prefer an ultra-femme option, you're not going to find anything better than this beautiful dress from Modcloth, I need it in my closet yesterday. If you're into menswear, Topman has a great selection of options.
Last year I got my wife a pair of black watch corduroys for Christmas and one of our homo-fabulous friends loved them so much she ran out and bought the exact same pair for herself. It's a thing! Get on board, old sport.
Fancy + Festive
Where art thou winter whites? Here's a chance to shop your own magical closet for things you'd never otherwise dream of putting together. An antique white mini in wool with bold green and a nice pop of red makes a really fun and cute outfit without risking anyone's suggestion that you clamber up onto a shelf somewhere, and happily, they're all things I've had in my wardrobe for a while.
Don't forget balance when you're building your own version: This wouldn't work as well if the skirt were red and the shoes were…white.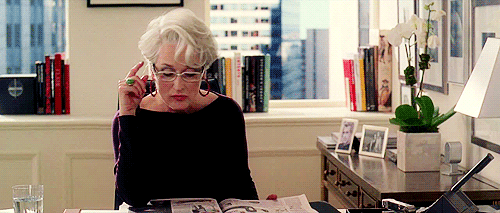 Nope, definitely not. It would also jingle the bells a little too loudly if the thick cashmere tights I'm wearing were a pure black – the fact they're a very dark brown, and textured, really works to soften all of the contrast. (Kind of like how matte black-brown mascara is more suited to daytime than a glossy, dramatic jet black.)
The blouse is feminine and flattering, has detail around the neckline, but isn't tight or revealing. The miniskirt is lined, made from a heavyweight material, and so are the tights – sheer anything here would take you into the wrong side of Tinseltown. If you haven't got a similar miniskirt, you could try it with something full or flared, or a pair of chic, off-white trousers. The affect would be worth the spill risk!
It's definitely easier to find creamy sweaters, though, so don't hesitate to flip-flop things around and rock the white on top with a red or green skirt, and go for a metallic shoe instead – I love the idea of pairing this outfit with a gold glitter flats or vintage gold t-strap heels. Or take a gold sequin skirt like the one I wore last week and put a chunky white sweater over it, bringing red and green in with your shoes and killer statement jewelry.
So many possibilities within this palette!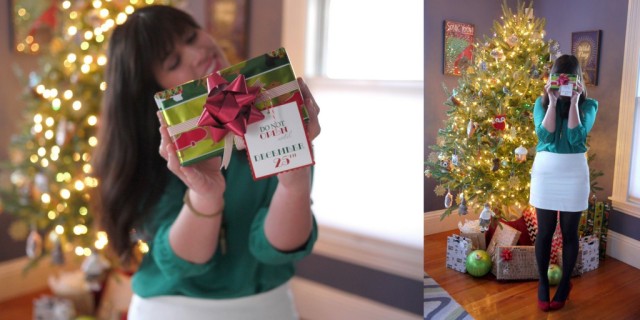 Hope you found that helpful, and as usual, I'm around in the comments or via email to answer your questions or give you a nudge in the right direction. Next time we'll talk about NYE – totally unadulterated, over-the-top excellence, free of any cares pertaining to work or family.
Missed the first part about dressing for holiday parties with coworkers? Check it out here.
Want to check out FFAF's blog? Bam.