Hi cuties! Am I in the right place? Normally I write on my blog, Fashion Pirate, but now I'm on Autostraddle? Queer dreams come true!
I was given free reign to do whatever I wanted, so I'm going to talk to you about my favorite things of the moment: looking terrifying (but also festive! Holiday appropriate!) and suits. Also: short hair. I feel like we all might have these things in common, maybe? I think everyone can appreciate a good suit, either as the wearer or just a big fan of staring at hot queers in suits. I shall provide you with the latter, in the form of me looking pissy and homicidal, so you may gain inspiration and go forth on your own quest for this ideal combination. Let us begin this journey together. Take my hand – no wait, I have to fix my hair.
Ok, ready? Let's talk about suits and this makeup situation I have going on.
A lot of people ask me about makeup and preface it with "I wish I could pull this off / How do I look good when I have (insert color of thing here)." My advice is that you can pull off all these things and also the color of your eyes or hair or size of body are rules taught to us to invent desires and niche markets around us. Totally disregard them. Really? Fuck the rules. If you feel that you look good, you look good. Make it so evident there is no option to NOT look good that you confuse people.
What I like about red eyeshadow is mostly that it's so unexpected, hard, and kind of revolting – it's so evident! Makeup isn't supposed to be evident. You're supposed to look pretty like so, pretty like naturally gorgeous ("I woke up like this – FLAWLESS – beyonce.mp3") and glowing and hot and stuff. Man, that's all well and good, and I do love looking like a Goddess sometimes, but the makeup that makes me feel most lethal and removed from unwanted desire is red eyeshadow.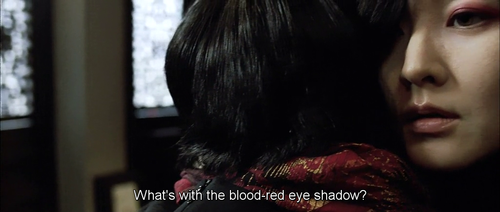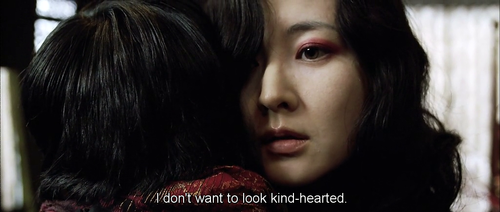 Sympathy for Lady Vengeance is my favorite film for misandry and feminist makeupping.
But back to the idea of red eyeshadow and power. If you wear makeup, why do you wear it? Do you ever think about it? I'm sure you do. You might wear makeup just for the simple pleasure of looking pretty. I'm down for that. That's why I like to recreate runway makeup looks – right now I'm going through every makeup look Pat McGrath ever did, just because.
As Beauty Writer, I am constantly bombarded by well-doing makeup professionals and PR people. Tips for Getting Slim! Tips for the Post-Bone Glow! (That is not an actual press release, but the answer would predictably be NARS Orgasm.) Still, I'm most satisfied and feel the sexiest on my own terms when I'm wearing red eyeshadow, blown up, kind of feral and dead looking. It goes against so many makeup rules and confuses the shit out of dudes.
I started wearing red eyeshadow after seeing Lady Vengeance and after deciding enough was enough about being terrified about walking home after a party alone. Wearing red eyeshadow replaces my fear with rage and some kind of feral, holy fury of Artemis and hellfire. Like, yeah I know I look probably ill and angry, and I'm gonna mess you up. But also, wow, my blending technique is really on point, so I might actually stab you with my blending brush, which makes your death as a street harasser even more of a feminist heroes tale on my part. Get on this game.
The shadow in this picture is NARS Exhibit A blush actually. Combined with a matte red eyeshadow by INGLOtT, INGLOT MATTE 311– however, Sugarpill Cosmetics has an identical shade that I love equally: Love+. You can't really find pure, bright red eyeshadow in drugstores that blend out as nice as these two products. Make Up For Ever has an amazing red shadow as well – Matte Cold Red 158, but it's more expensive. You can also use their matte red blush, Scarlet 99. For this look I use a blush brush, a big fluffy drugstore one and a regular flat brush, a $3 one from E.L.F. You can buy it at Target.
Mmmm. Bloody red. NARS Exhibit A blush is definitely more of an orange on the skin, true to the image above. I mixed mine with the INGLOT red that is in the image right above it.
But moving on to the rest of the look, and we can talk more about makeup for monstrously hot babes. As it stands, I HAVE A MISSION HERE. And they involve leather harnesses and suits and another hot girl.
That other hot girl is my partner in art crime (strictly a phrase, we do not commit illegal acts together, don't snitch on me thank you) Tayler! We are on the same wavelength to the point where we accidentally co-ordinate outfits a lot. We both wore suits this day, though this time it was on purpose to show different ways to wear a suit.
Tayler is into wearing her Zana Bayne harness over blazers because it's really hot dominatrix professional. I am also a fan. It's hard to find good fitting pants for tall people her body type though, especially printed ones, so she styled this look focusing everything on the interplay of texture of her shirt and the blazer and the harness gives it texture and a healthy dose of leather mommy. It's a foolproof plan, you should try it. Harnesses go with everything.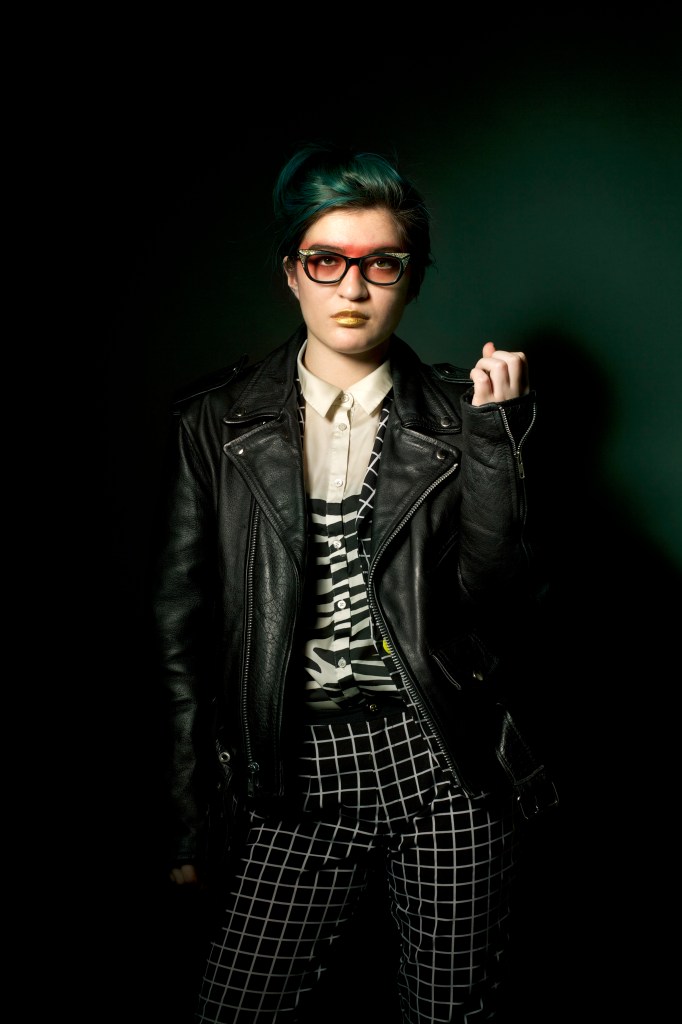 It can also be really hard to find inexpensive suits, let alone patterned ones, so I make mine do double/triple/quadruple duty by layering it and pairing it with other patterned things. You'll notice the first photo I only wore the pants, in this I'm wearing the entire suit, plus leather and a different top. The button ups are thrifted, as well as the green blazer. Even if it's not matching exactly, like identical fabric and color, you can make it work with the right amount of confidence and a sneer. This is my philosophy on most things. Act like you belong and you do, or act like you don't care that you don't, and then it doesn't matter. In other words, channel your inner Daryl Hannah in Blade Runner. Leather optional.
Bless her soul. Her soul-less, Cyborg body, I mean.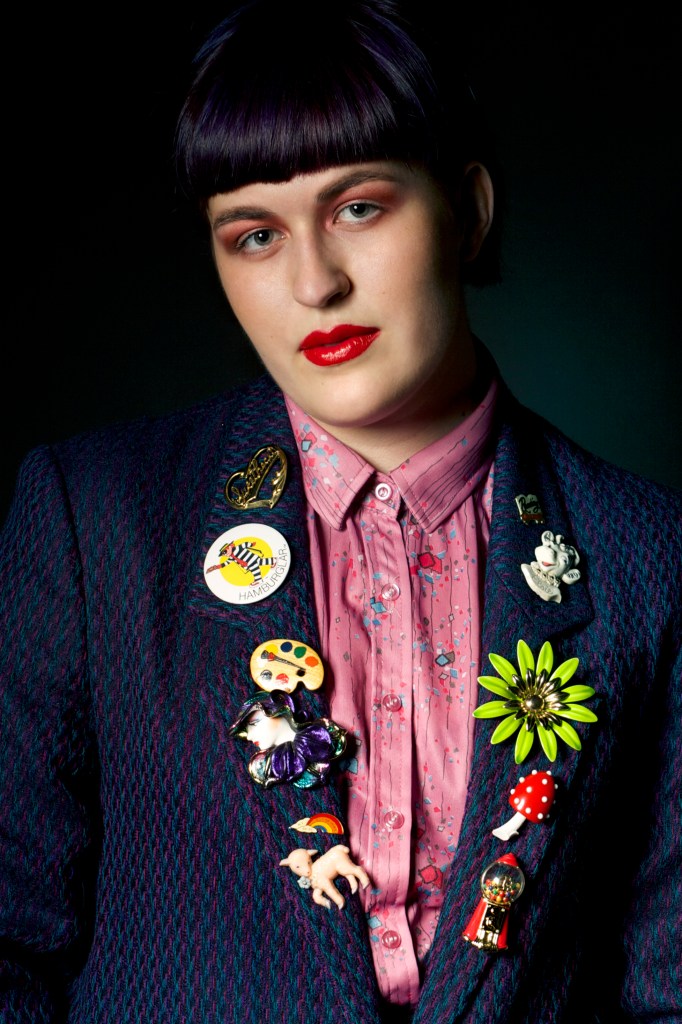 You should also not be afraid to utilize the more is more approach. I think it makes outfits more interesting, you know? I'm here for the chic, tailored look, but sometimes you would rather be elderly-lady-who-has-led-a-well-traveled-life-and-boned-a-lot in terms of sartorial inspiration, so it's good to have a bunch of pins. Have a blazer that feels a little too "Is This Job Interview Appropriate? I don't know anything but Pizza Post-Grad Life. Please Hire Me, Oh God?" Put a pin on it. Or you know, maybe ten. These are all vintage or thrifted, as well as the blazer and top.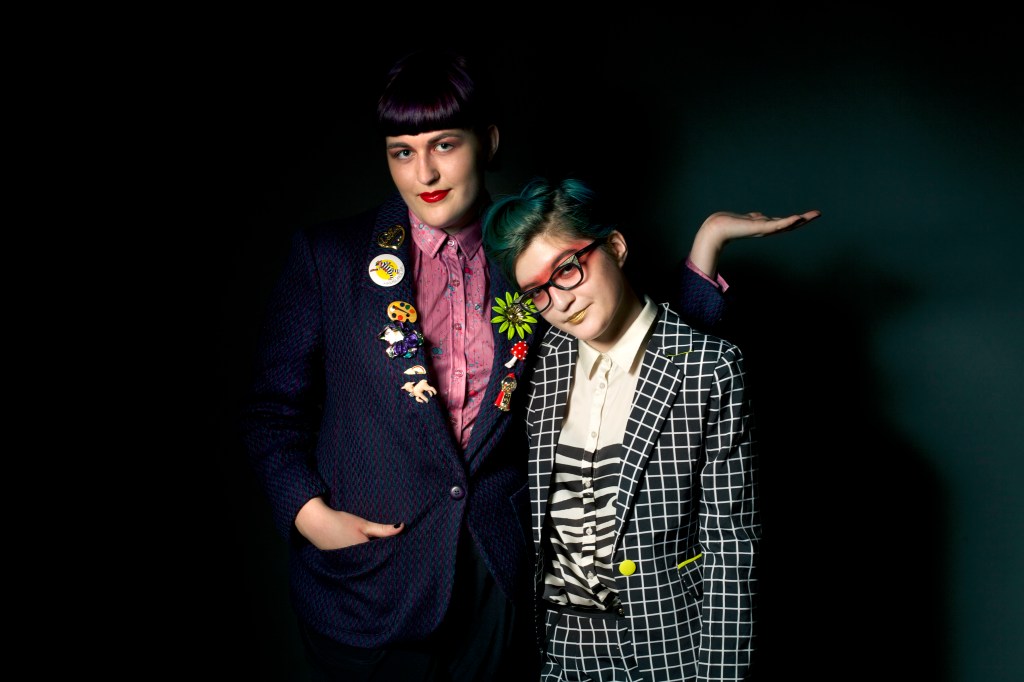 And there you have it! The Fashion Pirate's guide to Lady Vengeance Goes to Work and Also A Holiday Party. Also known as: just dress exuberantly and have fun and scare people. It's totally fun, I promise.
Outfit credits: Look 1 – Thrifted Blazer and Blouse, Choies.com pants, Cole Haan shoes. Look 2 – Choies Blazer, Pants, Giorgio Armani Button Up, Vintage Leather Jacket from eBay (score). Tayler's Looks – All Thrifted! That lucky duck.