Hello chipmunks! I'm presently in Sunny San Diego, California for BlogHer 2011, a really important conference for lady bloggers featuring tiny sandwiches, Ricki Lake, lots of panels, ten billion corporate sponsors and about seven lesbians.
I'm 85% sure that I'll post at (moderate) length about the weekend in general when I return to Sunny Oakland, California. But right now I'm just gonna talk about MY PANEL!
So! On Saturday I was on a panel called "How Do You Sustain an Online Community and Keep Your Own Sanity?" and it was pretty awesome. I really liked the other women on my panel and we had a really good moderator and on a scale of 1 to 10, my hair looked okay.
Statistically, chances are good you weren't there and didn't see it. But, luckily it was liveblogged and therefore I have included a great deal of that transcription here (wherein I am able to correct the things the transcriber got wrong because live transcribing is really fucking hard/impossible and also skip some parts).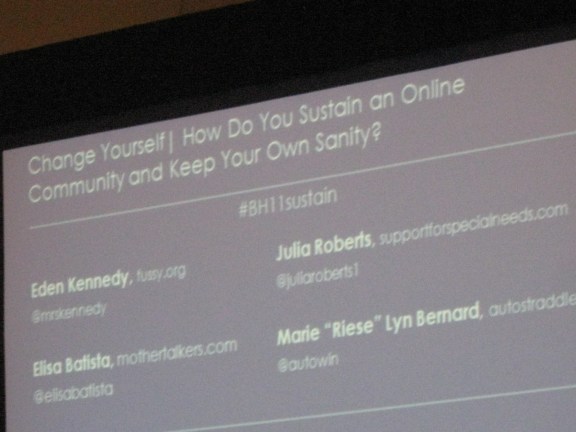 HOW ON EARTH DO YOU SUSTAIN AN ONLINE COMMUNITY AND KEEP YOUR OWN SANITY?
Maria: Welcome everyone!… So this is "Change Yourself: How Do You Sustain an Online Community and keep your own sanity." We have a fabulous panel here today.

I would like to welcome Eden Kennedy who blogs at Fussy.org and Yoga Beans who is also the brains and heart behind the community keynote last night, and built NaBloPoMo, National Blog Posting Month before she sold it to us at BlogHer. So we are now keepers of the flame, and hoping to sustain her legacy.
Next to her we have Julia Roberts who is from SupportForSpecialNeeds.com. And Julia is a mom, wife, ad agency owner, advocate and a volunteer. She helps clients with marketing efforts in traditional and innovative marketing avenues and she advocates for kids with special needs. Her kids have survived dialysis, kidney transplants and age 8, developmental delays and the effects of trauma living lives filled with medical intervention and never wanting another parent to feel alone in what can be an isolating world of special needs.

Next to her we have Elisa Batista who is clearly well known in the room, and cofounder and moderator of the progressive parenting web site, Mother Talkers who is named was named by Ms. Magazine, a favorite mom blogger and she also blogs and is an advocate for moms rising and is a member of the Environmental Defense Funds Mom's Clean Air Force Team you may have seen some of those great ladies walking around in their T shirts and I see some of them in the audience today.
And next to her we have Marie Lyn Bernard known as Riese who is editor of Autostraddle, the most popular independently owned lesbian web site.
"Audience"/Marni, Vikki & Deborah: Yeahhh!
Maria: If you are not familiar with the BlogHer way, we like to make sure we are having an engaging dialogue with our community, so I like to start right away by opening up to your questions and helping that get us started here. So anyone have any burning questions for our esteemed panel?
[…]
Audience: Hi, I'm Rochelle from blog MagPieGirl.com, a community for women. One of the things I noticed is when the women are interacting with each other within the community, it takes some of the burden off of me to nurture that community. So I was wondering if you could share maybe one or two things that you've done in your communities is that helped the members engage with each other or maybe if there was something that you put a lot of time into that you thought was going to help them engage and it didn't — what would you recommend and what would you avoid?
Riese: One of the things we did when we first launched Autostraddle is everyone who wrote for us had to respond back to every single comment on the web site. We started a conversation really easily that way and people knew that we were accessible and people knew that we were open to hearing what they had to say to us, and that sort of set the tone for participation. And then eventually, it did cultivate. Comment awards is also a thing you can do, to encourage people to be funny.
Elisa: We have a policy of people introducing themselves, I have a diary function on my web site so anybody can post anything they want, and we always ask people, you know, do an intro diary, let us know how many kids do you have, what do you do for a living, where do you live, so we can somewhat put a face to a name, and that's helped immensely. One of our community members had a horrible accident out in Oakland. It was her brother that fell three flights of stairs, was paralyzed. This made all of the local news. And we actually raised money for her on line because we felt like we knew her because she commented regularly, and, again, she did that first intro diary. So I would actually encourage people to introduce each other and no anonymous comments.
Julia Roberts: For us, we also have different groups for different special needs or different situations relating to special needs, and when there is somebody who can post something, if it takes a little bit of time for somebody else to comments on it. I will go in and find another community member that I know has dealt with that and I will get them to kind of connect that way because we are a new community. We have only been active for about a year, and because it is so niche and because special needs parents have limited time on line, I really am a go between. I'm a facilitator a lot of times, and that's actually one of the points that I wanted to make because I didn't expect to be that person. I didn't expect that I would need to. I thought if I gave people the place to talk, they would find a way to do it, and that has not always happened and I have had to facilitate that, but when I ask people to go and support somebody else, I have not had any problem finding support for that person.
Eden: I had to do a couple of things with the National Blog Posting Month, and one of them was since for us, the basic function of the site was as a blog roll so that people could find each other and find each other with the same interests. So just dividing the blog roll up by here are the people writing about crafting, and then like all of the crafters can find each other, all of the faith and religion bloggers can find each other. We had a section called I don't know, anonymous foaming, kind of a comedy section, just like people who were just being funny on line and so they could find each other, and then I also enabled this thing, which was kind of dorky, our whole network was set up on Ning, like show everybody's birthdays and you can send everybody presents, people like that. It's so and so's birthday, I will send them a heart. It's kind of Facebooky, but it worked.
Maria: Now, Elisa, you mentioned you don't take anonymous comments, and, Riese, your site doesn't require registration, correct?
Riese: Right, it doesn't.
Maria: Maybe you could each kind of say the benefits you find from each approach.
Riese: I think obviously a big reason we don't require registration and we allow anonymous posters is because a lot of our readers aren't out yet, or they're just not at a place where they feel comfortable talking if they have to give their name. We wanted to set up a more uncensored dialogue and there are definitely problems with it. We definitely have ass — am I allowed to swear?
Maria: Yes.
Riese: We definitely have assholes that come to the site and comment anonymously, but I think in a way the community is so grateful that we allow the anonymous option that they self-police. They will police the assholes themselves. And it's difficult, but I felt like that was part of what gave us a lot of comments to begin with. People hesitate. If you have to register for something, people might not do it, I guess.
Elisa: We have found I think there is pros and cons. Well, no, what I found was that we go as anonymous as some people might have handles and might never, for example, give their children's names, which is totally cool or give, let people know where exactly they live. They might say I live in New Jersey but not the town. That's cool too. So we have some anonymity in terms of handles, but one thing we won't allow is what we call bird droppings, people to just come by, be assholes not really be interested in engaging the community. We want a community that cares about one another and engaged and if it means a smaller community, then so be it, but that is a decision that my partners and myself have made that from the beginning we go to Mother Talkers to have a good time, to be around women that we can engage with and respect and be friends with in real life. We don't want to go there and feel bad and disgruntled and have to take heart medication because some of the comments are rude. That said, we have had our trolls, even with registration, there is people that I just, I don't know what it is, but we have had some men masquerading as moms to tell us what to think politically, and their IP addresses have been banned. They are not allowed to come back to Mother Talkers.
Julia Roberts: We have it both ways. You have to register to be in a group and have discussions, but you can comment anonymously, and you don't have to log in or register to comment on blog posts. So we have two functions. So we expect that the people who register have a profile or even just they can still have, you know, they can still hide themselves a little bit, but we do require registration because in a community like ours, we do want people to feel safe, and like they can figure out who they are talking to. But on posts that we put on we are fine with anonymous comments, and so we kind of have, we have both situations.
Audience: Hi, I'm Ronny, I actually have five blogs and a Ning based community with 5,000 members so I'm very interested in the sanity part of this discussion. I know one of the strategies I haven't been implementing is hiring moderators and finding community members who are willing to lead, so I was wondering if you guys can share tips or approaches. I'm not sure how to solicit them and make it official. Do you pay them or not? What are your approaches to having more formal leaders within those online communities instead of kind of expecting it just to happen.
Maria: Eden, you want to kick us off on the sanity part.
Eden: You are totally on the right track because that's what burned me beyond recognition was the fact that I was doing it myself, day in and day out looking trying to get rid of the spammers and the jerks and just the fake profiles and the nonsense. So I would also like to hear if anybody could discuss how to get help.
Julia Roberts: I mean, I can. I think what we do, we look for the active community members, and we kind of make them ambassadors, really, they are the people I go to when somebody needs some support because they are active in the community.
 So we don't really have an agreement. It's an unspoken thing. I basically will ask them if they could watch that group. I can make them moderator of that group. I can make them in charge of that group. So I handle it that way.
We don't pay. I don't make anything from Support for Special Needs at this time. Like I said, we have been open about a year. We only have a little over 600 members, and it is, it is a lot of work, like Eden, to be the only person. I have one technical person that works behind the scenes, but really it's me. I'm not only the content generator or solicitor, I also manage the community.
And my tips for that are I only can do what I can do.
 And I don't beat myself up when I can't do it. When I see a spammer has been on the site for, you know, a day, I delete it when I find it. So I do what I can do. And as a special needs parent with special need that's can be consuming sometimes, luckily I'm in a safe place where other certainly needs parents understand that.
 So it's a circle of trust among our community members. I have had to gently guide people on community guidelines on how to talk to each other in a nice way because there are certain special needs issues that really separate us, but the idea of our community is to look at what we have in common, so I really strongly do that. But in finding community members that can act as ambassadors, it really is just looking for the people who are a little bit active and trying to nurture them, reading their blog, you know, having Twitter conversations with them, really trying to establish friendships because I connect with them on either special needs level or I enjoy their writing. I try to let those relationships happen organically because that's really the only way our community works is if there is a mutual respect and organic friendships kind of develop out of that.
Elisa: I admire anyone who can maintain a site by themselves because I first of all, I am insane even with help, and when I started out, I was a journalist, so I knew off the bat that there was no way I could maintain a blog by myself and have two small kids. So I started out and enlisted three friends. One did burn out, and she did drop out. I will disclose that, but the other two have stayed with me the last six years now, and if it weren't for them two taking over while I'm on maternity leave, while I'm on vacation, helping me patrol the sites, keeping it a safe place to be, right now I'm going to be taking them out to dinner after this.
This is it's very important to do things like that as a thank you, because otherwise and there has been days where I have had my moments. I have posted where, you know, I am just having a bad day and thinking why am I doing all of this work at Mother Talkers because maybe it brings enough money for groceries, and I don't know if it's worth it, and I have had glory and Erika talk me down and say Elisa, we have an active community that depends on us for support, for everything, they would not be happy if Mother Talkers were shut down, like don't you think that way.
And I think they also like me enjoy the fact that we do have active commenters, and we know that when we put something up within ten minutes there will be comments and people there is kind of an addictive nature to that. It's a really nice thing.
But I would say if you are going to start a blog, that's why we are Mother Talkers, not mother talker, get help. Make sure that it's someone as passionate as you are about the issue and you guys can take turns, create a blog schedule.
When we first started out, this was an issue where I felt like I was blogging more than the others and I said, you know, I would finally send the pissy email and say, you know what guys, I don't think this is fair. I think we need to start creating schedules of when we are going to post and they are like fine. We post three times a day, Monday through Friday and a post Saturday and a post Sunday, and Erika and Gloria and I, we are fortunate and sometimes people post diaries and we are able to post that to the front page and that saves a post. We have enlisted contributing writers, people that were very active in the diaries, asking them to post on the front page.
From as far as I can see, one of the things that to encourage that I have told people is that it's good exposure if they wanted to get practice in writing and in social media skills.
We have a Facebook page. I said, look, you know, even getting work as a social media director, I mean, I do consulting work, and I sometimes also pass on that work to other members on the site. So we help each other, we are a community, but I just can't imagine doing this on my own. It's just too much work for one person. That's my opinion.
Julia Roberts: That's true.
Elisa: Hats off to Julia and anybody doing that on their own.
Riese: Yes, I'm not doing that on my own. First of all, I don't know if you can really sustain an online community and at least not go a little bit crazy, so it's about how to handle being crazy, but I have, there is always someone watching the site, always. Even when I'm asleep, because we have writers in Australia. So there is me and there is one other editor, and we are almost always on. We have a meeting every single morning at 9:00 a.m. and then we are on g-chat and on the site all day. If I have to go out, she stays.
And I think in a way the audience's awareness that we were sort of full-time and we were always there maybe is why we never had that big of an issue with having to police unruly commenters or unruly community members or stuff like that. I guess I just have to echo like it's really hard to do it by yourself. And a lot of times if something upsets me it's a lot easier for me and the other editor to bounce it off each other and vent at each other and then decide if we want to vent at everybody.
Julia Roberts: I agree, find other people.
Eden: This is your full time job, or do you have another job as well?
Riese: Yes, this is what I do full time.
Julia Roberts: I have a full time job outside of Support for Special Needs.
Eden: If you are trying to run five blogs and do this at the same time, I think you are in trouble.
Audience: Hi, I'm Elena and I blog for Food Network in Canada. I'm wondering how you can reinvigorate a stagnated community, how you can get in there, roll up your sleeves and get people talking again.
Eden: I guess it depends on what kind of community it is. I had great ideas, but because I had no help, I couldn't implement them, but my great ideas were to get people involved I don't know maybe it sounds dorky, but like contests or challenges, like let's all whoever wants to participate in this challenge for 30 days of blogging at a certain time like we will all meet here at a certain time, or we will all blog about what you had for lunch, which is stupid, but for the kind of site it was, the challenge was to make it into a writing exercise and see if you can take something mundane and make it interesting. So that was sometimes that would work. Some people really respond to that, other people are like, no. What is your focus of your community?
Audience: Home and garden television network.
Eden: They want you to tell them what to do.
Audience: They join, but they are not well educated in what a community is. They've joined and part of the onus is on us to get in there and we need to have dedicated people, specific community producers in there all the time kind of engaging and educating our community members and possibly creating incentive, like badges and all that stuff, but it's really a science. If we don't know what we're doing, we should pay a company that specializes in that to kickstart that for us — is there something we can do? As a corporation we have to show numbers before we can get any extra heads. So is there anything you could suggest for us on the ground to do to engage people? They love our content, are happy to visit the site, but don't know how to engage. And when we do ask them to upload photos or share crafts, they are kind of timid and most of them are lurkers even though we do our best to make them feel at ease and welcomed in the community.
Riese: Have you ever tried open threads? I would definitely try that. We have open threads every single holiday, every single awards show on TV. Every time we think there's something going on where our readers would want to talk to people that think like them. One day we were low on stats and I did a thread on whether your beer has a gender identity, and it was one of our top posts of all time. People love to talk about themselves and if you are asking a community like that for an open thread and how do you deal with this situation, everybody wants to be like I do this, I do this, you know. Everyone likes to talk about themselves.
Elisa: I was going to piggyback off of what she said. We do our open thread, our Oscar open threads, we are live chatting with each other about what people are wearing. It's important to treat your on line community like your friends off line. They are coming and they are reading you. Think about that. There is tons and tons of blogs on the internet, but yet every day or, however often they come, they are coming specifically to read and learn from you.
 And what we have done on Mother Talkers is nurture those friendships on Facebook and what not, and also one of my favorite diaries on, and these are very popular, talk about building community, is whenever one of our members is having a baby, somebody else will post a diary saying no peeking, Lisa in Austin, no peeking this person, and then says, as you know, she is having a baby. I think we should do something for her and what I normally do is reach out to that person and just say I need your mailing address, don't ask any questions, and we collect money and we will somebody near her will hand deliver the gift that the Mother Talkers community I will mail the swag to that person and they will hand deliver the mother talker swag and usually it's a communal gift, a grocery card, gift certificate or we got Edica a meal delivery service in Southern California when she just had her baby. It puts it's like real friendships that have extended from the internet off line.
Audience: May I ask how big your community is, how many members you have?
Elisa: 10,000 unique visits a week.
Riese: We have about 1.7 million views a month, and about 330,000 unique visitors a month.
Julia Roberts: We are small, we only have between depending on the issue, 600 and a thousand hits per day.
Eden: I think we had about 16,000 members but they certainly weren't all active at once.
[…]
Maria: Riese, one of the ways you sustain your blog is through the community donations. So how does that work for you?
Riese: Most of our income is through donations. We have advertising sales and merchandise sales but 75% of our operating budget is reader donations. So a few months back when we were stressed out and had all these problems, the community raised about $22,000 in ten days for us to stay open. And in a way, it was it's been really awesome, the few months since then. We have gotten a lot more help, like a marketing consultant, management consultant, people volunteered to come help us — but what's great is that now the readers are our bosses. What we want to do is write for them and do what they want.  And I know that might be special within the lesbian community because people often need that online community moreso than other demographics do, but that's what worked for us.
Julia Roberts: If I can just add to the revenue thing, we don't have we won't ask money from special needs parents, because I am one, but how we are starting to my other social media activity I feed into pay for the site, so it's paid by me. In addition, there are the beginning of companies that are coming to us because we do have a circle of community members and Support for Special Needs is gaining some influence so we are just in the early stages of developing some ways that we can have the site sponsored and picked up by different companies. So we are investigating that now.
Maria: We have a question in the audience.
Audience: I work for the Make-a-Wish foundation and I used to handle social media for Autism Speaks so I have had two unique, two large vocal communities and I'm hearing, tell people when you are burned out which I have no option to do that because I would be unemployed if I told them I was burned out. On a general basis, how do you handle things when you are working towards something, like for me, for example, you are doing everything you can do to help somebody and they are angry? We are dealing with parents who are dealing with challenges and I take it personally. I will be like I have been trying for hours to get this person to understand why they can't do this and they keep fighting back and fighting back. And because of the nature of it, I take it so hard. How do you turn that so that at the end of the day, you can look at something and not have that kind of a feeling if you are dealing with, you know, the one person that just can't see what you are doing.
Riese: I take it really personally still every time. I mean, you can drink, I guess. Take a bike ride, go to the gym. I guess, I don't know, vent. I'm not sure if there is a way to fix that besides just fixing the way that you think or about positive thinking or being like that. If it's one person and it's fine, you know, we can't make everybody happy.
Maria: Yoga.
Riese: Yes, yoga.
Elisa: I run at 5:00 in the morning. I can get 20 comments and it will be the two comments that just rattle me. It's still like that.
Julia Roberts: I think probably I deal with it the best I can, and then I remember that our community might not just be serving them and maybe it's not the right place for them and that's not really my problem, that's their problem. And I as gently as I can say maybe this aren't the right place for you, but I have done these three things and I am obviously not meeting a need you have, and then I let it good.
Eden: You sort of have to decide that you can't solve, it gets to a point you can't solve their problem and you just, I'm sorry, I have reached my limit of what I can do for you. And if you can also, if you have a friend with like a really black sense of humor who you can say mean things about them and just have say really good laugh, my is just vicious and it's really helpful.
Riese: I would say a good thing to remember is that there's a ton of people who are happy with what you are doing, there are so many people who are grateful to you and know that you are doing good for them. So to spend all day worrying about one asshole isn't fair to those people. So don't forget those people.
Julia Roberts: Very good point, what she said.
[…]
Audience: Hi, I'm Jen. I write for Anybody Want a Free Nut. It's a personal blog, special needs parenting blog — what are some creative ways you have seen for people to, right now my personal blog is my community, but it's small and I want to get more involved in these larger communities, but my time is limited. So what are some creative ways that you have seen that people sort of leverage one into the other. I'm not using it to drive traffic back to my blog, but maybe carry on the conversation back over in both directions?
Julia Roberts: I think once you start a conversation in any other community that is related to what your interests are, people find an interest it's organic. People find that they are in line in thinking, in a position, in parenting style, in a special need, whatever it is, I think if you start a conversation on their blog or their community, I think what happens is it's a two-way street. So I think the way to engage more, not I don't even want to I know this isn't what you are asking to get your blog more popular, but to start a dialogue in both places is to step out of your own blog into other communities that you feel comfortable in, whether that's a Facebook page or any kind of other site, disability site or not, photography site, whatever it is, whatever interests you. And I think you will naturally organically build friendships that have that two-way street.
Riese: I started a personal blog in 2006 so it was almost three years between that and starting the bigger site, and most of the original team and even a lot of the team we have now that it's way bigger are people I met when I was still having my personal blog. So I had a following through that and that's where I formed my team. I think everyone on my team initially was somebody I knew through reading their blogs, they were reading mine.
Maria: And, Riese, when you moved to a community blog, your blog is a blog for lesbians but it has a very particular focus.
Riese: Right.
Maria: How did you develop that kind of focus on younger college age lesbians in that community within the community?
Riese: I don't know. I think maybe I'm really immature, and so kids that age felt they could relate to me. I don't know. We did start out with 15 interns who were all almost like little campus ambassadors at their own schools. I guess — it kind of just happened. I think we sort of were tapping into a certain, I guess, ideology that was reflective of a new generation, but I don't think it's age specific. I'm a little bit older [than college kids] but you have real years and dyke years. So somebody could be at a certain stage of even dating or meeting people or being out, and one of those people can be 15 and one can be 35 and still be at the same place in their life. And I think that's sort of what it's like.
Audience Member: [to me] That's why it works that is exactly why your site works.
Riese: Thanks!
Julia Roberts: What all of us have said is it's organic and we let it be. I had one thought, your husband had one thought, you had one thought and it's come from an organic nature, even Eden was telling me yesterday she was like, oh, let's just write for a month, a little writers thing and we have all been to her site and done it.
Audience: I'm Sarah Gilbert and I have run a site with three other wonderful supportive women in Portland, a site for Portland Moms for six years and it's been really, really tough and rewarding. I'm wondering if we could maybe make an online support community for online community support.
(Applause).
Julia Roberts: If you run it and moderate it, yes, I'm there.
Eden: That's great.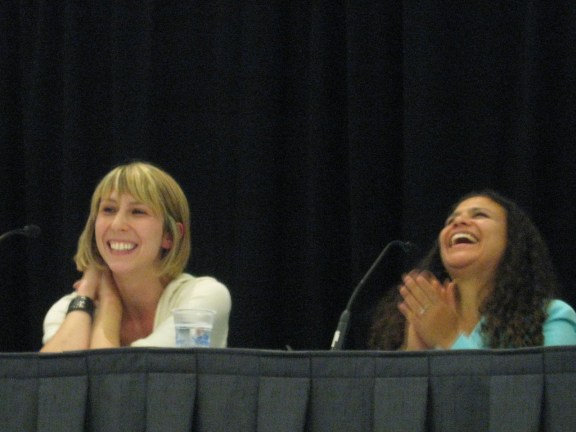 Audience: I just want to share how endlessly frustrating it is for, you know, for you to have a regular reader who decides that she is there to keep you honest even when you think you are already honest, and every time you post something she feels like it's important for her to point out how judgmental you are being. I hope that you guys all have that experience.
Julia Roberts: Block. Block.
Audience: Have you guys ever dealt with the situation where you want somebody to be a part of your community and you don't want to be known for, you know, stomping on contrary opinions, but at the same time they are making you cry every time you write a post about X, Y, Z, they make you cry. What do you do?
Riese: I think that one of the things we do, whenever there is a sign of someone saying I think you are missing this, we listen — like they said "you are missing a transgender woman on your site" which is a good idea, totally reasonable. We say, all right, we hear you and we'll do it. Any time anyone gives us a suggestion or disagrees with us in a way we feel is relevant, we take action on it. That way when someone comes on and disagrees in a way that's irrelevant and annoying, everyone else is sort of on our side — they know we're totally open to dissent, open to conversation, totally open to changing everything we do if it makes sense, and I think if you sort of establish that — that becomes your reputation and then the people making unreasonable requests will stand out more as undesirables.
Julia Roberts: I agree.
Eden: She is right.
Maria: So as we were talking and preparing for the panel, each of you mentioned different ways in which you kind of build some structure behind the scenes to help keep your own sanity and keep the communities growing and sustaining. Maybe each of you could talk about maybe what some of your tips and tricks are, you know, is it an editorial calendar, is it preposting? Is it building forums? Is it letting people blog on your site directly? What are some of the structures you have put in to help sustain and keep your sanity?
Eden: Boundaries, and a schedule so that I don't have to be so that I could cut off I don't have to I about it for X amount of hours I will be on the site at 8:00, 9:00, noon, at 5:00 and at 10:00. And I make sure everything is okay and then I'm out. That's what I needed to do to stay sane.
Julia Roberts: Editorial calendars, boundaries and also when I'm not there, I don't worry about it. It's important that when I'm away, I'm away, and if it blows up I will have to deal with it later, and, really, I don't stress about that them. I used to, but I don't anymore. Another thing I also do is I really try to write all of it at once and get three posts, my Monday, Wednesday, Friday posts up at the same time, but I'm committed to going on the site about four times a day just through the groups for me to just look through the groups, answer, try to see if I need to go find a community member, but I do that at specific times so it doesn't interfere with my paying job. My boss would I'm my own boss, my boss likes for me to work and earn money. And so my boundaries are not unlike Eden's, I do it in the morning when I get to the office. I do it at lunch usually when I'm eating my lunch and then in the afternoon before I go home and then I'm on at night. And I Tweet probably more than I am in the community because I want to stay connected to the people in my community.
Elisa: I would say start out with friends to blog or blog at an existing site, and in some ways you will have kind of an ownership in that if you are a regular contributor. Have a schedule ahead of time of when you and your partners post. We have an automatic scheduler so, for example, our first post goes up 5:00 a.m. Pacific time, and very early for us, but the posts are automatically, it automatically posts. So I just put that in the can. I also, in terms of consulting work, I take on issues I care about, that I know my readers care about so I'm able to cross post from other blogs and that saves me a lot of writing stories. The other thing is a combination of quick, like isn't this cool or an open thread about the Oscars, and an actual well thought out stories, not all of the posts, that's the thing that people need to understand. Not all of the posts need to be long. They can be short and quick and just mix things up. And finally, no, I would say that that is about it oh, yes, don't take people's comments, unless they are trolls, get rid of them, don't take people's comments personally.
Take care of yourself, have those boundaries. I check the site maybe a few times a day like Julia, and I don't I allow Twitter and Facebook to let me know if anybody has any complaints. That will get to me right away on my cell phone. And I yes, I try not to take any comments personally.
Riese: I guess we post probably between like six and ten times a day, and in terms of how that works, it's having a lot of other writers. The executive editor handles most of the communication with our other writers. We have weekly editorial meetings and we have daily meetings with me and just the one other editor, our management consultant in the morning, and I guess there is just a lot of people working behind the scenes to get that done. But it has taken a really long time to find writers I can trust. The fact that I can be here right now and not have to write posts while I'm here is great. I'm lucky because I have two writers I can trust who can run it while I'm gone. They will be tired when I get back. And also, I think I am crazy, so I don't know.
[…]
Maria: I will ask each of the panelists to leave you with their one last bit of best advice.
Riese: Ummm… Lean Pockets, soda. I love my community, like I really do love them, so I really genuinely care, I don't have to just act like a care. And I think that's why it works. The other editors love them too, and we tell them that we love them. And we let them ask us stupid questions about their girlfriends. So if you love them, it helps.
Maria: I'm going to change the question. What is the one thing that you wish somebody had told you before you started all of this?
Elisa: I actually have an answer to that. I would say be open minded. I came from the journalism world. I really thought I was going to have this on line magazine and sell tons of ads, and sort of build it and they will come, and, wow, was it so not like that. I never thought I would care as much as I did for the personal lives of the people that come and read my site, moreso than I ever did as a journalist. The other thing is in terms of monetizing the site, again, keeping it open minded. Now, I just, I honestly don't care about the numbers. I don't care if there are ads on the site or not. It's just, you know, the fact is having a blog in itself and showing my writing out there has brought jobs so that in and of itself has brought jobs and brought in money. So it's sort of like it became its own entity, and you just have to be open minded and respect the community that you have.
Julia Roberts: I think I wish someone had told me that I would be, like, my name would be Julia Roberts, Support for Special Needs. I didn't realize that I am the voice. I thought I would build it and the voice would just be from the people, but if I died tomorrow, the community would go away probably. And I didn't realize that I was the community. Nobody told me that. And also authentic building relationships, I think, is my one tip is just to be yourself, and let the I don't get too stressed out with how much traffic and that kind of thing, if real conversations are happening, and the revenue stream be open minded because what I thought was one thing has not turned out what it has been.
Eden: I guess mine would be get a partner. Get a partner with technical knowhow because eventually I just burned out and I had to go, and I had to fortunately, so fortunately, I was able to sell it to BlogHer and they are going to do amazing things, I'm sure, but all I had was friends going oh, I know what you should do, I know what you should do and they filled my head with all kinds of ideas that I could never implement and that just increased my burnout, so if I had had somebody who would actually help me implement that stuff, it would have made a world of difference.
Riese: Sometimes your writing is better if you take two hours to go outside and interact with other human beings and then one hour writing it than it is if you take three hours writing it. That's it.
Maria: Great tip. All right. Thanks, everyone. And if you didn't notice, all the way over on that side of the room there are everyone's name and their web site address and their Twitter handle. Thanks everyone!