It's Sunday Funday! Everyone looks damn sexy and everyone is gay. Plus, there are still weddings to be had, and lots of honeymoons to go on. And do you love Lucille Ball? I love Lucille Ball.
Oh, and did I mention the sexy women?
People Are Gay Everywhere, Even At Your School
Everyone Is Gay
, an internet advice column focusing specifically on the LGBTQ youth community, uses humor, honesty, and pictures of kittens to support these youth while keeping them laughing. Everyone Is Gay strives to encourage a deeper understanding of LGBTQ issues, to constantly examine how those issues intersect with other communities, to promote peer advocacy and to provide outreach and resources to all.
This September, EIG will embark on the first part of their nationwide tour of high school and college campuses, inspired in part by the onslaught of teen suicides related to gay bullying that have occured recently.
Here are the Fall Tour Dates:
+ September 19: Drew University, Madison, NJ / September 22: Wilkes University, Wilkes-Barre, PA / October 3:
+ Bard College, Annondale-on-Hudson, NY / October 4: Harvard University, Cambridge, MA / October 5: Boston
+ College, Boston, MA / October 6: Waltham House, Boston, MA / October 7: New York University, New York, NY
+ (Queer Blogger Panel) / October 11: Kenyon College, Gambier, OH / October 25: Stetson University, Deland, FL /
+ October 27: University of Virginia, Charlottesville, VA
Vote in the Autostraddle Wedding Giveaway! Still!
The voting is still underway for Autostraddle's Wedding Giveaway! Here's a refresh on the details:
To celebrate the recognition of equal marriage rights in New York, award-winning photographer Robin Roemer wanted to give one lucky gay or lesbian couple a wedding photography package worth $4,000! She teamed up with Green Bride Guide and wedding officiant Elizabeth Phaire to make this giveaway even more amazing:
+ A professional photography package that includes wedding coverage, image editing, an online gallery and a DVD of high-resolution images.
+ A personalized wedding ceremony valued at $850-$1,000.
+ A signed copy of the book, The Green Bride Guide: How to Create an Earth-Friendly Wedding on Any Budget by Kate L. Harrison.
+ A gift certificate for a $250 shopping spree to Green Bride Guide's Green Wedding Registry.
+ Their wedding featured on Autostraddle.
Voting will continue until August 16. You can vote after you check out the lucky finalists.
Lesbian Couple is Adorable, Makes Greeting Cards for Gays
Have you ever been like, "damn, I just can't find a card with two girls on sailboats on the front and a lesbian love poem inside at this CVS!" and felt a little sad while you made your own in Photoshop, even though it took all night? No? Okay, well then we can move on.
Dina Proto and Dina Poist-Proto, two lesbians who are married with four kids and the same name, have launched Teazled, a card company for queers. It's full of cards you just can't find anywhere else: for two moms, for two dads, for ladies courting other ladies, for holidays with your gay family members, etc. Like this:
A disclaimer: I have already purchased something from Teazled. As in, five minutes ago.
In Case You're Going on Vacation or Something…
There are some new LGBT destinations on the map:
+ Australia's Gold Coast was named the top lesbian and gay honeymoon destination by a group called the "Gay Comfort Organization," who also certified the Gold Coast a Gay Comfort city last year.
+ The UK is about to have its first-ever biker rally specifically for lesbian and gay riders. Around 500 are expected to attend the event, which includes a BBQ, comedy, and music. It's on Sunday, September 8 at 10 AM. 
Lazy Sunday Arts + Crafts: Make A Cool(er) Shirt
Jezebel recently published an awesome DIY project that turns all of your shirts into even better shirts with nothing more than a safety pin. Seriously!

Lucille Ball is 100 and Would Have Loved You and Your Girlfriend
Star of "I Love Lucy," pioneer of early television, famous redhead, and world-class funny lady, Lucille Ball, would have turned 100 yesterday. Everyone was talking about it, even the Google.
Slate published an introspective gallery of photographs of Ball at her finest: as a star, as a mother and wife, and as an all-around loveable character in this sometimes dismal, and in her time, black / white / and grey-toned world. They resonate, each a different testament to her spirit and multidimensional wonder.
Lucille Ball also cared about the gays. In a Twoleroad piece, Andrew Belonsky digs up a vintage interview and finds out that Lucy loved us just as much as we love her:
I've stumbled upon a 1980 interview Ball did with People magazine in which she says she's no fan of Lily Tomlin, believes in women's rights, but doesn't participate because "I've been so liberated I have nothing to squawk about," and comes out for gay rights, still a relatively taboo subject those thirty-odd years ago.
[PEOPLE:] How do you feel about gay rights? 
[LUCILLE BALL:] It's perfectly all right with me. Some of the most gifted people I've ever met or read about are homosexual. How can you knock it?
If only Ball were alive today to see how far LGBT people have come, and how many of us still adore her.
Celebrities Fighting for Gay Marriage Rights Again
A team of celebrities, ranging from Mya to Austin Powers' Mini-Me, have released a NoH8 Campaign video urging President Obama to stand up for gay families and support national marriage equality. They call it, "Mr. President, Will You Say 'I Do?'" I call it, "the cutest thing ever and I like Larry King's suspenders." They're a great touch:
Pictures of Rihanna in a Bathing Suit
Happy Sunday Funday, Rihanna wore a white string swimsuit the other day:
RuPaul Is Still Fabulous
The New York Times had lunch with RuPaul, and talked to him about how Drag Race nourishes his soul and keeps his career relevant:
It should be obvious that RuPaul's salvation as both an artist and a sensitive man has been to realize that he is an instrument of amusement, above all his own. That's what he is doing on each episode of "Drag Race": gratifying his soul as he runs through his private store of gay icons. He does this because the alternative is too poisonous — and drag mocks anything that takes itself too seriously.
"My mom used to say to me, 'Ru, you're too damn serious,' " he said as we drank our coffee. "Those were her words. I was 5 years old at the time." He broke into his long, low laugh, and I glanced at the floor to locate its source. "There are so many sensitive souls they don't know what to do with their feelings."
But is drag ever, well, a drag?
"It's really a small part of my life," he said. "Obviously I haven't done drag in a couple of months now. My eyebrows have grown back in." He smiled. "If I never did it again I'm fine with that. If I do it tomorrow, I'll take some water pills and make it happen."

Lady Gaga Releases Album Art, is Releasing a Coffee Table Book
The Gaga Herself has released the album art to the "You & I" single, and it confuses me. Do you understand it?
Gaga's longer-term project, however, is getting out of your car's 6-disc CD changer rotation and into your living room. She's working on a coffee table book based around her Monster Ball Tour, including pictures of the pop star and her fans.
The photos were taken by Gaga's long-time partner in crime Terry Richardson; they are sure to be fabulous, a little bewildering, and, altogether, just a little weird:
He would come backstage and he would say, 'Oh my God, the fans!' And I'd say, 'I know … I know what you just photographed.' And he'd say, 'Baby, wow!' And then he'd film me, like, peeing in a cup and, like, ridiculous things.
The book is slated for release on November 22.
Nicki Minaj Nip Slip
It was actually a little bit of a let-down considering the last "wardrobe malfunction" I googled for hours ended in something more than this: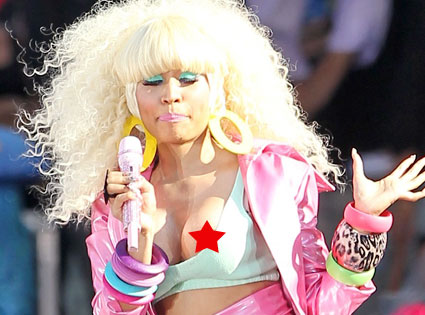 But here's an uncensored video, in case you're like me and have no cable and are interested in seeing the sequence in real time for no particular reason:
Anne Hathaway as Catwoman
If you needed a reason to see Catwoman besides the fact that the last time a Catwoman movie came out you strutted to this song for eight years straight, it's Anne Hathaway wearing a latex suit. It's kind of like Uma Thurman in Kill Bill, but more wholesome:
This Man Loves Lions Even More Than Me
In random acts of lion-related newsmaking, a Ukrainian, zoo-keeper has agreed to sleep in his lions' pen for 35 days to raise awareness about living conditions for captive animals. Sounds noble, but maybe a little scary. Just a little. But cheers to Alexander Pylyshenko for going where no Carmen Rios* has dared to go.
*to the best of my knowledge, and excluding animal dreams
But anyway, that might be cute but this picture of lions cuddling is cuter: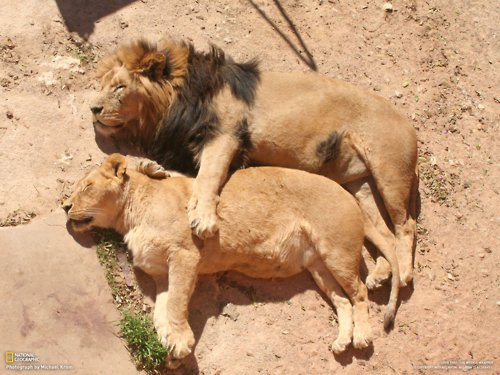 Bear Cubs
Bears scare me, but ohmygosh. Once you start looking at cubs, it's kind of hard to stop. So I'm bringing you multiple varieties of bear cubs, because I love you.