Art Attack Month: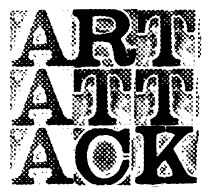 0. 1/28/2012 – Art Attack Call for Submissions, by Riese
1. 2/1/2012 – Art Attack Gallery: 100 Queer Woman Artists In Your Face, by The Team
2. 2/3/2012 – Judy Chicago, by Lindsay
3. 2/7/2012 – Gran Fury, by Rachel
4. 2/7/2012 – Diane Arbus, by MJ
5. 2/8/2012 – Laurel Nakadate, by Lemon
6. 2/9/2012 – 10 Websites For Looking At Pictures All Day, by Riese
7. 2/10/2012 – LTTR, by Jessica G.
8. 2/13/2012 – Hide/Seek, by Danielle
9. 2/15/2012 – Spotlight: Simone Meltesen, by Laneia
10. 2/15/2012 – Ivana, by Crystal
11. 2/15/2012 – Gluck, by Jennifer Thompson
12. 2/16/2012 – Jean-Michel Basquiat, by Gabrielle
13. 2/20/2012 – Yoko Ono, by Carmen
14. 2/20/2012 – Zanele Muholi, by Jamie
15. 2/20/2012 – The Malaya Project, by Whitney
16. 2/21/2012 – Feminist Fan Tees, by Ani Iti
17. 2/22/2012 – 12 Great Movies About Art, by Riese
18. 2/22/2012 – Kara Walker, by Liz
19. 2/22/2012 – Dese'Rae L. Stage, by Laneia
20. 2/22/2012 – Maya Deren, by Celia David
21. 2/22/2012 – Spotlight: Bex Freund, by Rachel
22. 2/24/2012 – All the Cunning Stunts, by Krista Burton
23. 2/26/2012 – An Introductory Guide to Comics for Ladygays, by Ash
24. 2/27/2012 – Jenny Holzer, by Kolleen
25. 2/27/2012 – 10 Contemporary Lesbian Photographers You Should Know About, by Lemon/Carrie/Riese


[feature image by Sophia Wallace]
by Lemon & Carrie & Riese
Lesbians are perhaps more visible in the contemporary photography scene than any other aspect of popular visual art these days, but it's been a long time coming  — at the turn of the century, it was still nearly impossible for lesbian imagery to even see the light of day, let alone the cover of Vanity Fair. 
The first well-recorded case of lesbian-produced photography is Emma Jean Gay, who was born in 1830 and taught herself photography in 1888. With the help of her ethnologist friend Alice Fletcher, who Emma had a big fat lesbian crush on, Emma moved out West and began photographing the Nez Perce. In the early-to-mid-20th century, gender bending and Sapphicly suggestive imagery would come from ladies like Alice Austen, Frances Benjamin Johnston and  Margarethe Mather.
Many lesbian photographers we're familiar with today rose to prominence in the 1970s and 80s — people like Cathy Cade, JEB (Joan E.Biren), Tea Corinne, Mumaz Karimjess, Chloe Atkins, Deborah Bright, Fiona Arnold, Jill Posener, Linda Kliewer, Jean Weisinger, Zone Paraiso Montoya and Hanh Thi Pham.
Today's most well-known lesbian photographers are, hands down, Annie Leibovitz and Catherine Opie. The former is best-known for her editorial magazine work, and that's true of many of the photographers we'll discuss here today. Lately the commercial and the artistic seem to blur together more than ever, and a new generation of keen-eyed queers are making waves in the industry. Here are ten you should know about.

10 Contemporary Lesbian Photographers You Should Know (About)
[in no particular order]
+
1. Cass Bird
[website]
This one time, Cass Bird photographed Kate Moenning as if Kate Moennig was Patti Smith. It was a thing you'd actually wanted all your life but didn't know about it until Cass Bird did it.
Bird, a Smith graduate raised in Los Angeles and currently residing in Brooklyn with her wife and two kids, is a popular editorial, celebrity, commercial, fashion and documentary photographer whose work appears regularly in magazines like The New Yorker, Detailes, Dossier, Paper, Dazed & Confused, Fader, Rolling Stone and New York Magazine, as well as in campaigns/catalogs for brands like Urban Outfitters, Converse, Levi's and Sony.
Bird's show "JD's Lesbian Utopia" (which documented her travels around the US with JD Samson of Le Tigre) was a hit at Deitch Projects (NY) and she's exhibited all around the world in places like the Brooklyn Museum, The Art & Commerce Festival of Emerging Photographers Tour and One Institute. Her non-commercial work tends to focus on ideas around gender and sexuality.
Her subjects appear to be bursting with hope, love and generalized exuberance and a distinctly Californian sense of eternal youth.
Bird's book Rewilding features photos taken during the summers of 2009 and 2010, when Bird took a bunch of women noted for "their ease with their sexual identities, but also for their relative awkwardness in front of the lens"  — friends, studio assistants, and women she'd found on the street — to Sassafrass, Tennessee to create a "joyous portrait of modern femininity and a frolicking celebration of women's camaraderie." The book comes out on February 29, 2012 and features an intro from Jack Halberstam, the author of Female Masculinity.

2. Zanele Muholi
[website]
This week, Jamie told us all about how Zanele Muholi uses "visual activism" to protest the violence and queerphobia that plagues South Africa.  With her photography, Muholi chronicles the lives of black, queer and trans* South Africans who are sometimes rendered invisible or even "immoral."
In her ongoing series Being, Muholi captures the tender and sweet expressions of love between lovers, friends, parents and children.  But then there was this time when the Minister of Arts and Culture in South Africa, Lulu Xingwana, pronounced her exhibition "pornographic and immoral."  Muholi responded: "In art immorality cannot exist. Art is always sacred."
Though she once said that she had hopes of trying out other professions — such as dancing or gynecology — Muholi found that she "reached a climax, a feeling of bliss" when she took photographs.

3. Annie Leibovitz
If you feel like you have heard of Annie Leibovitz it's because you have. She's one of the best-known American photograpers working today and her elaborate (and often incredibly expensive-to-produce) work appears regularly in major print publications including Rolling Stone, Vanity Fair and Vogue.
Perhaps you also know this photo of Ellen Degeneres holding her breasts. With 142 Rolling Stone covers and countless influential editorial spreads, her work is nothing short of iconic.
She mostly takes picture of famous people doing famous things, like the time when she photographed a naked John Lennon curled up next to a fully clothed Yoko Ono five hours before Lennon was shot and killed.
Leibovitz was romantically involved with Susan Sontag, an American essayist and activist. Her work has been ingrained in our national consciousness and are some of the most meaningful images of our time. The recent documentary Life Through A Lens gives a relatively intimate look at her life and work.

4. Sophia Wallace
[website]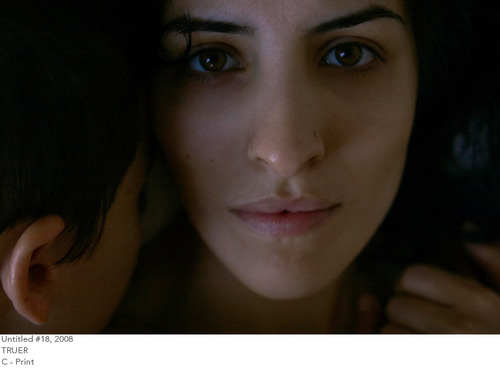 If you are a Tumblr Lesbian, it is possible that you have come across some of Sophia Wallace's work on the Internet.  Her photographs have popped up on popular queer blogs like Genderqueer. Plus, she has her own tumblr where she features her work and things that other people have said about her work.  Wallace uses her photography to expose social constructions of race and gender and challenge normative perceptions.  In her autobiographical project Truer, she attempts to topple heteronormative ideals of domesticity and desire as she documents her own home life.
Wallace is a graduate of Smith and NYU and lives in Brooklyn now, where she shot most of the photos for her series Girls Will Be Boys, a commentary on female masculinity.
Wallace's work tries to subvert preconceived notions of how gender should look.

5. Robin Roemer
[website]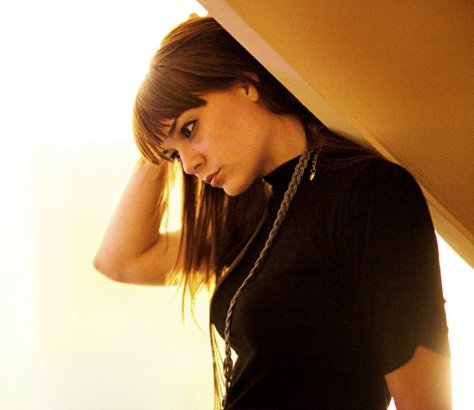 In addition to operating her own highly-revered wedding and lifestyle photography business, documentary & portrait photographer Robin Roemer has become a recognizable name in the queer community for her shots of female queer icons like Lady Gaga, Uh Huh Her, Tegan & Sara and Margaret Cho.
Robin has worked for clients including MTV Networks and Levi Strauss & Co and her work has appeared in places like InStyle, NYLON, O Magazine, Curve New York Magazine, Brides.com and Lady Gaga's Deluxe Art Book.
Robin Roemer is a familiar name around here — she's Autostraddle's photographer and therefore responsible for the Autostraddle Calendar Girls, a project that has gradually evolved with new angles every year and a consistently dynamic and captivating group of actual queer women.
Also for Autostraddle, Robin has captured events like the post-marriage-legalization celebration in New York City and The GLAAD Awards for Autostraddle as well as conducted photoshoots with celebrities like Kim Stolz, The Cliks, The Candy Slice Girls, Nicole Pacent & Julie Goldman.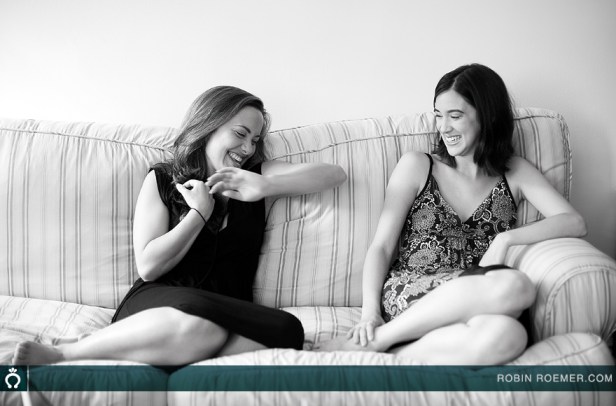 Perhaps the most distinctive element of Robin's work is its reverence for and commitment to the absolute holiness of the photograph's subject(s) — the world she captures is one of beauty, strength, and fun. But it's earned beauty/strength/fun, and Robin's imagery reveals these qualities to be just as complicated as the more readily-byzantine glances at sorrow or strangeness. She deals with issues of queer identity and female sexuality with an empowering vision that challenges the stereotypical idea of "what a lesbian looks like."

6. Alix Smith
[website]
We first talked about lesbian photographer Alix Smith this past summer when she was running a kickstarter campaign to expand her "States of the Union" project, which aims to take classical portrait-style photographs of same-sex families across the U.S.
Based in New York, Smith's work has been featured in The Advocate, The New York Times and TimeOut New York among many other publications. The recipient of a Stonewall Honor in 2009, she is looking to expand her States of the Union project to document same-sex family units in underrepresented regions of the United States.
Smith's stunningly vivid portraits are reminiscent of the era of painted portraiture.


7. Laura Aguilar
Laura Aguilar is a Chicana artist who works primarily in video and in black-and-white photography, taking a sharp eye to people, primarily women, whose bodies and social identities have been marginalized or neglected altogether in mainstream art and culture.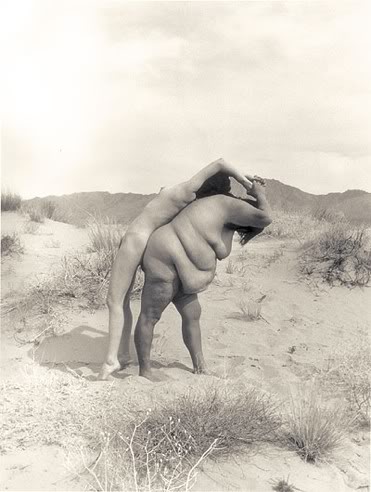 Her work has been shown at the Venice Biennial in Italy, the Los Angeles City Hall Bridge Gallery, the Los Angeles Photography Center, the Women's Center Gallery at UC-Santa Barbara and the recent Hide/Seek Exhibit.
Aguilar has been published in places like Art in America, Frame-Work, Nueva Luz, Forbidden Subjects: Self-Portraits by Lesbian Artists and Visions Art Quarterly.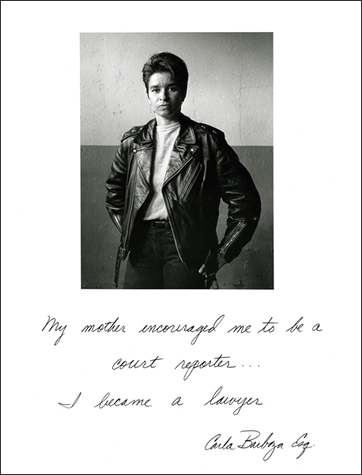 Her Latina Lesbian series, initiated in August 1986, began as a project for a mental health conference which aimed to show a "a positive image of Latina lesbians." Aguilar explained that she wants to break open the Latina Lesbian experience "to provide role models that break negative stereotypes and help develop a better bridge of understanding. I also hope that the pieces provide the opportunity to explore ourselves and others, and to express our own beauty, strength and dignity."

8. Angela Jimenez
[website]
A Brooklyn-based documentary/journalism photographer whose work can frequently be found in The New York Times, Angela Jimenez's work spans a variety of subjects, ranging from World Cup fans to same-sex ballroom dancers to the aftermath of the 2005 tsunami.
Jimenez's fascinating Womyn's Land project chronicled "lesbian separatist residential communities and communes" throughout the U.S. for The New York Times. (Be warned, browsing this gallery will probably make you regret not choosing this topic your as your senior thesis.)
Queer subjects have been a prominent aspect of Jimenez's career and in 2009 she released The Welcome Home Book about the Michigan Womyn's Festival. Her work has received honors from The Magenta Foundation, Review Santa Fe and The New York Press Photographer's Association.

9. iO Tillett Wright
[website]
A self-taught photographer from New York, iO Tillett Wright shoots primarily in black and white film, giving viewers a raw, stripped down look at her subjects.
Carmen introduced us to iO's ongoing Self Evident Truths project back in August. As of January 2012, iO had photographed over 850 people across the United States in an effort to document the varying faces that fall within the LGBTQ spectrum. iO discussed inspiration for the project in The Huffington Post, "I wanted to humanize the abstract idea of 'gays', and show the beautiful, strong, everyday people I knew, that this country is discriminating against."
iO's work has appeared in Vice, New York Magazine and The New York Times Magazine. She recently received funding to expand the Self Evident Truths project and help reach her goal of photographing 4,000 LGBTQ people in 25 cities across the U.S. While she's noted that her photos should not be interpreted solely as a representation of her sexuality, iO is nevertheless someone we're happy to have on our team.

10. Catherine Opie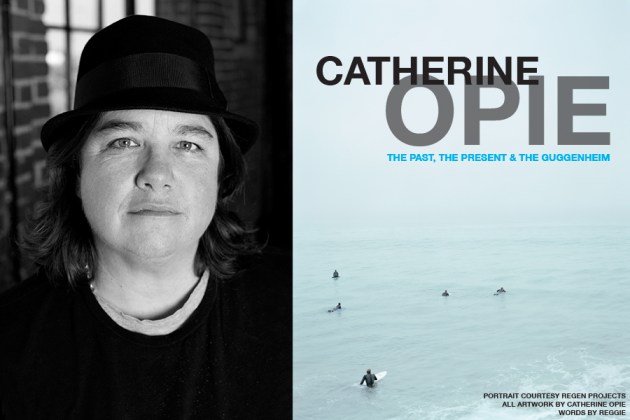 An Ohio native based in Los Angeles, Catherine Opie is an award-winning documentary photographer whose acclaimed work in landscape and portrait photography has made her one of the foremost contemporary photographers in the United States.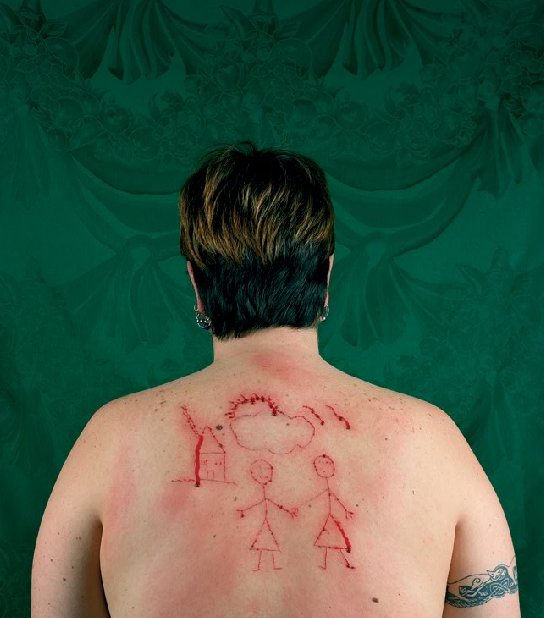 In addition to her work appearing in the opening credits of The L Word, you may be familiar with Opie's Girlfriends series, which featured the likes of of k.d. lang, Jenny Shimizu and Eileen Myles among other well known queer women.
While she features LGBTQ subjects often, Opie's work has documented a staggeringly wide range of subject matter, including high school football, architecture, surfing and BDSM. This diversity makes her photographs pleasantly unpredictable, with some images eliciting shock and others evoking quiet contemplation.
Opie is currently a Professor of Fine Art/Photography at UCLA and continues to show in museums and exhibitions and internationally. In 2008 and 2009 the Guggenheim held an unprecedented mid-career retrospective of her work.


Who are your favorites?
Pages: 1 2See entire article on one page