I watched this week's episode of Pretty Little Liars alone in bed in the middle of the night. It was a giant mistake and I don't suggest anyone else do it. When did this show get so scary? Am I just a giant wimp? This is just one of the many questions I will be attempting to answer in this Fashioncap Plus along with questions such as "Will Emily run off with Maya," "How does Aria fund her designer wardrobe with two teacher parents" and "Who's A."
We start off this week in dreamland where Spencer is "dreaming" that Ali visits her in the night and gives her clues to solving the mystery surrounding her death. More importantly, Ali has a bomb white leather jacket on. That's a tough one to pull off. Don't try this at home, kids. Either way, if I've learned anything about TV it's that when something impossible is happening (like your dead friend approaching you in the middle of the night) if it is portrayed as normal it's a dream, and if it's portrayed as a dream it's probably real life. So I vote that Ali is gallivanting about town and some other girl got buried alive. Did I mention Ali's also really into Ambien?
Rosewood High doesn't start until 11:45am, so the liars still had plenty of time to get into some roaring personal drama. Spencer goes all heart to heart with Emily about "Dream Ali." Emily admits that when she was "out cold" she also saw Ali. Instead of concluding that Ali is still alive, they agree that they're probably both just crazy.
Emily has discovered the joys of dating someone completely emotionally Looney Toons. Nothing says "healthy relationship" like "I thought I could trust you" and "Whose side are you on." Feel free to use these totally unfair phrases in your next girlfriend fight.
Meanwhile Ashley Marin discovered Hanna's secret phone which Mona gave her because Mona is completely dependent on Hanna. Ashley Marin does not fuck around with lying. Unfortunately everyone else does.
As usual, Hanna is wearing something totally inappropriate for high school! Today it's a snakeskin blazer. Normally my rules for snakeskin is that it's only okay on shoes, purses, belts and pants if you're over 5'8″. Otherwise you look like a snake and no one's really liked snakes since the whole Voldemort situation. I will make an exception for Hanna's blazer because it's cute and since I make the rules I also get to break them.
In general, I love the idea of a printed blazer. I've already told you a billion times that blazers are a great way to freshen up your wardrobe, but what if you already have a couple of solid blazers? A printed blazer (or a fun colored one if you're less adventurous) is a great way to add a little pizazz for spring. Hanna's blazer looks great with her solid gem tone blue shirt, so look for a print that coordinates with a couple of your favorite solid shirts. Avoid matching a printed blazer with a printed shirt unless you're extremely careful. Otherwise you could end up looking like a clown.
The other great current trend Hanna is showing off here is casual tuxedo inspired blazers. At the Oscars we saw an influx of men returning to classic style tuxedos. Similarly I've been seeing an influx of tuxedo jackets at cheaper stores. Maybe it's due to the Artist, but it seems the tux is making a comeback. The main thing to keep in mind when you're picking out a tuxedo jacket is that even if you're not spending much (it is just a fad after all ) don't go too glitzy-glam. You'll look like a lounge singer.
At school, Spencer calls a team meeting to discuss her latest revelation. Ali and A were sending each other message through the classified ads in the paper.
Just as the girls are sorting through the ads, Jenna comes up. It seems that her eye surgery didn't take and now she wants to play nice. Toby just stands in the back trying to "protect" Jenna from basically his closest friends until Spencer fake cheated on him. Guys, friends don't let friends fake cheat. If I've learned anything from Pretty Little Liars it's that dumping someone to protect/save/free them just results in finding out you have an illegitimate brother and/or your mom stealing thousands of dollars from the bank. Where was I? Oh right, Jenna can't see, everyone has super conflicted feelings about it except for Jenna who thought that maybe they could all catch a stripperobics class together later or something.
Around hour 12 of school, Mona comes up to Hanna with a brand new text from A. Have you noticed that the liars tend to get threats from A about secrets they're keeping from each other while Mona's are all about stuff everyone knows about like stealing or being a nerd? I can't decide if that means that Mona is A or it's just that the writers just don't feel like developing her plot line at all.
Also, in case this wasn't clear before, Mona is definitely wearing a fur stole. There is a dead animal all up on her shoulders.
Meanwhile, Aria stops in her mom's classroom to leave a note or something where she discovers her parents are trying to ship her off to all girl boarding school. Aria doesn't even consider the following:
1. At boarding school A can't get to her.
2. At boarding school she'll have unsupervised time when she could probably see her older boyfriend.
I always wanted to go to boarding school when I was in middle school, but I suspect that was because of Harry Potter.
I don't think Aria is assessing the situation properly, and I also don't think she's assessing her outfit properly. As I said last episode, sheer full length dresses aren't cute. I'm not coming at this from a uptight conservative No One Show Skin standpoint, but purely one of taste. Sheer skirts make you look like some sort of weird mermaid who just got her brand new legs and is emerging from the ocean under a cascade of sea foam. In a bad way, not a hot Ariel way.
Also, they mess with your proportions! Short skirts and floor length skirts both make you legs look long. A short skirt under a medium sheer skirt breaks up your legs in multiple places making you look as awkward as you probably would feel wearing underwear outside. Yes, even Urban Outfitters calls this a slip.
Right, so Aria has some options here for getting out of boarding school. She could have explained to Ella that without her friends she will be emotionally vulnerable and probably start sleeping with even older men. Alternatively she could have come clean about A and explained that she wants to stay in town because leaving could make her look guiltier. She could have even gone with a good old fashioned, "Mom, boarding school is filled with cokeheads." Instead, she threatens to tell the university that her dad was nailing a grad student. Besides the fact that I doubt the admins would give a shit if a prof was sleeping with a grad student, this makes Aria look like a totally evil brat.
After school, the liars track down the location where Ali and A were supposed to meet and, lo and behold, it's the creepy doll hospital. Honestly you probably don't even have to follow the show to see that one coming. There were voodoo dolls in the window! Voodoo dolls are for doing voodoo so obviously this was very scary. But seriously.
I want to take a moment to address how good Spencer's outfit looks. Her pastel green Urban Renewal dress might normally be a bit too seven-year-old chic, but instead she pairs it with a mustard cardigan that really brings it together and keeps it from look too dowdy. That's also a great belt from J.Crew. Wait, what's this? I'm getting exclusive footage of Spencer from the knees down.
White knee socks with white ankle boots? I just… don't like it. Nope. Nope. Now she looks like one of those creppy dolls at the hospital.
Emily, you've been noticeably quiet this episode. Thoughts?
The Charles David shoes are cute on their own though.
At the doll hospital the liars meet the owner who claims to know nothing about Alison's voodoo doll. They also meet the owners minion/grandson, some little boy who the old lady says is "gifted" meaning he's either a psychic or in the highest level math class for his grade.
The kid says some stuff about maybe seeing Alison in the shop two years ago when he would have been an infant, and also mumbles about a couple with dark hair. Since Melissa and Ian are the only couple on earth with dark hair the sleuths determine it must be them. I was mostly just distracted by how much this kid kind of looks like Franky from Skins before the writers lost interest in androgyny.
Spencer tries to confront Melissa with the video of her bursting in to Alison's room, but Melissa just counters that she has plenty of footage that makes the liars look guilty. So, what is there to do but cook up a plan to try to catch Melissa in the act of A-texting? Neglecting the fact that A seems to be everywhere and see everything, the liars stage a stakeout in which Caleb and Mona make out in a location Melissa would see them in. Emily watches voyeur style.
Meanwhile, trouble's afoot in Ezria land. Aria goes to tell Ezra about her parents' boarding school attempt, only to discover that Ezra has even worse news. He's been fired for vague unspecific reasons (but probably for dating a tenured professor's daughter) and now he'll have to move far far away. I have this secret theory that Ezra just wants out and this is the only way he can think of doing it without Aria blowing up his spot. Either way they have goodbye sex or something which is weird because the scene is shot like these two haven't had sex before? If so, I think Ezra should have led with that when he told Aria's parents about their relationship.
Also meanwhile, Jenna gives Toby the copy of Page 5 claiming she has no idea what it is. She says all she knows is that the police should definitely have it. Jenna is a tricky one and Toby take the bait like… um… like a fish. Sorry guys, it's getting late in the season so I'm running out of good metaphors. Before you ask, I already scoured the screen shots of the pages and I couldn't find anything revealing.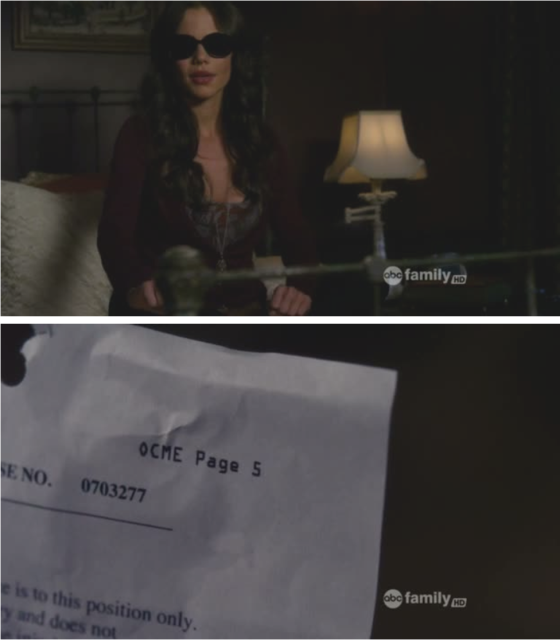 Back at the ranch, Emily sees Melissa watch the two car kissing. Just as Emily is getting home, right on schedule, Hanna gets a text from A.
Before I get in to the scary/climactic ending I want to point out a few things about Emily's outfit. It's hard to tell in most of the dimly lit shots, but Emily's looking good. Emily wears a lot of All Saints and this episode is no different. Both her shirt and her cool jacket are from All Saints. Additionally, I'm loving her grey jeans. I always make sure to have a pair of grey jeans in my rotation. Grey jeans are great because they're so neutral without being blue at all. A lot of times I want to wear a black blazer or jacket on top that doesn't look good with blue toned denim but looks too dark overall with black jeans. Grey jeans to the rescue. Just make sure the center stitch of your jeans at the crotch is in a grey thread. If it's done in black or dark blue it can give this weird look like you have a camel toe all the time. So there's that.
Back to business, I can't help but wonder, who knows if another "A" didn't also see the lip smacking smackdown? Also, is it just me or does A usually sounds slicker?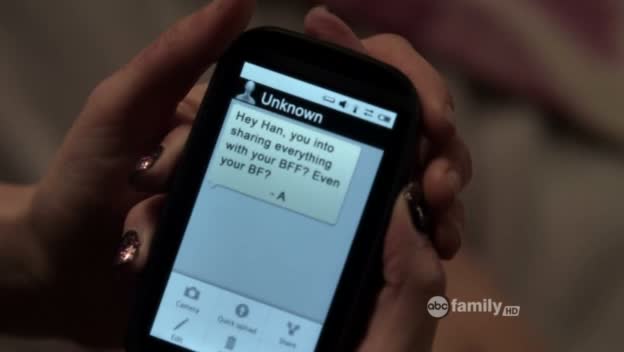 Emily is ready to go to the police about Melissa without passing Go or collecting $200, but Spencer thinks its worth going and checking with mini-Franky again. You know, even though it's the middle of the night and we've had little indication that he lives at the doll shop. The door to the doll hospital was ajar so the ladies just let themselves in. That's where things got creepy. Like singing dolls shelves flying creepy. I didn't like it. I actually paused the episode to regroup because I was legit frightened. Afterwards I had to watch two episodes of Parks and Rec just to clear my head.
The liars run wee wee wee all the way home and plot out their next move in Spencer's room while Melissa and Garret canoodle about downstairs. I'm really not clear on whether Spencer is at her own house or Melissa's. I don't have a very good sense of direction. Although the girls decide to take A's cell phone footage to the police, before they get the chance the police come to them. Garret is arrested for Ali's murder, which means he almost definitely didn't commit it.
That should be a great place to stop, but instead we find out, just in time for the closing credits, that Jenna can actually see now and the doll hospital lady was being paid off. Gosh, you just can't trust anyone these days.
In conclusion I'd like to posit a question. Where the hell was Emily in this episode? She should have been brooding over Maya or rebounding to Paige or meeting some random older girl who's also her doctor/teacher/phone hacker/bad girl/mother's friend/dentist/animal rights activist. Instead she basically faded into a background character.
NEXT WEEK: WHO IS A
Next week we are supposed to find out who A is. We may also find out who killed Ali, and they may or may not be the same person. I want to try to call it now because my March Madness bracket is failing and I'm hoping to predict this one correctly.
***************************************************************************************************
****************************SPOILER THE FUCK ALERT (THE BOOKS) *********************
***************************************************************************************************
In the books, Mona is A, but then also we find out Ali is A and her secret twin was the one who got killed back when we though Ali was killed. The twin was pretending to be Ali. Ali was taking revenge on her secret twin's friends because they weren't her friends and she was pissed her sister stole her life. I recognize that Mona is A and that Ali had a secret twin, but I'm hoping to keep that from influencing my predictions based on the show. Obviously it tips me off a bit, but I'm also guessing the TV show will intentionally not do that since it was in the book (a la Gossip Girl's break away).
***************************************************************************************************
****************************END SPOILERS ***********************************
***************************************************************************************************
Is Ali alive/Who killed Ali?
Okay, I think that, first and foremost, Ali is totally alive. I think Garret and Jenna think that they killed Ali because they beat the shit out of her, but actually the body found was someone else's. Additionally, Melissa's family (including Ian before he died) thought that she killed Alison, which is why they're trying to cover it up. Meanwhile, Ali's been on the run and I suspect she's in cahoots with Maya.
Who's NOT A:
I think Mona is not A, but knows about A and has been recently posing as A to get herself back in to BFF status with Hanna. Melissa can't be A because she was so upset by Ian's death. Also because then she would have known about Spencer kissing Wren. Ezra can't be A because A is constantly trying to bust Ezra. Same basic principal goes for Spencer's first season BF, Caleb, Toby, Samara and Wren. Paige is out because she showed up too late. Maya's out as A because she was up at NO Drugs camp. None of the parents make any sense as A except maybe Ali's mom or Spencer's parents, but really parents don't make any sense. I'm going to say Jenna, Lucas, Noel, and Garret are also out because Garret just got arrested and Lucas/Jenna/Noel/Garret have already been suspects too often.
Who could be A:
Whoever A is, Hanna knows them. We know this because she recognized the phone number during Camp Mona. After the previous removals, that basically leaves Mona, Jason, Sean (Hanna's first season boyfriend) and Ian. Unfortunately we have to assume if it were Jason or Sean that they have some ulterior motive we don't know about. Also it's possible that Hanna would not know Jason's phone number. Mona could be getting payback for everyone being so mean to her in junior high, but then how would she have gotten the video footage/information? Finally, I know Ian's dead (and I don't think he killed Ali/anyone) but that doesn't mean he wasn't A at first. Ian had a ton of video footage of the girls, so there's no reason he might not use it to fuck with them. Also, he might want to protect Melissa if he, like her parents, thought she killed Alison. Then, after he died, someone else might have taken over being A.
Final predictions:
-Alison is alive and on the run from A
-Garret and Jenna think they killed Alison but actually they didn't
-Ian and Melissa's parents think Melissa killed Alison
-Mona is somehow posing as/tangled up with A because she wants to keep Hanna as her BFF
-Maya is somehow tangled up with Alison
-Jenna, Garret, Mona and Ian were all responsible for at least some stuff attributed to A even if it wasn't the actual text messages.
Well if I'm right or if anyone wears plaid, you'll hear about it right here at the fashioncap.