This week's episode of Pretty Little Liars was all about airplanes! Okay, not really but I did watch it on an airplane and Aria flies an airplane so that's definitely something.
We start our episode where we left off last time: Aria is wearing a dead chick's coat. While I thought we'd reached maximum creepiness with the whole dead girl's clothes fashion show, this might take the cake. Either way, Aria runs in to a man friend of Vivian's a.k.a. Alison's who recognizes Ali's coat. The new guy's name is Duncan, but I'm going to call him Dunkaccino in honor of how excited I was when the Dunkaccino came back and how this actor gives me exactly the opposite feeling. The girls figure, "Hey, no tertiary characters have died in a while, why not introduce a new one." Just then, Toby and Jenna conveniently get out of a nearby car post eye-surgery. Not even Spencer's absolutely perfect outfit could prepare her for the shock of seeing her ex with his sister who raped him. As a side note, I always want to spell Toby "Tobey." As in "Tobey Your Thirst."
I don't know how exactly Spencer's scarf is tied/pin/sewn/glued, but it's absolutely perfect. Spencer has scarf skills lesser women can only dream of. I pray for the day when I wake up with those sort of scarf skills. Alas, dear Spencer knows what I have not yet learned: true scarf skills only come to those who put in the hard work and dedication. Can you tell it's been a long couple of days?
Also check out the legs on Jenna.
Moving along we arrive the next morning where we start every morning: the Marin household where Hanna and Ashley fight while Emily pretends she's anywhere else.
Ashley's still pissed that Hanna won't tell her she's being stalked by a psychopath. If Ashley is also pissed that Hanna is trying to pass off a beach cover-up as a school-appropriate dress she doesn't let on. I'd like to take this moment to say that I can't really think of a scenario in which a full length completely sheer dress is ever appropriate outside the beach. Maybe I'm a big ol' conservative, but it just doesn't look nice. That being said, pairing the leather track jacket with the long dress does make Hanna look exactly like my favorite Barbie before I cut off all of her hair and turned the jacket in to a vest. Emily on the other hand, is so distraught over Maya that she can no longer even change her clothes and thus her shirt has torn to rags.
Okay, jokes over. That sweater is cute as hell and I want it in my closet immediately. I'll say it once and I'll say it again (until it goes out of style) shoulder and back cut-outs are super flattering and the easiest way to make a totally easy outfit stand out.
At school, the ladies meet up with Mona who continues her campaign for #1 A spot  by giving Hanna a phone. A PHONE. Nowhere outside Rosewood is a phone so dangerous. Hard day. Also Aria wore a leather mini skirt and Spencer wore a sheer turtleneck so obviously it's a hard day for everyone.
Post hallway convo but pre imaginary classroom time, Emily retreats to her locker to find a text from Maya. It reads:
I'm fine. I won't tell you where I am or who I'm with but I'm okay. Also I want to be able to bang other people while I'm gone, but I'd feel more comfortable if you didn't. Now please excuse me while I go sleep with a bunch of men to confirm mainstream stereotypes about bisexuals.
It was a seriously fucked up text.
Anyways then Spencer ran in to Toby and they had some words. I hope it's okay, I sort of wasn't paying attention to those parts because I hate Toby and he looks like he's been exclusively injecting steroids since we last saw him.
So Aria meets up with the Dunkaccino kid at which point it occurs to me that if they insist on adding in an older random acquaintance of Ali's they at least could have made it a banging hot lesbetron for Emily to rebound with. Either way, bro knows Vivian's real name is Ali but missed the memo on her being dead and all.
Dunkaccino's pretty bummed out to hear about Ali's whole death and stuff and suspensefully reveals that, yes, indeed, Alison talked about her friends. That's right. A high school girl talks about her friends. Oh, actually sort of interesting: Dunkaccino saw Ali the weekend of her death.
Later, the liars walk past Jenna's house when suddenly Garrett drives away and the liars spot Toby and Jenna talking to the police. Hey… hasn't it been a while since everyone got an ominous text message at the same time?
I thought it was about time.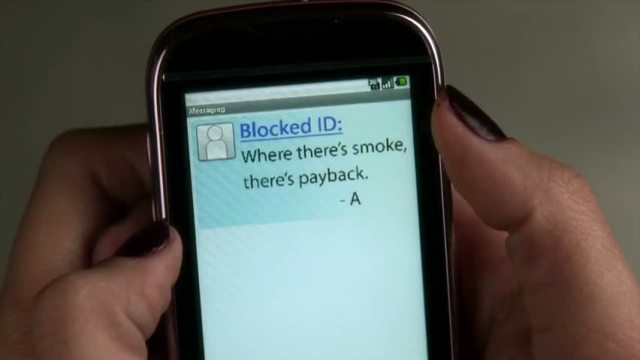 I assume even after they reveal "A" there will still be the occasional ominous message. My vote is for a change from text messages to Sharpie on post-its. It's just cuter that way. Anyways the liars think the texts mean that Jenna is telling the cops that they were involved in her blinding. Obviously this calls for a slow-mo zoom out which is great because it gives you a really good look at their outfits. I totally take back what I said last episode, Emily is totally the hottest dressed.
The next day at school, Emily and Spencer discover they are both too heartbroken to do anything but mope around reading. Clearly Emily has been wearing that same plaid shirt for a week now. Just kidding, that's me.
What I love about both Spencer's and Emily's outfits are that they're so well balanced. When you balance out an outfit, it's important to think about both volume and color. Emily's outfit works because the grey of her boots picks up on the thin grey lines of her plaid shirt. Her white undershirt keeps the whole look from being too dark. On the other hand, it also works because the looseness of her button-up is contrasted by the tightness of her pants and complimented by the looseness of her boots. Additionally, the lesbianess of her personality is complimented by the lesbianess of plaid.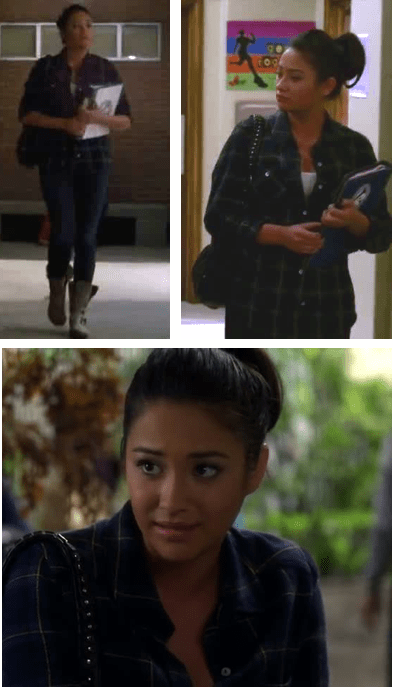 Similarly, it's important that Spencer's blouse be light, full and billowy because her pants are dark, tight and high waisted. If Spencer paired a tight blouse with her high waisted pants it would look too tight all over. Without the lighter colored element this outfit would look a bit drab. This is particularly true since Spencer has a fitted dark colored cardigan as well.
Even though school is in session, Ella makes a little surprise drop in on Ezra. I think my favorite thing about Aria and Ezra's relationship is how little time they spend actually doing things together or talking about things other than their relationship. Nothing particularly important happened here, I'm just obsessed with Holly Marie Combs. Either way Ella's the best and that's all I have to say about that. Maybe we should start shipping Ella and someone…
Oops, still school. For some reason Hanna and Mona cook up some plan for Hanna to talk to Toby about getting his love machine  set back to Spencer.
That's right, Hanna talking to Toby. That makes about as much sense as a barrel of monkeys dressed up for Halloween as a barrel of monkeys. Have Hanna and Toby ever spoken?
I don't just point this scene out to make a great monkey joke and aid my Monanna shipping, I also wanted to point out Hanna's flawless high waisted shorts. What's great about Hanna's shorts is that they have that ruffle/pleat along the top of the waistband.
Not only does this give you the appearance of an even high waisted short (without the added discomfort) it also makes the higher waist look intentional. And to pleat with a skinny belt says "This was intentional." It makes sure everyone knows you're just super cool with your high waisted shorts, and assure them that it didn't happen because you were accidentally shopping in the mom section.
Back in the halls, Jason makes his billionth appearance in the halls of a high school since graduation. He has even more of Ali's things for Emily and Spencer to peruse, since organization was apparently not Ali's strong suit.
Jason loudly reminds tells the girls that, when they're done, they can leave the bag on the back porch if he's not home. At that moment I was 100% certain they girls would leave the bag on the porch and something would happen.
In fact, it's only after Spencer decides there is nothing good in the bag and drops it off on the porch do she and Hanna realize there are clues hidden in the newspaper wrapping.
While Spencer and Emily rifled through Ali's old things, Dunkaccino helped Aria earn her wings. Dunkaccino only talks while in flight because in space no one can hear you scream. He even forces Aria to take the reins of the plane as some sort of bizzaroland lie detection test I think.
Meanwhile, Byron Montgomery has his turn at harassing Ezra. Like what the fuck is Chad Lowe's deal? It's not like Ezra is his daughter's teacher anymore and… Okay I can't even finish that sentence. Obviously any good parent wouldn't want their teenager dating one of their former teachers, I'm just bored of this plotline.
Oh right. Bottom lines. Dunkaccino flew Ali somewhere the day of her death and Ezra isn't taking some job a gagillion miles away.
Cool so then later, when Hanna goes to pick up the bag from Jason's porch, the house is burning down and Jenna's inside.
Jenna lives and Hanna's a hero. Yay.
Because some things are even more important than a fire, Emily calls Maya's parents and tell them that she heard from Maya. What else could she do? Emily is rule follower. I foresee Maya being extremely emotionally abusive and using this phone call against Emily later.