Somehow, despite ingesting some really ambitious combinations of recreational drugs at various points throughout my twenties and repeatedly leaving my blowdryer plugged in long past its moment of usage, I am still alive. Not only am I still alive, but I'll be turning 32 on September 23rd! How the fuck can I celebrate this momentous occasion?
Well, two weeks ago, I made up my mind:
I want to spend my birthday giving money to the weirdos who write for this spectacular website!
A little money could go a long way for these cats.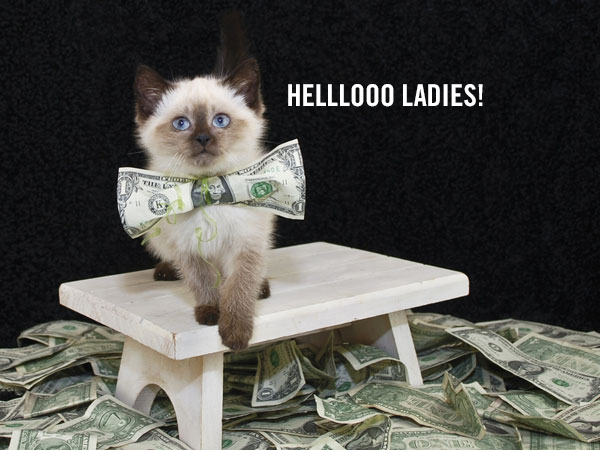 On a recent post about Bustle.com, many readers asked how they could help us fill the large gap between our budget and the budgets of publications with investors, brother websites, corporate ownership or venture capital and the answer is: YOU. You're the ones who fill that gap when you donate, buy merchandise, and attend our events. But statistics show that most of you rely on a few of you to buy the merchandise, make the donations and attend the events — just imagine what we could accomplish if most of you, or even half of you, pitched in!
Of course, it wouldn't be fundraising without an incentive, and another suggestion made in the comments on that post was that we throw a bake sale. So that's what I'm gonna do. My Mom is coming to visit me next week, and we're gonna spend a day baking… for you! Yup it's gonna be me and my Mom in a tiny kitchen for an entire day! It's gonna be adorable.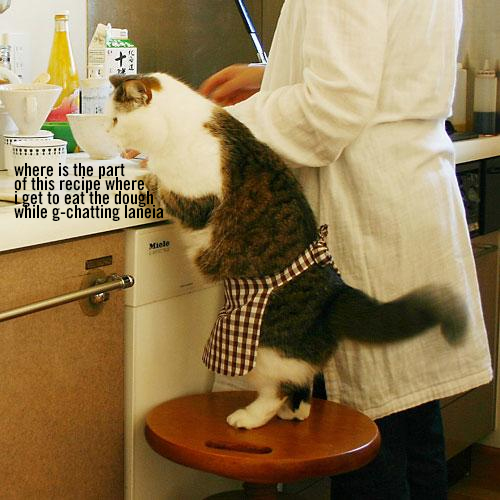 If you donate $60 or more, I'll mail you eight home-made cookies of your choice! I know eight isn't a lot, but I'm just one woman who seems to think she can bake 600+ cookies in one day and is probably wrong. Here's the little menu my Mom and I have come up with for you:
Here's how it's gonna work:
1. You donate. If you've already donated $60 or more (in one or several donations), you are also entitled to cookies!
2. When you get an e-mail confirmation about your donation, forward it to bren [at] autostraddle [dot] com and give her your cookie selection (if you're picking cookies that could also be made vegan, be sure to say you want the vegan edition) as well as your mailing address.
3. I'm also offering the option of sending a hand-made thank you card to anybody who donates $50 or more — you can pick one or the other but not both!
4. You're also welcome to simply donate and not eat any cookies. That is also totally fine.
Unfortunately, because the cost and time involved in sending cookies to another country is astronomical enough to negate the fundraising aspect of this situation, I'm gonna have to say that if you're outside of the U.S., I can only send you cookies if you donate $100 or more.
---
But That's Not All!
If we exceed $5,000, we will plan another International Meet-Up Week For October!
If we meet the $10,000 goal, I'm gonna do a Raffle with these prizes:
+ One (1) 20% Off A-Camp Tuition For Life Coupon
+ Two (2) $50 Gift Certificates for the Autostraddle Store
If we exceed $15,000, then this prize will be added to the raffle:
+ One (1) Whole Entire A-Camp Campership [If you're already signed up for October Camp, you can use the campership to bring a friend, or save it for A-Camp May 2014]
Everybody who donates anything to this campaign will be entered in the raffle!
---
We've got so many esteemed and prolific team members that discussing all of them would take years, but I really want to drive this point home that these humans have been working their asses off for you for a long time, so let me just briefly discuss the amazingness of our present Contributing Editors who have written over 100 posts for you without ever receiving a regular paycheck!
The 100+ Club
Where do I even start with Crystal? Crystal is a quiet riot and a wise strong soul who has written over 300 posts for Autostraddle. Also you guys, Crystal became the first-ever financial supporter of my endeavors when she dropped $20 in my personal blog's tip jar back in January 2006. We've been friends ever since. Although she lives all the way over in Australia, Crystal was a founding member of Autostraddle, and has since introduced you to numerous up-and-coming queer artists, given you playlists and track stops, interviewed artists like Holly Miranda and Heather Peace and shared thrilling tales of life-changing/scarring events, such as fisting a turkey, undertaking The Tegan & Sara VIP Experience, exploring Sydney's lesbian nightlife, attending Britney Spears' Circus Tour, reading lesbian romance novels and watching the entirety of The L Word. Once upon a time we recapped Skins together. Were we ever so young? More importantly: were Naomi and Emily ever so young?
---
Nobody has been quite as prolific as Carmen Rios, who has written a whopping 402 posts since I scouted her from tumblr in February 2011! Carmen has made it her mission to make Autostraddle — and the world — a better place. This crazy hardworking lady makes time in between speaking at SlutWalk and appearing on CNN to write hard-hitting pop culture analysis, bring new female idols into your life, and then provide carefully curated cute animals for days when the patriarchy is bringing you down.
Plus she's got feelings to spare: feelings about heartbreak, coming out, brunch,drugs and, of course, Eileen Myles. She's a member of the ALL-CAPS FEELINGS CLUB with Vanessa and will definitely show you photos of her dog.
---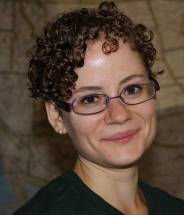 Clearly Canadian Carolyn has written over 300 posts since joining the team in October 2010. Ever since I retired as NSFW Sunday Girl in early 2012, Carolyn has been feeding your cravings for Executive Lesbosexy Realness every Sunday — which she balances out with Literary Realness every-other Thursday as well as in-depth Book Previews and Romance Novel suggestions. Carolyn is a fierce sex beast who looks very small and quiet on the outside but is actually a BDSM expert who isn't afraid to talk about libraries and typewriters and every author all over the entire world.
---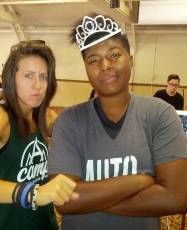 Once upon a time —November 2010 to be exact — I met a girl named Brittani at an Autostraddle Meet-Up in Oakland and then she started writing for us and then she moved to Los Angeles like a month later and became a television star with an Ilene Chaiken parody twitter account. Brittani has written 200 posts, covered actual athletic events ("sports" I believe is the popular term), survived several lesbian pool parties, recapped multiple painful episodes of Two Broke Girls, gotten real about race, recommended cheap beverages and every week throws you a massive video party. Brittani didn't write the article about having no fucks to give, but she lives and breathes it every day. She's also a rising rap star and the star and writer/producer of the legendary webseries Words With Girls. Also: she's fucking hilarious.
---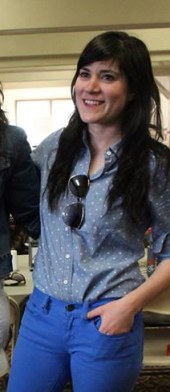 Proving that it's not just me who can transition former hookups into Lifelong A-Team members, Senior Editor Rachel dropped the brilliant and dynamic and super-funny (Future Doctor) Lizz on our proverbial doorstep in April 2011, where she stepped in as Fashion Editor and quickly informed you that you need this blazer and later gave you the lowdown on dressing like the stars and being a visible femme. Lizz has live-blogged The Emmys, The Golden Globes, The VMAs, the MTV Movie Awards, The Oscars and the ever-enchanting Nickelodeon Kids' Choice Awards. She's recapped or fashioncapped a billion episodes of Pretty Little Liars and a few episodes of Glee. She's provided fashion inspiration for all your major holidays, from Halloween to New Year's to Valentine's Day. But of course, most importantly and above all else, Lizz has gifted you with the definitive guide to Texting Your Ex-Girlfriend in Five Easy Steps.
I have a dream that one day Lizz will finish the post she started about how there is no time or seasons in Rosewood and The Liars' school schedule is eternal, haphazard, and totally confusing. 'Til then, you're free to feast on the 242 posts she's already written.
---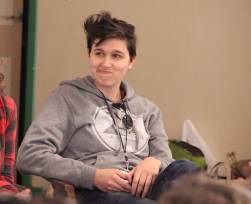 Ali (Ali Oh if you're nasty) has pulled off an impressive 162 posts since joining our team in July 2012, including all those drinks she showed you how to make and all that tech she taught you to queer. Ali's complete willingness to be open about All Things Sex has enabled Autostraddle to get progressively sexier this year: she gave us the lowdown on double-headed dildos, strap-ons and floggers, collected seminal masturbation tales, recommended the best queer feminist porn and even shared her own erotica with the group. She liveblogged the election last year like A CHAMPION. Also Ali is one of our most reliable and hard-working writers ever, consistently approaching her Autostraddle work with the seriousness of a paid gig. Ali has great stories about things getting stuck in orifices, and the most endearing laugh of all time.
---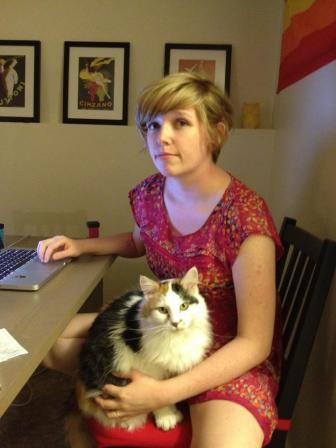 Every week Hansen spends hours upon hours of her time researching and making the most adorable things you've ever seen just so that you can copy her and impress your girlfriend. She puts in tons of work before even sitting down to write the article itself, because she is a fucking champion. This former sorority sister and creative human also has it bad for short-haired lesbians with guitars, gay rights legislation in Middle America and the Southwest, books by dead people, baby animals, skinny ties and Joseph Gordon-Levitt's fashion sense. Hansen is the kind of person who decides she wants to do something and then does it, quickly and well, which is rare, but she's also humble, so you wouldn't know it. That's why we're telling you.
---
How many humans do you know who go on weekly Panty I MEAN PANTRY Raids, draw you a bunch of pictures, and tell you how to make crazy-ass shit like Meat Cake, Lasanga in a Jar and Edible Undies, how to eat garbage and what to do with Daikon? One. You know one person who does that and her name is Kristen. (Also her Grilled Cheese post is epic!) Perhaps Kristen also affirmed your femme feelings with her seminal essay Femmes: Beyond Lipstick (and Heels and Dresses) or how to cut your own hair. She also rocks to beats including online dating, France, Canada, and gender-neutral toys for children. She's like a dyke reader's digest, infused with genuine excitement whenever she gets to explain things to you like salt and giving blood.
---
In the spirit of saving my best 24-year-old Jewish Grandmother for last, this brings me to dear dear Vanessa Friedman. Vanessa has put her whole heart and soul into Autostraddle and its readers, and she has about 650% more heart and soul than most people do. From her never-ending crushes on all of you readers to her hard work to let all of you become best friends IRL, Vanessa is a big part of the reason Autostraddle is getting better and more 3-D all the time. She wants you to Straddle Her Street, talk abut Buffy, have brunch with you, gush over floral print and attend every Autostraddle Live event of all time. If flowers grew on the sun, then I could safely call Vanessa a genuine ball of sunshine.
Two days ago Vanessa noted that "I am really enjoying this "baking jewish stuff in suburbia" beat i've got going on, just in case anyone was wondering how i'm feeling right this very moment," which I'm telling you because you might be wondering how she feels this very moment. I always am.
---
And that's just some of the many people your money could help! For example, Cara's More Than Words column is actually one of the best columns ever written on Autostraddle and the certified Sleeper Hit of the Summer. Kate's validated your baby butch feelings and your crushes on the cast of Bomb Girls and Orange is The New Black. We've got all these new humans who just joined our team, and all these other writers who have been contributing to Autostraddle for years.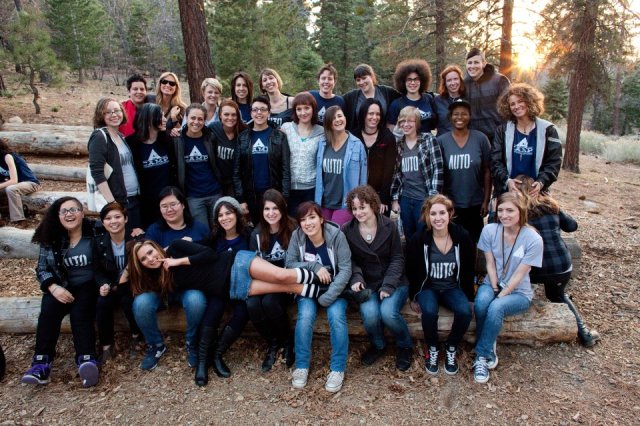 One Final Plea
Here's the thing: I honestly love these people. I love them so much and think they're so talented, and I know that if anybody understands how amazing these humans are, it's you guys!
That's why you came out in droves for last year's fundraiser, which enabled us to pay the Senior Staffers who put in so many hours for Autostraddle that we're unable to take on additional full-time employment (and who get stuck with the less-fulfilling and non-creative tasks we'd never expect a human to do for free.) And no, it's not like Senior Staff is living in the lap of luxury – when you break it down hourly we're still short of minimum wage, budgets are tight, and I don't have any of the things I'd always hoped I'd have by the age of 32 (e.g., a car, a baby, a savings account, the ability to pay everybody else's bills for them.) (And yes I realize that even expecting those things is a reflection of privilege.) But all that stuff doesn't bother me as much as I'd expected it would, because I get to work with these weirdos every day, and read their work and hear their ideas, and watch them grow up and evolve as writers and thinkers and humans within this rag-tag family we've established. At this point, I have been offered other jobs that would make things easier financially, and so have other Senior Staffers. But we stick around because we can't imagine life without you and this, and because we have faith in a prosperous future. Because we have faith in you and these kids. The redesign will launch so soon, y'all!
We're not a normal website and we never have been, have we? We maintain a level of normality that enables casual readers to find compelling material on the regular, but we also do stuff like this. I think it's fun. If you think so too, pitch in! Giving to these girls is the best gift you could ever give me, and we'll be accepting donations 'til midnight on September 23rd.
[and you can read more on GoFundMe about how the money will be distributed!]