Once upon a time in the land of yore (not really), thousands of queer women and aspiring lesbians descended upon the Riviera Hotel with exorbitant amounts of alcohol, questionable intentions, and suspended morals. As you may or may not have heard, one Contributing Editor (me) took a little trip to a situation called Dinah Shore Weekend. Some people like to say "The Dinah" but I think that sounds weird like when old people put 'the' in front of things it shouldn't be in front of. Other Autostraddle affiliates present for the festivities included the entire Unicorn Plan-It Team, Jess S., Sara Medd, and a whole slew of calendar girls. All my dreams.
Equipped with my favorite t-shirts and most-pocket-having board shorts, I hit the road with very little sleep and a whole lot of anxiety. The night before felt like lesbian Christmas Eve and I was afraid that Dinah Shore would be a lump of coal. Mere weeks before as "I am a poor boi too, pa rum pum pum pum" echoed through my head, I'd been convinced to engage in a slightly stripped down version of Dinah Shore.
Friday, after a breakfast of champions (See: McDonald's), I hit the road with mah friendos, Alice and Chloe. After jamming out and voicing several fears in which the worst case scenario is not actually that bad, we arrived in Palm Springs. We grabbed our wristbands and made our way back to the car to make use of all the free Red Bull we'd snatched up. You know what else they were giving out like hotcakes? ob tampons! Because ob is investing in the lesbian community, y'all.
After getting car drunk, we headed over to the Riviera to greet the crew.
Brittani: This hotel is so confusing. It's like The Shining.
Other person: It's the lesbian Shining.
By 1:21 pm, I'd broken the pair of sunglasses I brought with me to Dinah so we were off to a fantastic start. Luckily, sunglasses too were one of the things available in massive proportions so it didn't take that long before I'd restocked my eyes with protection. Sunglasses and sunblock were the only forms of protection being used at Dinah I think.
Alice: A, B, and C. Who do we know that's name starts with D?
Brittani: Dinnnahhhhh.
Chloe: Who's Donna?
Obviously it was time to head to the pool. I was really nervous about a few things before actually seeing what the party was like. I thought I'd for sure get knocked into the pool with all of my worldly possessions including things that weren't even at the pool like my laptop and social security card. I imagined the inescapable scenario wherein I'd lose everyone I knew in a lazy river of gay and never find them again, resulting in me being abandoned in the desert with no water and no boobs. I feared that everyone would be making out except for me and I'd end up in my room taking an angry nap. None of these things happened. Hooray!
Turns out, I had nothing to worry about as everywhere I turned, there were people I knew or people I really wouldn't mind getting to know. In short, it was a manageable situation and though there is a fair amount of the "club squeeze," everything was just fine.
After surviving my first pool party, it was time to have my first BMOS (brief moment of sobriety), rally the troops, and head to the LIVE Magazine mixer at Mango. There were gay men interested in my hobbies and free food so I don't know what else you could ask for.
After the mixer, it was back to The Riviera where everyone was getting ready for the White Party. I wasn't going because in a rare moment of fiscal responsibility and adult decision making skills, I'd bought the Pool Party Pass instead of any of the passes that let you into the night parties. This wasn't going to stop me from having a good time though. While everyone else was jamming out in their unfortunately colored attire, I was bopping around different groups and taking meetings on lawn chairs like the champion I am.
Time went on as it tends to do, events transpired, after parties were had, I went to sleep at 4. Day One of Dinah was over. The last thing I did was sit in a bathroom alone for 20 minutes to process and have some me time. Necessary.
I was really excited about waking up for continental breakfast on Saturday since food is optional and alcohol is mandatory in this alternate reality. I had breakfast plans with some friends that were also staying in our jank temporary abode (the hotel was actually fine. If you're doing Dinah on a budget, I recommend it though there is a Ronald Reagan calendar which is scary.) Turns out continental breakfast at this place means "muffins" so that was a really fun surprise. After recounting the interesting turns the night had taken, we retreated to our rooms to get ready for another day of debauchery. Please note I drank coffee at breakfast. I never drink coffee. Shit got real. And then it was time for another pool party.
Apparently there was some stage situation that I was previously unaware of until it was time for Battle of the Lesbian Webseries. Since I'm the most supportive person on earth, I was front and center to support Unicorn Plan-It. It had nothing to do with Nicole Pacent dancing around in a swimsuit.
Despite being the clear crowd favorite, the unicorns didn't take home the title. Micaela Ramey of Lovers and Friends did a stage dive and you really can't beat anyone that dives into a sea of lesbians with reckless abandon. I mean that's just like the rules of feminism.
Once again the pool party ended and people begin to transition into the portion of the night where those without death wishes eat food and everyone starts getting ready for the night party. Sometime during this phase, I took my sunglasses off to pull a girl over a balcony railing. Losing my sunglasses saddened me almost as much as the fact that I had to pull a girl over a balcony railing. A wonderful femme friend of mine had even traded her blue pair of sunglasses for my pink ones. Now they were gone and all I had to comfort me was another BMOS which actually turned into a whole night of sobriety but onward and awkward as I always say.
Saturday's big party was The Dinah Goes to Rio which I don't really understand as a theme but whatever. As previously mentioned, I didn't have a wristband but I pretended I was walking briskly in a pilot's uniform and had no problems getting in. It was really cool when Neon Hitch performed but no one cared and I danced anyway. This party was pretty fun despite the fact that there were 3 or 4 songs that were played 3 or 4 times which is entirely unacceptable in my book and induced brain tears/made me want to cry dance.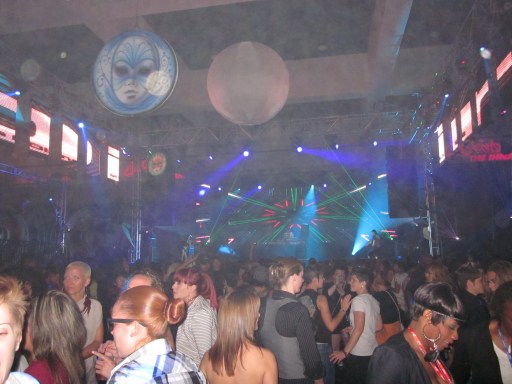 Post "this party" I had an emergency thirst situation that needed handling. "Hydrate or die" is something I say often so I headed to the 7/11 where I proceeded to gulp down half of my beverage before I even paid for it. I know how much you all worry about my safety but I was just fine and went back to the hotel to party on until 5. Then I walked home, tried not to trip over the people sleeping on the floor, and slept in…and by slept in I mean until 9am.
After a hearty breakfast of muffins, it was time to check out and head to the last pool party. Since everyone was of course a struggle bus, checking out took some longer than others. With more time in the room waiting and lots of alcohol remaining, this was a turning point in my Dinah experience. A time I wish I recalled in detail but alas, I do not. I do remember uttering re: my actions, "I forgot this was real life." I'll be fine if no one ever tells my future children that Dinah exists.
The good news is, there was a stray pair of untouched sunglasses found while packing! They were pink but still, I was pleased. Hours into the pool party, I somehow had acquired another pair of sunglasses. Minutes after that, one pair was missing and had been replaced by a free vibrator from Good Vibrations. Sunday was full of surprises but you will be glad to know, I did make it home with a pair and I believe this illustrates my point which is that Dinah Shore is like being in a zero-sum game with yourself. I had a blasty blast. I would love to hear about your Dinah in the comments.