There are a lot of things I'm terrified of. Big deal stuff, little deal stuff, stuff that doesn't even make sense. Still, for every fear that has dire consequences should it come true (dying from a brain aneurysm), there are plenty in which the worst case scenario is just not that big of a deal. The sort of fear you can rationalize yourself out of, or at least you can if you're not me.

Getting Lice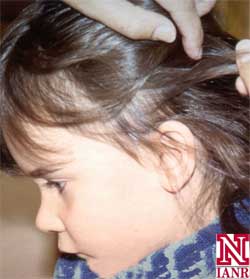 What I Think is Going to Happen:
Once the lice completely take over my hair without my knowledge, I will pass it to everyone I know, who will hate me forever. Everyone else who finds out I have lice (or had lice at any point in the past over age 6) will forever shun me as unclean and/or tell all their friends. Then I will have to shave my head bald and burn all my clothing and sheets leaving me naked, alone, jobless and poor. Eventually the lice will mutate into super-strong body lice which will eat away at me for the rest of my life.
What Might Actually Happen:
I will have to wash my hair with special shampoo and do a bunch of laundry.
+
Looking in the Mirror in the Dark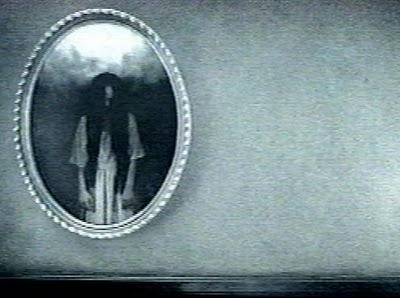 What I Think is Going to Happen:
Bloody Mary or that chick from the Ring is going to come out at me. Alternatively I might see a severed ghost head next to my reflection. And/or that thing from Paranormal Activity 3.
What Might Actually Happen:
I will see a dimly lit version of myself.
+
Running Into My Ex Unexpectedly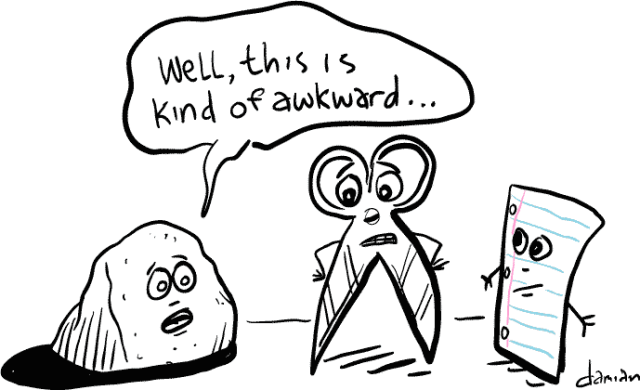 What I Think is Going to Happen:
My ex will be looking unusually good and I will have just slipped into a pile of mud. Also The Ex will be in the process of making out with a richer, smarter, better looking version of me who is also a polyglot and maybe an animal rights activist. When I go to say "Hi," The Ex will be extremely snide and/or loudly announce something embarrassing about me in front of a bunch of potential future lovers (who just happen to be there) and/or steal any possible love interest I'm currently with and/or go postal and freak out yelling at me and/or (worst of all) not remember me. Then my ex will board a private jet to Tahiti with Lizz 2.0 (who I also just remembered has better bangs than me). Afterwards I will be so emotionally crippled that I will never leave my house again.
What Might Actually Happen:
It will be really awkward for like two minutes, particularly if either of us are with someone else. The being snide thing could happen I suppose. In the very unlikely event that one of my exes does go postal and start flipping out on me, I will leave the situation and make fun of them later.
+
Not Becoming a Doctor
What I Think is Going to Happen:
This is a combo fear of general failure and of having no control over the person I will become. For me, this means failing out of med school; failing my boards; failing internship year; failing out of residency or, of course, quitting at some stage for unknown reasons. After deviation from my path of becoming a doctor, my life will become meaningless and I will never work another job and have to live forever in the dark of my parents' basement.
What Might Actually Happen:
Fears about not becoming who you think you're going to be presuppose that somehow you're not in control of your own destiny and things are just happening around you. If, for some reason, I end up leaving the medical field, it will almost definitely be because I've decided that it's not really what I want to be doing. There are a million jobs in a million fields out there and eventually I would find a way to pay off 200K of medical school debt. Alternatively I could continue to nurse my writing career and that would actually be awesome because then I would get to be with The Team forever.
Additionally my parents are cool and living in their basement to pick up the pieces of my life at any point in time would probably be really okay.
+
People Thinking My Writing Isn't Funny
What I Think is Going to Happen:
After spending hours and hours laboring over an article that's supposed to be funny, everyone who reads it hates it and lets me know in hundreds of comments. My article is so not funny that everyone stops reading my stuff and some people even write Riese to tell her to fire me. Obviously she does, but before then the article makes its way across the internet as the lamest article ever. All the internet coverage leads Rachel Maddow to report on how lame the article is and, following Maddow's disapproval, Brown rescinds my medical school acceptance. (See above.)
What Might Actually Happen:
Things I write are destined to sometimes not be funny. However, instead of everyone freaking out about how lame I am, what really happens is just that no one really pays much attention. This is sucky in its own way, but certainly not career-ending.
+
Speaking Chinese in Front of Native Speakers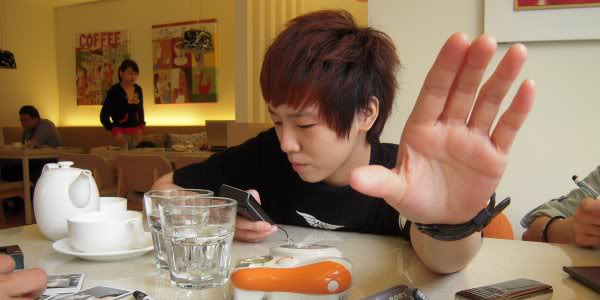 What I Think is Going to Happen:
Even though I took Chinese for much of college, I'm plagued by fear of actually speaking the language with someone . While attempting to order in Mandarin in a Chinese restaurant, a native speaker will be so unimpressed with my Chinese that they'll either think I'm making fun of them or that I'm completely stupid. At some point, the person I'm speaking with will start speaking too quickly and I won't be able to follow them. Alternatively they'll start speaking really slowly and I still won't understand them which will be even more embarrassing. Then, they'll call all their friends over to listen to how poorly I speak, causing me to become choked up and unable to speak at all. Probably they'll form a circle around me and giggle. Additionally, at some point, I'll end up over-paying for something.
What Might Actually Happen:
In my experience talking with people who don't speak my native language perfectly, usually I'm just impressed anyone speaks a second language at all. I've also not yet formed a circle of laughing folks around a non-native speaker. Thus, I have to assume that the worst thing that could actually happen if I ever get up the nerve to talk to a native speaker in Chinese is that if we can't communicate we'll find someone to translate between us or use body language/pictures.
+
Sitting in Gum
What I Think is Going to Happen:
I will sit in gum on the bus and then have gum on my ass all day. Everyone will point and laugh at me.
What Might Actually Happen:
Well, I will have gum on my ass all day, but probably people won't point and laugh. Possibly they will laugh quietly to themselves.
+
Clowns
What I Think is Going to Happen:
I know I probably just saw It too young, but as far as I'm concerned clowns are not to be trusted. They could be hiding a knife in those big pants. Why are they wearing all that creepy make-up? What are they hiding? A drive to kill me. Or maybe not kill, but at least strangle or maybe poke me with menacing undertones. There's also a good chance the clowns will capture me and force me to also become a clown and wear a permanent faux smile while I tell bad jokes and embarrass unsuspecting people. Even worse, I'm scared the clown is going to make me interact with them and embarrass me.
What Might Actually Happen:
Okay, clowns don't actually kill people, but clowns are always miming, and touching you and pulling quarters from behind your ear. A clown will probably tell me a bunch of bad jokes and I'll have to pretend to laugh, but at least they won't kill me. If a clown ever gets too all up in my personal space, I can always politely inform them that I don't like clowns and walk away. I know this will work because my grandmother is a clown.
+
Asking Someone Out and Getting Rejected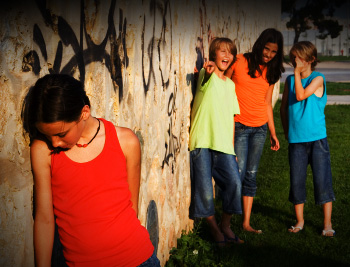 What I Think is Going to Happen:
I approach a girl and ask her out or try to dance with her and she responds by literally laughing in my face. Everyone sees and also starts laughing. Additionally, someone videotapes the whole thing and it goes viral on YouTube. Unfortunately for me the girl who rejected me is the only person who I will ever find happiness with and thus I spend forever alone reliving that moment. Later I find out that the girl who rejected me married my ex and now they have a cat together.
What Might Actually Happen:
Okay, theoretically all of those things could happen except one: never meeting anyone else. (Also, the rest of those things won't happen.) Even if it makes me feel completely foolish to get rejected, all it really is is one person who doesn't think we're right for each other. Probably I'll actually just feel bummed out for a few days but recover to ask another day. Maybe I'll even get to review Rejection 101 and rock out to the So You Struck Out playlist. Then I'll gain a bunch of sympathy from a different cute girl and then use that sympathy to get laid.
+
Being Bitten By a Spider
What I Think is Going to Happen:
As far as I'm concerned, even the smallest spider will viciously bite me and I will die painfully within seconds from a lethal venom for which there is no antidote.
What Might Actually Happen:
I turn in to Spider-Man.