I think I speak for everyone when I say "Fuck yeah, leather jacket season." Spring is upon us and there's only one thing to do: spend money I don't have on a leather jacket I want but probs don't need. Queer women ask me (well, Riese and Laneia and Rachel) all of the time "How can I dress like me and also look gay?"  I think generally (though not always because we are all unique and beautiful butterflies) this question translates to "ZOMG I wear dresses, and they don't look gay. Make me look gay please???"
The answer is a leather jacket. That's it. Put it over a dress, put it over a white V-neck, put it over a trashbag. It looks hot and queer. That's the whole answer. So let's look at some.
The Kitty Pryde Jacket
Right now I'm rocking a straight collared zip front in black. I don't know what this style is called, so I'm going to call it a Kitty Pryde jacket because when you wear it you look like Kitty Pryde in the X-men.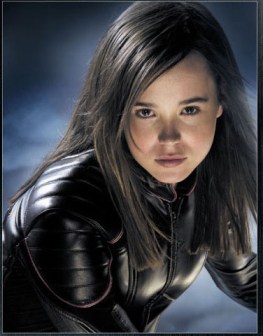 So I know what you're thinking. I totes want to look like that, except I just donated my spare eleven hundred dollars to autostraddle. Eff. But as it turns out, You Don't Need to Spend Thousands of Dollars on a Leather Jacket. I got mine for £100 on the street in London (brag brag) I mean, okay, that's still basically thousands of dollars. But this jacket is also hot and it's like $60! In fact, Mossi's even ups the ante with that cute horizontal zipper that lets that cute girl who makes sandwiches near your office known you're trying to holler.
Bomber Jackets
The problem with the Kitty Pryde leather jacket is that I ALREADY OWN IT AND I NEED MORE THINGS. Which brings me to bomber jackets, which I like because they look like the jacket Rogue wore in the 90s X-men comics. (There's a theme here.) The best thing about bomber jackets is your dad already has one in the closet. Just steal that one and wear it with anything. Seriously, all the things.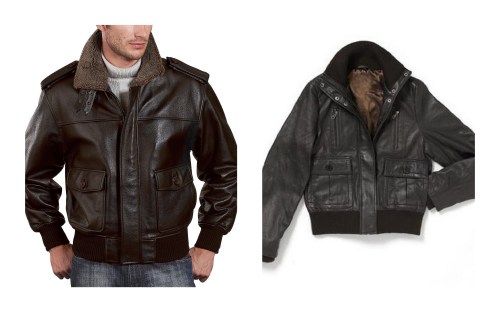 L: Landing Leathers Cowhide Leather Flight Jacket
R: Women's Leather Bomber Jacket
The most important thing about bomber jackets to remember is that if you pop the collar up you will look as hot as this girl. You will. It's just science.
Faux Leather
I feel compelled to say at this point that you totes don't need to wear real leather to rock a leather jacket like a champ. In fact, if you're wearing faux leather you don't need to worry that your hot date might (very likely) be a vegan. Most importantly, you won't make baby cows cry. Most most importantly, taking real leather out of the equations bottoms out the price of your coat dramatically.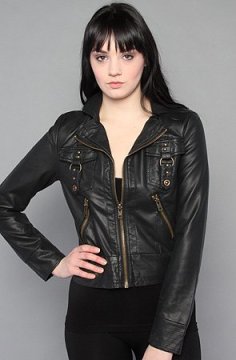 This is not a joke. I'm buying this jacket. It's awesome and BB Dakota is a rising star designer. Just wait.
Leather Hoodies
I love you guys, and I know it's hard to make fashion changes in your lives. So I just want you to know that American Apparel sells faux leather sweatshirts. That's right, that's a thing. There are no words to express how I feel about these. (Okay, there is one word: confused??)
The internet told me you can wear this with white booty shorts, knee high socks and Doc Martens, but I don't think that's a requirement.
In conclusion, this.