Two days ago, the petition to stop the debate and vote on what's been labeled the "Kill The Gays" bill in Uganda felt like a last-ditch effort to stop what the UN, Human Rights Watch, Amnesty International and Ugandan activists had been so far unable to permanently defeat. That's because it was. Twenty-four hours away from the impending vote, petitions from Allout.org and Avaaz were a last resort, but it seems like they may have been effective.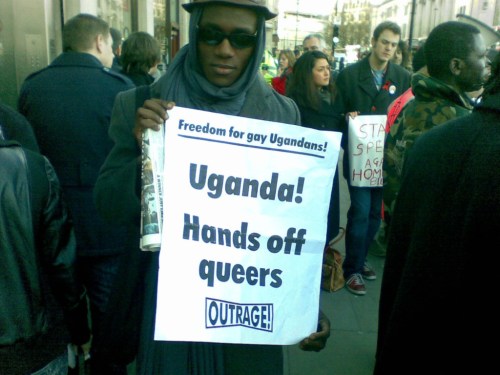 As of today, the bill is off the Ugandan Parliament's agenda, at least for the time being. "Intense international criticism" is cited as the reason. Internet petitions in the last 24 hours, most especially those by Avaaz and Allout, had more than 1.4 million signatures by the time the vote was originally scheduled to occur. Mashable reports that within 30 hours, more than 300,000 people from all over the world had signed it. As of Monday, Allout was aiming for 100,000. Because of the pressure from these voices along with international authorities and peace organizations, the vote was temporarily dropped. The consensus was that if it had been voted on during Wednesday's session, it would almost certainly have passed.
Frank Mugisha, the director of Sexual Minorities Uganda, a gay rights group, said he considered the lack of quorum a temporary reprieve.
"The way I saw, if the bill was debated today, it would have been passed because most MPs were in its favor,wp_postshe said. "We were saved by the lack of quorum."
This isn't a happy ending to a drawn-out and horrifying story of the "Kill the Gays" bill. A vote will still occur, although it will technically be on a different bill, one with the possibility of the death penalty removed. It is very likely that this version of the bill, if voted upon, will pass. Even if it didn't pass, Ugandans would still live in a country where it was generally acceptable for newspapers to print headlines naming suspected homosexuals and suggesting they be hanged. They would still have to live under a government that pushed bills like this to the forefront to try to draw attention away from unsupportable food and gas prices, or that kills civilians in peaceful protest. And it isn't really a happy ending that whatever reprieve there is, however temporary, from this nightmare seems to have come only when largely Western and other international communities became involved, that the many many Ugandan activists who have been killed or jailed just for fighting for their right to live in a country where their government isn't trying to legally mandate their murders are ignored (or more accurately, punished and intimidated) by those in positions of power.
After being "drenched" by tear gas or pepper spray at close range, Besigye spent a week in a Nairobi hospital. His left eye was the most seriously damaged, but he said he has regained most of his sight. He wore dark sunglasses because of his sensitivity to light. During a previous march Besigye was shot in the finger by a rubber bullet. Doctors in Nairobi also reset that bone…
"I'm concerned about his safety but I'm not more concerned about him than the other activists, I'm concerned about the hundreds of activists who are languishing in jail just for getting up in the morning and walking to work," she said.
But as has been said before and will be said again, the moral arc of the universe is long, but it bends towards justice. This bill is in a significantly better place than it was when it was first introduced; although it's a horrible concession to have to make, the removal of the death penalty is a major step forward. And while it's frustrating that the Ugandan Parliament was apparently willing to bow to Western pressure but not honor the struggle of its own people, it's heartening that an international community for whom troubles anywhere in Africa are often a low priority have paid attention to this one. Things still look dark right now for queer people living in Uganda, but things like this help us see that there is a brighter, safer future ahead.
UPDATE – FROM ALLOUT.ORG:
Uganda's parliament just announced that they are extending the Spring session for one extra day—an extraordinary move showing the parliament's commitment to pushing this death penalty law through by whatever means necessary.
Time is short so we need act fast.  Nearly 500,000 people have joined our campaign to stop this bill, and together we've created an international outcry noticed by politicians and the media around the world.
UPDATE AGAIN:
Not only is Uganda's Parliament extending their legislative session just so they can be sure that voting on this bill goes through, but it seems like the death penalty may not actually have been removed.
According to the report, MP David Bahati, author of the legislation that was first introduced in October 2009, reportedly told the committee that the death penalty could be stripped from the bill. The committee, however, decided to keep the death penalty, by rewording the provision to match the current penal code making "aggravated defilement" punishable by death…
The committee's report does remove some provisions, but adds criminal penalties for "conducting a marriage ceremony between persons of the same sex." The next step would be for the committee's report to head to the full Parliament on Friday for debate before being subject to a vote.