Learning to feed yourself can be one of the most terrifying things. Am I about to give myself food poisoning? If I eat this too often will I end up with scurvy? How can I get the most nutritional bang for my buck? Why does this still taste like ass?
With Ode to My Pantry, learn to navigate a grocery store without having a meltdown in aisle three. Give a man a fish and feed him for a day, teach a queer to cook and stave off malnutrition for another semester.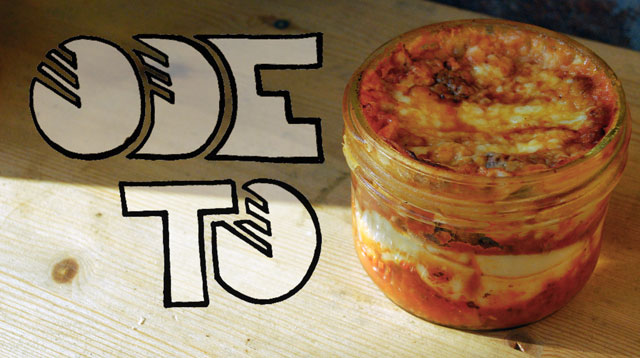 There are a few things I'll always have on hand: salt on my stove, canned tomatoes in my cupboard, eggs in my fridge and dumpling wrappers in my freezer. I need to be ready for any food-mergency, whether it's whipping up lunch before I head out the door or whipping up snacks for any surprise guests. The former ingredients make sense, but I'm sure you're asking yourself, "What the fuck's up with the wrappers?"
Most cultures rely on some type of dough to corral their food stuffs before they shove it in their faces. Perogies? Ravioli? Gyoza? Wontons? All variations on the wonder that are dumplings! Just compare the ingredients from fresh pasta and wonton wrappers and they're not really all that different! All you need to do is stash one type of protodumpling skin in your chill chest to be ready for any filling that can come at you.
Fresh pasta and fresh wonton skins can last a few weeks in your fridge and virtually forever in your freezer. Unlike fresh pasta, the pieces will come in a teensy tiny stack that takes up hardly any freezer real estate! Fresh skins will last a few weeks in your fridge, but they'll last indefinitely in your freezer. All you gotta do is defrost overnight. But how the heck do you choose which type to stock in your freezer?
Wonton Skins: Square and ultra thin, these wrappers work well for boiled applications. Just keep in mind that their thin nature means they're prone to tearing.
Dumpling Skins: Round and thin, they hold up well to steaming and boiling, but might stay half stuck to the pan when fried.
Potsticker  Skins: Round and thick, they'll remain chewy when boiled and can survive frying and deep frying.

Gyoza Skins. Round, thick and super fucking forgiving. They can do anything, including subbing in for tortellini skins.
Once you're armed with a dumpling exocarp, what do you put inside? Do you go traditional? Or nouveau? Or sweet? Or borrow from another culture completely? Given that your options are unlimited, the second hardest step is figuring how to keep it all together. Luckily, all you need is a little bit of egg wash or cornstarch and water to act as a glue. There are a veritable shitton of folds you can use, but I find these are the easiest ones that hold up best. Just remember thicker skins can hold more filling and squeeze out as much air as possible when filling!
Square Wrappers
 
Round Wrappers
These wrappers are perfect for all sorts of dumplings, but if you aren't in the mood for tiny food packages delivered to your mouth, you have a smorgasboard of other edible options.
Deep fry. I feel like this was the go-to 90s solution for all things dessert. Take squares, cut them into triangles, deep fry and dust with powdered sugar. Now you have edible dessert art to stab into a bowl of ice cream. Or go all out and deep fry tiny little cranes to sit on your desserts.
Boil. If you like wide noodles but don't have anything on hand all you gotta do is take out the kitchen shears. Snip them into strips, boil away and consume! I love that these thin skins tear are super tender without becoming mushy.
Bake. My favourite way to use wonton wrappers just involves pasta sauce, ricotta (or ground tofu), cheese and some wide mouth jars or ramekins. Layer two tablespoons of your favourite sauce into the bottom of the jar. Follow it with two dumpling skins, a tablespoon of ricotta/"ricotta" and some more sauce.


Repeat until you reach the top (approximately three layers of noodles), before topping with your cheese of choice.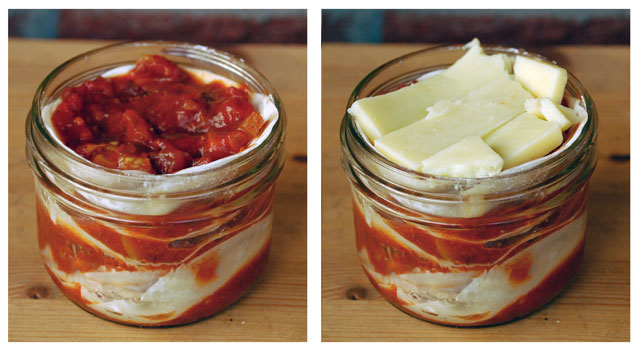 Bake at 350 for about half an hour until the noodles are cooked through before broiling the bejesus out of it.


Bon appetit! Do you have any dumpling skin feelings? Or any secret tricks I should try with my stash?