Learning to feed yourself can be one of the most terrifying things. Am I about to give myself food poisoning? If I eat this too often will I end up with scurvy? How can I get the most nutritional bang for my buck? Why does this still taste like ass?
With Ode to My Pantry, learn to navigate a grocery store without having a meltdown in aisle three. Give a man a fish and feed him for a day, teach a queer to cook and stave off malnutrition for another semester.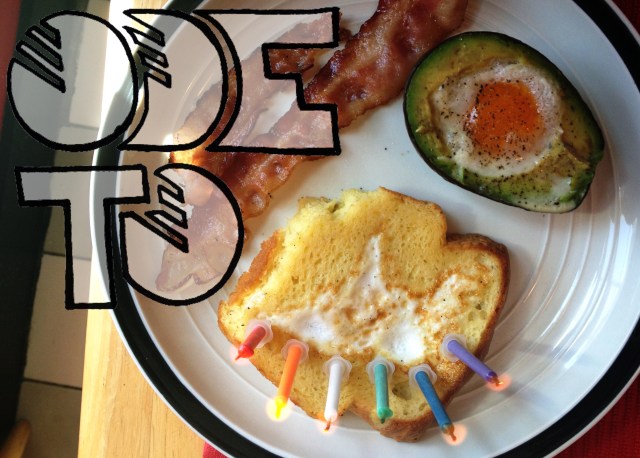 What's more thrilling than boiling or poaching eggs? Why, shoving them in exciting holes of course! Eggs all by their lonesome are delicious, but when you break open something equally delicious and thrust an egg deep inside, well now you'll have something noteworthy on your hands. Because you know what makes for an exciting hole? Surprise yolks! When it comes to upping the egg ante, there are a few delivery methods. Are you using it as an edible ring mold? A jaunty bowl? A makeshift pan? A secretive treat? Marika and I teamed up and used our hole hiding backgrounds to figure out what it takes to be an egg hiding master. And Potter too, because she's also great at utilizing eggciting holes.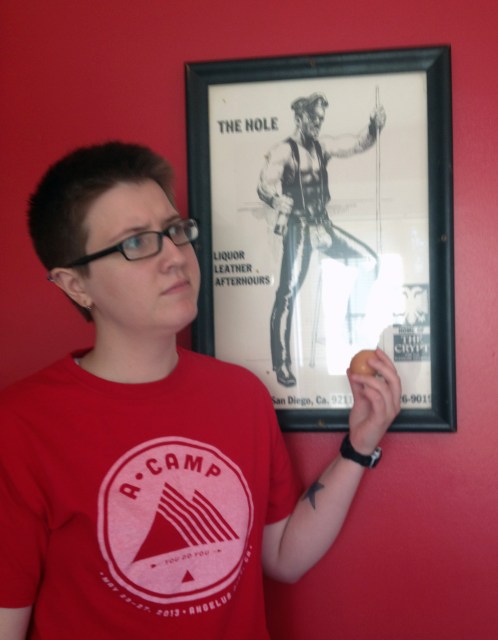 Egg whites are plentiful.

 The

average large egg is 2 oz

which might just be too big for the hole in question. Rather than dumping everything in willy nilly and crossing your fingers that your eggs don't expand and overflow, take some time to separate your eggs.  Plop individual yolks into their hole homes and then fill them 3/4 of the way full with whites. Fresh eggs have sturdier yolk membranes (since the yolks have yet to take on extra water), so they're easier to separate.

Egg whites are handy.

If you have some extra egg whites on your hands, don't you dare dump them! Egg whites – when separate cleanly – are the closest thing you have to edible soap, so put those spumey powers to work! Whip up some bourbon marshmallows, follow Marika's lead and eat some 

Nutella Swiss Meringue Buttercream Frosting

 or try your mouth at

one of my favourite cocktails

. If you want to up their foamabilities, let them age in your fridge for a day before allowing the whites to come to room temperature.

Egg whites are hardy.

If you haven't figured out how to use up all of your egg whites, you can always pop them in the freezer. Unlike the yolk which has all sorts of fats and salts that fuck with the freezing process, egg whites are pretty simple. Use a clean ice cube tray (that hasn't been exposed to fat or grease) and plop your ovarian offerings into the divots. Let them solidify and stick them in a freezer bag!
So now that you have your eggsit strategy, let's start filling our holes!
Eggs in Vegetables!
If you're pinspired to use onions, peppers or other vegetable loops as ring molds, just remember that your end goal is an Egg McMuffin puck, so treat it like such! You want your eggs to have a sturdy girdle, so slice your vegetable thicker than you think you need it. You also want to make sure it's level as fuck so your whites don't get a chance to leak out. Mandolines are great for this, but if you don't have one handy, do a wobble test on the counter to make sure it'll lay flat in the pan.
Heat your griddle, skillet or pan to medium-low and lube it up. Pour a little bit of egg whites into your veggie vesicle so it has a chance to pre-cook and seal it to the pan. Pour the rest of the egg in and whatever you do, don't move your egg. Add a bit of boiling water for steam and cover with a potlid as if you were cooking a sunnyside up egg. You can choose to cook your egg through to chalky McDonald's puck consistency, but if you're a sane person, plate it when it's medium.
Ovo-cadoes with Marika!
For a lot of people, the notion of a baked avocado freaks them out. Why would you want to mess with a perfectly good ripe avocado? Why would you not just put it directly into your mouth? I know, I used to be one of those people, but you have to trust me on this one. This is an amazing breakfast. Baked avocados have a unique texture which is even MORE creamy and delicious than raw avocados. Plus, this breakfast is full of really good healthy fats and a ton of nutrients from the avocado and egg. It's easy and good for you! To maximize nutrition, you should probably use some really good eggs. Whenever I can, I buy mine directly from a farmer at the local farmer's co-op. The chickens are happy, I'm supporting local agriculture, and the eggs taste about 5000 times better. Everyone wins!
1 ripe avocado
Fresh lime juice
2 eggs
Salt and pepper
Preheat your oven to 375  (about 190 Celsius).
Halve an avocado and remove the pit. Apparently there's a fancy way to remove the pit but when I try it I just end up with little knife marks in the avocado pit. So if you try this do it with a really sharp knife. Autostraddle will not be responsible for any injury that ensues.
Remove about one tablespoon's worth of avocado from each half. You need to make room for the egg! You should probably put the extra avocado directly in your mouth, because that's the perk of being the chef.
Place the avocado in a baking pan with sides so you can nestle the avocado up against the sides. You don't want it to tip over and lose your delicious eggy goodness. Ramekins would be great for this if your avocado is small enough/your ramekins are big enough.
Squeeze a small amount of lime juice into each half of the avocado. This step is optional but delicious. I would suggest just enough lime juice to lightly coat each half, because if you use too much, you won't be able to tell if the egg is done since everything is all juicy and acidic. (I could make a joke about wet holes here, but that would be too easy.)
Crack a yolk into each hole and top it off with white as above. Do not try to put too much in the holes. That is just rude.
Lightly salt and pepper each avocado half.
Place eggs in oven. Bake for about 15 minutes or to your liking. I like it when the white is cooked and the yolk is still runny, which took a little more than 15 minutes.
Garnish to taste and put this in your face. This would be really great with crumbled bacon on top, which may change the fat balance from 'healthy' to 'extra delicious.' I ate mine with a generous amount of tomatillo salsa and in the company of Potter, my lesbro from A-camp.
Eggs in Bread Euphemisms with Marika!
You've probably made eggs in toast holes before, and you've probably called it something super adorable. I've heard this dish called eggy-in-a-basket, dippy egg, toad in a hole and a host of other cute names. Whatever you call it, this dish takes two of my favorite things about breakfast and puts them together in one attractive and delicious package. Since I used cookie cutters for the holes, this would be a really fun recipe for kids to help with (or in my case, 26 year old kids at heart).
2 large pieces of bread
2 eggs
Butter or margarine
Salt and pepper
Heat up a nonstick or cast iron skillet on low on your stove. Put a little pat of butter or margarine in the pan. This will both make your food easy to flip and much more delicious.
While your pan is heating up, cut a hole in your bread. I made a loaf of gluten free brioche specifically for this purpose. I recommend larger pieces of bread for purposes of structural integrity and also maximal toast tastiness, but you chew you. You can use a small drinking glass to cut the hole, or you can use cookie cutters. Because I am an adult, I used a dinosaur cookie cutter and a unicorn cookie cutter to make extra magical eggs in holes.
Place the bread in your warm pan. Crack an egg into your bread hole. Again, you should probably reserve some of the white just in case you can't fit the whole egg into the hole at once. I hear that takes practice. You should probably work your way up. Lightly salt and pepper your egg to taste.
Place a lid on top of your pan, and cook for a few minutes. Peek under the lid. When the white is starting to cook through, flip the bread over. Replace the lid for a couple more minutes. If you do this right, you can have cooked whites but a delicious runny yolk right smack in the middle of a piece of golden brown toast. NOMS.
Serve. We served it with bacon, eggs in avocado holes, and rainbow birthday candles because it was my birthday. Birthday candles and rainbows make everything more delicious. Enjoy!
Baked Eggs
Tomatoes and eggs are my favourite pairing and not a day goes by that I don't try to make them marry one another (why isn't this legal yet). Ketchup and tomatoes are one thing, but spicy baked eggs are a whole other ball game. You can go the Egg Baked in a Hollowed Tomato route or you can make your own hole. I like to take my favourite pasta sauce recipe and skip the step where I pulverize my tomatoes into a puree.
1 Tbsp olive oil

1 large onion, diced

2 cloves garlic, minced
2 chipotle peppers, torn or minced
1 20-oz can whole Roma tomatoes
2 tsp Better Than Bouillion Veggie Stock (I cheat?)
2 Tbsp Adobo sauce
A metric shitton of ground pepper
2 Tbsp sugar
1 tsp dried oregano
8-12 dashes hickory smoke
1 head of kale, torn (optional)
2-3 eggs
Preheat your oven to 375. Warm an oven-safe pan (with a metal or detachable handle) over medium heat and add your olive oil. Saute onions and garlic until they starts to caramelize before adding the rest of your ingredients. Cook for about 15 minutes, breaking the tomato into irregularly sized chunks. Once the sauce has come together, turn off the heat spread the sauce out into and even layer. Press the back of a ladle into the sauce and crack your egg into the well before gently rotating the ladle out (thus magically filling your hole Magician-style!) Repeat with your other eggs and bake, uncovered, in the oven for 15 minutes or until set. If you need to cook more eggs, you can spread your sauce thinner into a casserole pan.
So how do you like your holes filled? And have you attempted the egg-filled au gratin? Because I'm pretty sure it's just a lie.