Learning to feed yourself can be one of the most terrifying things. Am I about to give myself food poisoning? If I eat this too often will I end up with scurvy? How can I get the most nutritional bang for my buck? Why does this still taste like ass?
With Ode to My Pantry, learn to navigate a grocery store without having a meltdown in aisle three. Give a man a fish and feed him for a day, teach a queer to cook and stave off malnutrition for another semester.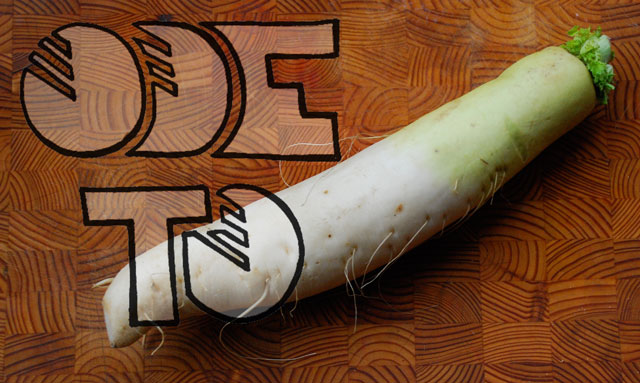 Happy Victoria Day and Daikonfest, the two holidays you hardly realized exist! Sure, Victoria Day is familiar to Canadians, but had you heard about the second one? Probably not, since my friends only started it a few years ago! But don't worry, I'll let you in on the fun.
How did it start? My friends always marked Move Out Day by lobbing a cabbage down the stairwell of their 17-storey dorm. One year while picking up their traditional vegetal projectile, they noticed their familiar orb bore the label Daikon. Rather than ask questions, those brave souls bought it, launched it, but were left pondering. What is this mystical daikon? Should we have bought it instead? So after our final goodbye to dorms, we decided to put the focus on the real daikon by launching a beer-fueled cookoff every May long weekend. Bragging rights and beer, what else do you need for a holiday?
As it turns out, labelling cabbage as daikon wasn't too far off. They're both members of the Brassica family, along with Brussels sprouts and kale. Whereas cabbage growers focus on the leaves, daikon breeders focus on the roots instead. The long white tubers are moist and crisp while relatively mild compared to their red-skinned radish cousins. That being said, daikon still has some of that familiar bitter pepperiness, owing its bite to Arilizotiozinath which is mostly concentrated in the skin.
Even though an albino carrot that packs a punch may not sound appealing, trust me, it's a friend. And there's a good possibility you've already taken a step to the daikon side.
Raw
In its raw form, daikon is juicy and crisp without the hard crunch of a carrot. Given the relatively loose structure, the texture is somewhat reminiscent of watermelon (although be sure to correct me if you have a better comparison). If you're worried about it being too bitter for you, eat the top third of the root raw, and save the rest for cooking. A lot of the mustardy chemical is concentrated in the skin, so if you're adverse to the radishy taste, strip 'em first.
Add a few rounds to your salad, sandwich or any other dish you would have employed a little red bitter bomb. You can also julienne them with red onions and snow peas for a light summer slaw. It seems like some crafty juicers are sneaking it into their smoothies, but I have yet to see how flavourless it really is. If that all sounds too crazy to you, you've probably nibbled on some daikon when your sashimi arrived atop those "spicy slices of white stuff."
Pickled
Daikon holds up well to pickling and Asian cultures have definitely embraced it. That disconcertingly neon yellow pickle Oshinko? Daikon. Those crunchy cubes that sometimes show up in your kimchi? Daikon. That orange and white slaw atop your bánh mì? Also daikon. You can make your own do chua using little more than sugar, salt and vinegar.
Boiling
Gentle cooking reduces the radish pungency and allows a sweeter flavour to develop. When immersed for a long period, the root's porous nature absorbs the cooking liquid and softens it up. While never becoming completely mushy, the pieces do fall apart, transforming your beautiful rounds into a handful of wedges. So if you plan on adding a few to your soup , hotpot or oden, be sure to fish them out when they lose their crunch.
Fried
If you properly drain your daikon, it'll still get plenty of crunch. One of my favourite dimsum dishes consists of little more than steamed slabs of shredded daikon, rice flour and Chinese sausage. They'll pan fry the cakes before serving, creating a textural counterpoint to the smooth interior.
You can also enjoy it at home. If you're paying attention to your carbs, you might want to give daikon fries or hashbrowns a go. One of my favourite recipes to come out of Daikonfest was daikon latkes. Simply shred and bread and you're well on your way to win!  As a warning, they tend to get soggy pretty quickly, so fry in small batches or leave them in a warm oven on a draining rack.
What's your favourite way to eat daikon? Or better yet, do you have of any of your own secret holiday or end of term cook offs that I should crash?